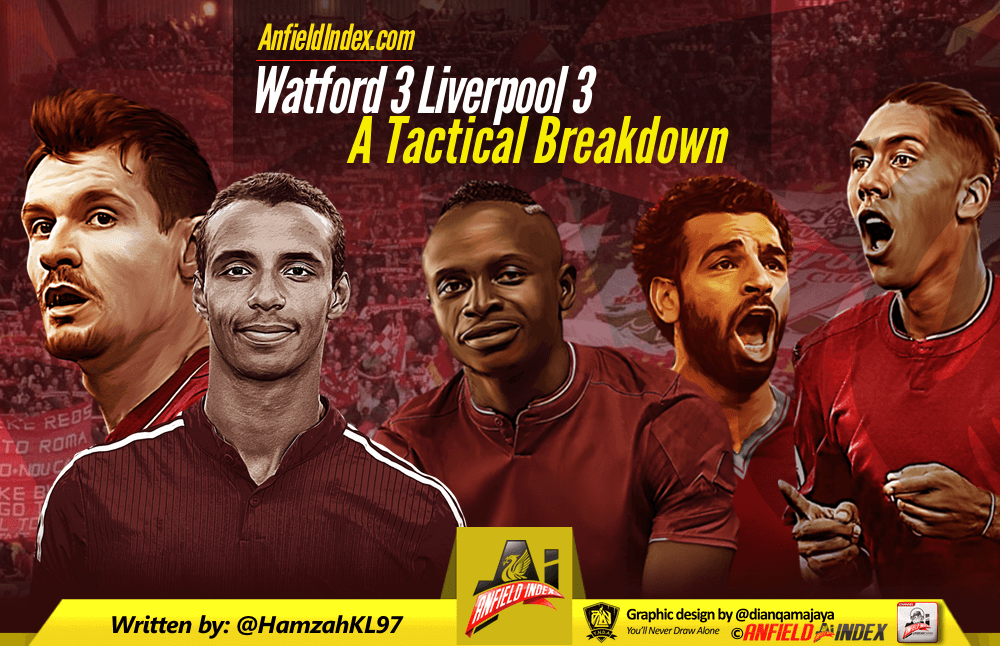 Watford 3 Liverpool 3: A Tactical Breakdown
Completely bewildering, yet almost oxymoronically, so very familiar; Liverpool's 3-3 draw was, for the most part, a frustrating game, with a blisteringly good period of play for Liverpool sandwiched between two periods that were hard to watch.
To really understand how the game progressed, and key points within it, we shall look at the goals, specific players, and positioning across the game.
First, though, we're going to need some of the stats from the game to flesh out the general story:
Possession
Watford 45pc
Liverpool 55pc
Attempts
Watford: 9 (4 on target, 5 off target)
Liverpool: 13 (4 on target, 9 off target)
Corners
Watford: 3
Liverpool: 3
Offsides
Watford: 3
Liverpool: 1
The goals
Watford, 1-0, Okaka 8′
Watford's first goal, unsurprisingly, was a set piece. What was surprising though was the reaction inside the Sky Studios, and on Twitter; Jamie Redknapp asserted that had Liverpool signed Van Dijk they would not have conceded as he is much stronger in the air, and has a greater desire for the ball. Jamie Carragher on the other hand, whilst acknowledging a personnel issue, argued it was more an issue of the execution of the tactics. Furthermore, he asserted that if Van Dijk were playing, he would be taking the place of one of the other two centre-backs, thus would not be occupying the same position as Roberto Firmino – the player who failed to challenge and win the header against Okaka.
Below we can see the Liverpool players lined up on the edge of the six-yard box, with (left to right) Moreno, Wijnaldum, Matip, Firmino, Lovren and Alexander-Arnold all positioned along it.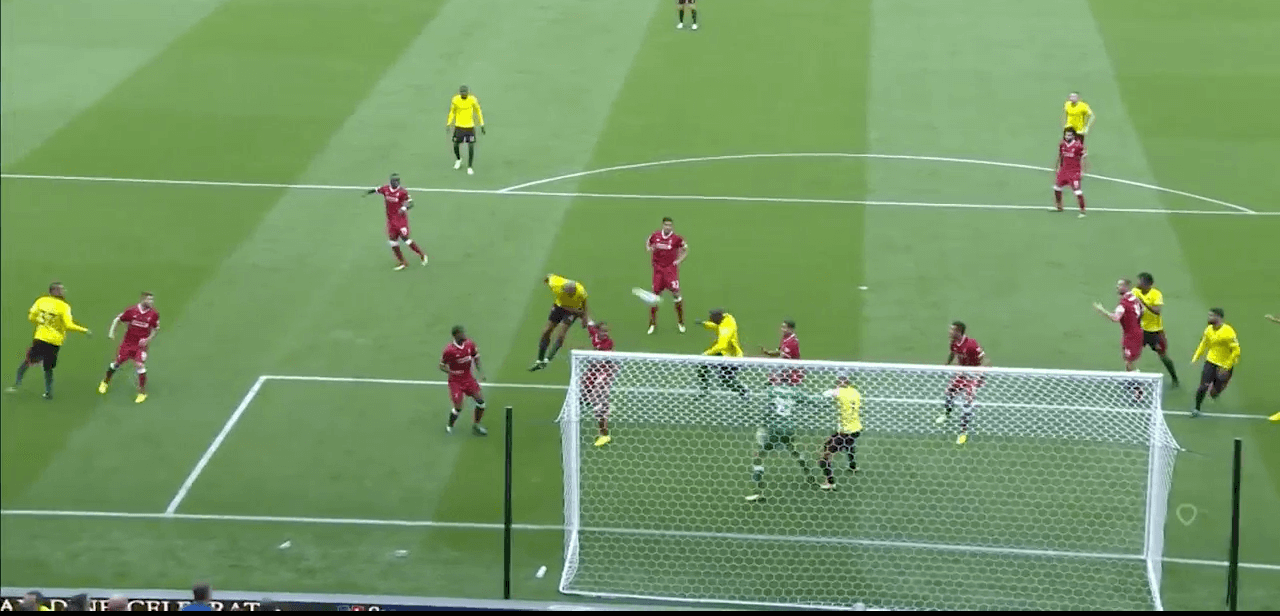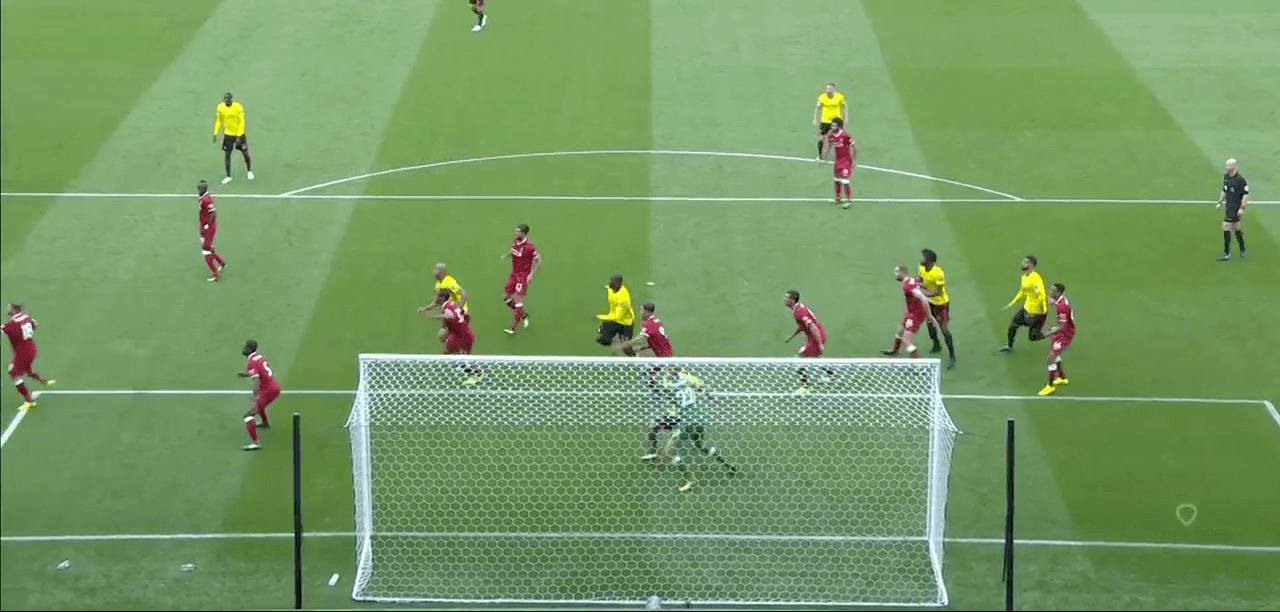 This setup allows two of Liverpool's taller players, Can and Henderson, to position themselves further out, in areas of high expected traffic, or frequency of crossed balls – as, usually, balls within the six-yard box are collected by the goalkeeper.
Where then was Simon Mignolet for this goal?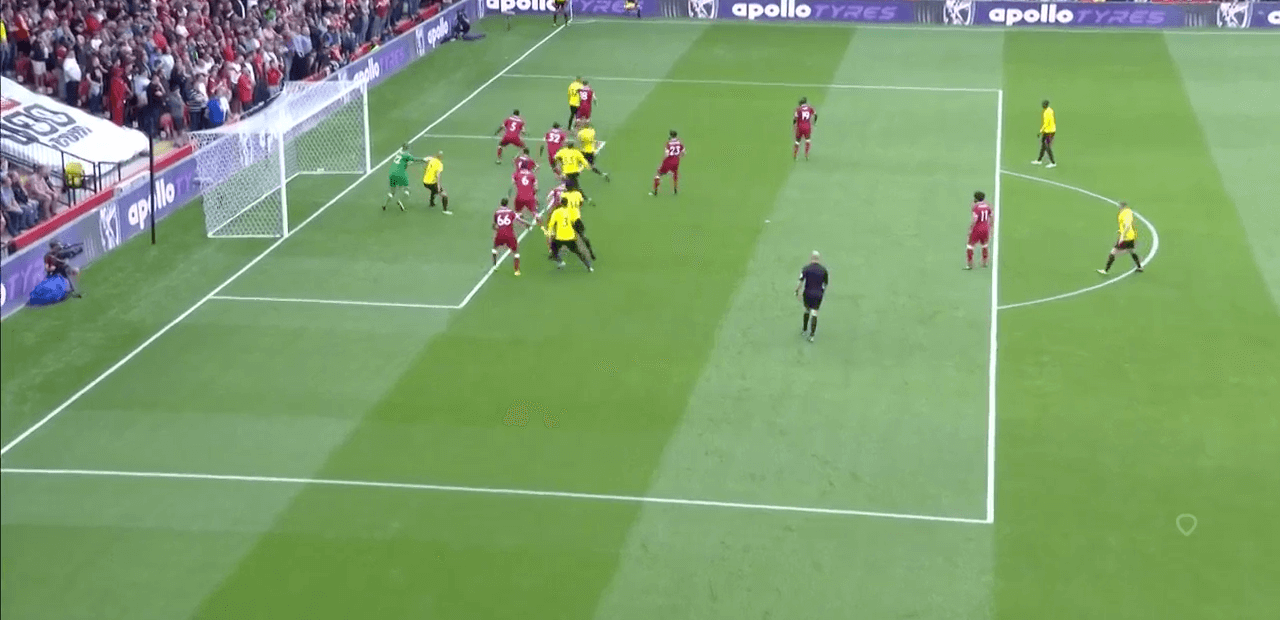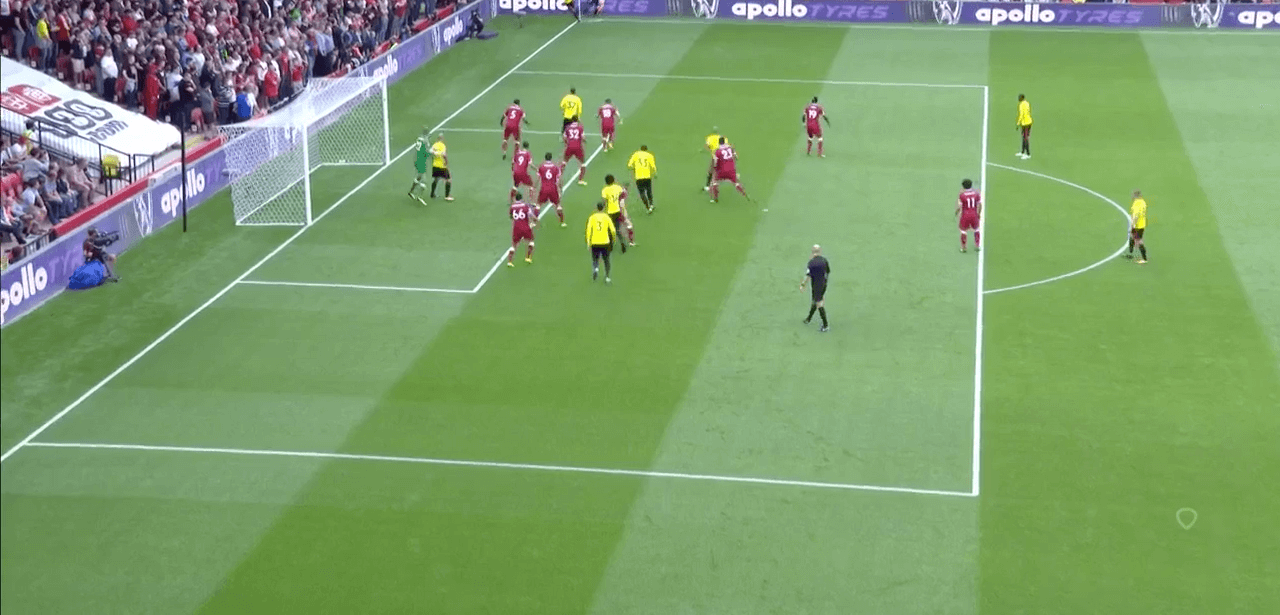 Mignolet was actually struggling to hold off his marker, something which a player from the defending side is usually responsible for taking care of, so the keeper can move freely.
Could and should he have claimed the cross though?
When considering the pace on the ball, the curl and that he was occupied, it's immensely unfair to levy the responsibility with Mignolet.
Clearly, though, the responsibility for this goal lies with Roberto Firmino, for not challenging for the header, and Jürgen Klopp, for choosing Firmino to play in that specific position along the six-yard line.
Perhaps though, Okaka's sheer physicality and anticipation of the cross was just spot on. We can only credit the attacker for noticing one of Liverpool's slighter players defending the six-yard box, and the crosser for noticing that too.
Sometimes, when coming up against a player so physically strong, and a cross so well targeted, there is not much a defending team, with few equally physical players. can do.
Liverpool, 1-1, Mané, 29′
Liverpool's first-half equaliser was the product of some rather intelligent positioning by Emre Can, in the absence of Adam Lallana and Philippe Coutinho.
You may have heard Klopp reference 'half-spaces' in his post-match interview or a handful of previous interviews. Essentially the crux of this is players taking up dangerous positions, usually between players, either laterally or horizontally e.g. between a CM and CB, or between a CB and LB, or even, in the position between a CM, CB and LB.
What Emre Can does so well here is that with Mané dropping deeper to pick up the ball, and then dribble across the field with it, Can essentially occupies the Watford centre-back.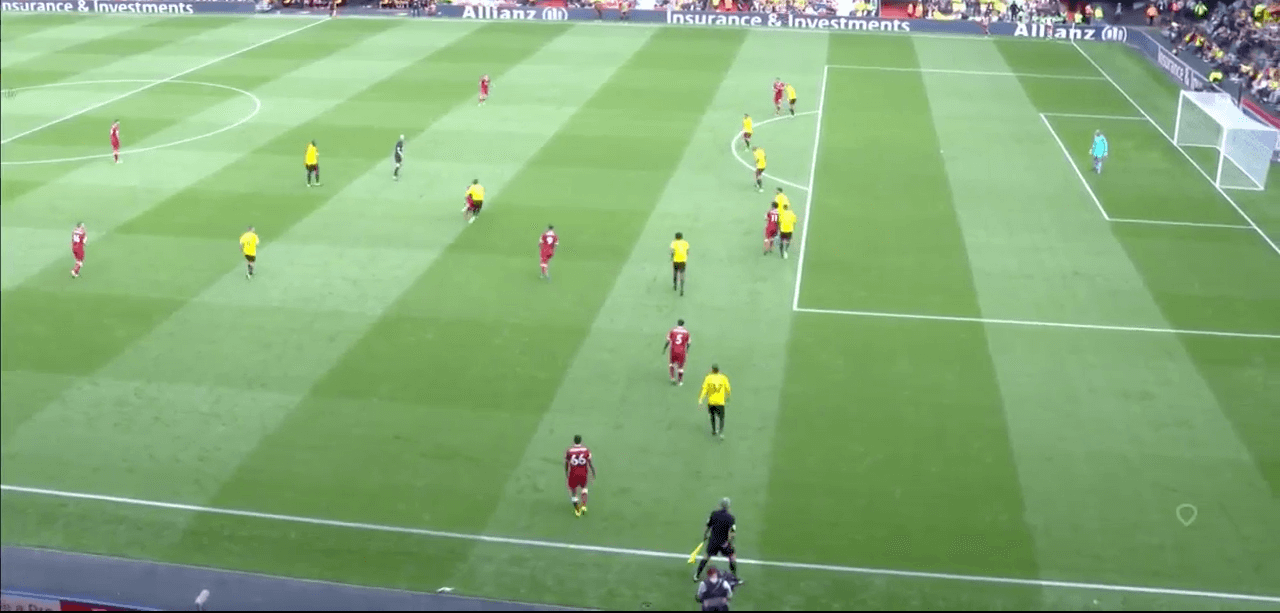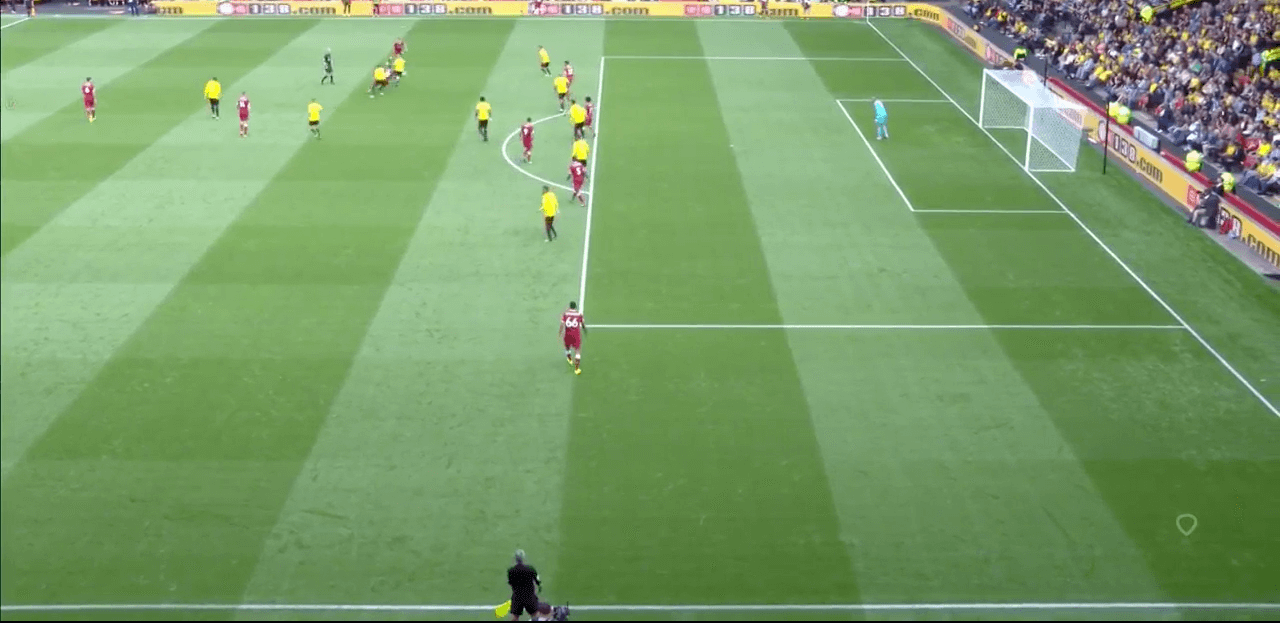 As the move progresses, Moreno comes into play.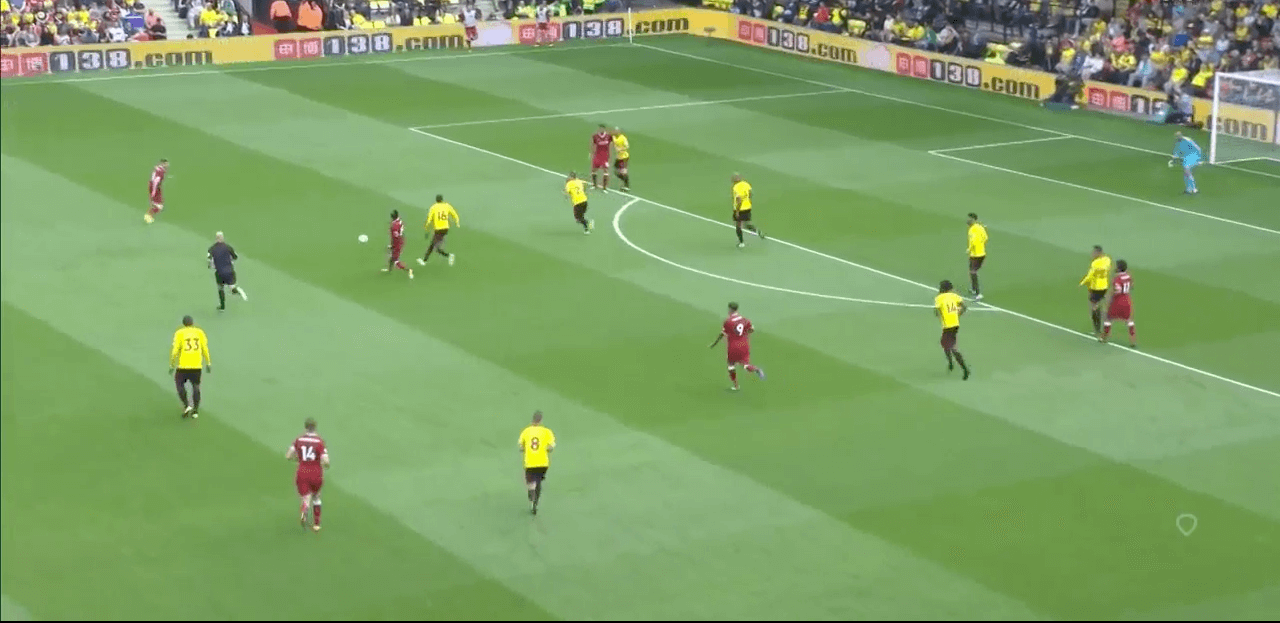 Mané loses his marker, as he plays the ball into Moreno, who passes it back, towards Mané.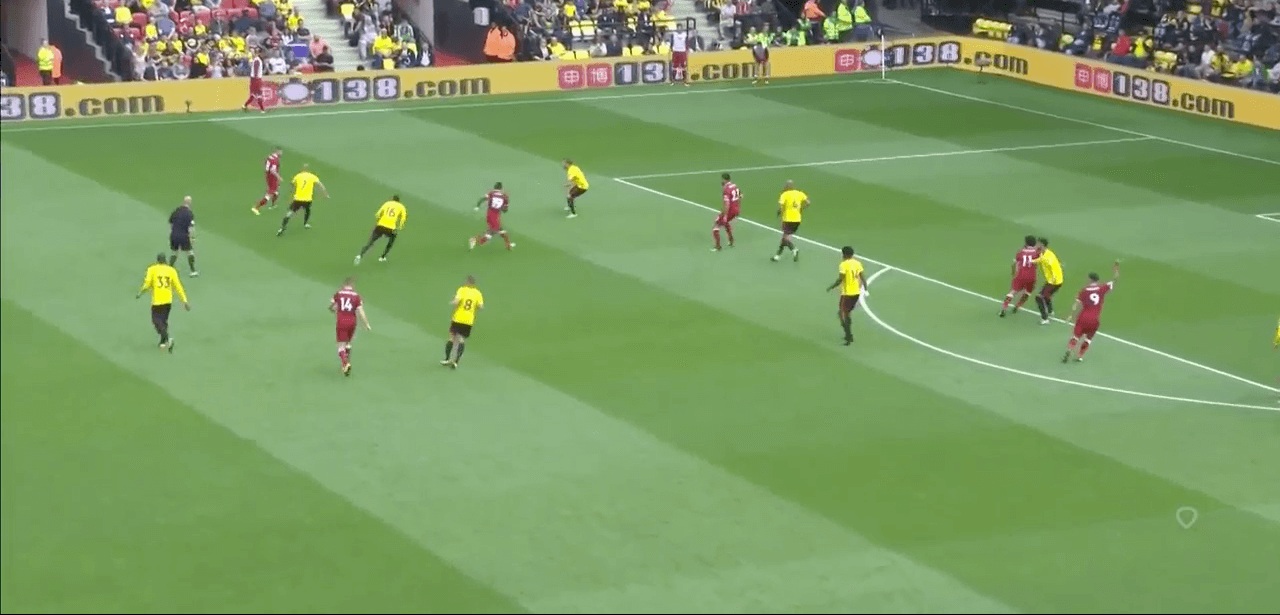 However, knowing Emre Can is beyond him, Mané leaves the ball, and breaks through, inside of the full-back.
Normally the centre-back would come across, but because Can is positioned on the edge of the box, and both Firmino and Salah have tucked in, Kaboul has to commit to closing Can down, and hoping Mané's marker is still with him.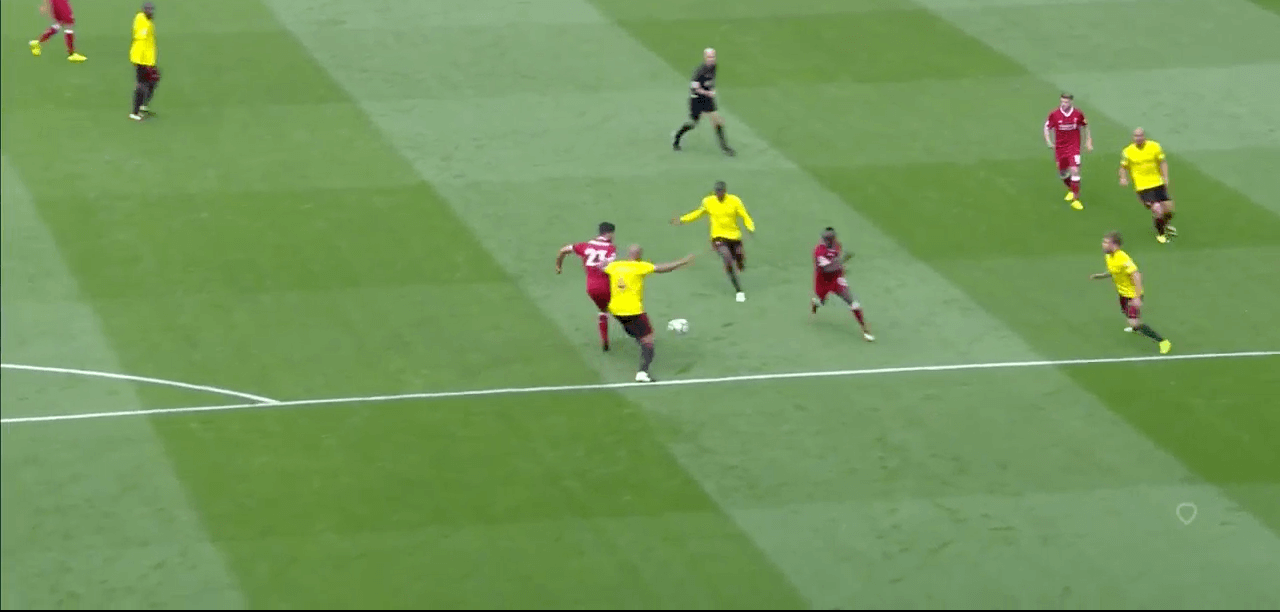 Mané is simply too quick, and Can does well to hold off Kaboul, using his strength.
A simple goal in the end, but facilitated by Can taking up an offensive position.
Watford, 2-1, Doucouré, 32′
This goal was horrible to watch live, but even worse when breaking it down. It starts off with a simple throw in, in which Tom Cleverley is free. Can is ball-watching, either believing he's marking someone, or ready to press the player taking in the throw-in if he receives the ball back, whilst Henderson is not quick enough to close down the free player.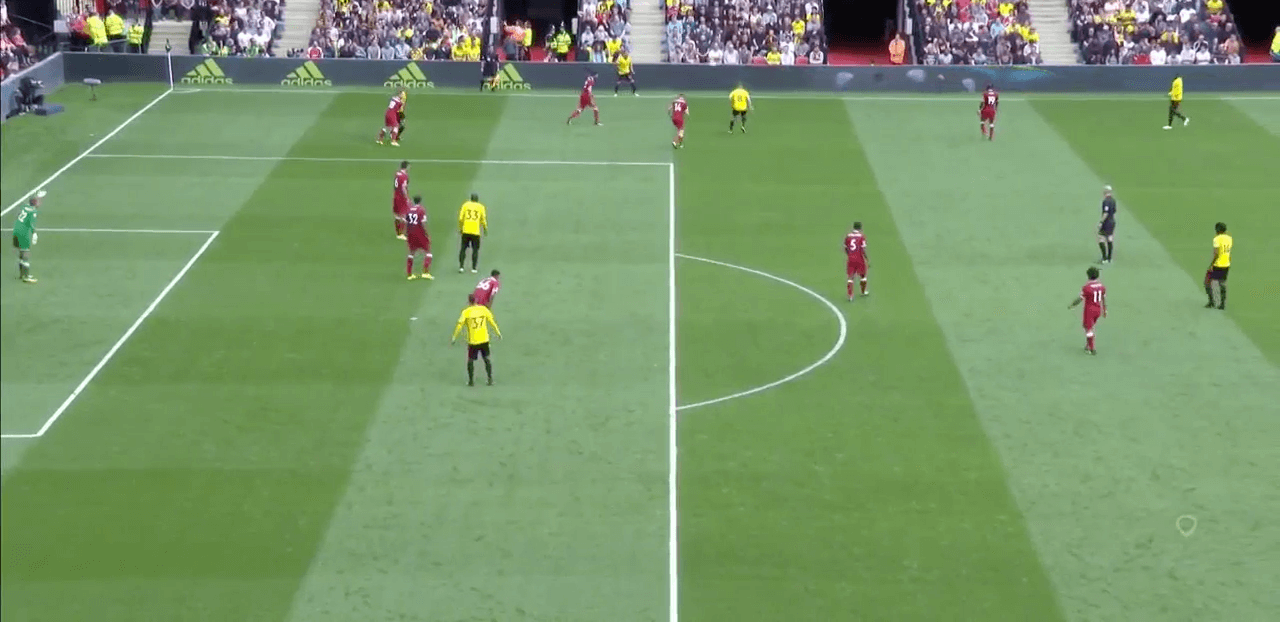 In the frame above, we can also see Trent Alexander-Arnold is too advanced too. As Watford had a throw-in on the left side, he should be taking his position in line with Moreno.
Can though, is ball-watching, either believing he's marking someone, or ready to press the player taking in the throw-in if he receives the ball back, whilst Henderson is not quick enough to close down Cleverley.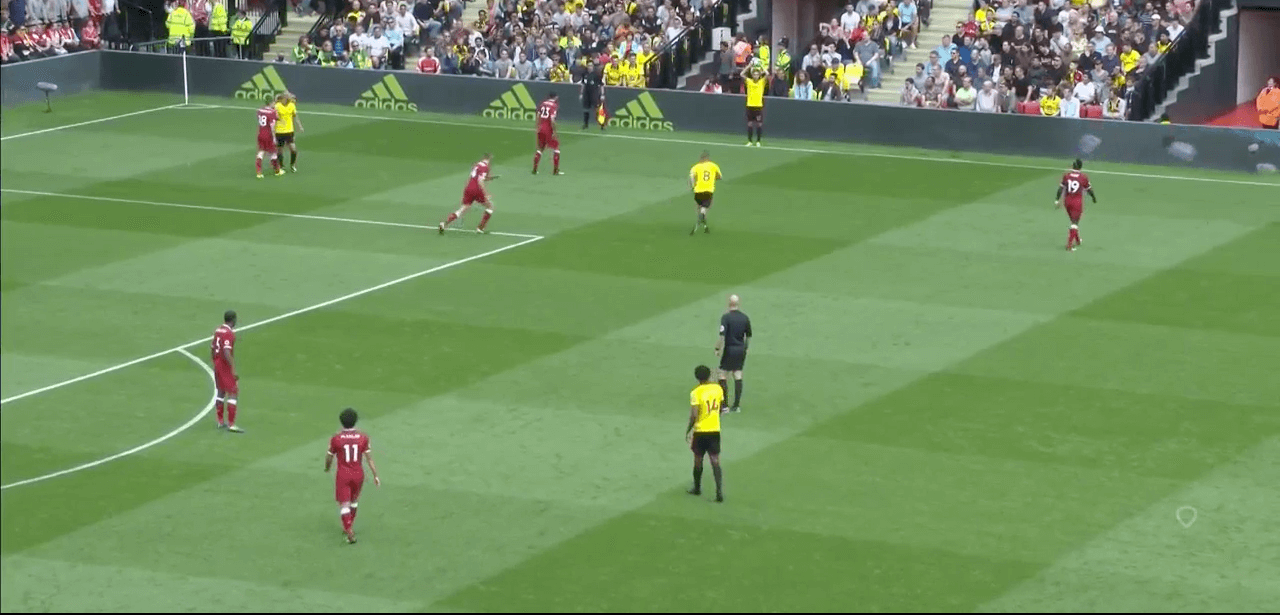 From there, Mané is drawn in, [below] but fails to notice the player running behind him, until it is too late.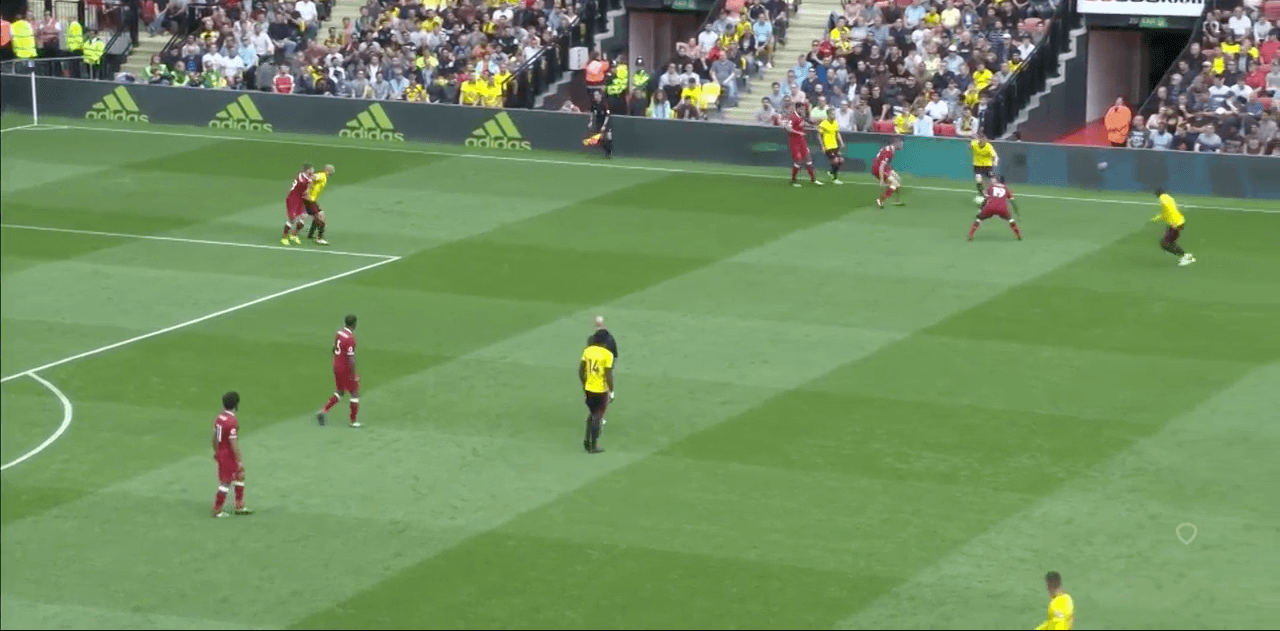 Moreno then commits to a tackle, and does stop the player he's marking from turning and joining the attack, but does not manage to stop the pass.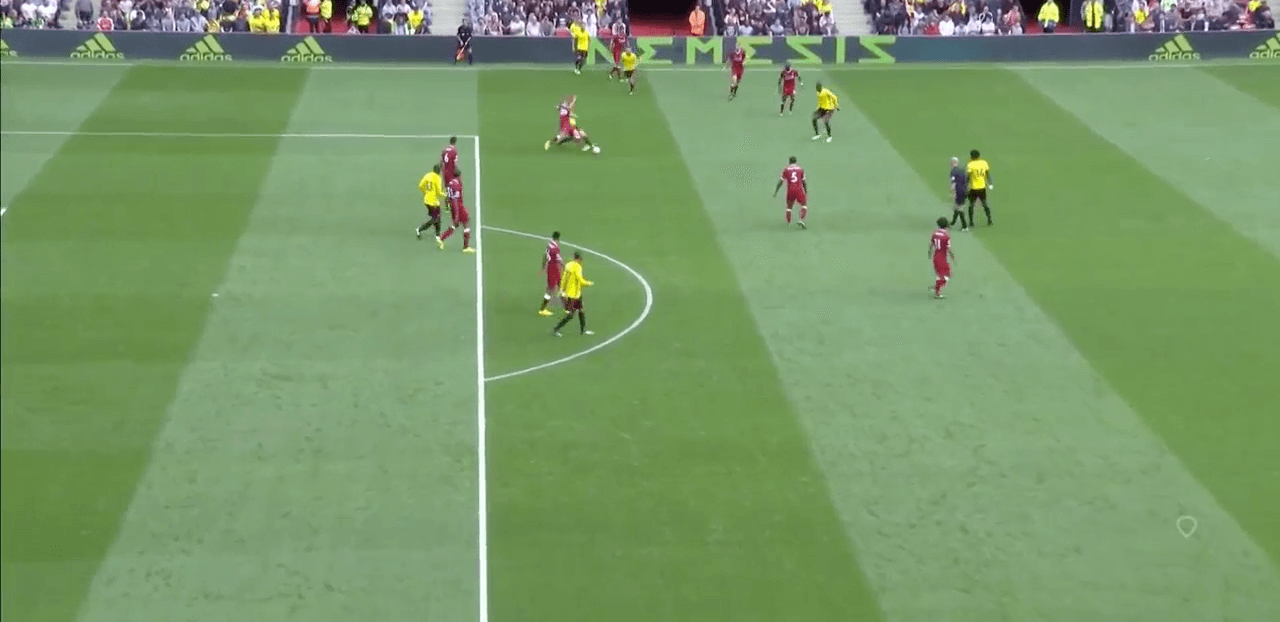 Henderson and Can have lost their men, and Henderson's man makes his way to the corner of the box, in the frame below.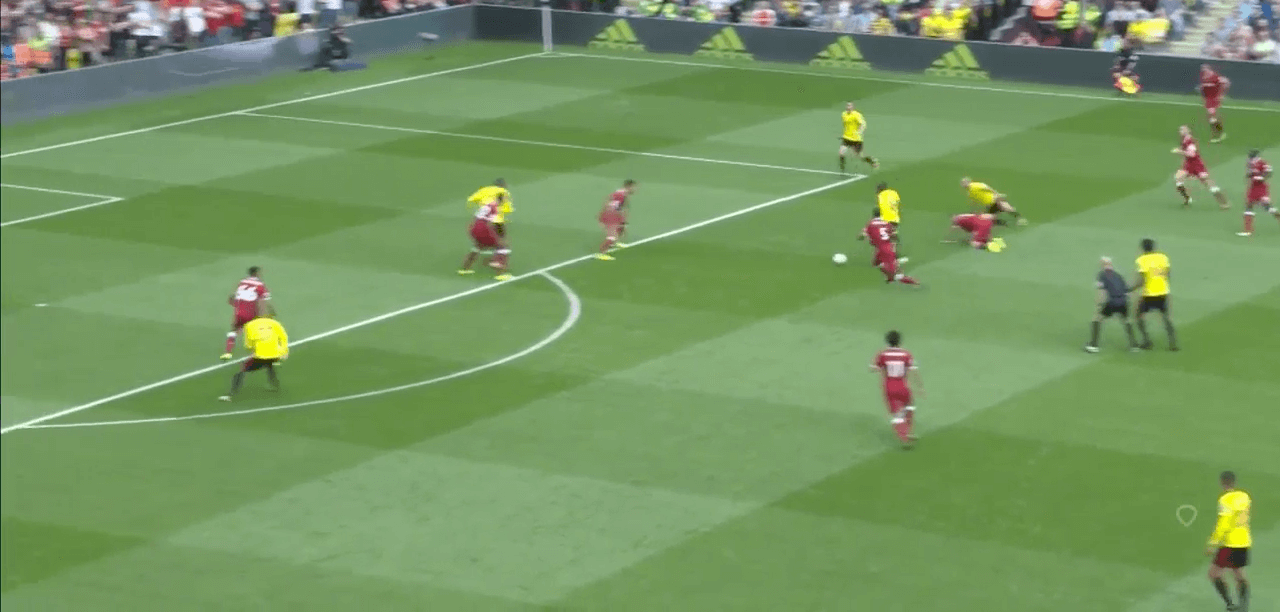 From here, Liverpool's defence is scrambling; Lovren is exposed, Matip is behind his man, and Wijnaldum has lost his player.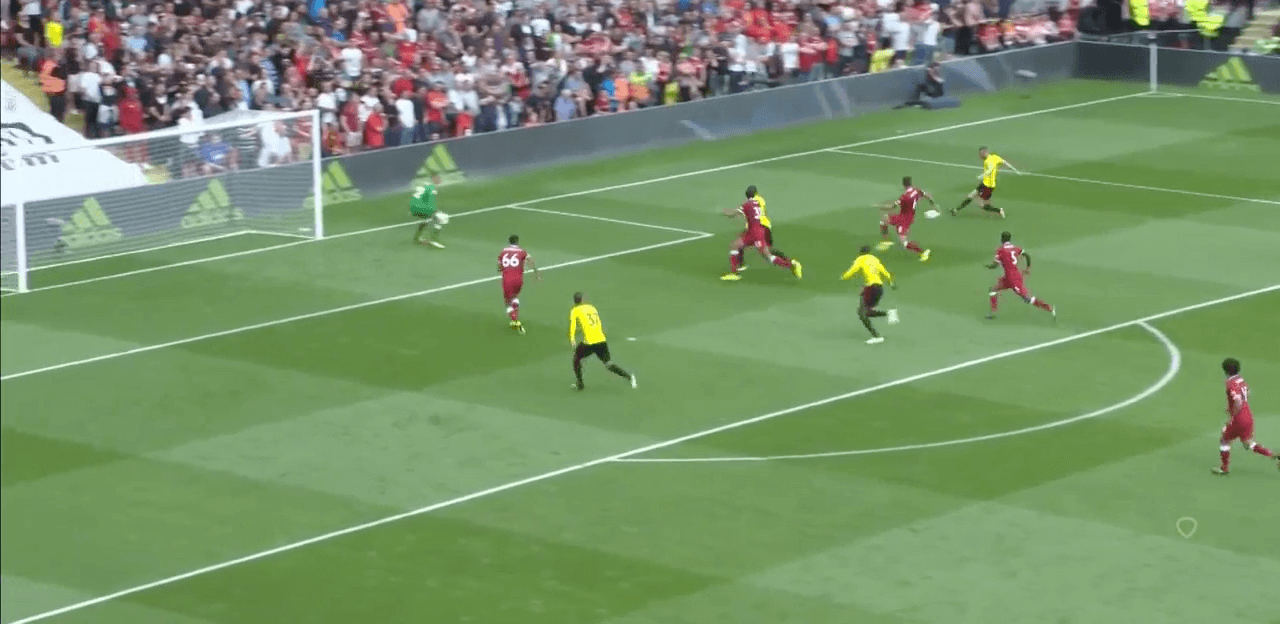 Alexander-Arnold's clearance bounces off Matip, and finds its way to Doucouré, who finishes well.
Whose fault is this goal?
Well it certainly is not Moreno, Lovren or Mignolet, and whilst Matip may have been able to cut out the cross, the entire chance was facilitated by poor defensive awareness by the midfield – Henderson in particular.
Liverpool, 2-2, Firmino (pen), 55′
This goal, whilst won by Salah on the right-hand side, was actually the product of Mané on the left.
In the 53rd minute, Mané presses the Watford right-back on the left wing.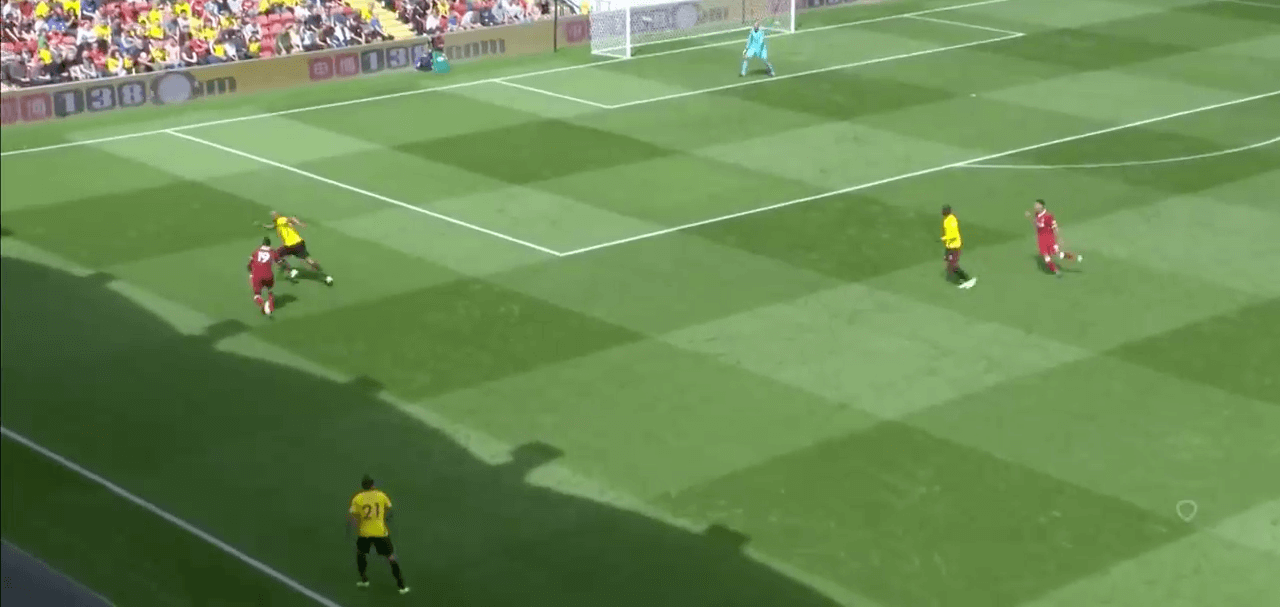 From there, Can recovers the ball, and feeds it into Matip.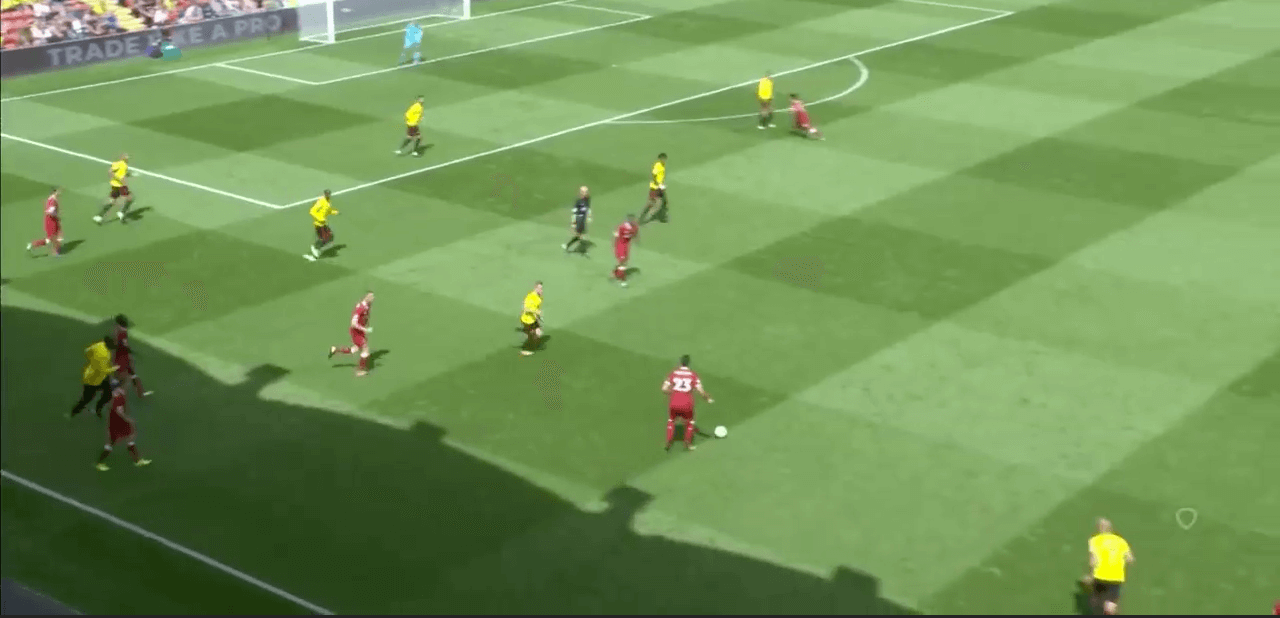 (Matip's passing is something I shall cover later, as it emerged as a feature of this match that I did not expect.)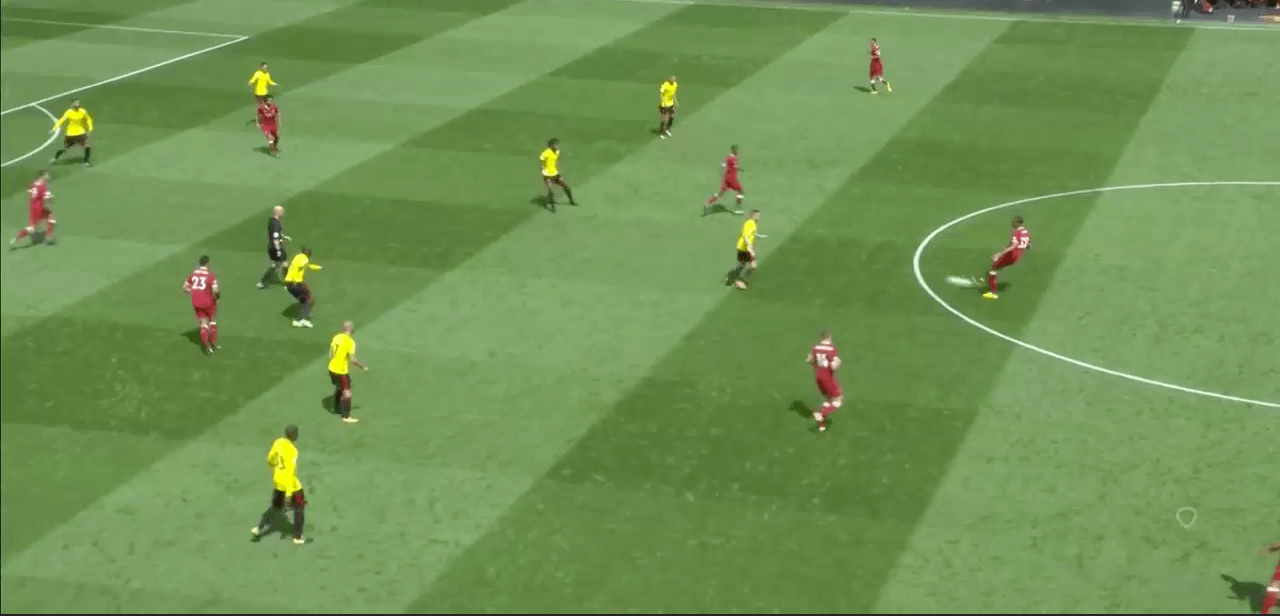 Matip's pass bypasses the midfield and goes straight into Firmino, whilst Salah runs through, between the CB and LB, and wins the penalty.
Liverpool, 2-3, Salah, 57′
In a matter of minutes, Liverpool had switched from lacklustre impotence to a thrilling aggressive attack driven style.
Watford opened up their midfield, as they tried to retake the lead, but this played into Liverpool's hands perfectly.
This goal was courtesy of an intelligent pass by Dejan Lovren: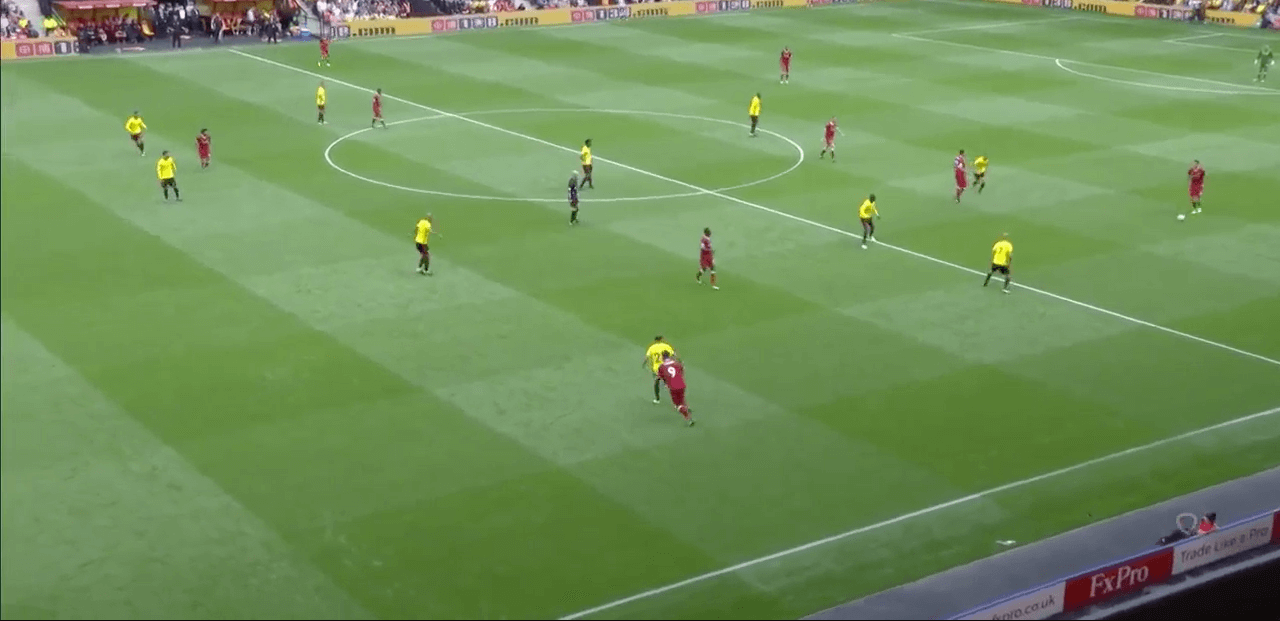 Watford had pushed far higher up, leaving vast swathes of space behind the centre-backs, only exaggerated through Mané slotting in, behind the Watford CMs – thus drawing Kaboul in by a few extra steps.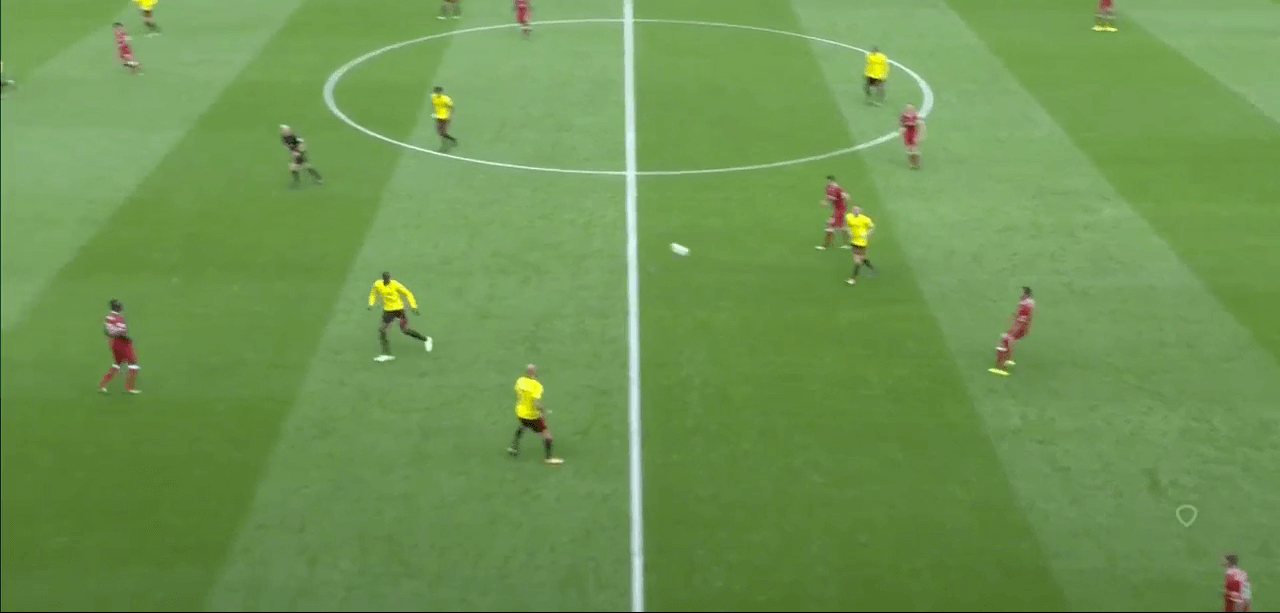 Those extra steps proved to be costly, as Firmino raced through, and lobbed Gomes, with Salah pouncing on the bouncing ball.
Watford, 3-3, Britos, 90+3′
This goal felt especially hard to take, and was quite easily preventable.
A needless foul by Joe Gomez offered Watford a chance to launch into the box, and whilst that was initially dealt with rather well, what may well have been dealt with better was the shot that led to the corner.
Perhaps I am being harsh on Mignolet, the ball did come at speed, and through bodies, but seeing as he got two hands to it, at first watch, at least, I felt he may have caught it.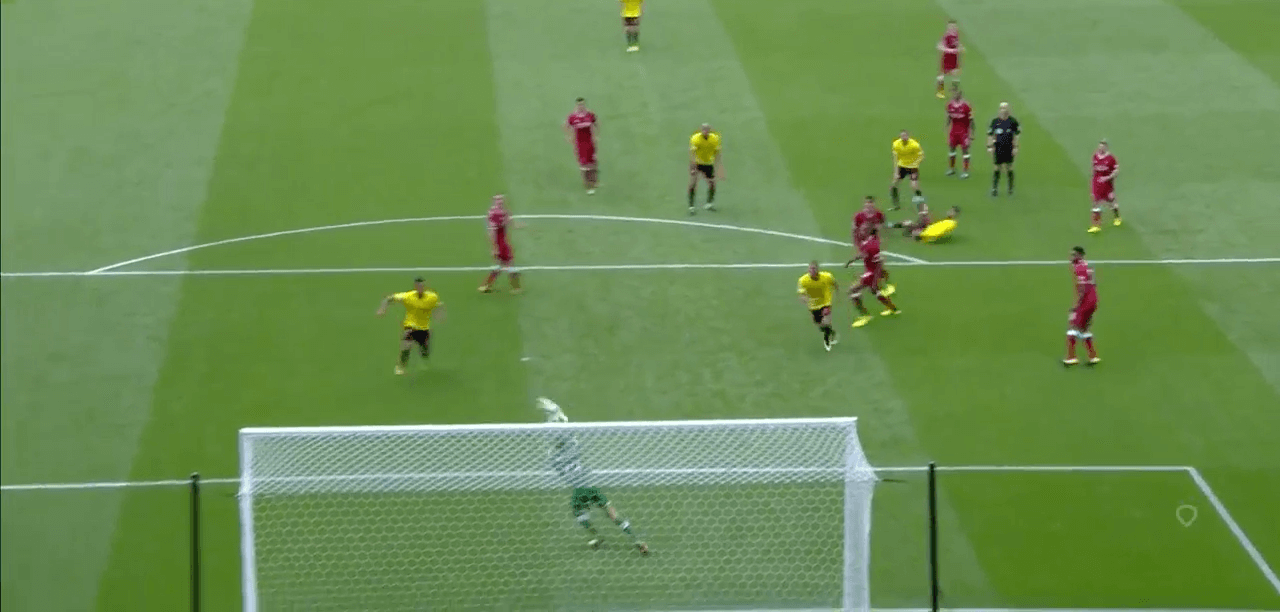 In retrospect though, one can hardly arraign the Liverpool keeper for being extra cautious – he did punch the ball away well, and out of the box.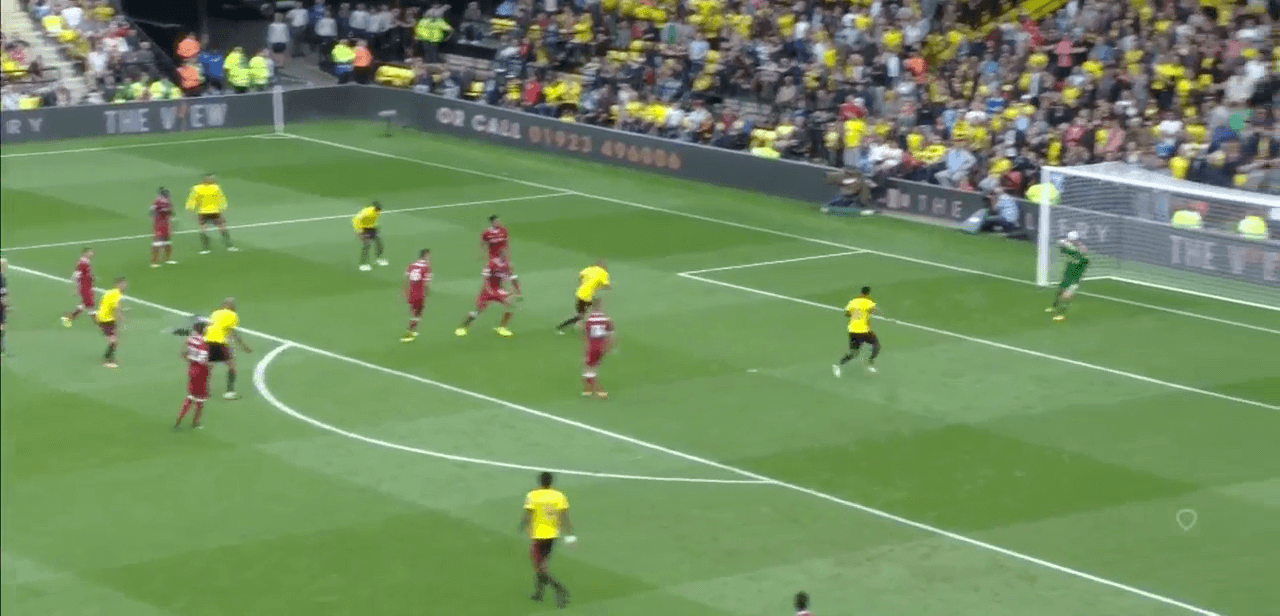 For the goal itself though, the blame lies clearly with one player – Wijnaldum.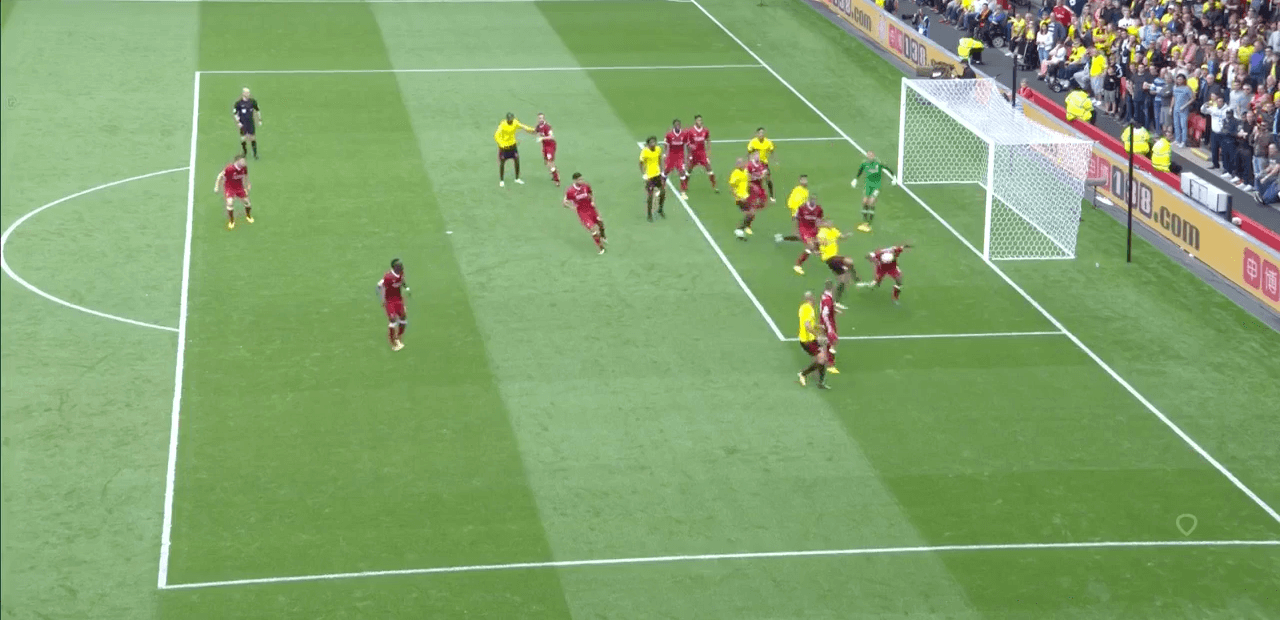 Wijnaldum makes a complete mess out of a routine header, that comes in slightly lower than he was expecting.
His fluffed header gives the Watford player some extra time and space, causing Matip to come across, and then Mignolet is immensely unlucky that the ball ricochets off his hand, onto the bar, and behind him. It could have easily shot off over the bar on another day.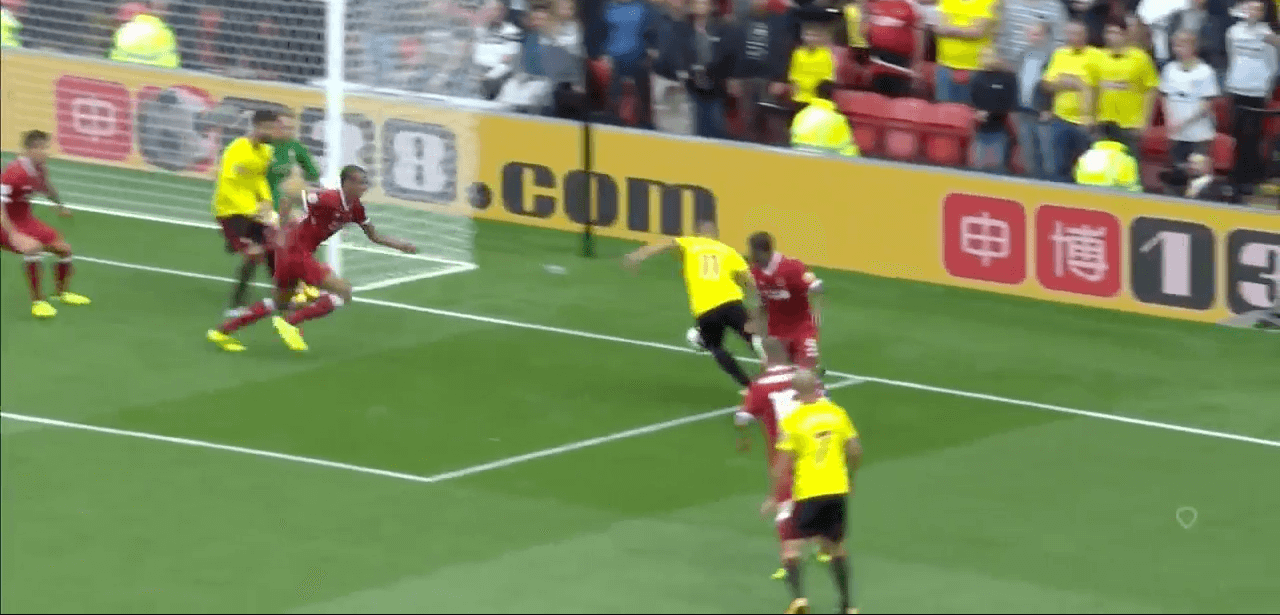 It's a bad goal to watch, but hardly something the manager can legislate for. A bad attempt at a routine header and a lucky rebound define this goal – as AI's Dan Kennett noted, it was simply a 'freak goal'.
Other Observations
Passing from deep
Matip and Lovren actually bypassed the midfield on a few occasions, playing directly towards Firmino. Whilst it did not always work, it contributed directly to two goals – which is more than can be said of the midfield's contribution.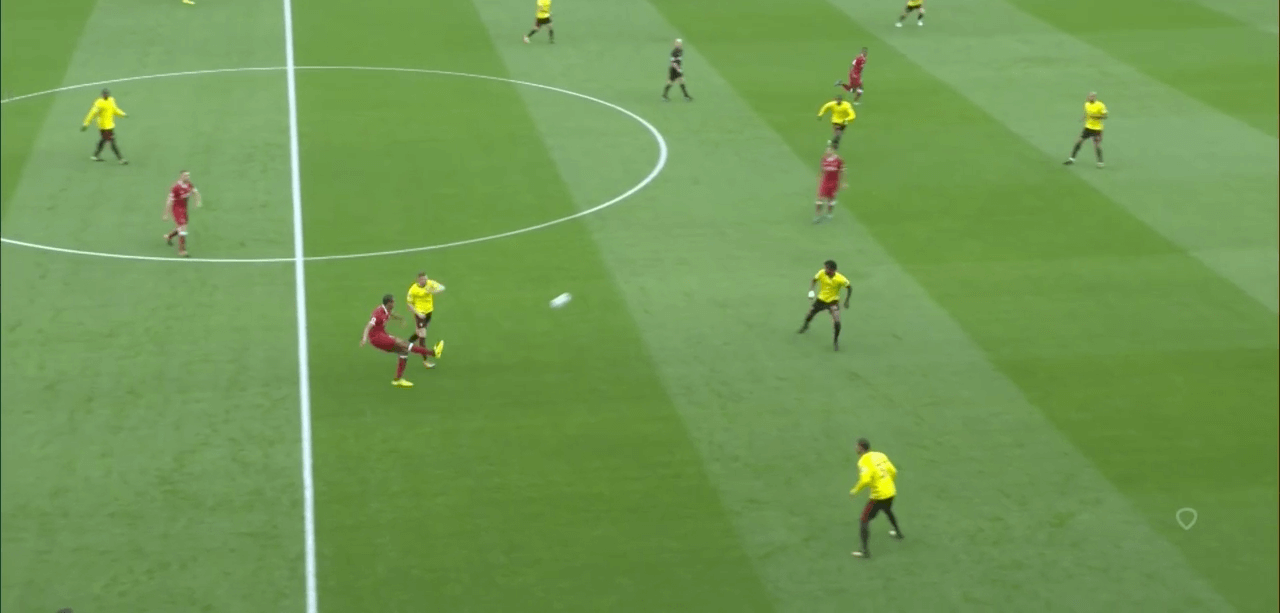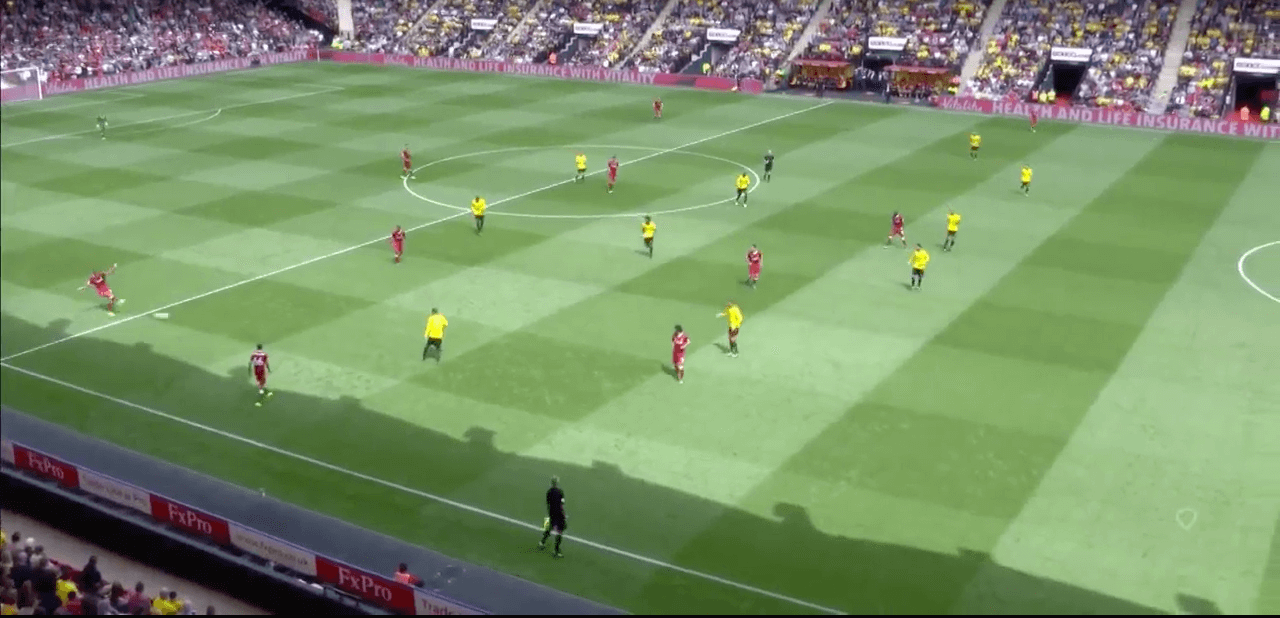 Above and below are another example of passing from deep, in this instance Firmino received the ball, and played it through to Salah, who should have hit the target instead of poking over.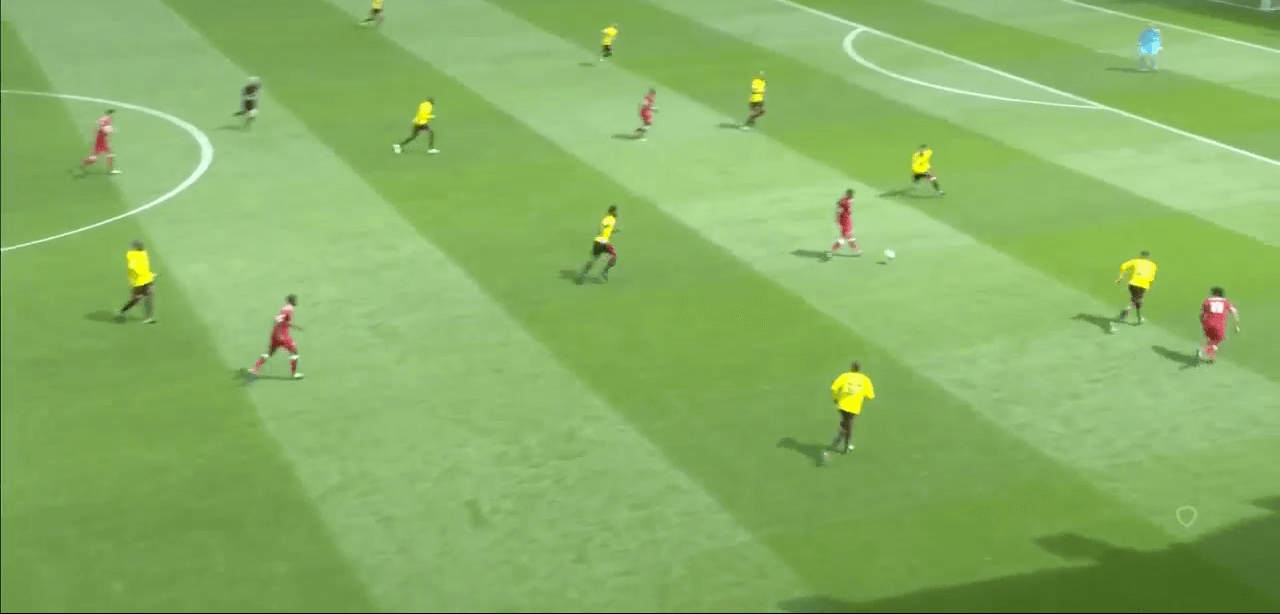 A boring midfield
The midfield was often quite static too – instead of using the staggered 3 in midfield as Liverpool did when Lallana was playing, last season, Can and Wijnaldum often found themselves occupying a similar position. Whilst that in itself is not a huge issue, to create half spaces, or space/passing opportunities for the forwards, Can and Wijnaldum needed to be further apart, or at least to have one of them coming for a short pass, and one for a l0nger one – rather than what we can see below, with Henderson not having enough variety ahead of him: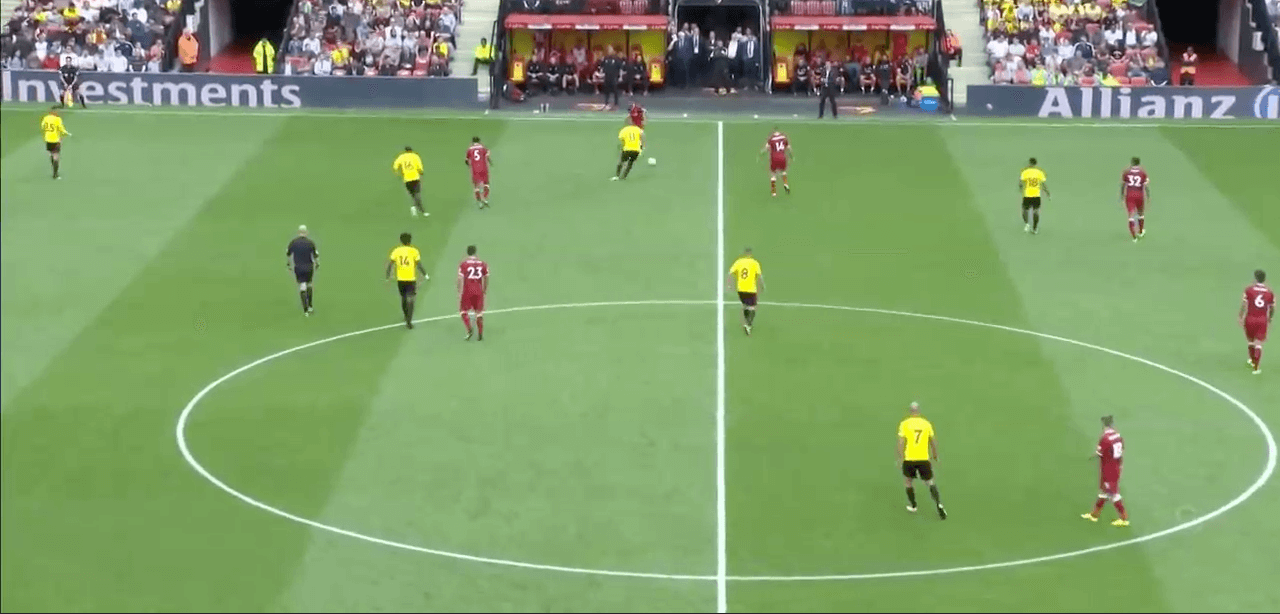 It's far easier to defend one length of passing, especially when both players are on the same positional line – as we can see with the two Watford CMs marking Wijnaldum and Can.
Not only this though, but the midfield was far less proactive than we would normally expect.
Can made 55 touches, Wijnaldum made 50, and Firmino made 52. Last season Can averaged 66 per game, Wijnaldum, 57, and Firmino, 64. For a team that had 55pc of the possession, far too little was in the hands of the players who Liverpool were relying upon to create chances.
Firmino dropping deep
In the first half, Firmino struggled to get involved, as Watford set up with two tight banks of four, with little space to exploit within. As a result, his touches across the entire game dropped below his average for 2016-17, but Mané's and Salah's persistant runs are something that Firmino used to very good effect in the second half as Watford opened up.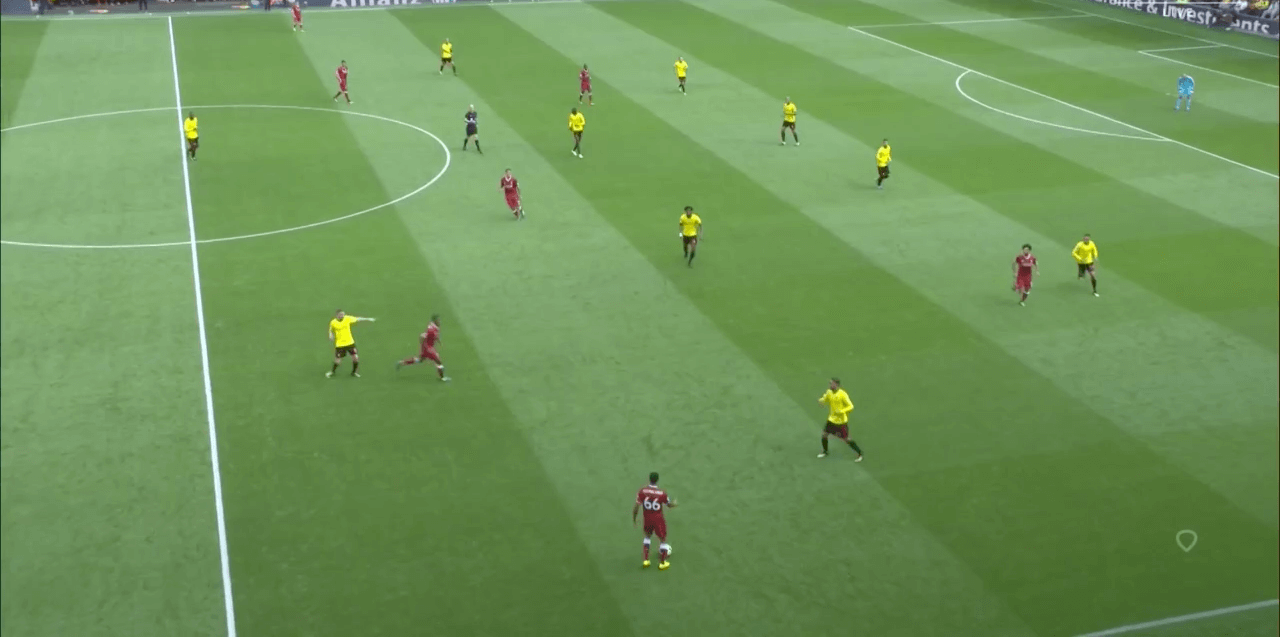 Corners, who's better?
Liverpool, like Watford, had three corners, but failed to convert any of them into goals. What did Watford do differently?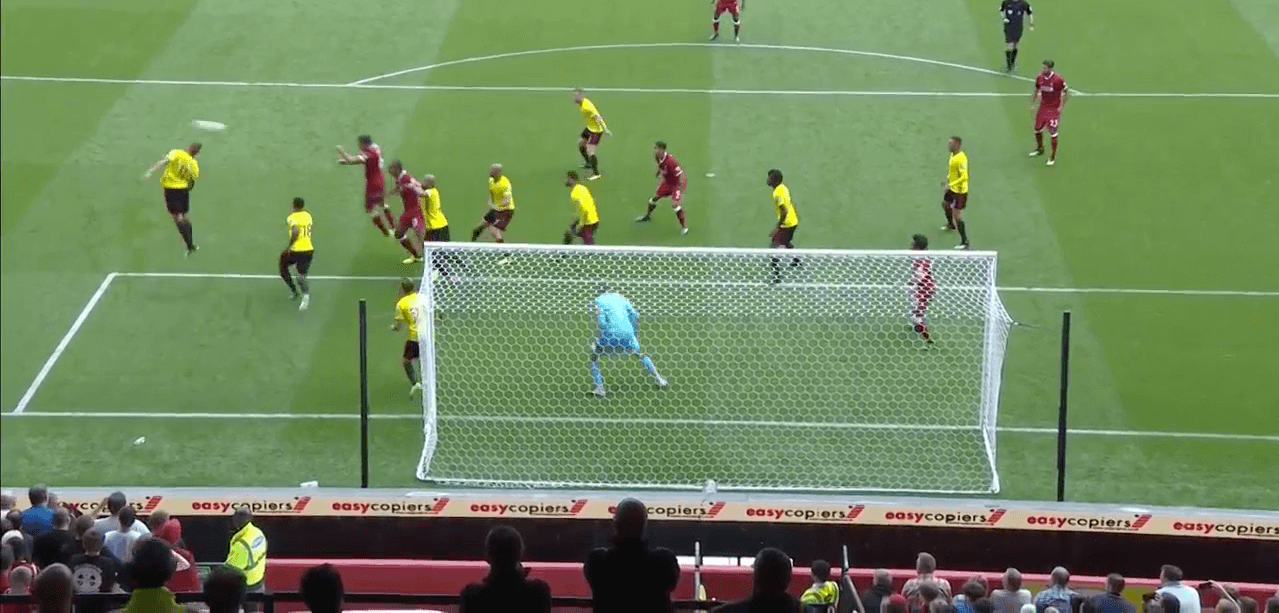 In the frame above and below, we can see Dejan Lovren attacking the ball, and winning his header, in a position similar to the Okaka goal, but harder to score from.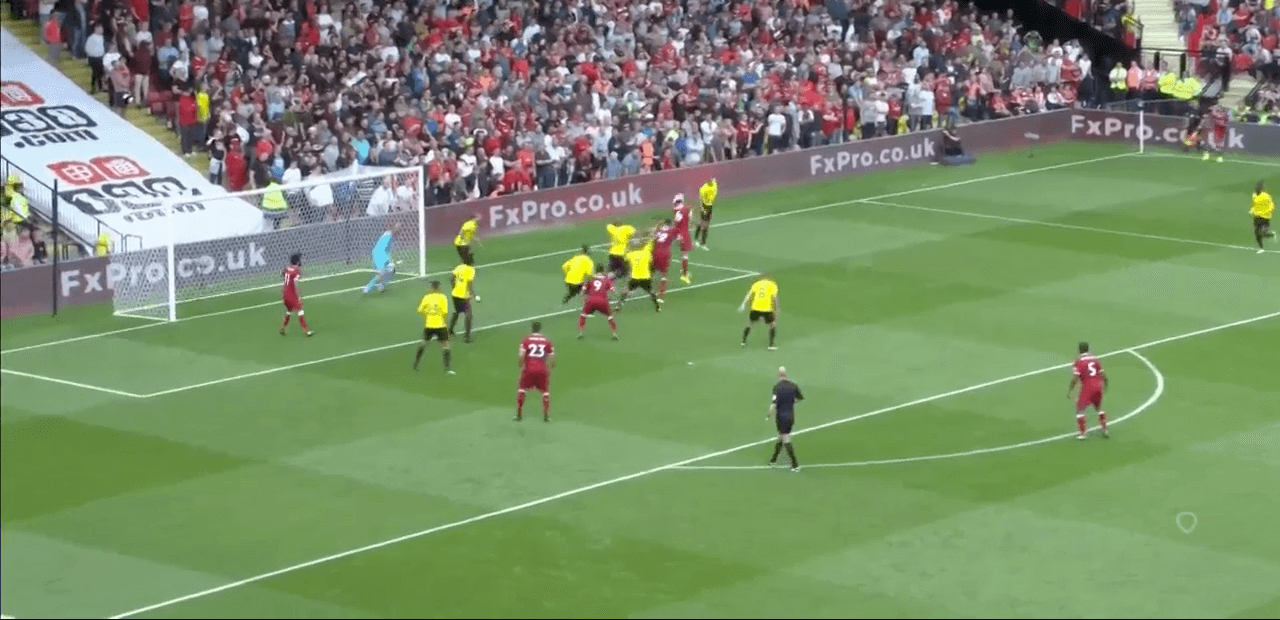 With a player on the near post, Lovren was forced to head across the goal, and Gomes made the save, as the ball bounced kindly for him.
For Matip though, he was extremely unfortunate not to score, as his header bounced off the bar.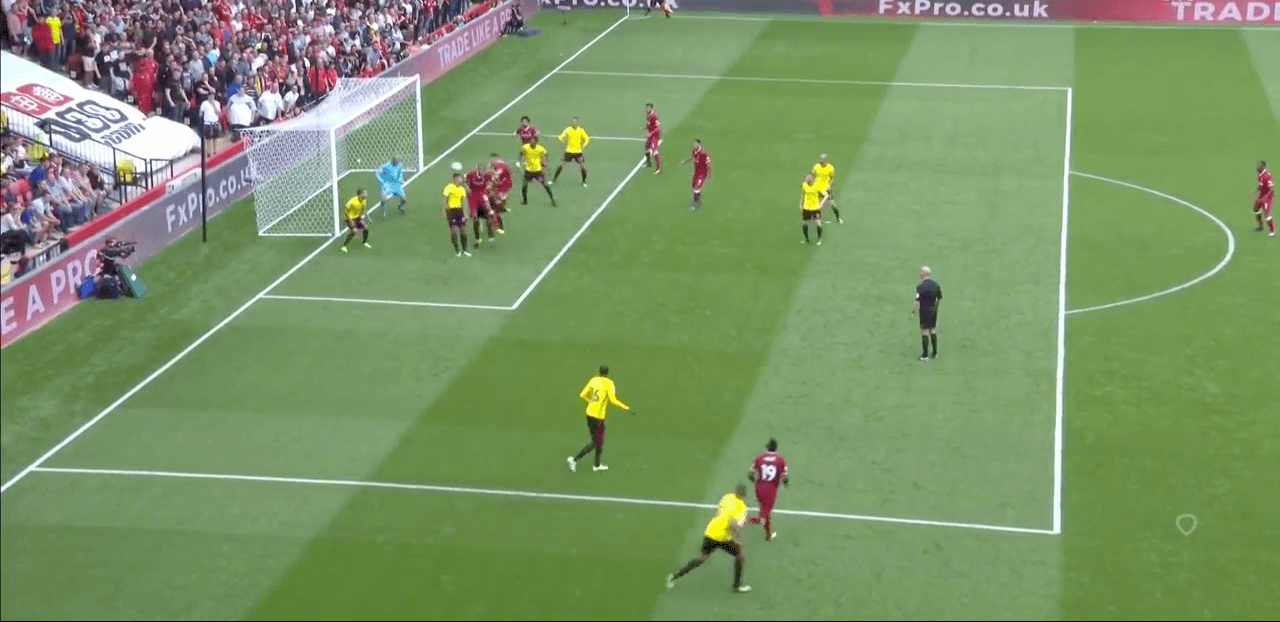 Did Watford deserve to score two more corners than Liverpool then? No. The only difference was a matter of inches for Matip, as he met a good ball, and positioned himself well – as Okaka did.
Are Watford better than Liverpool at set pieces then? Hardly, but with a marginally offside goal that went in their favour, and a ball that struck the bar, Watford can count themselves lucky, and Liverpool can feel slightly unfortunate.
Substitutions
It was inevitable that some of Liverpool's players needed to be substituted off – Liverpool play on both Tuesday and Saturday – with both Lallana and Coutinho unavailable for selection, and Sturridge needing careful management.
Keeping Firmino and Salah fresh will be essential to Liverpool's season, but even then, Klopp arguably made those decisions too late, in the 81st and 86th minutes respectively. Origi struggled, and Milner did little that we may meaningfully assess. The decision to take Alexander-Arnold off though proved costly, as Joe Gomez made a needless challenge, which contributed to the goal. However, as Liverpool have not signed another centre-back, players like Gomez certainly need minutes, and it seemed a low-risk move at the time. That being said, the Liverpool subs made little difference to the game, and focussing on them is not really conducive to the overall discussion – instead, we should ask why Klopp did now withdraw one of his forwards sooner, with the coming games in mind.
For Liverpool though, this game can only be one that's recognised for the team has dropping points. The team clicked offensively for around 25-30 minutes, and should have put the game away. Some misfortune and bad defending cost the team again though, and it's hard for fans to stay positive with the context of Lallana's injury and the Coutinho situation. Nevertheless, there were signs there of improvement and quality – perhaps we'll see more of that in the games to come.