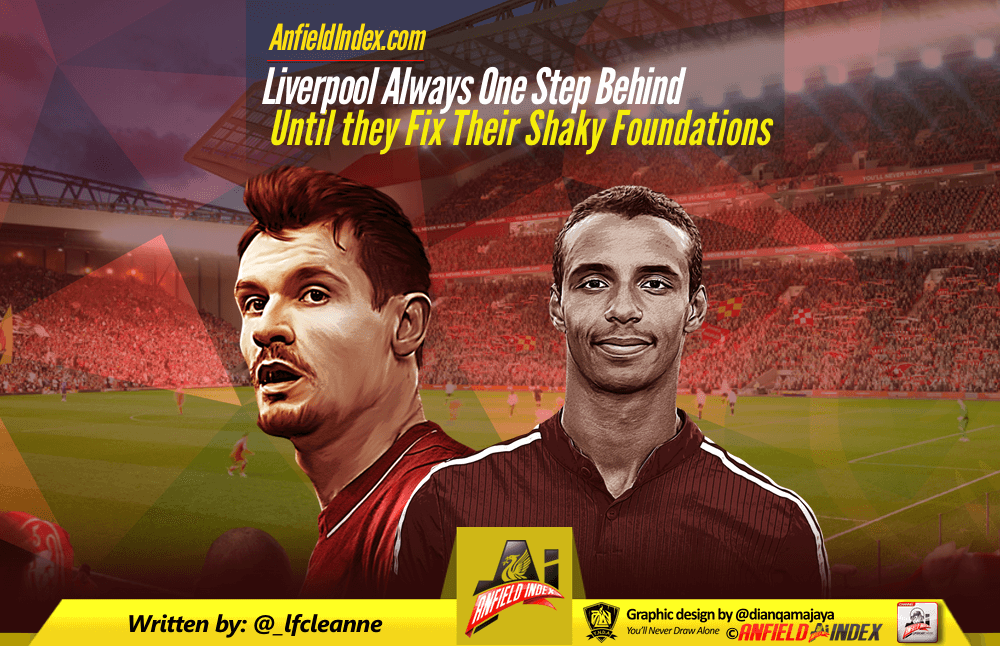 Liverpool Always One Step Behind Until they Fix Their Shaky Foundations
Ask any Liverpool fan, or any football fan for that matter, about where they want their team to be challenging and they'll give you the same answer. Naturally, they want to be vying for the title, mounting an assault on the domestic cup and pushing for that all-important Champions League trophy.
In order to do that, you need to have water tight foundations and carry real authority and verve going forward. Liverpool have such prowess in the final third of the pitch, with a trio of Sadio Mane, Mohamed Salah and Roberto Firmino causing all kinds of problems during pre-season to get the pulses raising ahead of the 2017/18 campaign.
It's at the other end of the pitch however, that the problems emerge for The Reds. Showing a clear lack of authority and organisation against Watford on the opening day provided a harrowing deja vu moment for Klopp's side, who looked dishevelled and disjointed from the word go.

Hardly a surprise.
Liverpool and shoddy defending are a love affair that looks set to go the distance. Year after year it's the same old story; opposition teams don't have to carve out chances but merely lump the ball into the six-yard box and wait for it to inevitably go in off someone's knee.
Since Klopp took charge, Liverpool have conceded a staggering 27 goals from set-pieces – a tally equalling Southampton and Stoke City's and just one less than Crystal Palace and Watford. Without disrespecting said clubs, none of them are in the same bracket as Liverpool. They're not vying for a title charge or plying their trade in Europe, making the club's weaknesses all the more poignant.
Compiling the defensive records of recent seasons underlines the persistent nature of the problem, too. Liverpool conceded 40 goals in the 2011/12 season, 43 in the 2012/13 season and 50 the following year.
The problems weren't only continuing, but actually statistically worsened. It's not a new issue for Liverpool; Brendan Rodgers suffered heavy criticism for a lack of stability at the back as did managers before him. Now it's Klopp's turn.
Taking over for Rodgers in October 2015, Liverpool shipped 48 goals at the back under the German – two fewer than last season's tally of 50.
Comparing that to Chelsea and City is where the issue is really hammered home. In the Premier League, Chelsea conceded 46 goals in the 2011/12 season, 39 in 2012/13, 27 in the following year – almost half of Liverpool's tally.
Last season, in their title winning campaign, Chelsea conceded a mere 33 league goals – 4 lower than City's tally during their Premier League title win in 2013/14. Liverpool haven't achieved a similar record since the 2009-10 season, highlighting the longevity of the problem.
Of course, then it boils down to just how do Liverpool rid of their frailties?
Signing Virgil van Dijk seems the most appropriate response, with the Dutchman offering an authoritative presence that the side so obviously lack. Both Dejan Lovren and Joel Matip's alarmingly poor performances at Vicarage Road will only have increased pressure on Klopp to delve into the market in the coming weeks, with both players also very injury prone and unlikely to withstand a rigourous campaign.
However, Liverpool's problems are far deeper rooted than just personnel. Yes, signing a high-quality centre-back can only help matters, but the club have bought recruit after recruit to try and iron out their weaknesses – most, if not all, have failed.
| | | |
| --- | --- | --- |
| Player | Year | Transfer Fee |
| Kyrgiakos | 2009/10 | £2,000,000 |
| Johnson | 2009/10 | £17,500,000 |
| Wilson | 2010/11 | £2,000,000 |
| Konchesky | 2010/11 | £3,000,000 |
| Coates | 2011/12 | £7,000,000 |
| Enrique | 2011/12 | £5,000,000 |
| Ilori | 2013/14 | £7,000,000 |
| Toure | 2013/14 | Free |
|  Lovren | 2014/15 | £20,000,000 |
| Moreno | 2014/15 | £12,000,000 |
| Gomez | 2015/16 | £3,500,000 |
| Clyne | 2015/16 | £10,000,000 |
| Matip | 2015/16 | Free |
| Klavan | 2015/16 | £4,200,000 |
Therein lies the problem. The Reds have spent a grand total of £93.2 million since 2009/10 and all these years later, they find themselves back to square one. Of course, none of those players are of the quality that Van Dijk is, but it suggests there could also be a weakness with the training regimen.
Klopp has been at the club almost two years now, in which time he's had the chance to work on a number of defensive issues. However, with the start of the new Premier League season all that was apparent this weekend was that Liverpool have utterly failed to fix a broken tool.
For all their attacking brilliance and mouth-watering moments, Liverpool will always be a step behind their rivals until they tighten up their foundations. It's hardly rocket science – tighten up at the back and you relieve the pressure on your front men.
At present, it's always a case of Liverpool having to outscore their opponents. Fans go into games expecting a calamitous moment at the back, putting their faith in the attack to undo the damage.
That's not a sustainable philosophy and one in which Liverpool must finally look to address once and for all. Failure to do so will see the Premier League title continue to elude them.