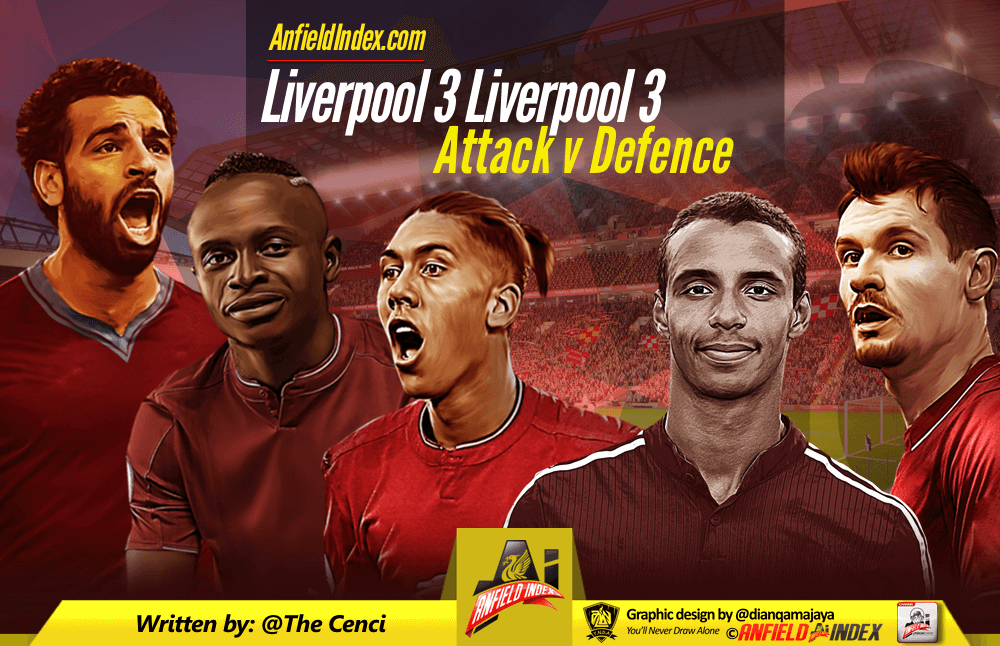 Liverpool 3 Liverpool 3 - Attack v Defence
Welcome to Groundhog Day.
The 2017-18 season kicked off at 12.30pm on Saturday and by 12.38pm Liverpool's defensive frailties were already on show. It was the familiar story. A corner, a near post ball, the flailing of limbs and yellow shirts whirling away in celebration. 1-0 Watford.
I was yards away from that corner flag at the time and had the same view as the corner taker, Jose Holebas. I noticed that Watford had a player unmarked at the edge of the area so thought that he would be the obvious target. This was not to be the case. Abdoulaye Doucoure had his hands on his hips and wasn't paying attention. The ball was going in to the six yard area.

If I saw that then so did everyone else yet Liverpool did nothing.
Near post corners are easier to defend as long as you can control a flick-on. The keeper guarded the post yet Liverpool did nothing.
On 93 minutes they took the piss with another near post corner. You'd have thought we would have learned. Liverpool did not. 3-3. Later, the manager would say that they would try to work on that. Well, there's a thought.
Oh, and let's have none of this 'it was offside' claptrap. I often find the best way to avoid that sort of scenario is to not allow an opponent to be on your goal line with the ball at his feet. Just saying.
And so, a draw was taken from the jaws of a 3-2 away win, albeit one which would have papered over the cracks. The Watford fans celebrated as we streamed out of the ground while Reds vented spleen at yet another calamitous and costly defensive display.
This is hardly news, of course, and it's not just been Klopp's problem. Take a look at the last seven seasons:
2011 – 44 goals conceded
2012 – 40
2013 – 50
2014 – 48
2015 – 48
2016 – 50
2017 – 42
Since Rafa left, through Hodgson, Dalglish and Rodgers, Liverpool have been easy to get at.
Of course, this has largely been disguised by the talent at the other end of the pitch and Saturday was the perfect example. The legwork from Salah, the beauty of Mane's goal and the delightful chip from Firmino were all wonderful. All three of our forwards started the new campaign with a goal. That's great. It would be perfect if we had the slightest idea how to keep the other end clean.
It's easy to point at the obvious candidates. Lovren and Mignolet are capable of the rankest of brain farts but just how bad was Joel Matip on Saturday. I think he became Watford's best midfield passer in the first half.
We can extend that criticism to other areas of the pitch. Part of Brendan Rodgers' problem was not only the defence, but the screen in front of it. Even the best defenders need someone to mop up from time to time and Liverpool's midfield three did little to aid their colleagues on Saturday. They were equally bereft going forward, offering as little creativity to the forwards as they did protection to the back line.
Jurgen Klopp said: "We would have had defensive areas we need to work on if we'd won 3-2."
Indeed he does, though it might have been nice had we worked on it over pre-season – a point made rather forcibly by Jamie Carragher at the weekend. Sure, it's great having forwards who can, at times, outscore their own defence, but that isn't a sustainable model for success. A bog standard Watford team scored three goals against us. Better teams could score more.
Any fury at the score line was matched by a cacophony of 'it's the first game' and 'it's not all gloom and doom' from optimists but, though they have a point, it was also Watford's first game and the ease in which they took the first half is concerning. Plus they know how to handle near post corners.
Perhaps the most damning stat is that they only had three corners on the day but only needed two to match Liverpool.
Is the system to blame or is it the personnel? Well, if it's taken this long to bring in a centre back then Klopp had better start looking at how his defence and midfield set up. It's especially disheartening for the Reds to have only 17 days to replace their best player when we have failed to bring in a defender in three months.
What's more concerning is Klopp's insistence that he only wants his 'Plan A' choice and no more. He told the pre-Watford press conference.
"I could go into the season with this squad, no problem. In fact that's what we will do and then we'll see what happens from now until August 31."
If that's the case we will have gone from a promised summer spend upwards of £100m to just three players – Salah, Solanke and Robertson – only one of whom made the first team on Saturday. The Egyptian is undoubtedly a strong addition, but can do little about the mess that sits behind him on the pitch.
If the manager is limiting himself to his 'A' list then we may have to muddle through with a side that cannot defend the most basic of set plays. Again, a formula which is unsustainable.
On Tuesday, Liverpool take on Hoffenheim from the Bundesliga. They are particularly adept at set pieces.
Sleep well.