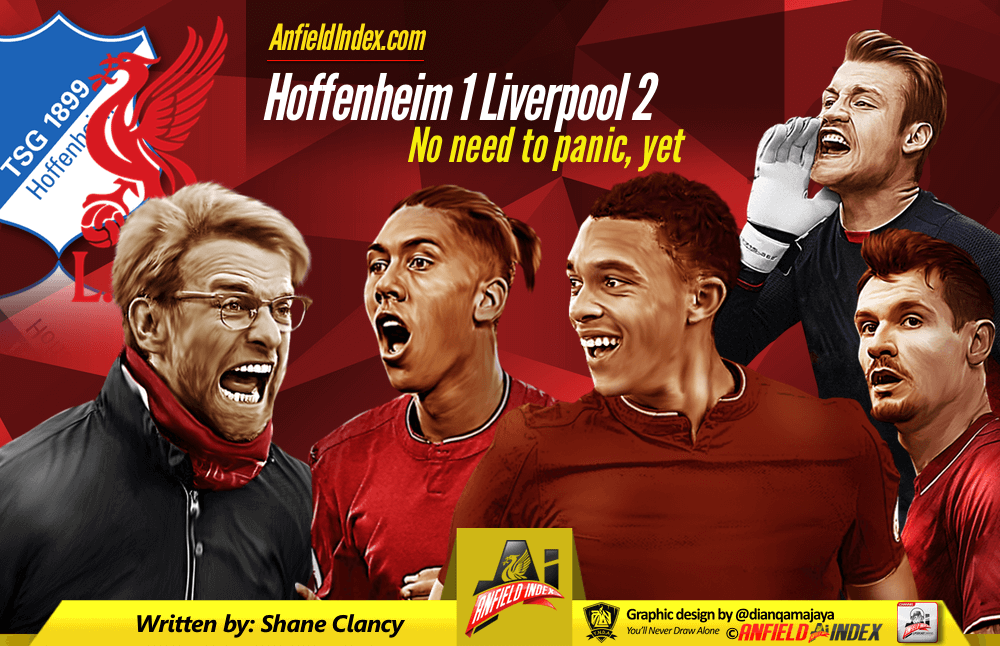 Hoffenheim 1 Liverpool 2 - No need to panic, yet

Date: 15th August 2017
Venue: Rhein-Neckar Arena
Competition: Champions League Qualifier
Teams
Hoffenheim lineup – Baumann, Vogt, Hubner, Bicakcic, Kaderabek, Rupp, Demirbay, Zubar, Gnabry, Kramaric, Wagner
Subs: Kobel, Nordtveit, Toljan, Amiri, Uth, Szalai, Geiger
Liverpool lineup – Mignolet, Alexander-Arnold, Matip, Lovren, Moreno, Henderson, Can, Wijnaldum, Salah, Firmino, Mané
Subs: Karius, Origi, Milner, Klavan, Gomez, Grujic, Solanke
The Build-Up
Football's not meant to be like this, is it? Or maybe our second game of the season (yes, SECOND GAME!) should be a proverbial pressure-cooker of a match? That's how things are now. If I can feel it, and you can feel it, then Klopp and his men can SURELY feel it. They just need to have far better coping mechanisms than we do.
No matter how I tried to play this game down in my mind, I could not deny its importance. Hoffenheim were the only roadblock on our journey from here to the Champions League group stages. But their security force was thought to be one to be reckoned with.
As Klopp drives our bus and approaches the checkpoint, does he decide to hide our weapons and conceal our strengths with the hope of making it past Nagelsmann's men quietly and without any undue attention? Or does he hit the accelerator, hang Mané and Salah from each wing-mirror with AK47s blazing and break through the barriers?
The Action
Liverpool had a very nervy start to this game. As is often the case, the first ten minutes or so felt very scrappy and it seemed like the middle of the park was totally congested. To combat that, Hoffenheim gradually began to find their wide-men.
In the sixth minute, Kaderabek had space on the right, his cross for Wagner was just intercepted by the outstretched leg of Joel Matip and his touch took it over everyone to the far side of the box.
A minute later and it was Lovren's turn to intercept a cross, this time from a clever left-sided free kick from Hoffenheim. Lovren's block actually bounced from his leg onto his hand but the referee, Bjørn Kuipers, correctly decided that it was a case of ball-to-hand rather than hand-to-ball.
It was Liverpool's turn to test the German defence immediately afterwards. Mané had a low, near post attempt stopped by Baumann's legs. This was after some great overlapping play by Moreno on the left.
Three minutes later, however, and Lovren conceded a penalty. Gnabry's footwork proved to be a little bit too tricky for the centre-back and his challenge, although possibly unlucky, was definitely clumsy. Kuipers pointed to the spot after a moment's consideration.
Fortunately for the Reds, Kramaric took a very poor penalty. Mignolet made it seven saves from the twenty penalties that he has faced in goals for Liverpool. Still 0-0.
After that escape, Liverpool had their first clear-cut opportunity. Salah broke from the halfway line with the Hoffenheim defence in chase. He got his right-footed shot away from the edge of the box but it went low and wide of the right post.
The game entered a very quiet period then with a lot of the play again concentrated in the middle.
Kaderabek had the next chance for Hoffenheim after some sloppy play from Henderson to lose out in his own half. A deep cross found Kaderabek free at the back post but he scuffed his shot high and wide of Mignolet's goal.
On the half hour mark, Henderson released Mané down the left with an inch perfect ball. Mané continued his run well but his low pass across the 18-yard line failed to find a teammate.
Just after this Hoffenheim broke into the Liverpool box and Rupp had a low strike blocked well by Lovren.
In the 34th minute, Mané caused some more trouble for Hoffenheim on the break. This time he used his pace through the centre and was pulled back by Bicakcic. The defender was given a yellow card and Liverpool had a free kick to work with from about 25 yards out. The free was from a central position. The kind of free where Coutinho would have stepped up normally. But, of course…….
Tonight, it was Trent Alexander-Arnold who tried his luck. He picked his spot perfectly and curled his shot just over the wall and right inside of Baumann's left-hand post. The keeper barely moved as he knew there was no reaching the young full-back's effort. Brilliant goal! Liverpool were ahead in Germany!
The Reds had another chance straight after this. Salah rolled the ball back to Emre Can who hit a first-time shot from outside the box but it went straight at Baumann.
In the 43rd minute, Hoffenheim came very close to equalising. Moreno was beaten in the air and Gnabry beat Matip to the knockdown. Gnabry's attempt was very well saved by the advancing Mignolet's body. The ball bounced to Wagner, just inside the box, and he his try went just wide of the post.
In injury-time at the end of the first half Liverpool nearly made it 2-0. Moreno swung in a great cross from a left-sided corner. Lovren rose well and directed his header back towards the near post. It went just wide of the scrambling Baumann's goal.
Half-time: Hoffenheim 0 – 1 Liverpool
Hoffenheim came out with a more intense and speedy approach after the break. This suited Liverpool, of course. Space began to open up and Mané really started to enjoy himself on the left.
In the 47th minute, it was Mané who brilliantly opened the Hoffenheim defence up on his side and then fed a low ball to Firmino. Bobby's shot went straight at Baumann, though.
Two minutes later and Gnabry had a goal rightly disallowed for offside. Gnabry felt hard done by but he'll have to agree with the decision when he sees the replay.
In the 51st minute, and again it was Mané terrorising the Germans. This time he created the space for himself and had a shot saved by Baumann.
In the 64th minute, Henderson was taken off for Milner. It looked to be just a reshuffle of the lineup as Henderson (hopefully) didn't appear to be injured. Can went into Henderson's anchor role and Milner joined Wijnaldum in the advanced midfield area.
Liverpool began to turn the screw at this stage. Salah had a right-footed shot saved and Lovren came close with a header from the resulting corner.
After 74 minutes, Firmino played a great ball wide to the unmarked Milner. As Milner attempted to cross for the incoming Salah, his ball ricocheted off the chest of Nordtveit and into the far top corner. Some very good fortune for the Reds. 2-0 to Liverpool!
In the last ten minutes, the game opened up with Hoffenheim chasing the game. Mignolet had to make a great save from an Amiri effort after a lovely lay off from Kaderabek. Liverpool had an opportunity on the break but Mané wasted his effort.
Solanke came on for Firmino who received a wonderful ovation from both his current and former fans.
In the 87th minute, Uth scored a cracker of a goal for Hoffenheim. There was a mixup between Alexander-Arnold and Matip and Uth controlled the ball on his chest before catching it perfectly on the half-volley for a drilled shot, low and into the far corner, leaving Mignolet with no chance.
Grujic came in for Mané in the 89th minute. There was still time for more action.
Hubner had a great headed chance in injury-time from Demirbay's free kick but he watched as his effort flew just over the crossbar.
Grujic managed to get a shot in for himself from Liverpool's last attack. Baumann got his hand to it though, and, more importantly, collected the second ball.
That was how it finished and for Liverpool, it was a simple case of "job done". A great result for the Reds and now they look forward to welcoming Crystal Palace to Anfield on Saturday.
Final Score: Hoffenheim 1 – 2 Liverpool