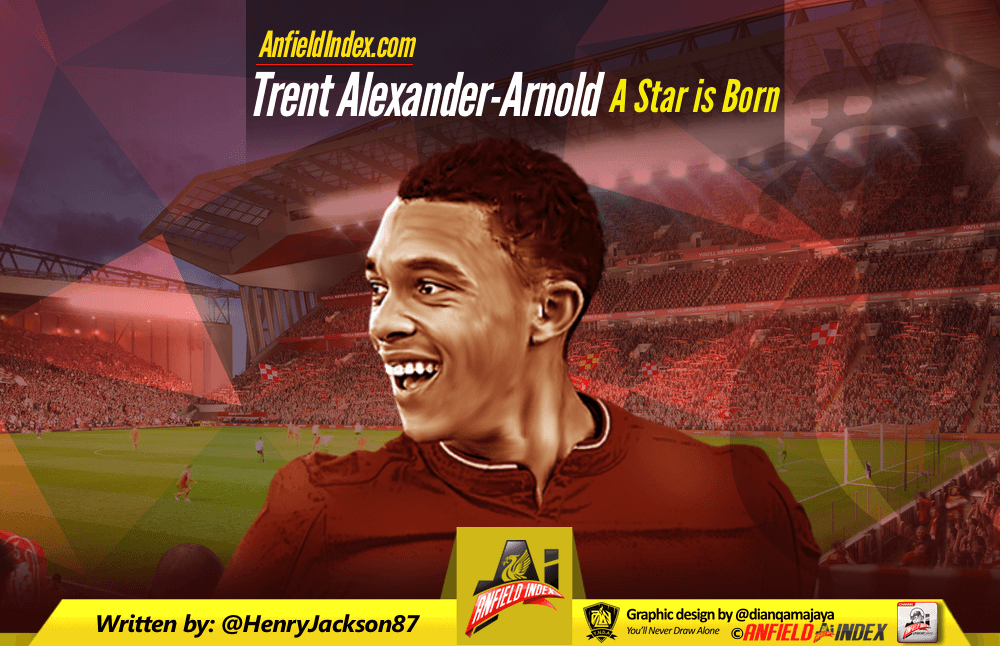 Trent Alexander-Arnold: A Star is Born
I remember watching Robbie Threlfall in a Youth Cup final between Liverpool and Man United in 2007, and convincing myself he was going to be a future Reds great.
I can hear some of you asking who on earth Robbie Threlfall is.
The defender starred in Liverpool's march to glory that year, scoring in the final of the second-leg at Old Trafford, and big things were expected.

Threlfall never made the grade at Anfield, as you may have guessed – now 28, he currently doesn't have a club – and from that point a decade ago onwards, I have always been wary of overhyping young British talent at Liverpool.
I couldn't warm to Jay Spearing; Danny Wilson was never going to be the 'next Alan Hansen'; Conor Coady wasn't Steven Gerrard's natural successor and Jon Flanagan got me excited for a year but that was all.
It was always going to take a special youngster to change my outlook on things, and this is where Trent Alexander-Arnold comes into play.
The 18-year-old is an absolute superstar in-waiting and the most promising teenager to emerge from the Red half of Merseyside since Gerrard nearly 20 years ago. Wayne Rooney was pretty great for the Blue half at 16, to be fair.
Alexander-Arnold's brilliance has been spoken about for some time now, with the athletic right-back/midfielder seen as the academy's most prized asset for years.
There has almost been an inevitability about the rapidity of his progress, although, at other clubs, Chelsea being a prime example, his path to the first-team would have been blocked.
Fortunately, Jurgen Klopp's arrival at Liverpool in October 2015 was perfect timing for the youngster, with the Reds manager respected the world over for his promotion of youth.
If he believes a young player is ready to step up and shine in the first-team, he will not hesitate in throwing him in at the deep end. That is exactly what has happened with Alexander-Arnold, and Klopp is already reaping the rewards.
He made 12 appearances last season, cutting a composed figure almost every time he played and not looking remotely out of his depth against grown men, and he now looks ready to take that next leap to being a guaranteed regular.
Injury to the reliable but limited Nathaniel Clyne this summer gave Alexander-Arnold the perfect opportunity to make the right-back spot his own, and in the first two games of 2017/18, he has made it his to lose.
On a disappointing afternoon at Watford on the opening Premier League weekend, the England U18 international was one of Liverpool's less culpable players, with far more mature players around him the ones looking out of their depth.
If that was a solid but unspectacular showing, what happened in Hoffenheim on Tuesday evening felt like the moment Alexander-Arnold's career truly took off.
Liverpool were not playing particularly well at 0-0 in their vital Champions League playoff, with Simon Mignolet's penalty save keeping the match goalless, when they won a free-kick 30 yards from goal.
Alexander-Arnold's prowess from dead ball situations has been showcased many times for the Reds' U23s, but this was a Champions League game.
In the eyes of many, he was the least likely player to take the free-kick, but Klopp had informed him that he was on set-piece duty. An ordinary 18-year-old is not given that task, when the likes of Roberto Firmino, Jordan Henderson, Emre Can and Alberto Moreno are also around to stand over the ball.
What followed was an inch-perfect strike reminiscent of Luis Suarez's beauty at Goodison Park in 2013/14, and a star was officially born.
Alexander-Arnold wheeled away in delight before being mobbed by his teammates, and it was remarkable to think that a player of such tender years had played such a key role in a huge match for both sides.
Without his input, you wonder how things may have panned out against Julian Nagelsmann's side, with Liverpool's defensive issues still there for all to see.
Alexander-Arnold was very good throughout the night, barring his rather slack involvement for Hoffenheim's late goal, with Klopp describing him after the game as "an incredible young player."
The English media are the very worst at building up a young player then slaughtering him when a few poor performances happen, so I am very wary of putting too much pressure on the West Derby-born starlet.
There will be blips along the way, as there is with any emerging footballer, but if he doesn't become a key man as the years progress, no Liverpool youngster will.
Alexander-Arnold is as mature an 18-year-old as the Reds have had in many years, perhaps even before the reckless teenage Gerrard, and should serious injury be avoided, an exceptional career awaits. He has everything in his locker to become a hero at Anfield, whether it be technique, attitude, athleticism or influence.
Clyne has every reason to feel concerned about getting his place back in the side, and with midfield still Alexander-Arnold's preferred role, others further up the pitch may also be feeling a little nervy as well.
At the start of the season, bookies were offering very long odds on him making it into England's 2018 World Cup squad next summer, but he is now just 8/1.
That looks well worth a punt on current evidence, with Liverpool's new local favourite the type of player who will continue to make the headlines as the weeks and months pass.
What a superstar Liverpool have on their hands – he's brought an end to my post-Robbie Threlfall trepidation, which sums up how special he is.