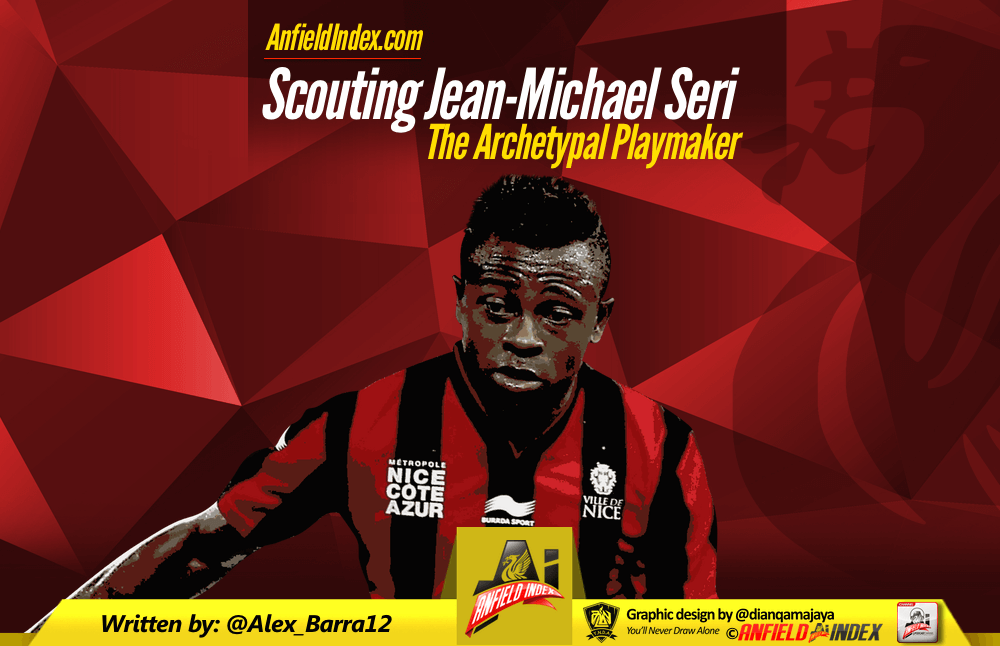 Scouting Jean-Michael Seri - The Archetypal Playmaker
Poise. Class. Creativity.
Bountiful vocabulary has been used to describe the underrated Ivorian midfielder, currently plying his trade in a young, vibrant Nice team, coached by the Klopp-like Lucian Favre and playing alongside the likes of Vincent Koziello, Younes Belhanda and Allasane Plea. With a talented squad capable of hanging with Ligue 1's opulent giants, Nice, on the whole, could be described very similarly to the man who often carries their midfield – underrated, under the radar, and yet seriously impressive.
For when one gets the chance to see Jean-Michael Seri in action, the resounding consensus is that he gets very little wrong, and does a whole lot of things right, even if they aren't particularly obvious.

In the same way that Gini Wijnaldum was often the under-stated cog in the machine that made Liverpool tick last season, so too is Jean-Michael Seri the unseen, yet vital midfielder that world football seems to have only just taken notice of.
"He has a release clause of €40 million. Everybody laughed when we put that clause in."
The president of Nice, Jean-Pierre Rivere said the above to RMC in May, of his star midfielder's then-considerable price tag – in a summer window where PSG's €50 million purchase of David Luiz was seen as colossal, and no player in Ligue 1 outside of James Rodriguez departed for more than €20 million.
Perhaps Rivere had a crystal ball, or perhaps he was simply extraordinarily clever. Either way, he's been proven correct, and he's also willing to give up his prized asset, should that release clause be met.
Style
"I copied the notion of the "hidden pass" from a player I like a lot: Xavi…They are passes that surprise your opponent."
If you'll begrudge this writer the use of repetition, a few words should be uttered once more to enforce the fact.
Poise. Class. Creativity.
Those are words one would use to describe Xavi, the maestro that he was, and are similarly apt when it comes to describing the Ivorian playmaker attracting attention from the Premier League's big boys.
While the comparison is lax – any midfielder with an eye for a pass can be compared to the Barcelona icon – it paints a picture of composure, calmness and the ability to look for a pass that few others can see. The above quote is from an interview he gave with Afrique Foot, where he delves into the man from which he's derived a few skills. In it, he also discusses the hard work that goes into playing under Lucien Favre, and the lengths he's willing to go to in order to help the team.
He usually plays as part of a midfield two, with the ability to pick up the ball from deep, use the players around him to drive upwards and carve out a chance for one of his pacey or tricky forwards to latch onto. The place where he's most noticeable is when he picks up the ball around the sixteen-yard box, able to pick out the silky pass.
Strengths
Indeed, Seri is a prominent central midfielder who enjoys getting forward in transition. When given the space to roam, he can carve out a chance from anywhere and has a variety of passes in his locker. Perhaps that's where the Xavi comparison comes from – an innate desire to want to catch the opponent off guard with a finely placed pass.
The evidence is in the numbers too – only five players played more through balls in Europe's top five leagues last season: Messi, Di Maria, Sanchez, Tolisso, and de Bruyne. It's quite the clique of players to be mentioned beside.
And yet, he still manages to complete 89.5% of his passes (per Opta.) That's superior to the passing accuracies of Adam Lallana, Aaron Ramsey and Ivan Rakitic – all of whom he's been rumoured to replace in their respective teams' midfields. He's also got more assists than all of those names.
When he picks up the ball around the box, he's guaranteed to look for a teammate in a dangerous position, and it's that threat, combined with the seven goals he scored for Nice last season, that provides the fuller picture: Seri isn't merely a passing maestro who enjoys dictating play from deep.
He will push up, he will get the ball on a counter-attack and drive towards goal, and sometimes he'll even hit a thumping right-footed finish past the opposition keeper. Of course, he's more likely to hold the ball for a moment – just enough time for a lightning quick attacker to burst past the fullback – and lay off a ball to send his teammate one on one with the keeper. He averaged 2.2 key passes per game last season, which is considerably more than Ramsey's 1, Rakitic's 0.8 and Lallana's 1.4.
He's a dictator, yes, but he's the kind of dictator that gets close to his people, that doesn't simply rule from far away. He'll get his hands dirty.
Weaknesses
He doesn't possess the dribbling talent of someone like Naby Keita, or indeed Phillipe Coutinho, who is able to glide past players as if they weren't even there. Similarly, he's not able to take the brunt of responsibility and carry the entire team on his back in the same way that Liverpool's magical Brazilian and Leipzig's majestic marvel are able to.
Physicality could be an issue – the Premier League's rugged nature means Seri would have to pass his way around opposition, but it's likely something that the 26-year-old would relish.
Where would he fit in?
Considering the lackadaisical performances Liverpool have suffered in the middle of the park in the opening two fixtures of the season, the need for someone of Seri's ilk is abundantly clear.
The release clause is set at €40 million. Unfortunately, it seems as if Seri isn't particularly fond of the cold. He apparently suffers from ingrown toenails when it gets considerably cold – though France's winters can be just as cold as England's. Also, it's a condition that could simply be resolved with surgery – depending on the desire of the club who wants Seri.
There are plenty of suitors, and given the price tag would be less than Everton are paying for Gylfi Sigurdsson – whose numbers are highly inflated by set pieces – it would certainly be money well spent, for whoever procures the graceful Ivorian.