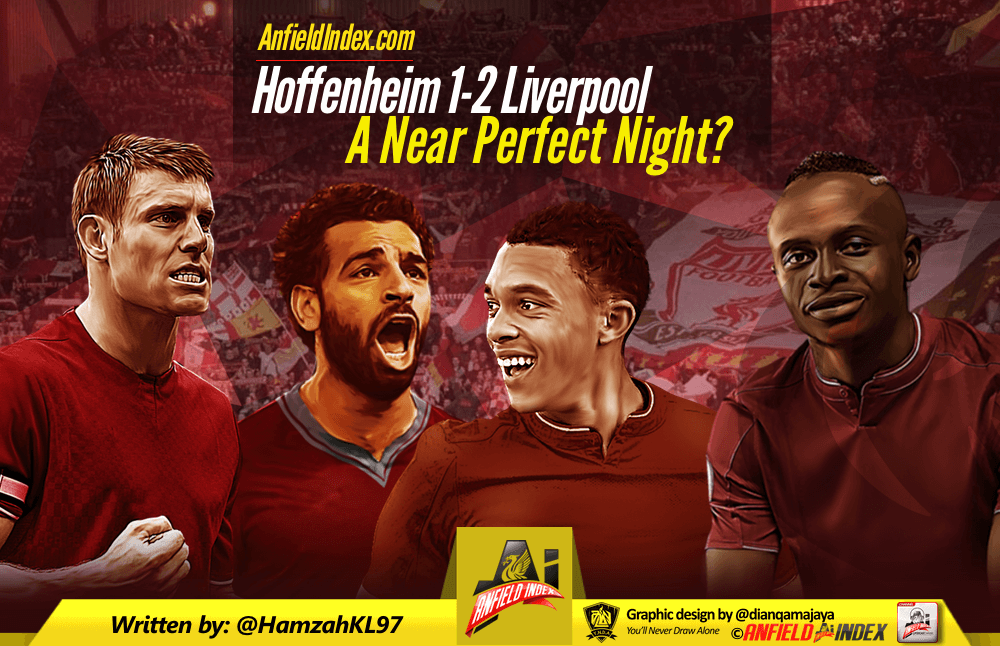 Hoffenheim 1-2 Liverpool: A Near Perfect Night?

It was hardly going to be an easy night. Liverpool were away, in their first Champions League game under Klopp, to perhaps the toughest side available in the draw, Hoffenheim, who had not lost for over a year at home. Alongside this, there was the ongoing Coutinho situation, whilst two of Liverpool's best offensive players – Daniel Sturridge and Adam Lallana – remain sidelined, so too Nathaniel Clyne. Nevertheless, this was the amalgamation of all the hard work from the 2016-17 season, and an opportunity, one which Klopp certainly did not seem like he would let pass him by.
For this analysis, we're going to have a look at the three goals, the penalty, and a few other key moments within the game, that either reflect upon how we do, or how we do not, expect Liverpool to play when considering past performances and Klopp's own objectives.
Match Statistics
Possession
TSG 63pc
LFC 37pc
Shots
13 (4)
14 (8)
xG
1.18⁺¹ ᴾᴱᴺ
1.57
Corners
6
5
Fouls
13
12
Goals
0-1, Liverpool, Trent Alexander-Arnold, 35′
Trent Alexander-Arnold had a fantastic game against Hoffenheim, and nothing personifies it better than this fantastic free kick: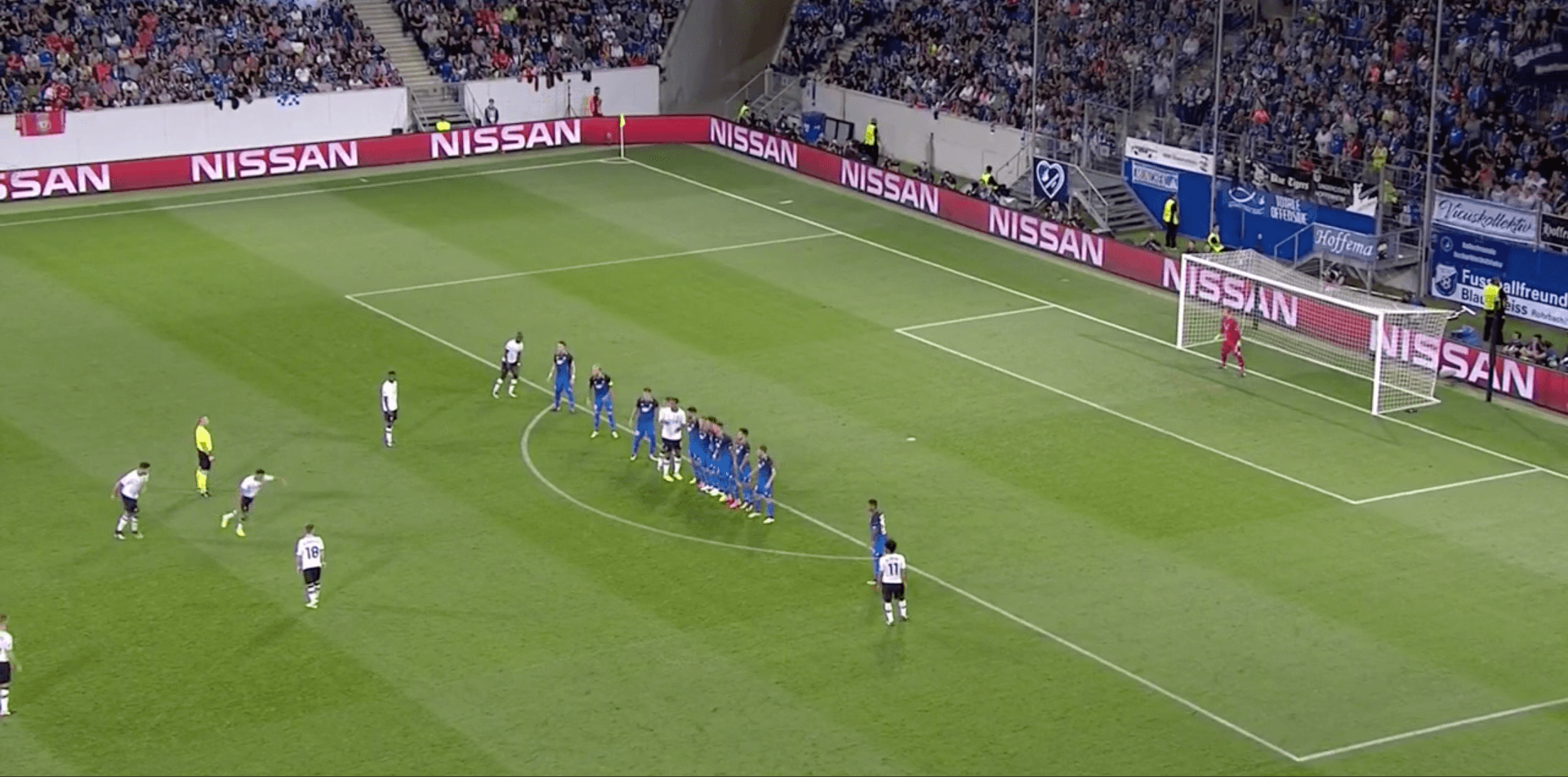 In terms of analysis though, there are a few things here that we can pick out: firstly is the goalkeeper's position.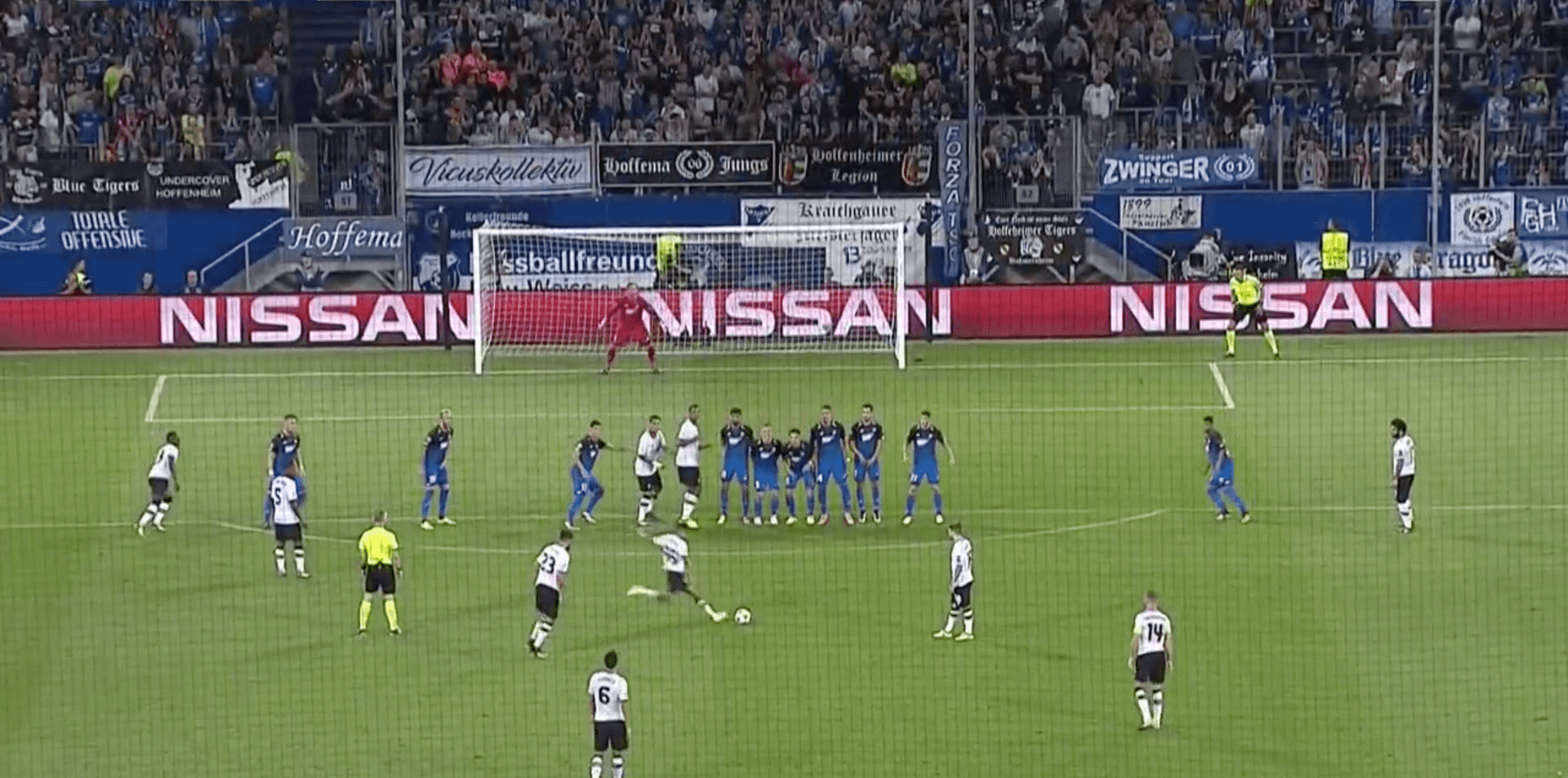 The goalkeeper is probably around half a yard away from where he should ideally be – just slightly closer to the centre. Admittedly, it's easy to see why the goalkeeper is wary of stepping just a bit further across, because of the presence of the left-footed Alberto Moreno. Goalkeepers are always told to cover 'their' side, and it seems the goalkeeper here is just a bit too worried about a powerful strike at his near post beating him. Nonetheless, as we see in the frame below, his wall fails to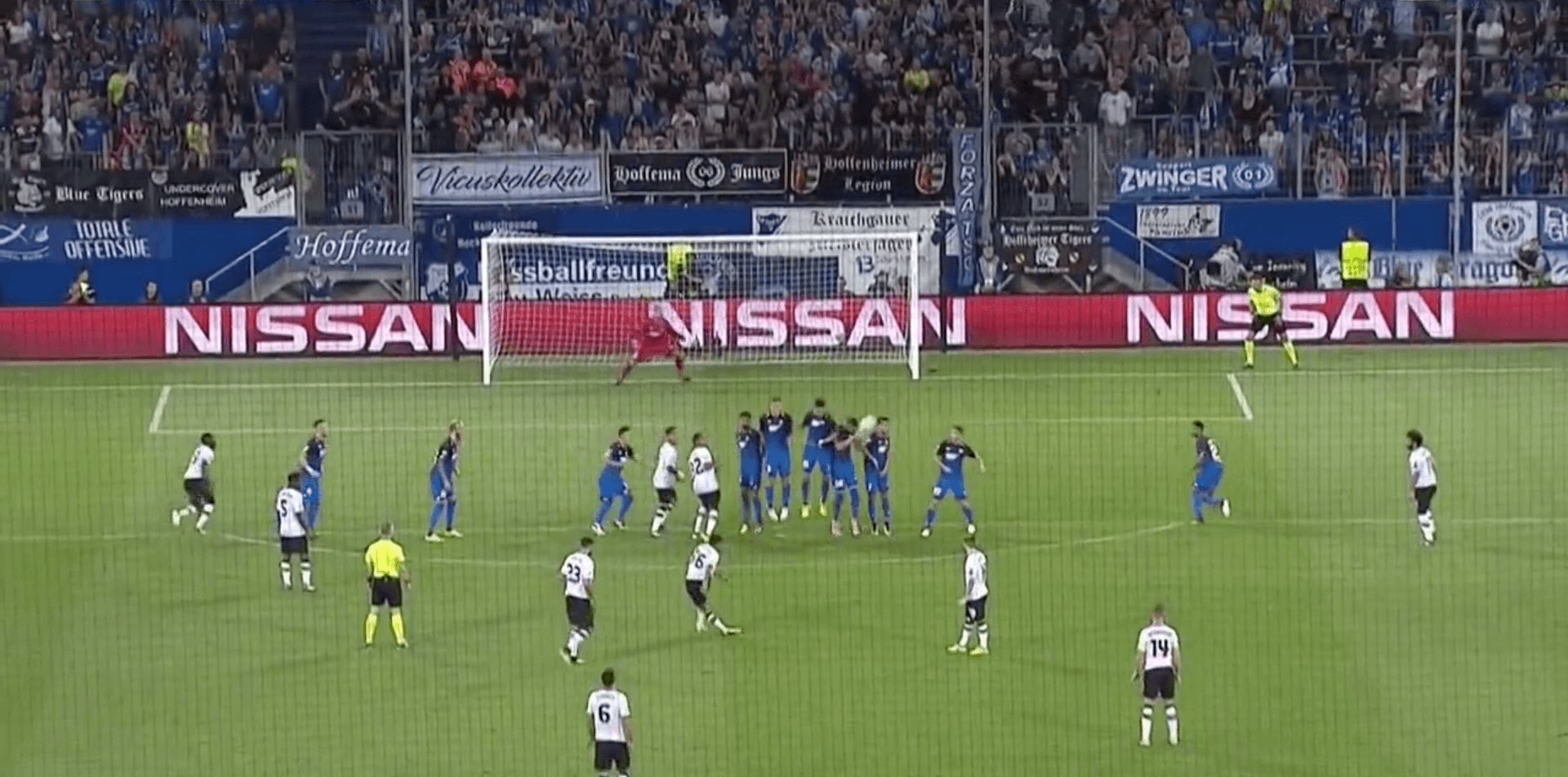 Whilst the wall does fail the goalkeeper, it's hard to fault Trent Alexander-Arnold's technique – the way he swings his right foot around his standing leg is reminiscent of the Beckham swish. The ball has pace, dip and curl too, as you can see below, he manages to pitch it outside the post, and bring it back inwards with the curl.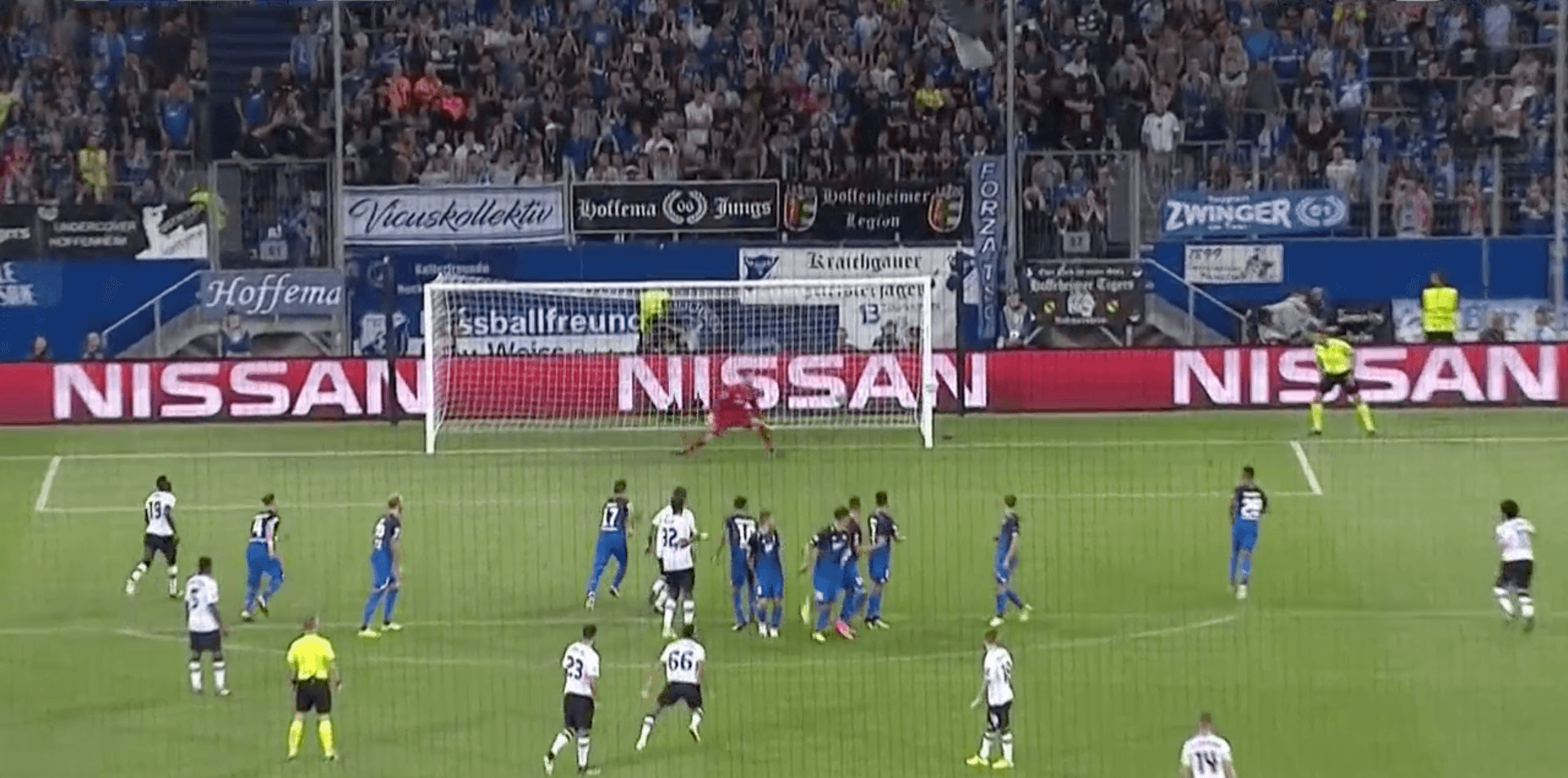 0-2, Liverpool, Nordtveit OG, 74′
This goal came about through some quick play from Gini Wijnaldum, who like in the Watford game had very few touches. In fact, he had only 36, three fewer than Simon Mignolet. His quick free kick was fed into Firmino who carried it forwards.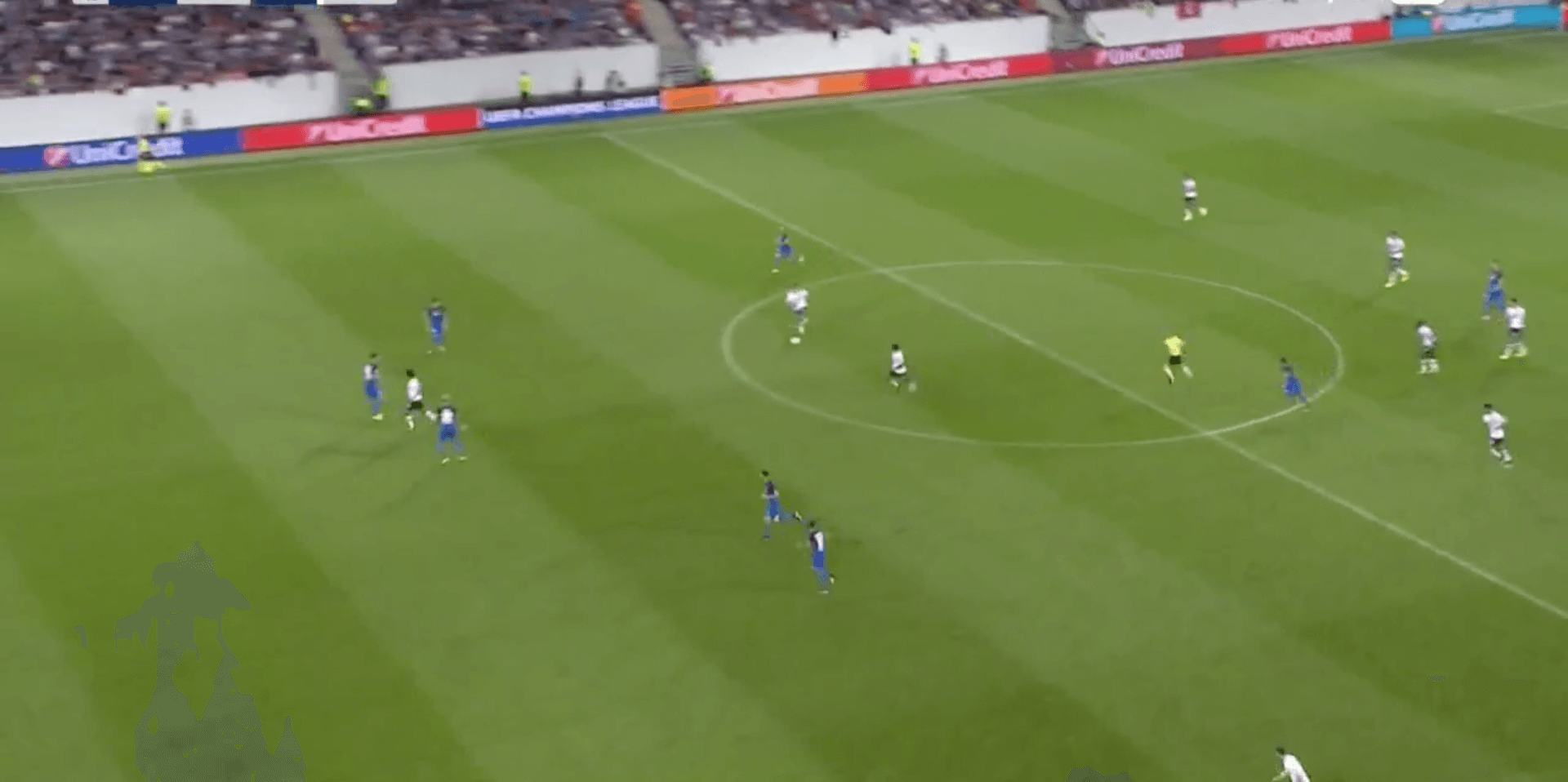 The interesting point to take from this is how Liverpool's front three have actually become very narrow, with Salah leading the line. The effect of this is that the TSG defenders become so occupied with the immediate threat in front of them, that they miss the threat of the oncoming Milner, at the very bottom of the image, above.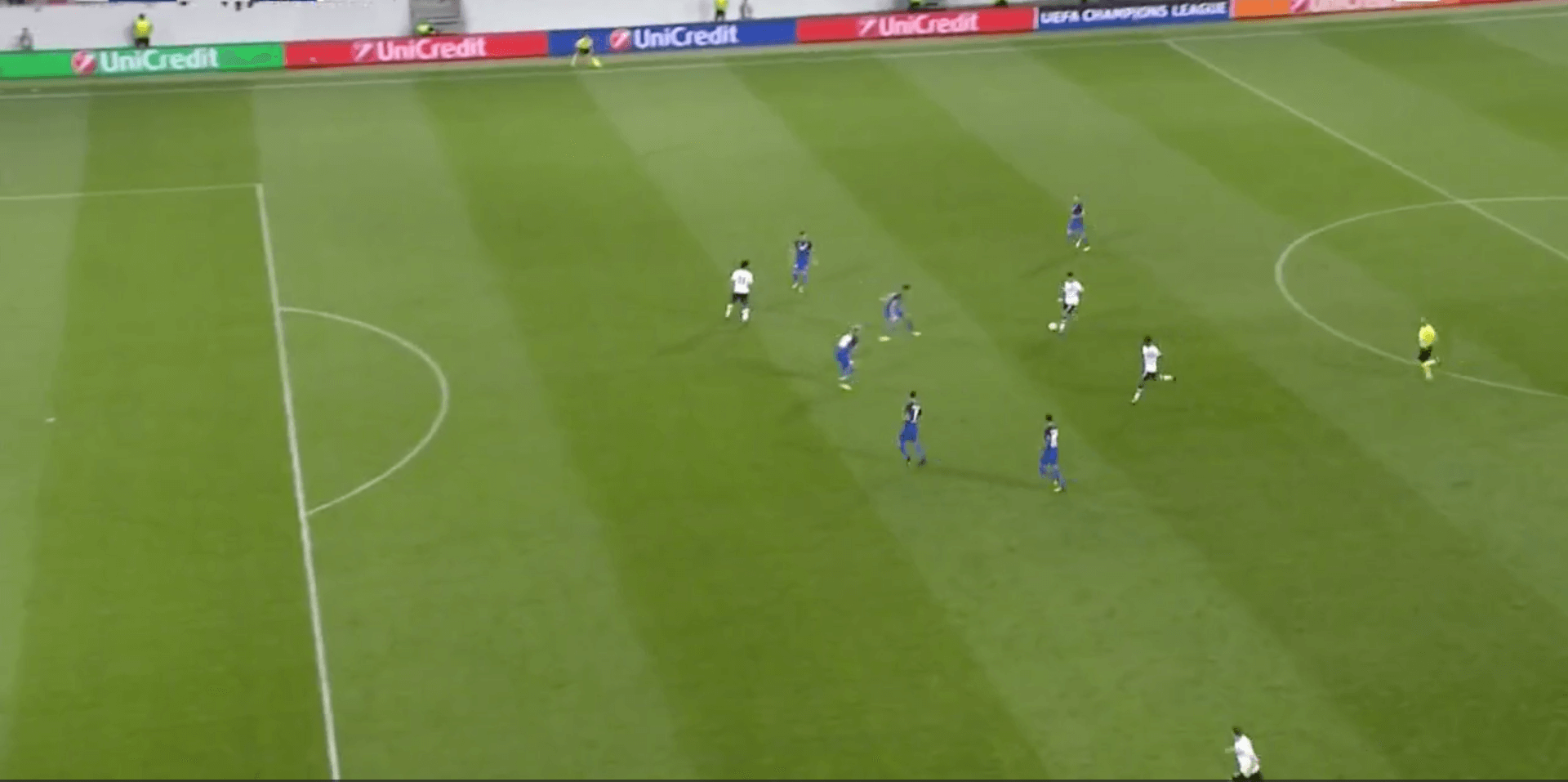 Firmino then spots a gap that Salah has made through running, on a slightly curved trajectory, across and past the defenders, and through there he plays the ball into Milner.
In the images below, look at how Salah moves from the centre, and targets his run towards the right wing – thus creating space.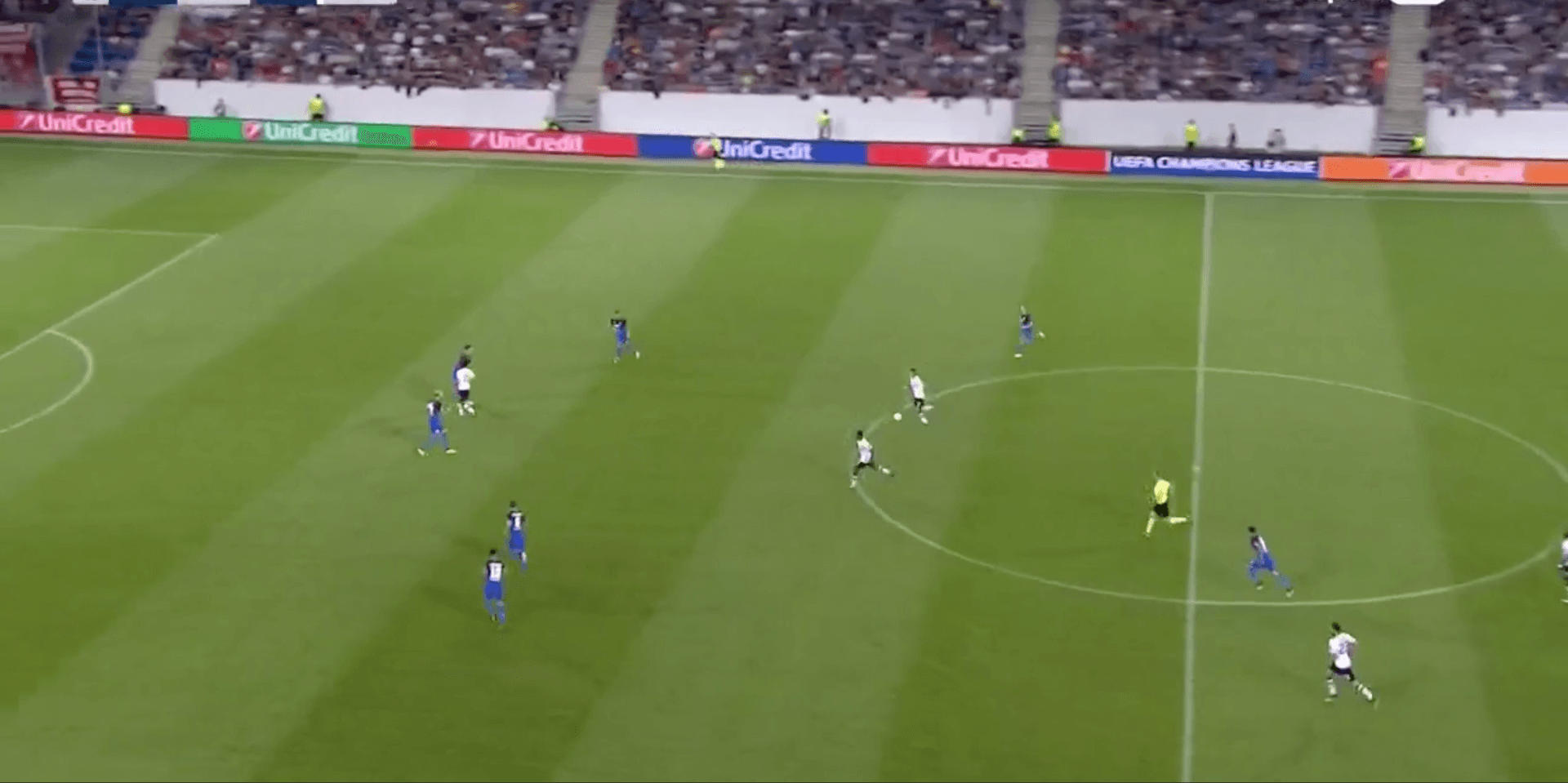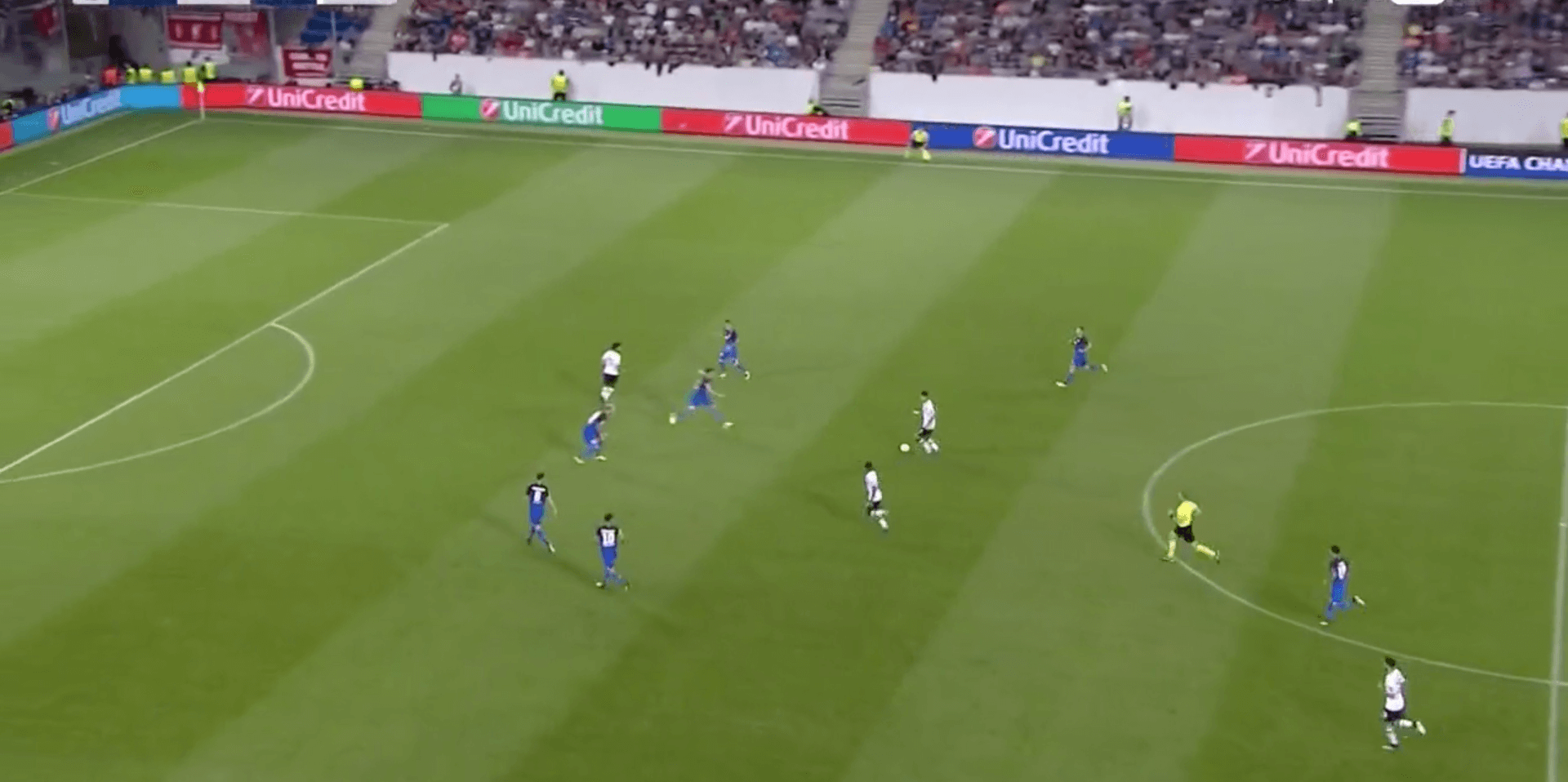 Milner's run itself was also unexpected because of how the Liverpool midfield had played before he was substituted on: with Can, Henderson and Wijnaldum, it was mainly Can who had been running forward, but very rarely in a wide position. However, this chance is brought about through quick ball speed, thanks to Wijnaldum's pass, and Firmino's forward running.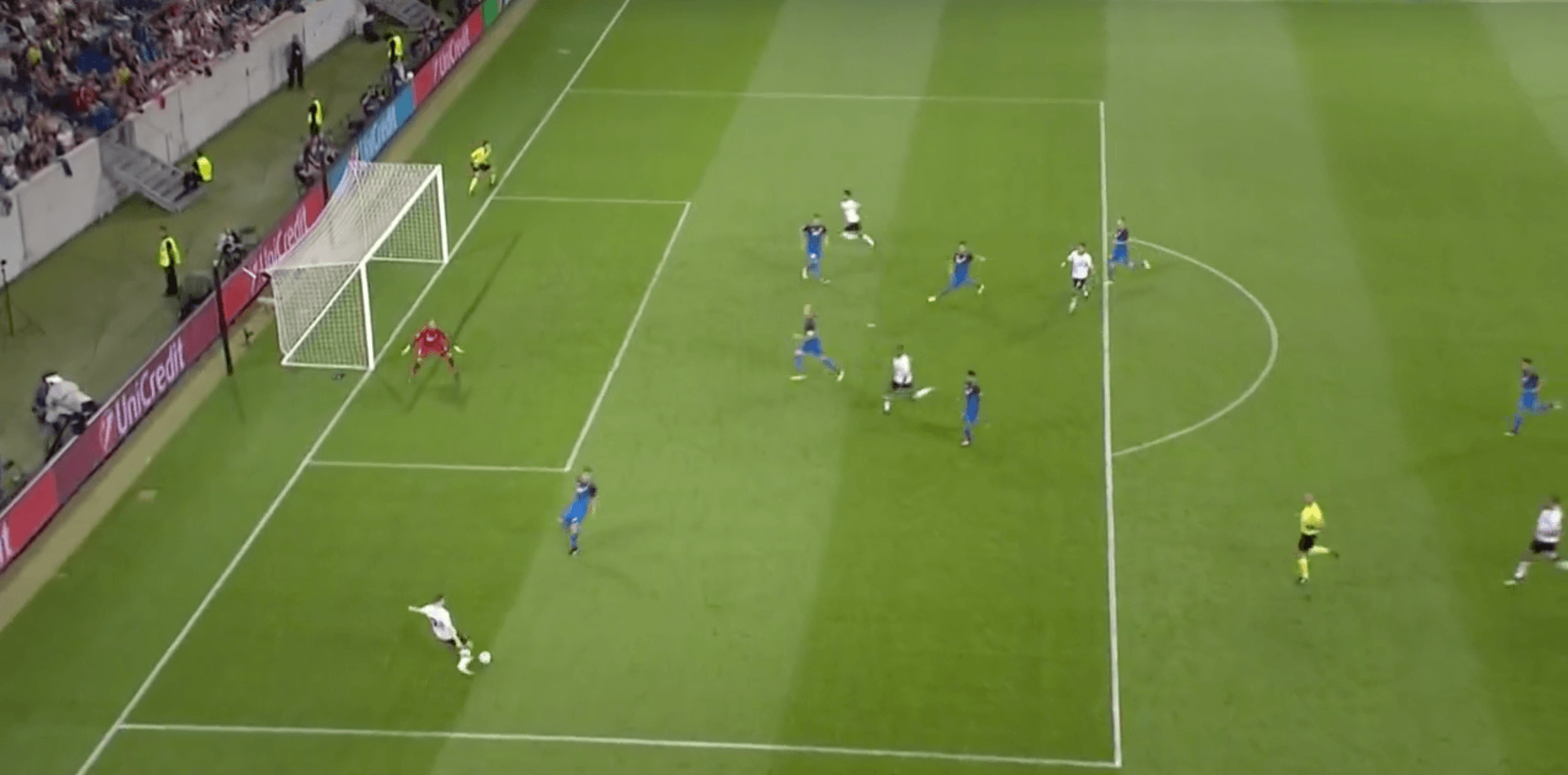 Milner then cuts back onto his right foot (insert joke/complaint here). But Salah's involvement is not finished yet: Salah runs to meet the cross at the far post, while Manè runs towards the near post. Firmino also makes a slightly different run – readying himself for the cut back. Milner is fortunate his cross is deflected over the goalkeeper and into the goal, but tactically, it's pleasing to see Salah had followed through with his run and as the ball went in, and was in a position to head home.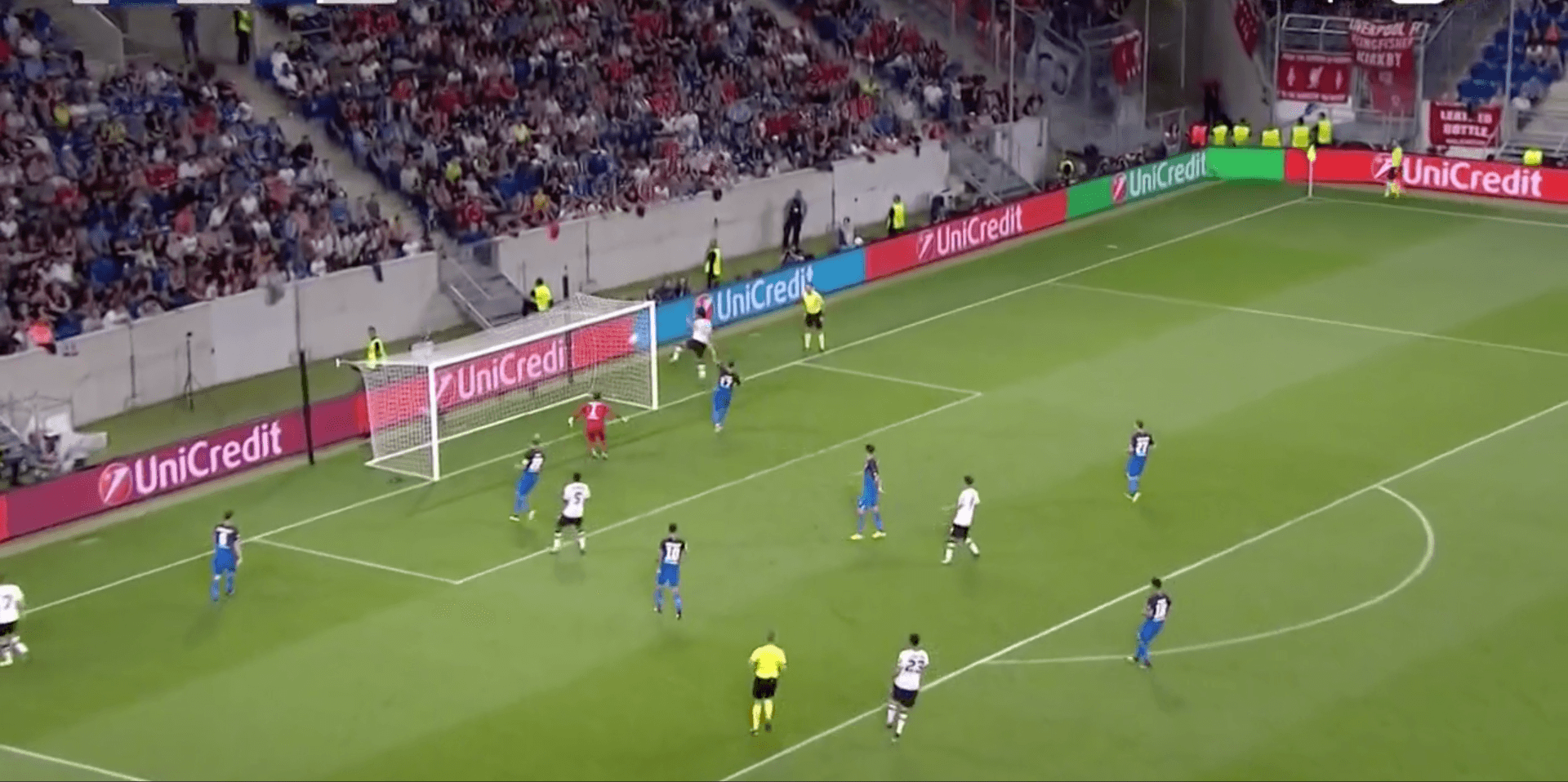 I believe seeing either Mané or Salah running in at the back post will be a feature of Liverpool's play this season, as the forwards start wide, then come inside – we'll have a look over the coming games to see whether this is true.
1-2, TSG, Uth, 87′
This goal was rather frustrating – Klopp noted in the post-match interview that Liverpool were aware of the TSG diagonal ball threat, and Liverpool were actually fairly successful in preventing it for the majority of the game, through pressing. What we see below though, is that Mané is unsure whether to press, and once he does, he presses slightly too late.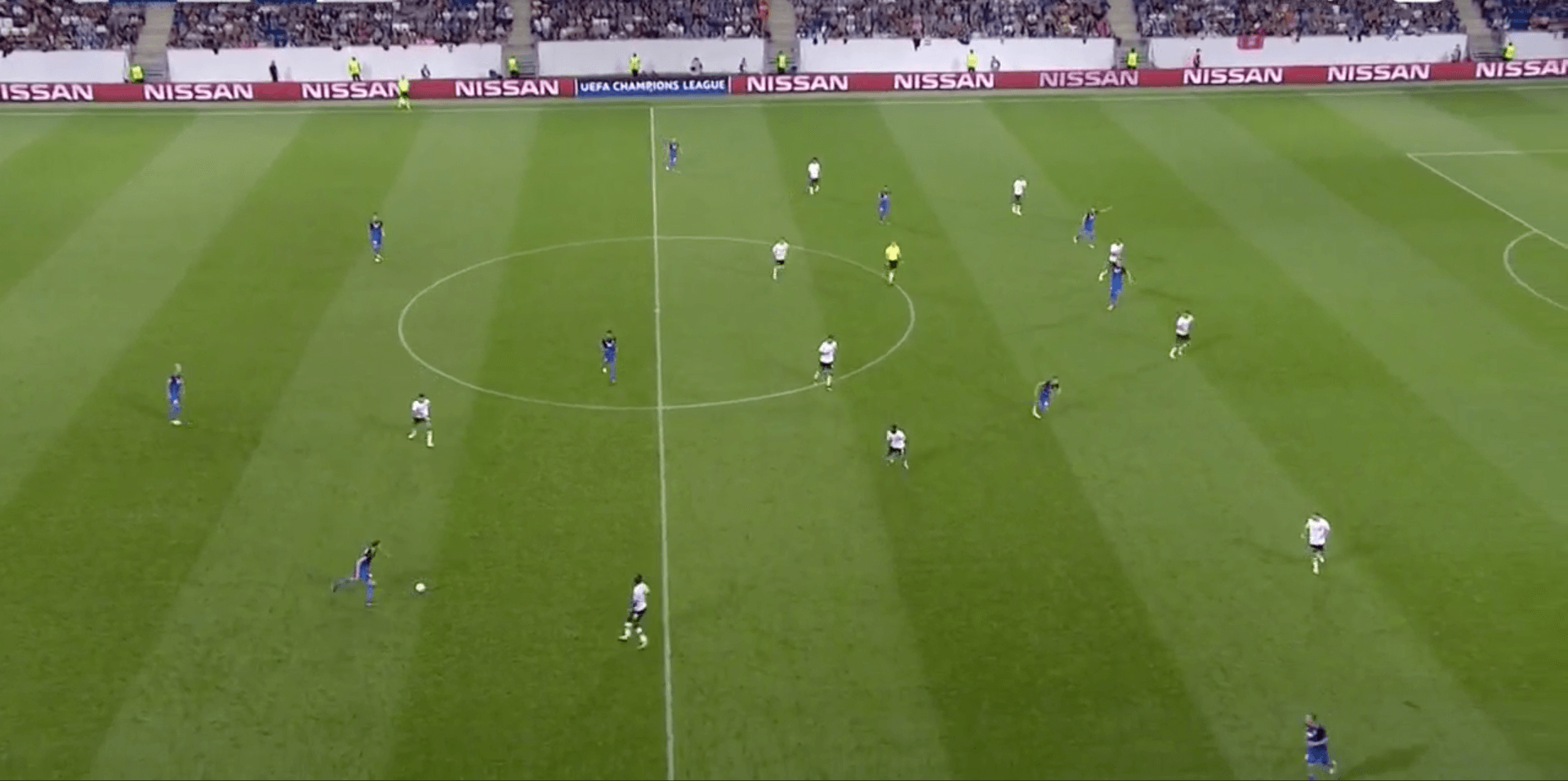 There are a few other issues that led to the goal too though, which I shall elaborate on, in the images below.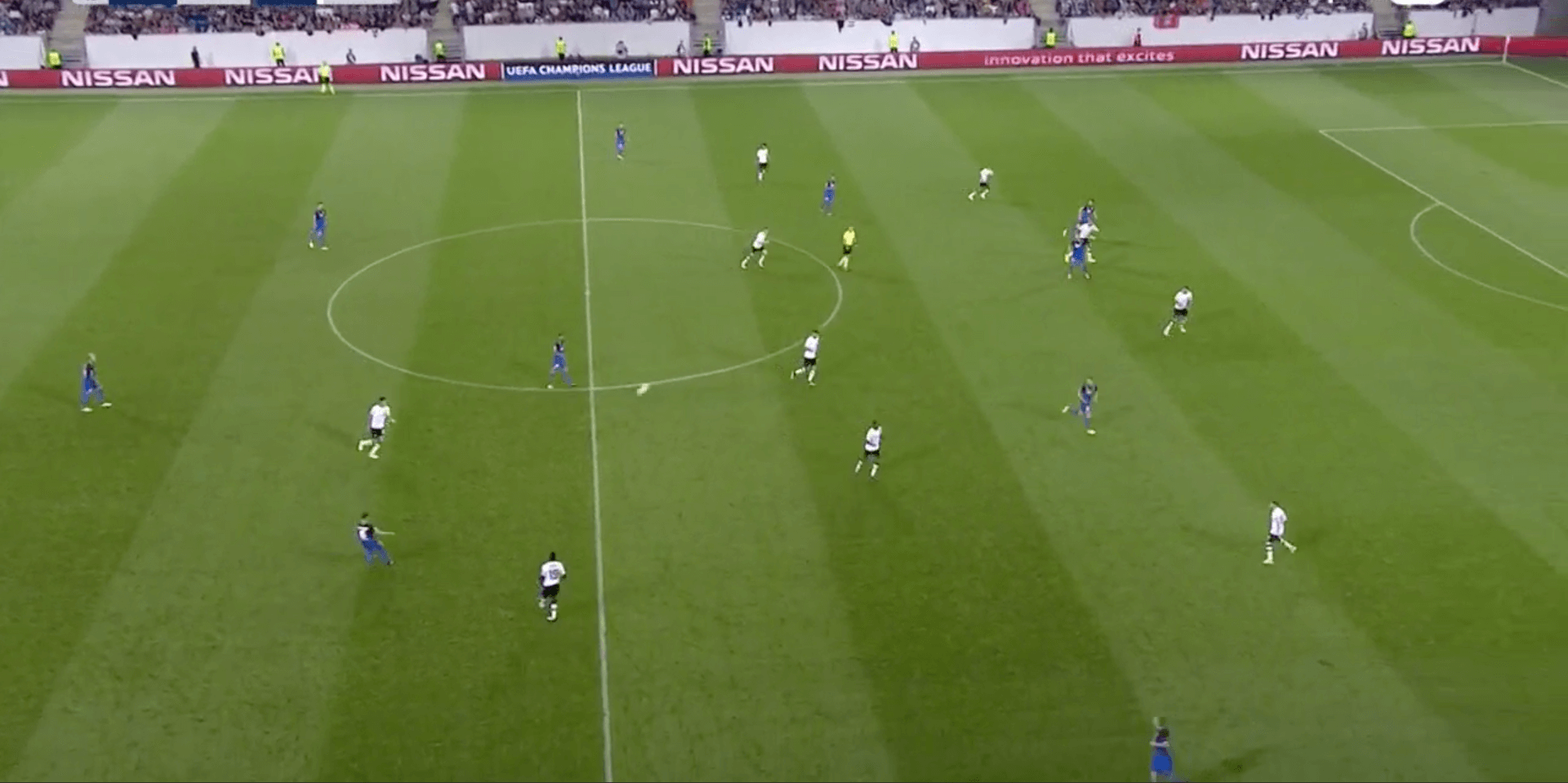 Above, we can see Mané is pressing too late.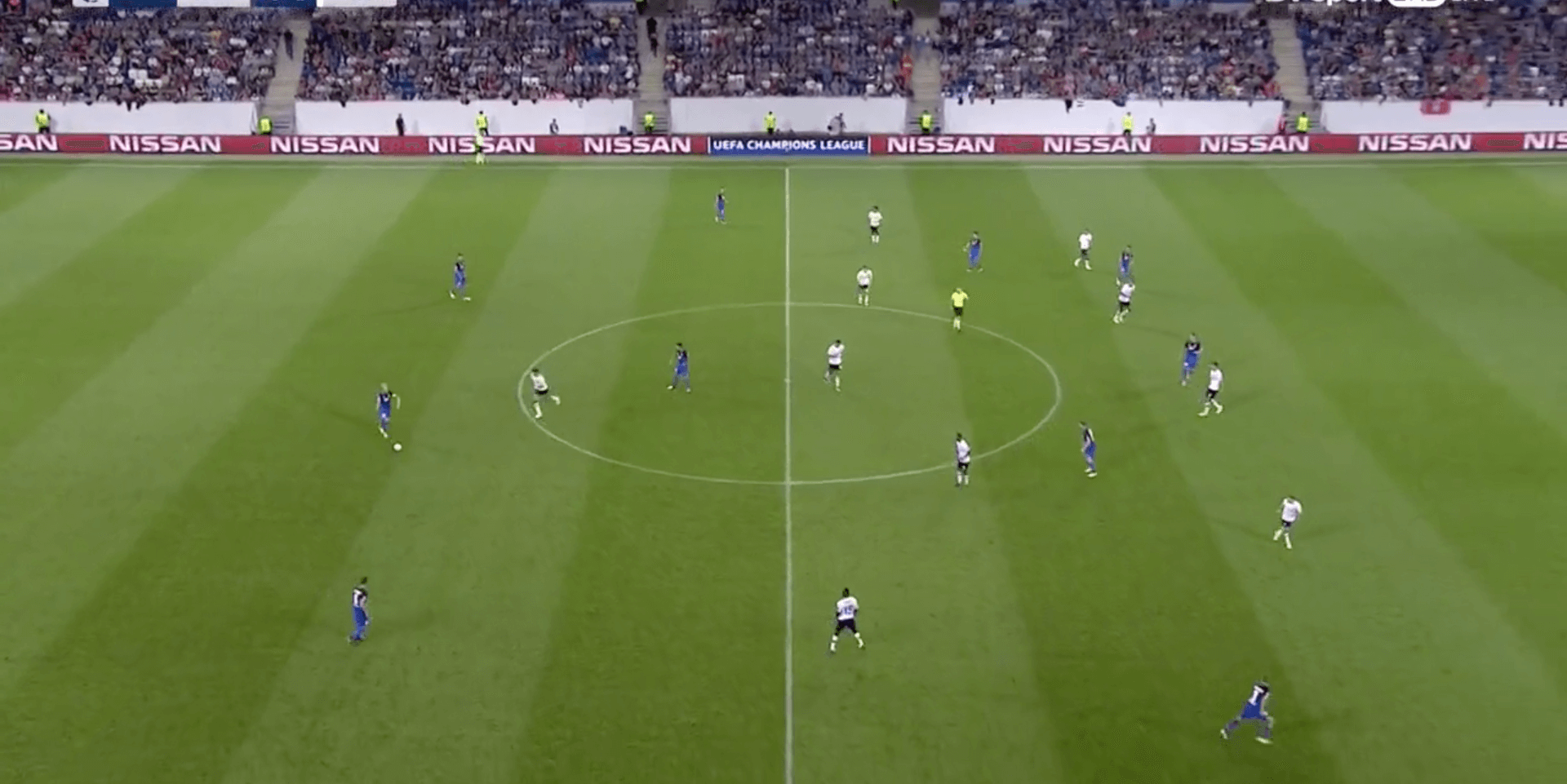 Trent Alexander-Arnold should be positioned inside of the player he is marking.
Dejan Lovren has dropped a smidgen too deep, and as a result, has played Uth onside.
Alexander-Arnold also fails to react, and does not attempt to get across his man, instead claiming for offside: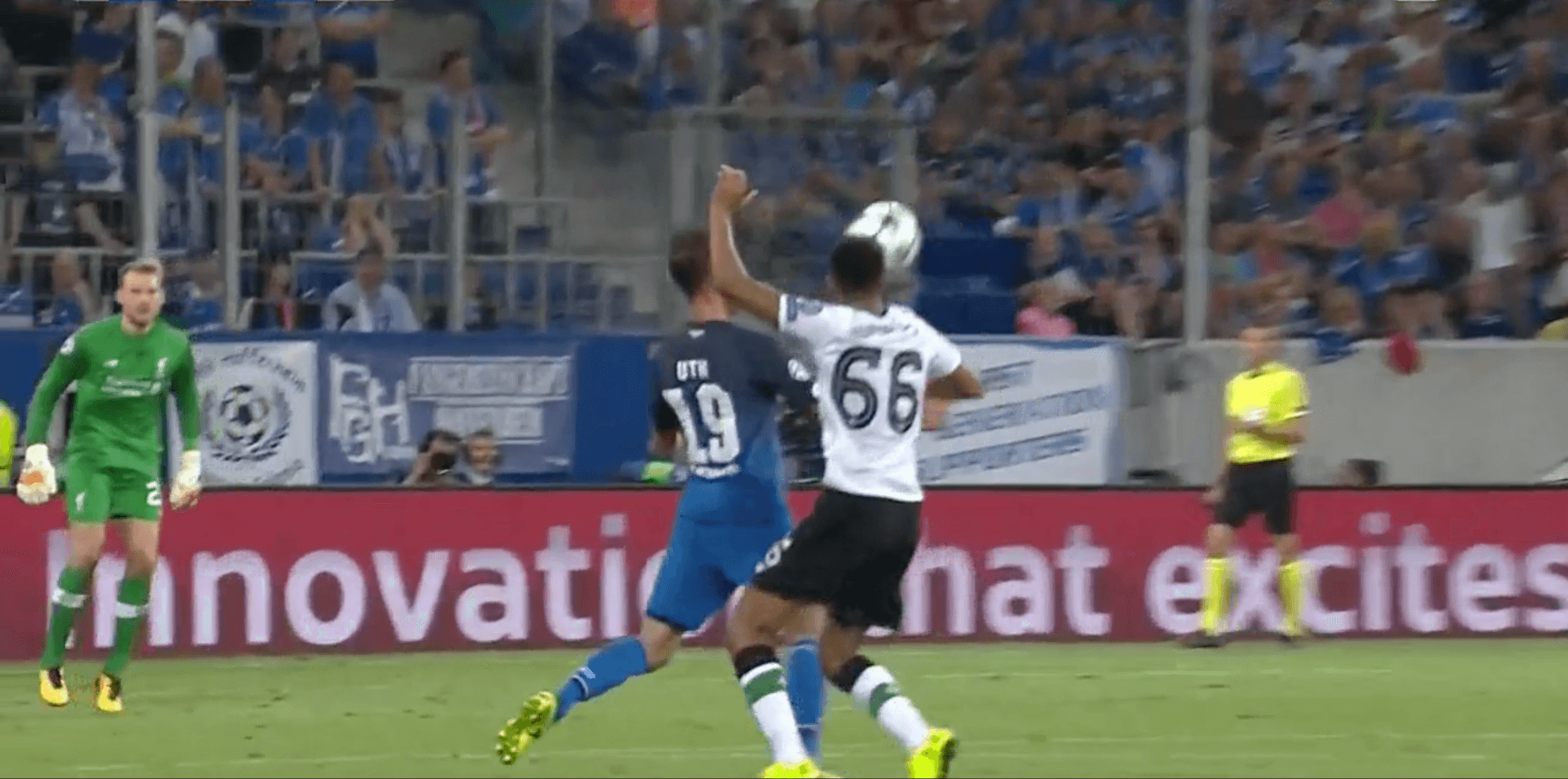 Matip does not get away scot-free though. After seeing the danger, or at least knowing the ball is going beyond him, he should have got across further to put-off Uth.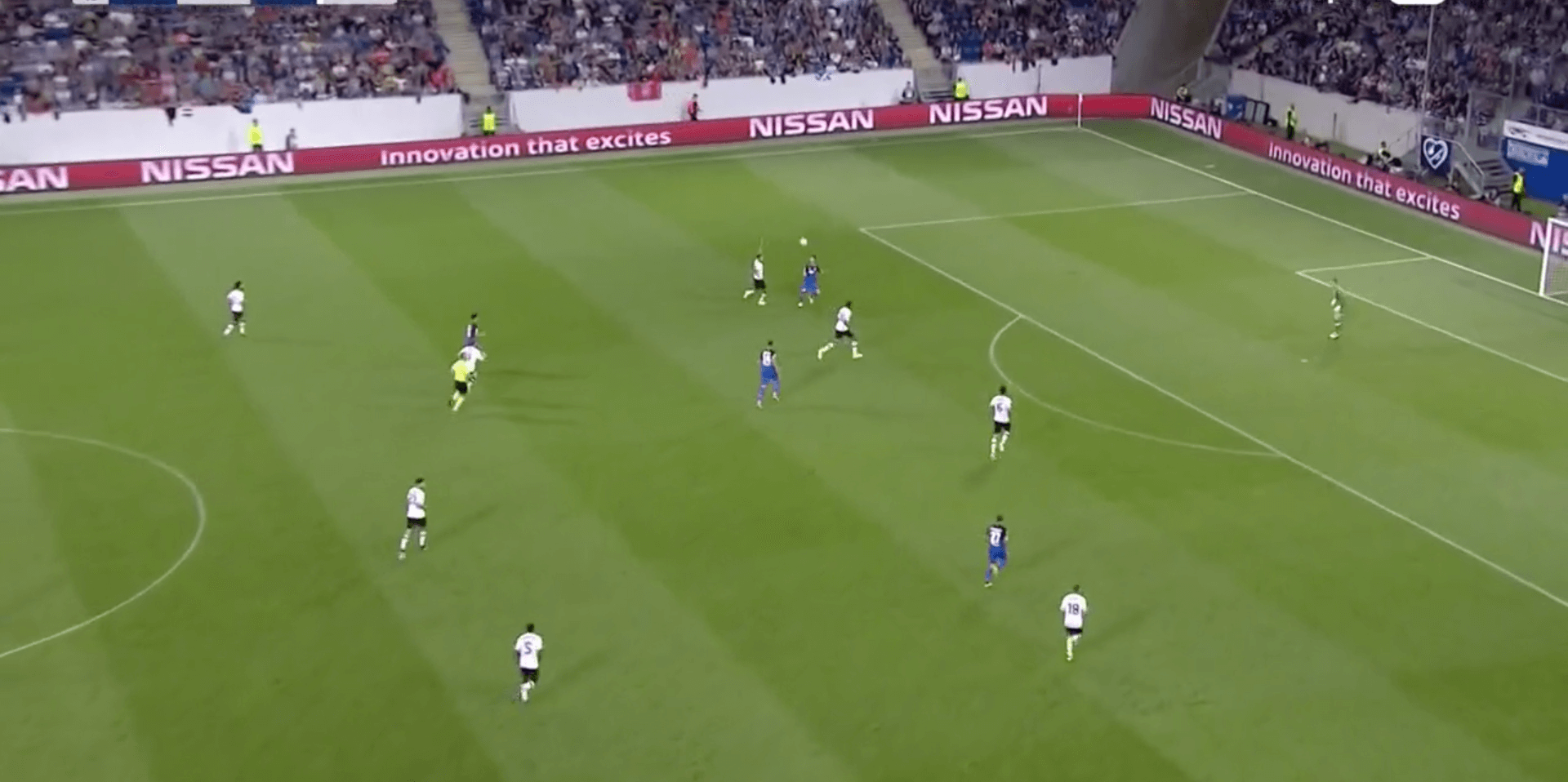 That being said, Uth controls the pass with a fantastic first touch, and fires past the goalkeeper, with a brilliant shot – he took the goal very well, but at Champions League level, this is what Liverpool must come to expect.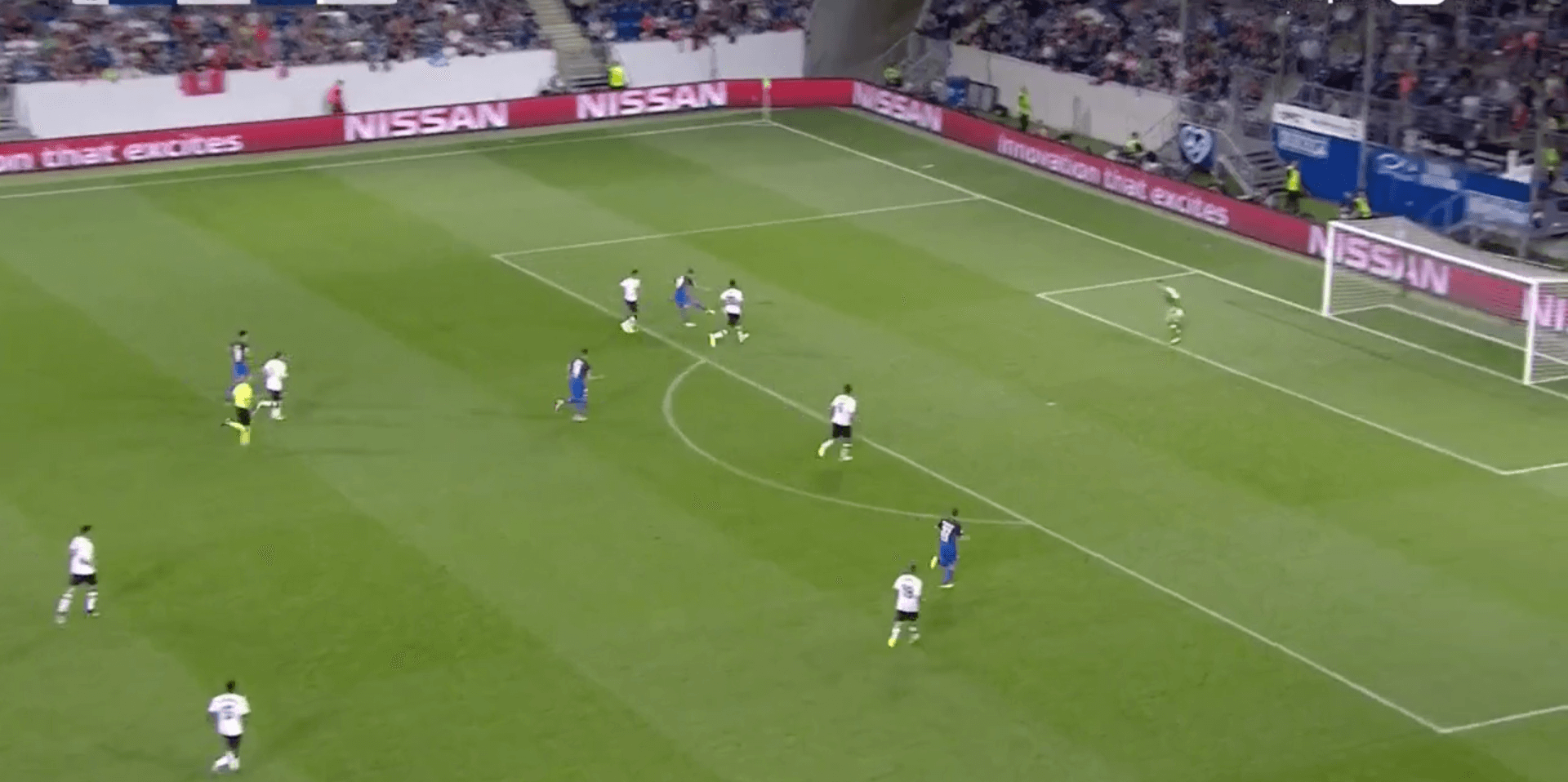 Key moments
The penalty
The BT Sport panel drew attention to Alberto Moreno's role in the penalty which Liverpool conceded. But having noticed a weak kick early on by the Hoffenheim goalkeeper, Moreno did have a right to press – but perhaps he should have been more mindful of the space he left behind – so too Mané, who, like Salah, did not fulfil their defensive responsibilities to the extent which Klopp wanted – as he expressed in his post-match interview.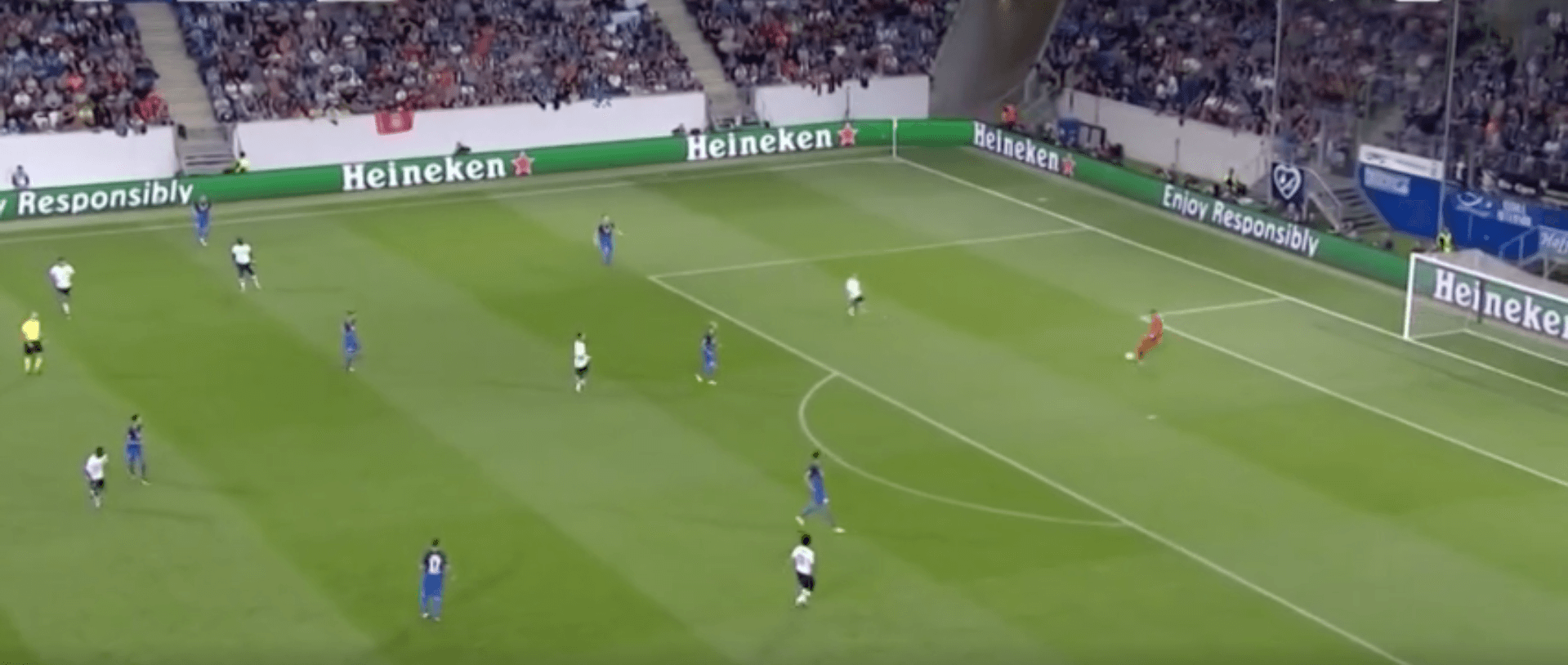 Moreno's press appears unnecessary, and he should question the value of a pressing action, and what he wants the end result of it to be before he acts, however, Jordan Henderson has an opportunity to regain possession with the header resulting from the long kick.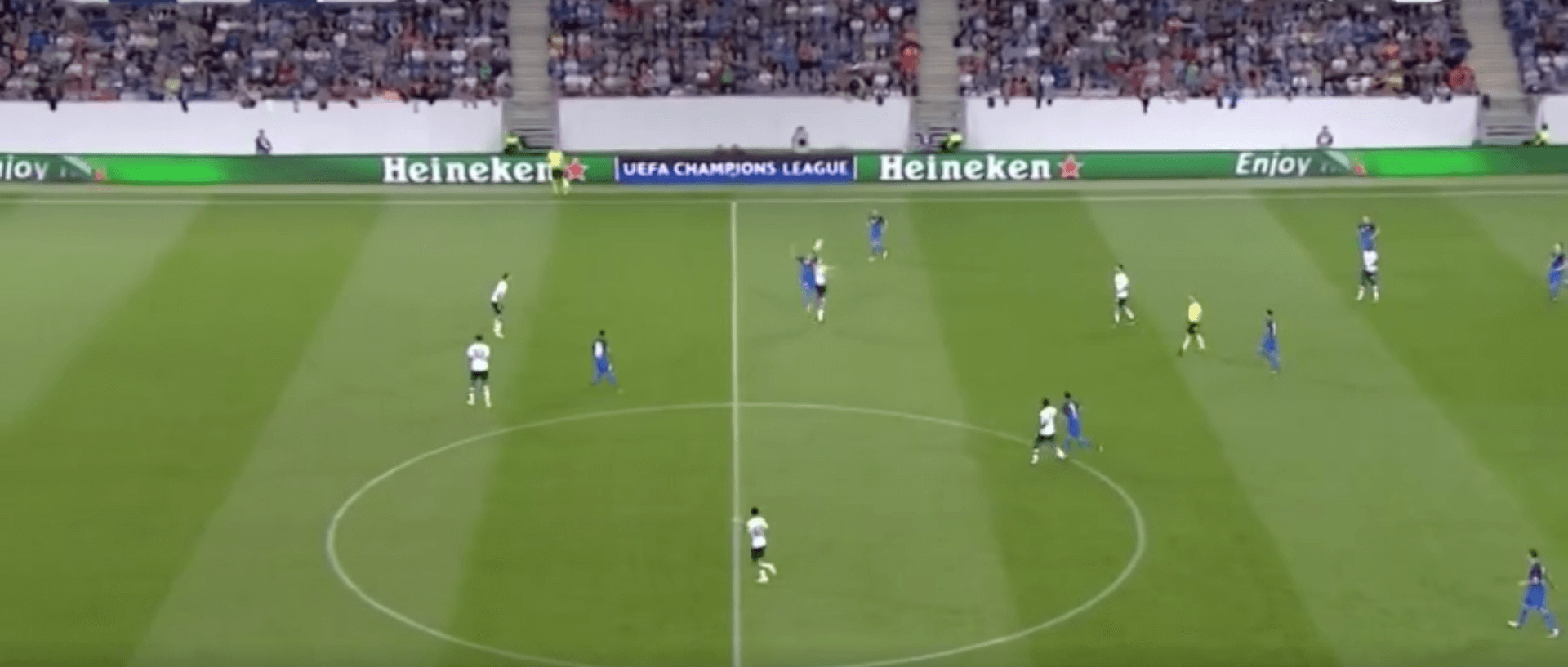 Henderson loses the header though, and TSG play a through pass, beyond Lovren.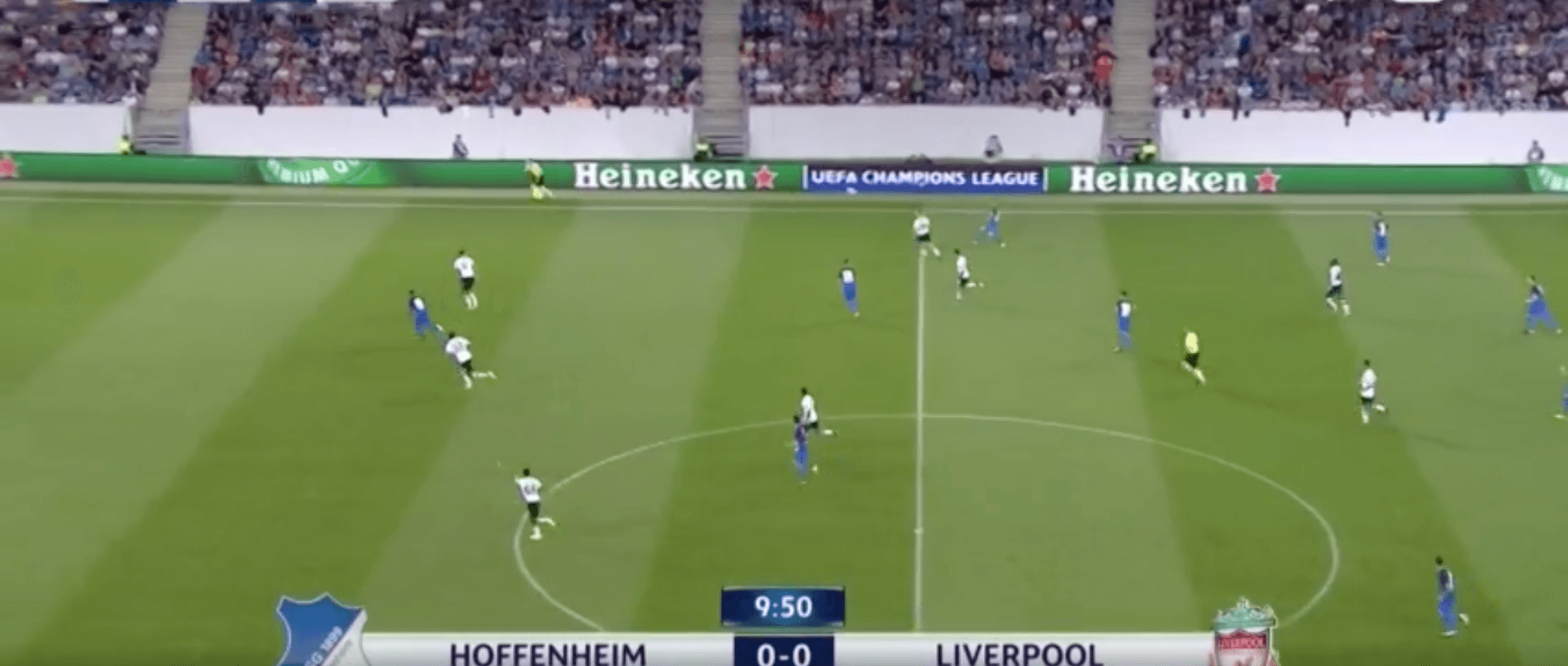 Lovren, as we know, struggles when exposed or in one-on-one situations, but frustratingly initially sets himself well, but then entices Gnabry to cut inside.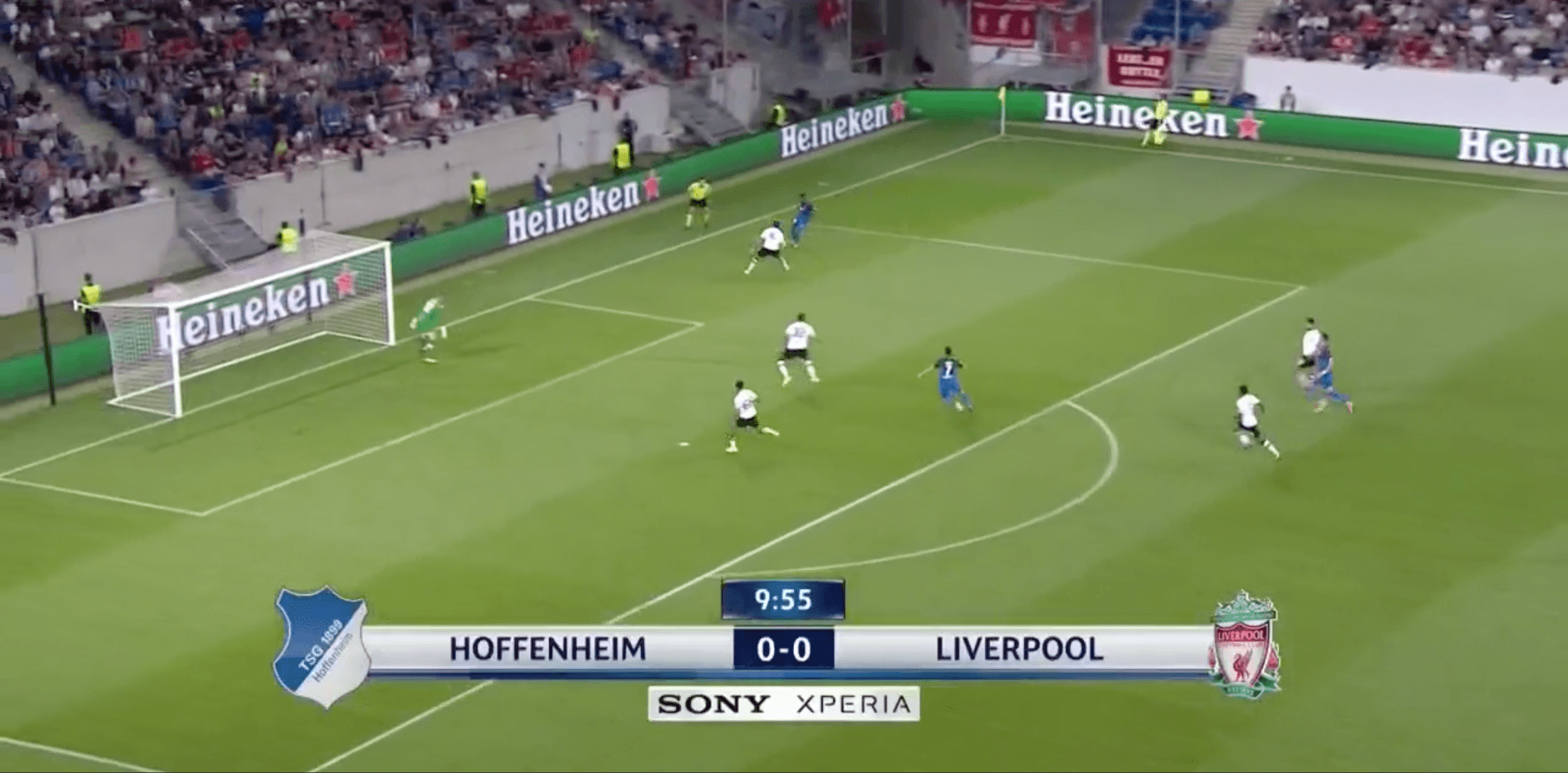 Gnabry races through, and whilst Lovren's initial position is acceptable, as you will see below, he shifts over and encourages Gnabry to go past his right-hand side, instead of showing him the line, as he has done, above.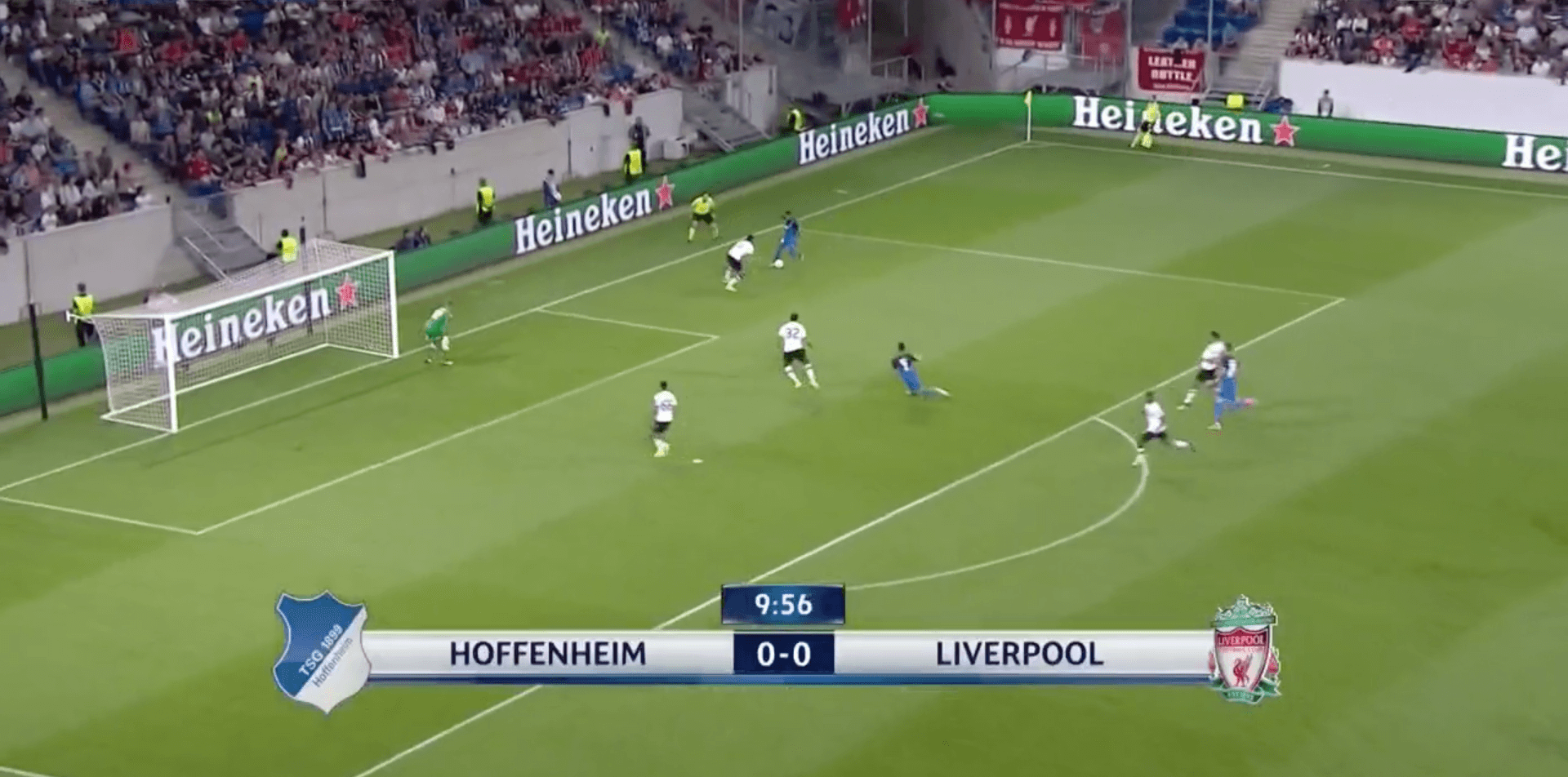 From here, Gnabry does well to win a penalty, which Simon Mignolet goes on to save. His 11th penalty save, from 24, as Liverpool goalkeeper.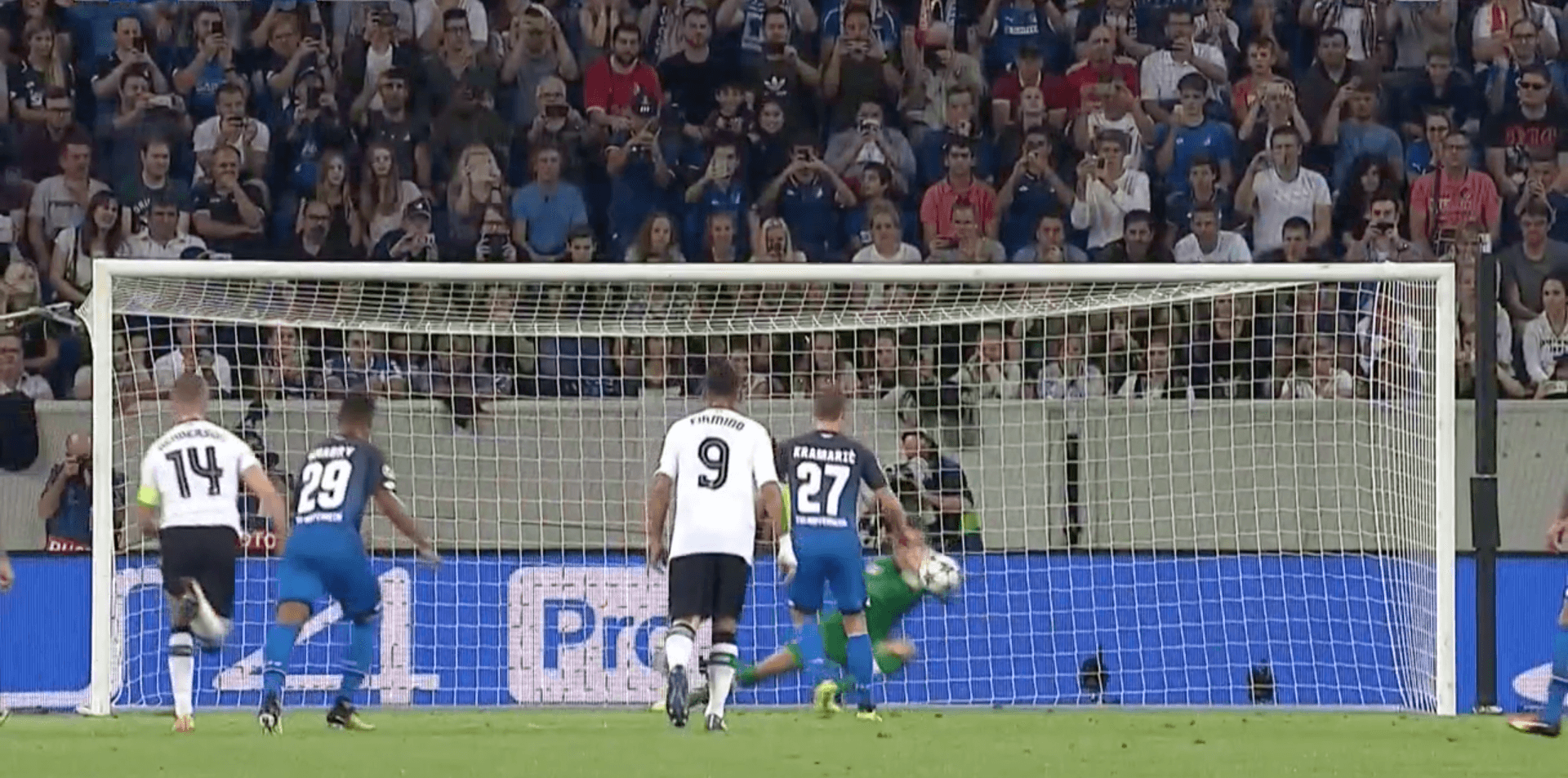 That was not the only important save Mignolet was to make though, as he saved well from this chance – when Moreno was the last man.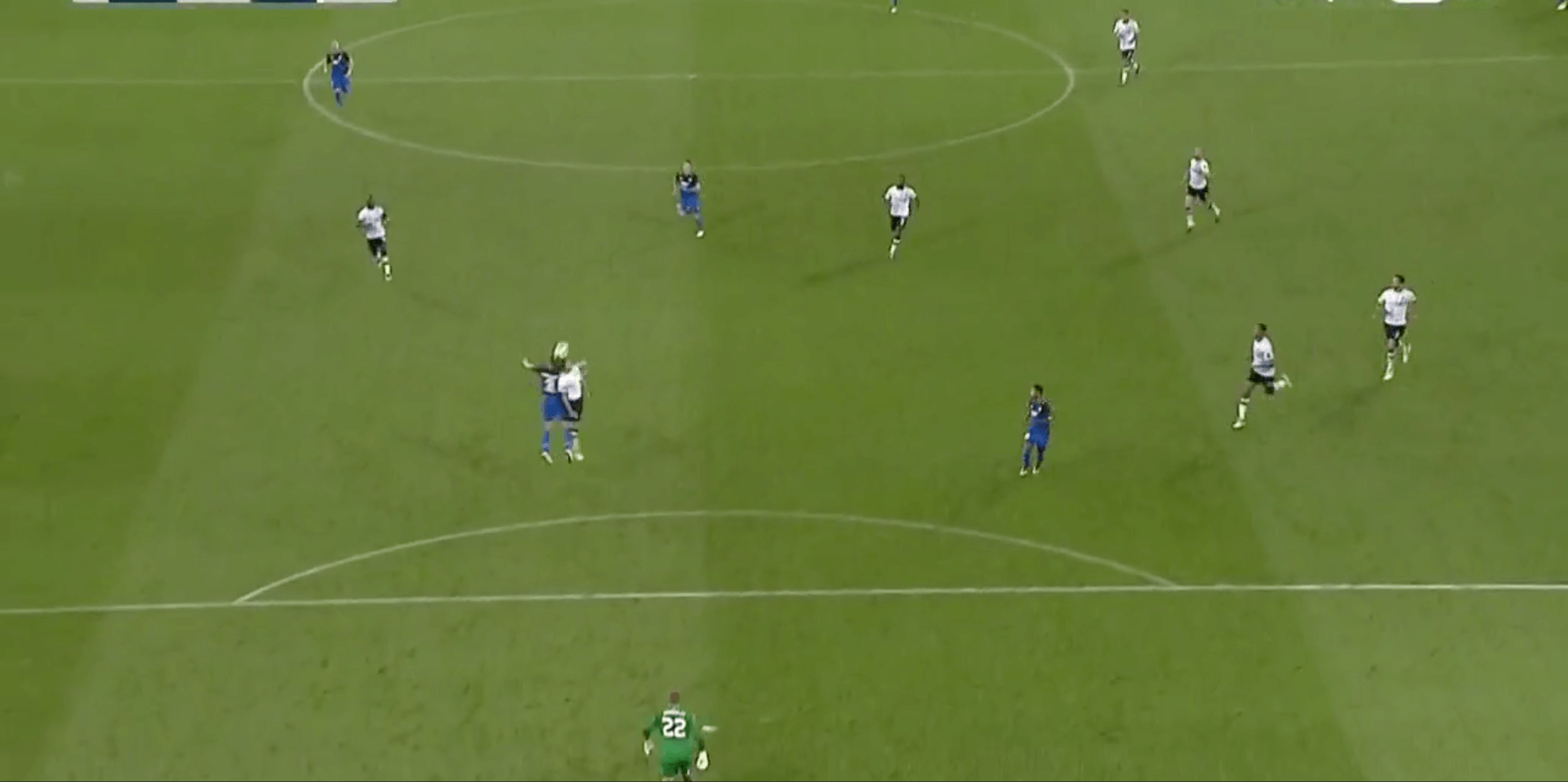 Matip is extremely fortunate Moreno's aerial challenge sent the ball skywards, giving him time to challenge for the second ball.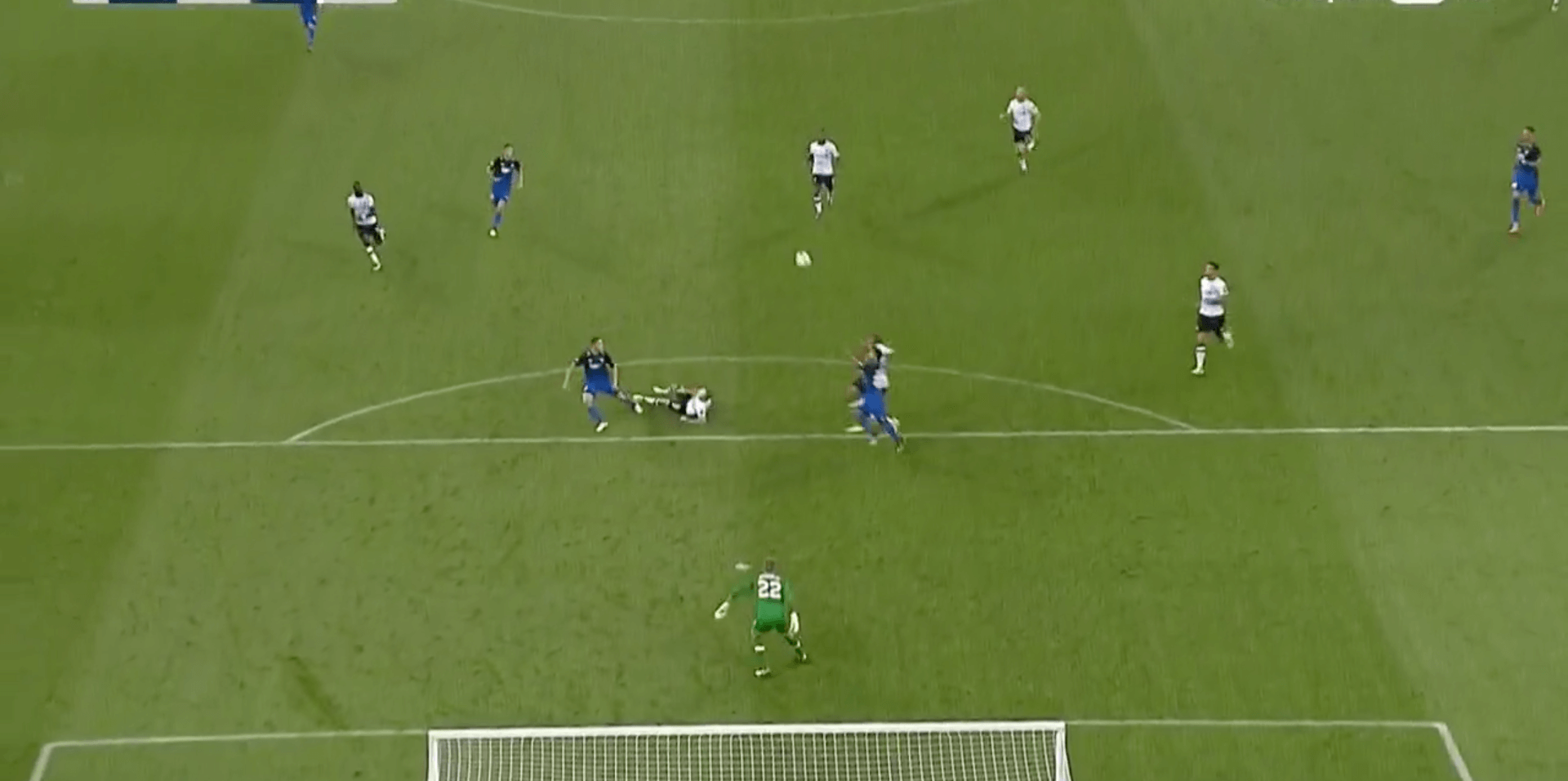 Mignolet advances, spreads himself, and makes the save.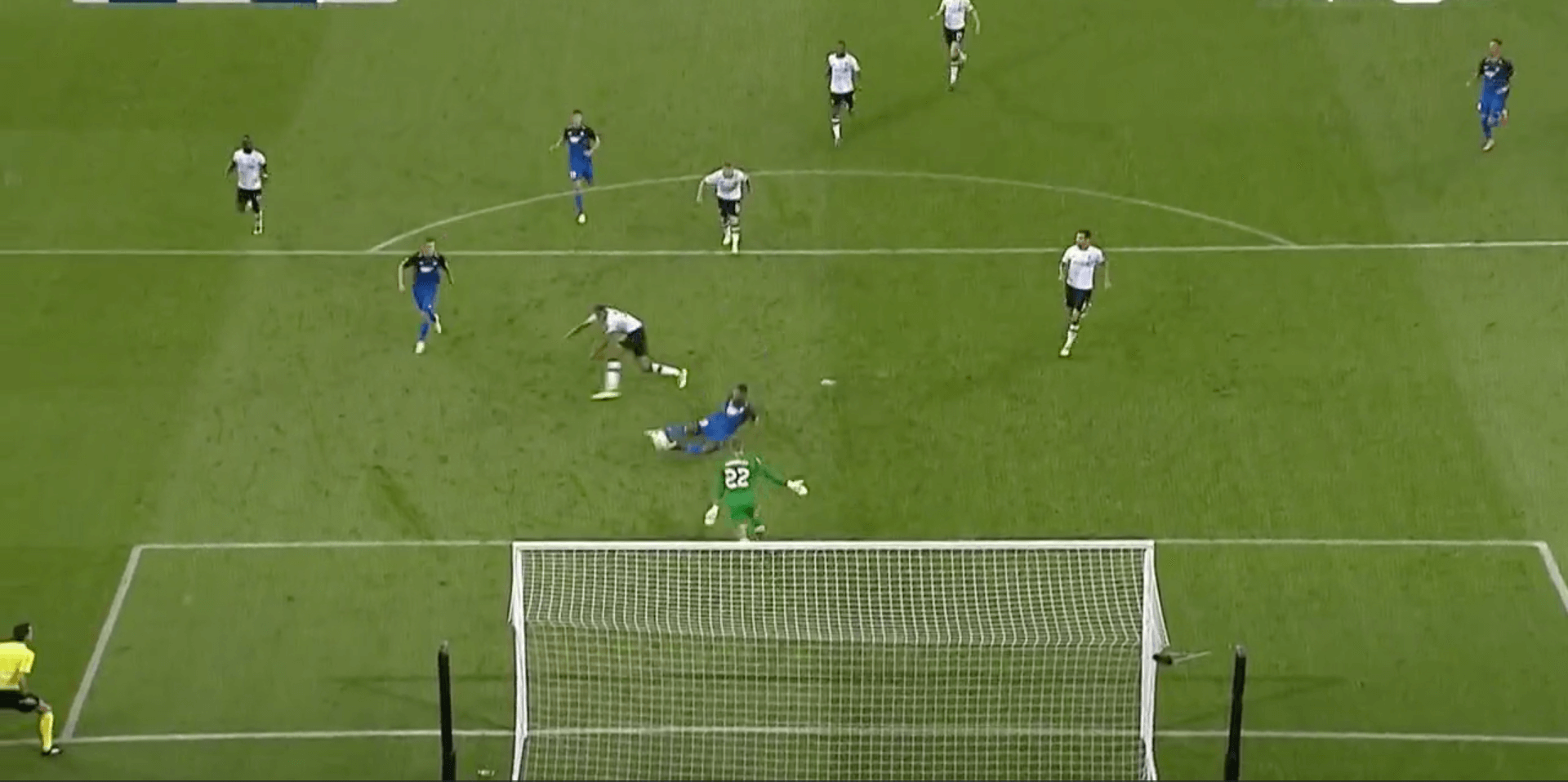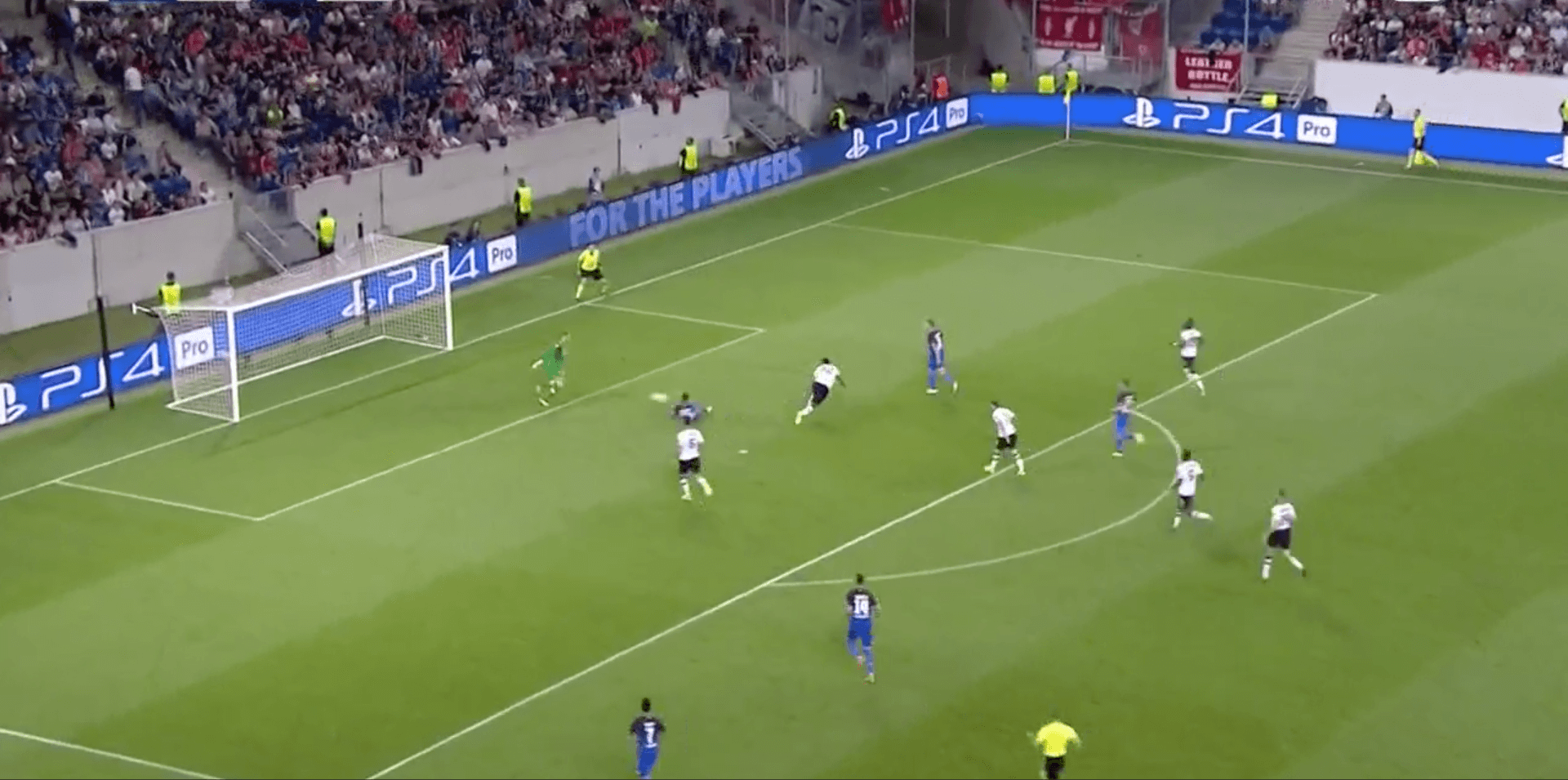 An early 1-0 lead for TSG would certainly made for a different game, but this late free header could well have ruined a good result for Liverpool.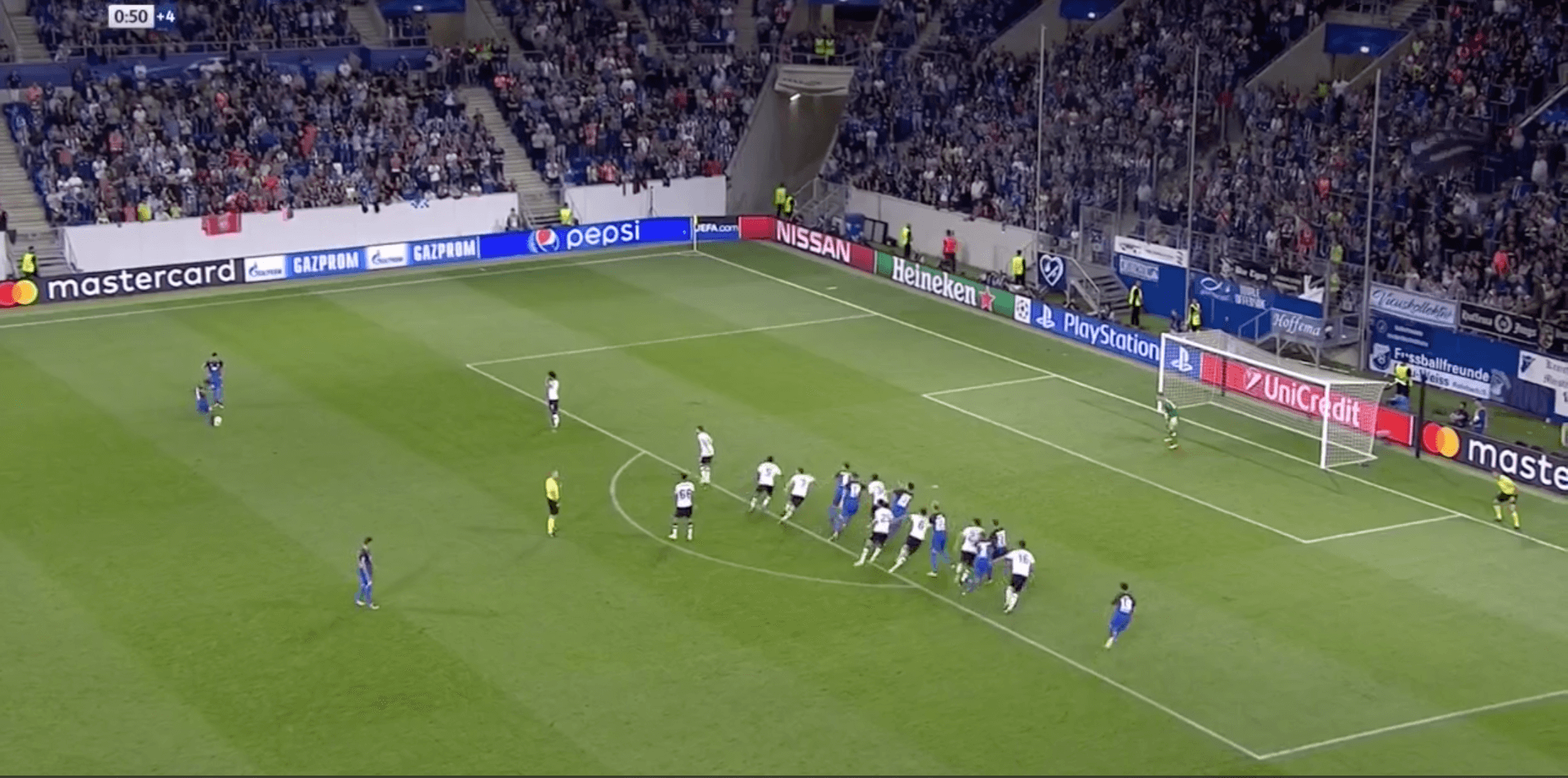 Just as the freekick is taken, Hübner pushes his marker, Solanke, back, and gains a yard on him.
Solanke is positioned between Matip and Lovren.
Unlike zonal marking, this was a simple matter of staying with, and beating the man, but fortunately for Liverpool, Hübner headed over.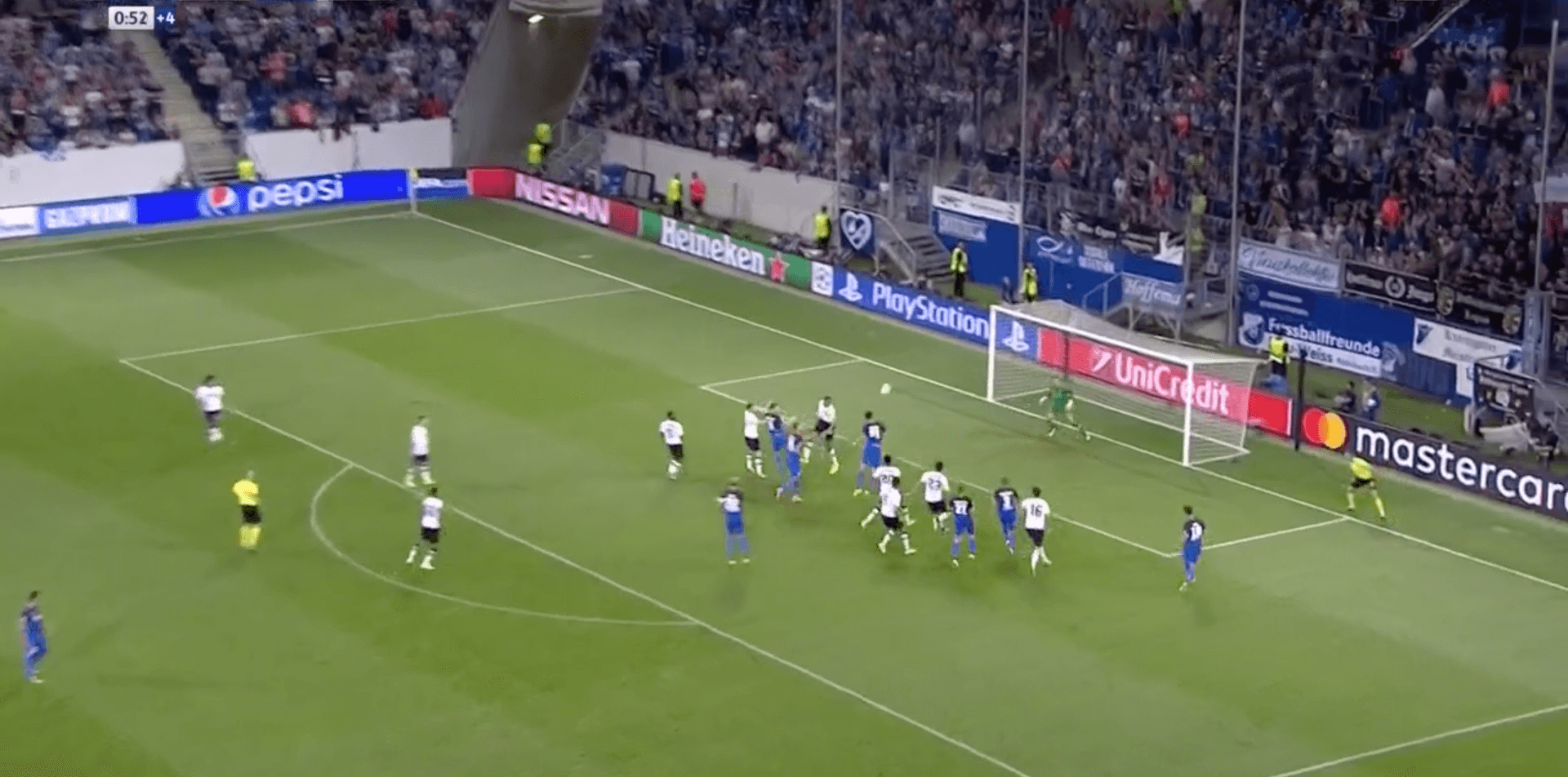 Other observations
Alexander-Arnold, Mané or Mignolet for man-of-the-match?
All three put in fantastic performances, with Alexander-Arnold producing one that he shall not soon forget.
1 – No @LFC player made more passes (24), interceptions (4) or had more touches (41) than Trent Alexander-Arnold in the 1st half. Involved. pic.twitter.com/NYvBRfNV6b

— OptaJoe (@OptaJoe) August 15, 2017
In fact, he worked nicely with Salah, in the early minutes, as Salah put the ball in the net, but strayed offside. It will be very interesting to see how they may work together in the games to come.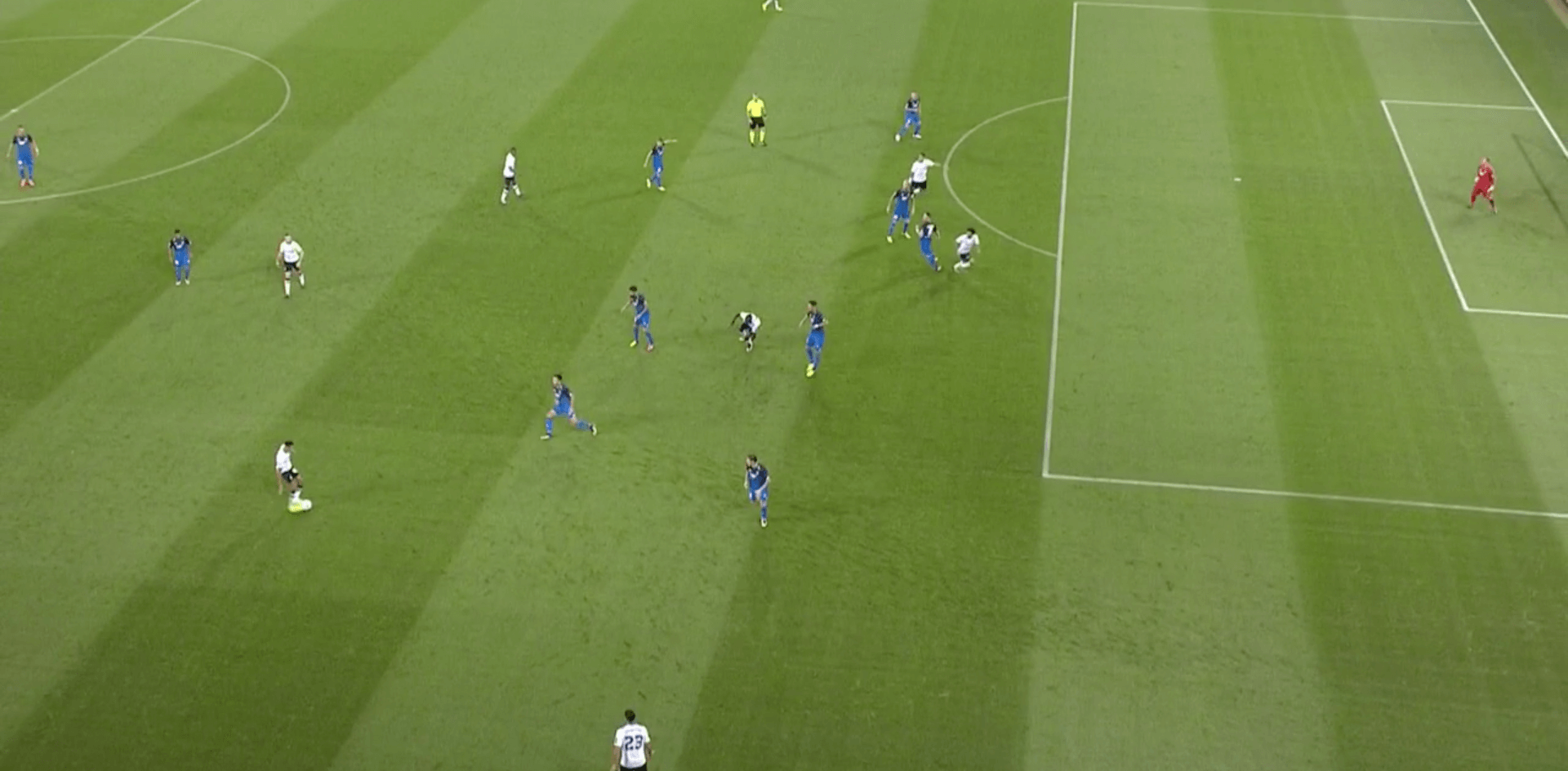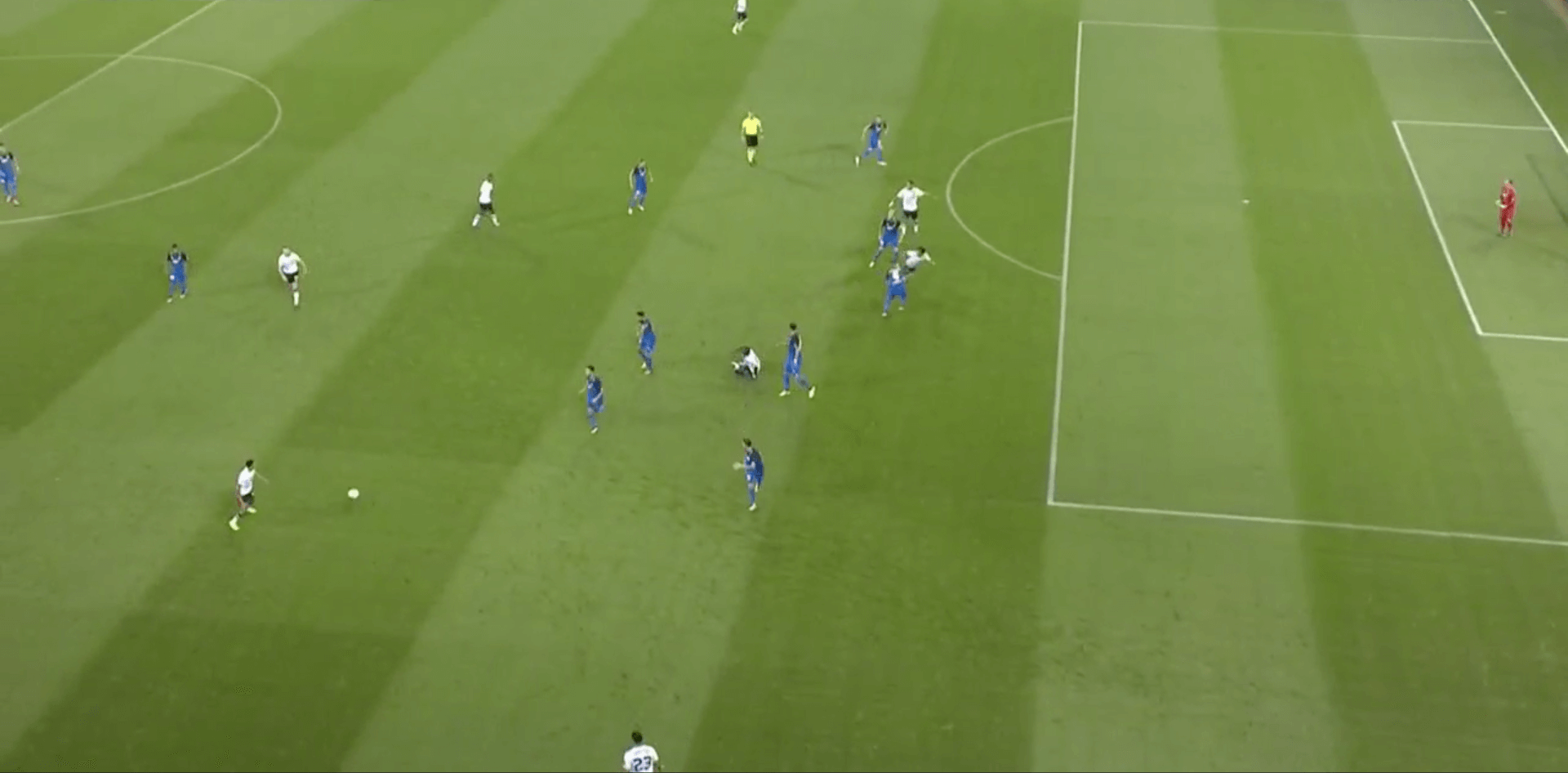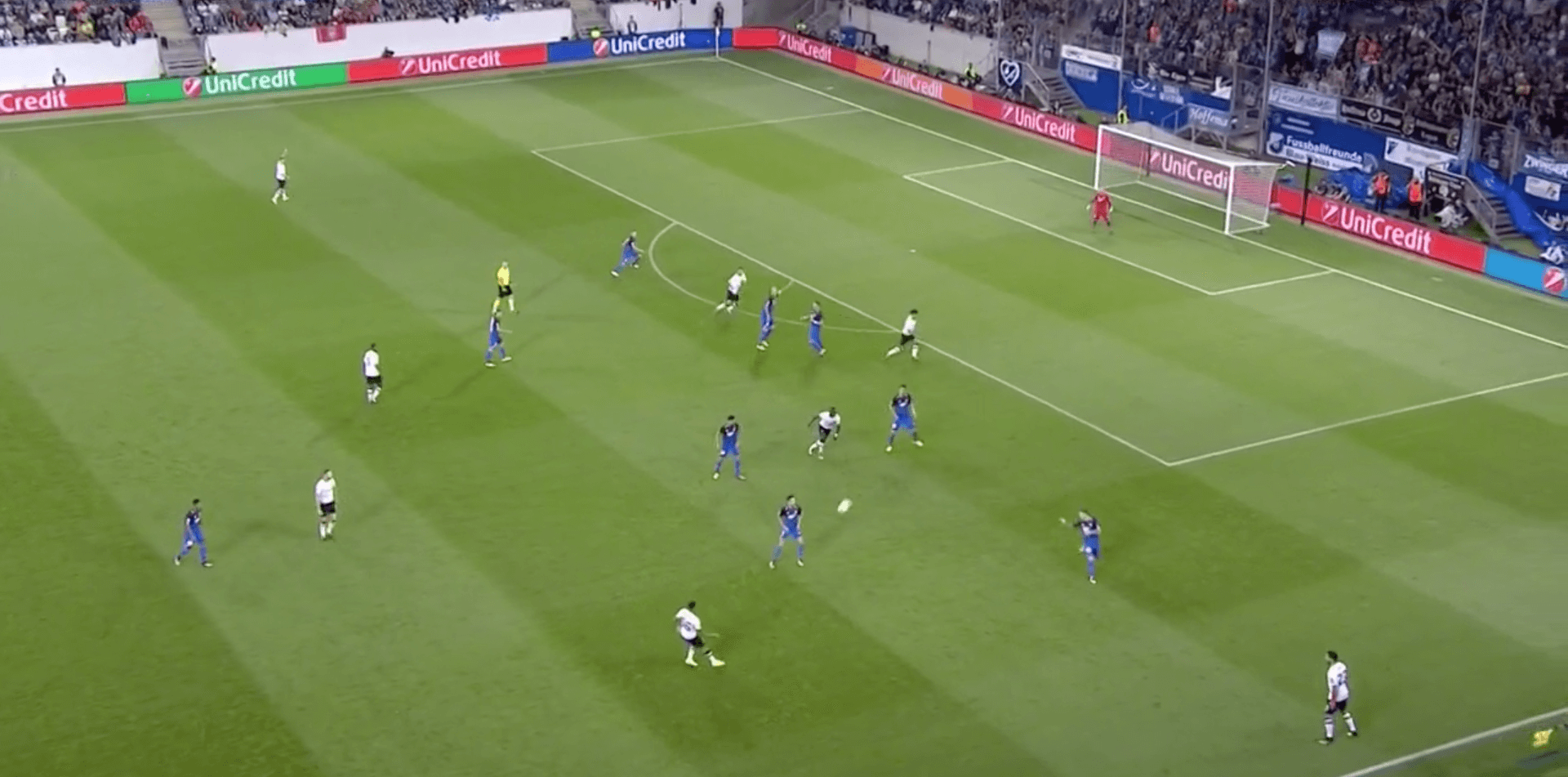 Salah had a few moments in the game that he could not seem to get just right though.
When played through by Can, his first touch forced him onto his weaker right foot, and he poked at the goalkeeper.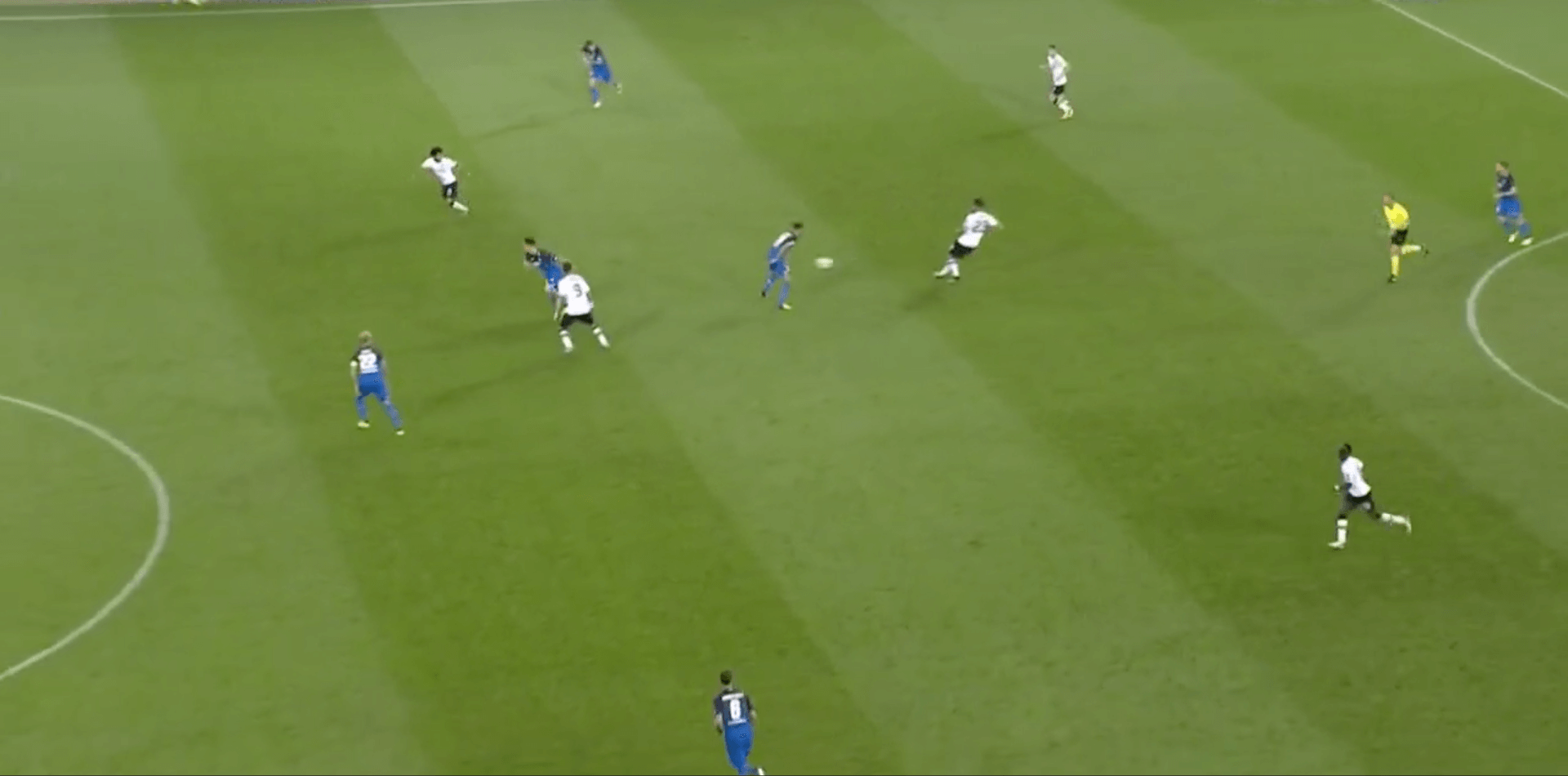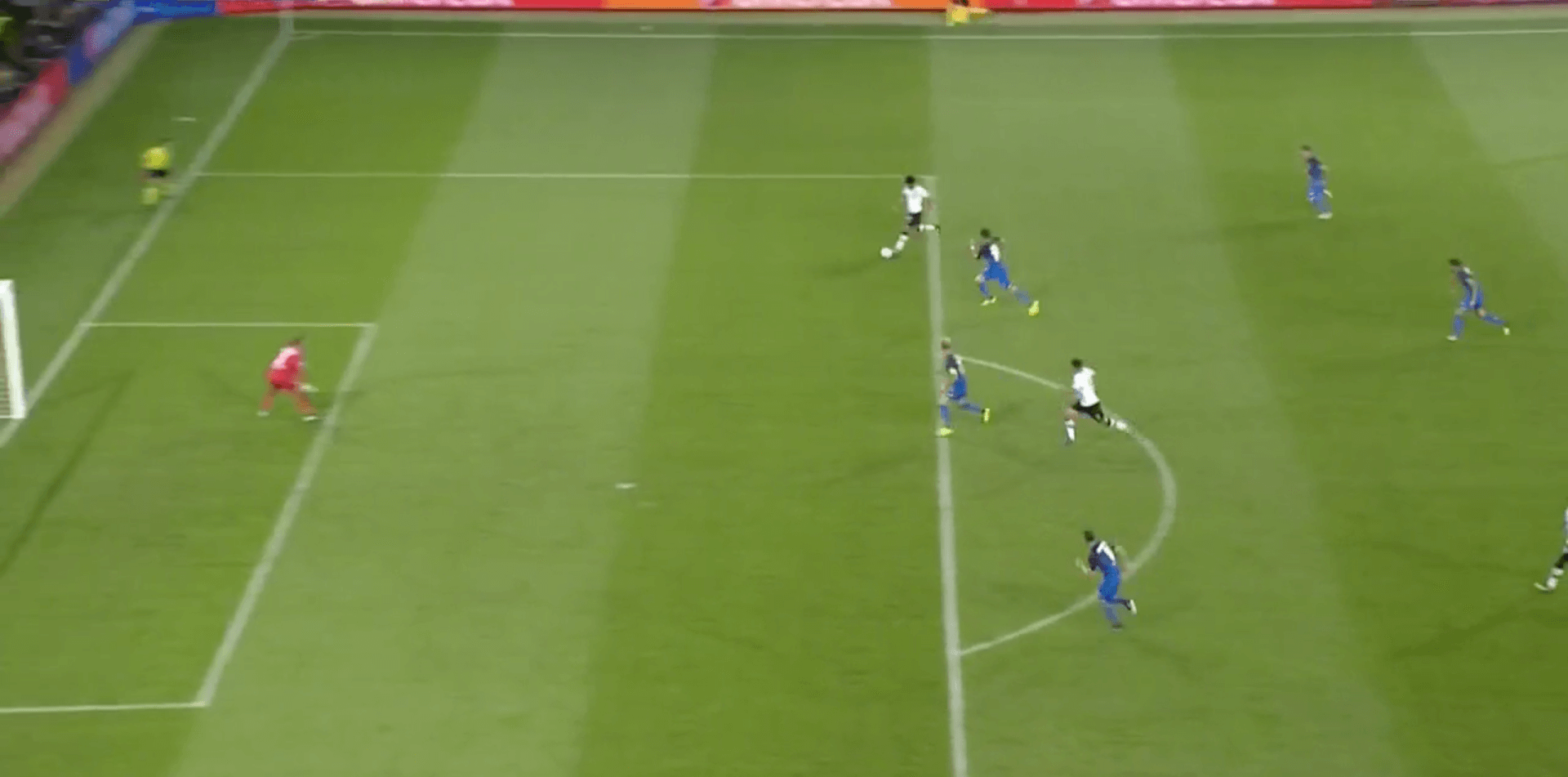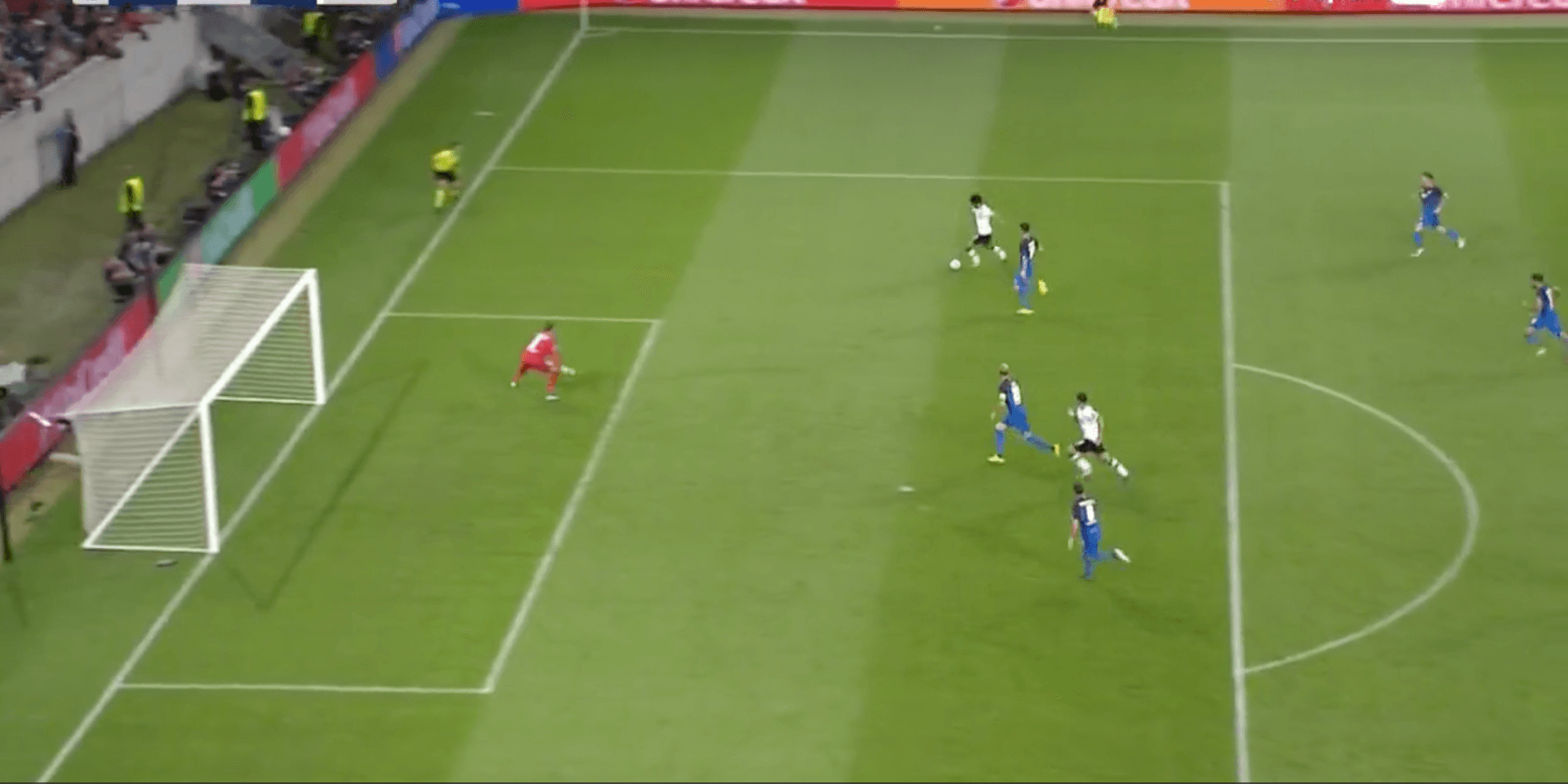 Whilst when played clear through on the counter, his touch again took the ball away from his favoured side.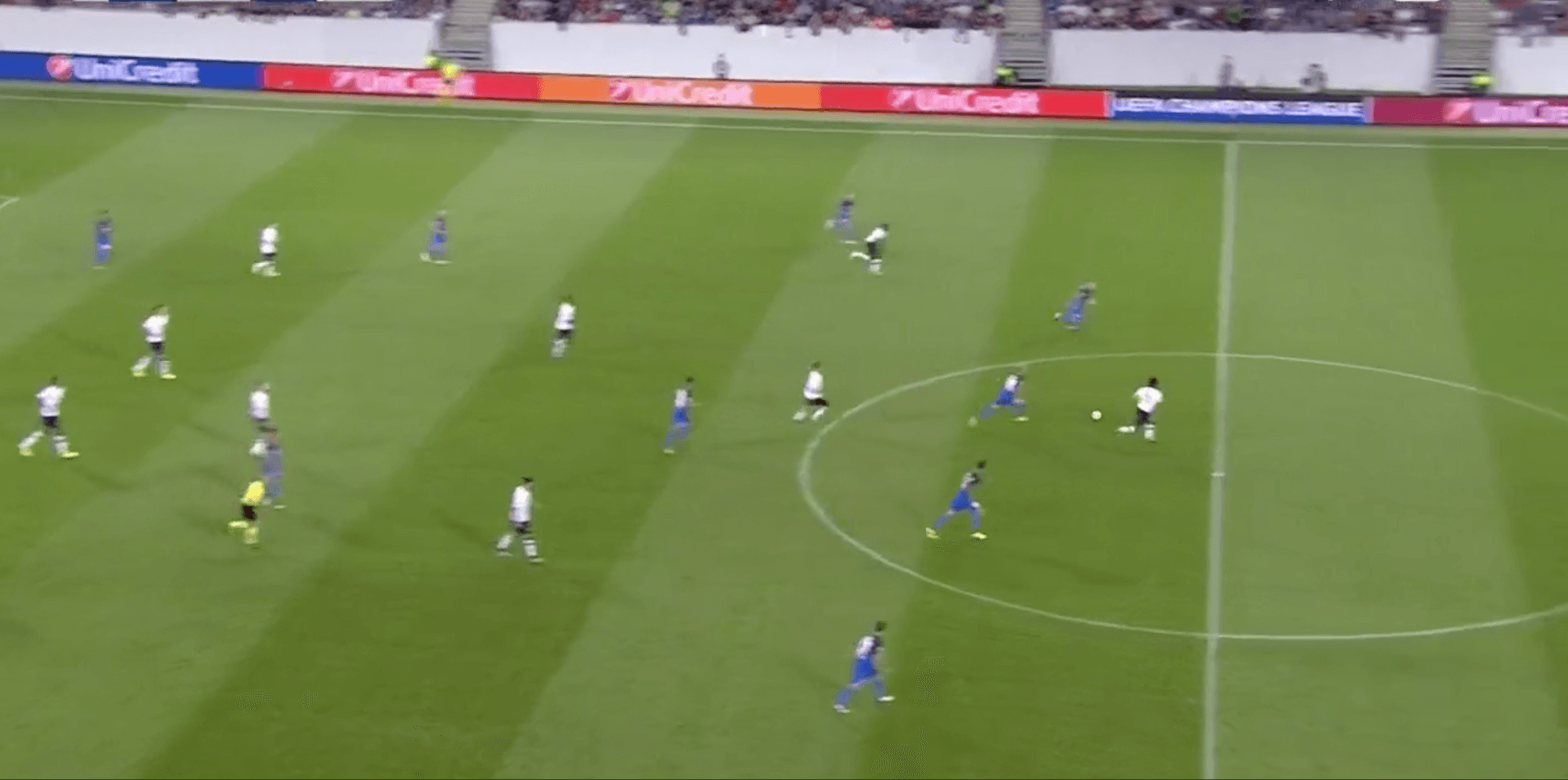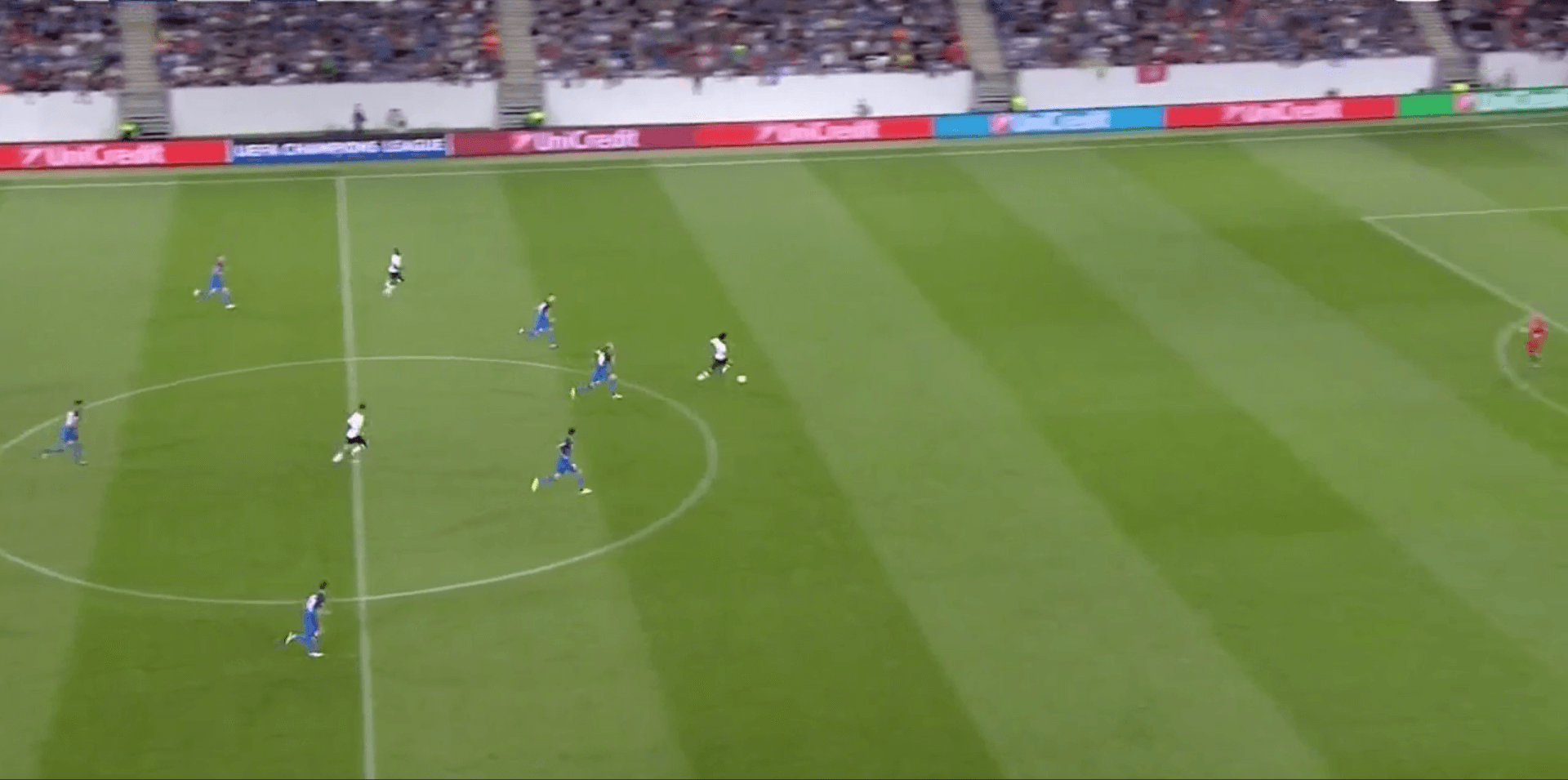 That being said, the goalkeepers advanced position may have offset Salah from simply knocking the ball forward and chasing it, as he usually would.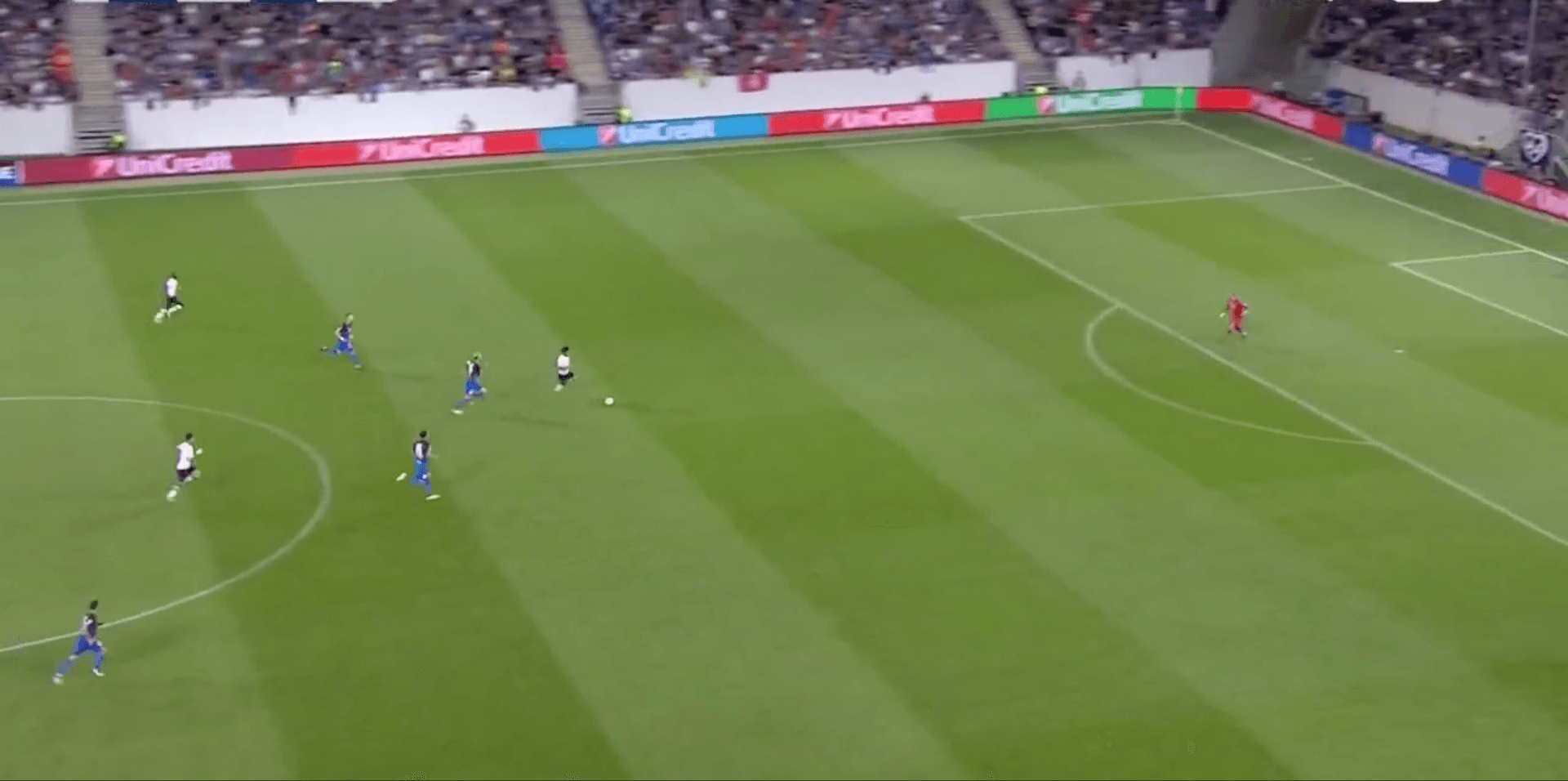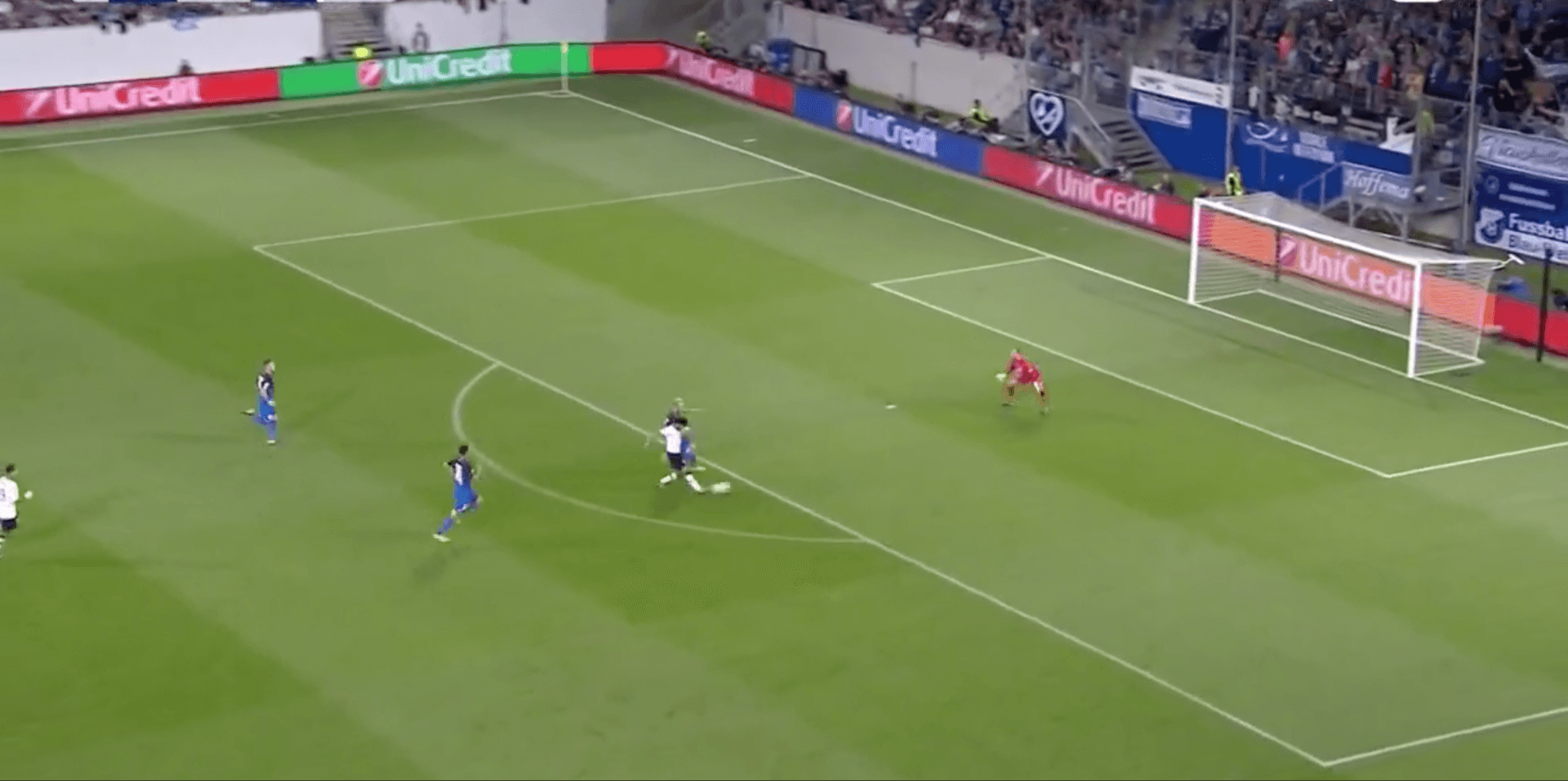 Salah shoots just wide of the post, but really should have done better, given his time, the space he was in, and his pace.
Things to keep an eye on
With Liverpool playing Crystal Palace at home, we can hope to see the return of Daniel Sturridge – it will be nice to see if and how he has changed his game after another injury, whilst it will also be interesting to see whether Klopp opts to rotate some players too – will we see two strikers?
Wijnaldum's touches and involvement have been rather low over the past two games, but as he returns to Anfield, where his figures are considerably better, it'll be interesting to see if he can pick up where he left off against Middlesborough.
For Henderson though, who struggled, it's worth taking a look at whether he is rested – if he's struggling with an injury again – or if that was simply a blip performance.
Seeing Can position himself just a bit further up, in Lallana and Coutinho's absence may also be key too – he was instrumental in Mané's goal against Watford, and made the passes to Salah that were far too infrequent from the rest of the midfield.
Getting the best out of Salah will come about through playing more and more passes in behind, so often both he and Mané are making runs, but Wijnaldum and Henderson are reluctant to play the pass – hopefully we'll see more passes at Anfield on Saturday.
Final words on the game
A 1-2 away victory, in a Champions League fixture, with 3 starting players unavailable is a very pleasing result, and one that should be commended. Of course Liverpool could and should have avoided conceding the last goal, late on, but with a strong performance from Alexander-Arnold, the future is bright, whilst Simon Mignolet is picking up where he left off with another strong performance.