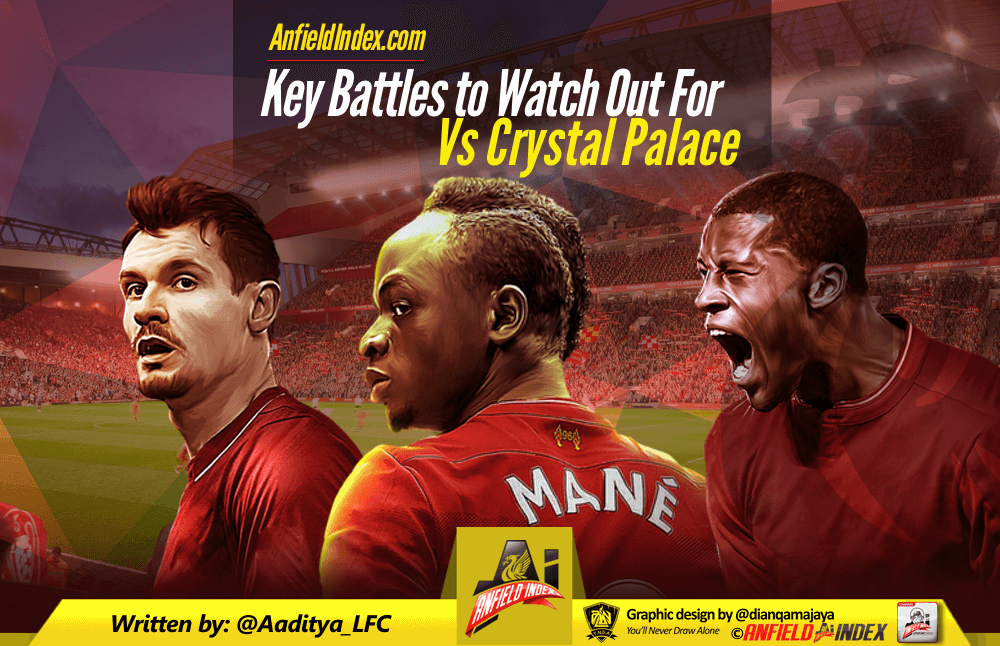 Liverpool v Crystal Palace Preview - Key Battles
A disappointing late goal conceded at Watford in the opening Premier League game was almost followed by a sense of Deja(n?)-vu at Hoffenheim, as Liverpool nearly contrived to blow a 2-0 lead at the Rhein-Neckar Stadion.
But with the win in Europe in the bag, and some much-needed confidence, Liverpool welcome Crystal Palace to Anfield for the first of three consecutive home games that could form a defining period, even so early in the season.
Trent Alexander-Arnold will be brimming with confidence after his purring performance against Hoffenheim, while Sadio Mane, Mo Salah and Bobby Firmino look sharp in attack.

The defence, as always, is a worry, but at Anfield, against a side depleted by an injury to Wilfried Zaha, and smarting on the back of an opening day humbling by Huddersfield at home, there should be no excuses for the Reds to not come out with the three points.
Here are key individual battles that could decide the outcome of the game:
DEJAN LOVREN v CHRISTIAN BENTEKE
Let's put it this way – if the Lovren that turned up at Watford or in Germany turns up on Saturday, Benteke will be licking his lips and rubbing his hands with the glee of a 5-year-old who was just offered ice-cream.
Lovren has not had the most encouraging start to the season. He has looked ponderous, uncertain and his communication with Alberto Moreno has been terrible. The space they leave between each other, their starting positions, leaving attackers to the other have all been questionable.
That is where Lovren has to do better. It should be his role as the centre-back to be constantly talking with Moreno and getting the distance between them and Moreno's starting position right – it is sometimes difficult for a full-back to judge from his position.
But more importantly, Lovren must start doing what he is good at when he does it with an uncluttered mind – defend. Lovren's best games for Liverpool have come when he has been dominant from the outset and not tried to do anything too cute. See ball, whack ball as far away from goal as possible. That won't be a bad idea against Benteke, who will miss the service from Zaha, but is good enough to bully any defender – and if the recent past is any different, Lovren will only too happily get bullied.
SADIO MANE v JOEL WARD
Palace, like Hoffenheim on Tuesday, have tended to play 3 centre-backs under Frank de Boer and there is no reason for that to change at Anfield. That will once again mean that Mane will have ample space in behind the right-wing-back and be able to run at the right-sided centre-half.
It was a sublime goal from Mane to get the Reds back at 1-1 at Watford, and he backed that up with a terrific display, full of running, as he terrorised Ermin Bicakcic in Hoffenheim.
In the absence of Philippe Coutinho, Mane has got to take the responsibility of being the man to take the attacking burden, even though he knows he will be ably backed up by Salah and Firmino.
Ward isn't the quickest of defenders going around, so he will have to depend on Timothy Fosu-Mensah, who is likely to be the right-sided centre-half, for cover every time Mane escapes his grasp. And make no mistake, there will be more than one occasion when Mane escapes Ward's grasp.
This will be Mane's first game at Anfield since he scored in the Merseyside Derby in April, and the fans will no doubt be up for it. New pitch, but same old Sadio, please?
GINI WIJNALDUM v LUKA MILIVOJEVIC
There cannot be enough said or written about possibly the weirdest player I have seen play for Liverpool. The contrast in Wijnaldum's home and away performances are like chalk and cheese. On Saturday, the Dutchman will be back on happier pastures.
Wijnaldum scored just before half-time in the last game at Anfield – against Boro  – to ease all the nerves on that day, but he has been disappointing at the start of this season, with two average performances at Watford and Hoffenheim. Calling the performances average does him a favour, as he was barely visible on the pitch in both games.
But at Anfield, against a Palace side who will be resolute at the back, Wijnaldum's late movement into the box will be crucial. With the three centre-backs for Palace, it will be crucial for Liverpool to get numbers into the box. That is where both Wijnaldum and Emre Can will be hugely important.
Palace will be content to let the Reds have the ball, so Wijnaldum will also have to use it much better than he has in the last two games. Firmino, Salah and Mane will still buzz around ahead of him, but for Wijnaldum, the composure needs to be back. When he played well last season, it was always when he didn't get flustered when put under pressure. That most happened only at Anfield.
On Saturday, on a new Anfield pitch, Jurgen's Reds will go again…