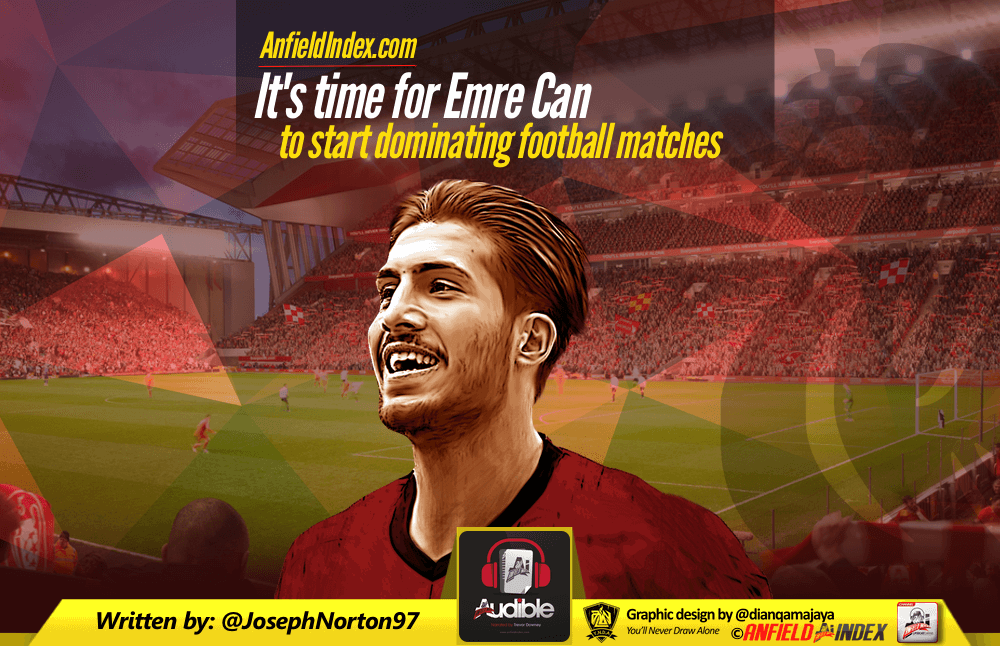 It's time for Emre Can to start dominating football matches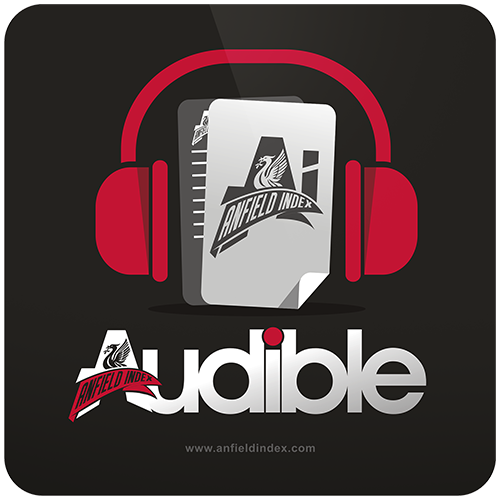 Listen to this article via @AIAudible !
Putting contract issues aside, this season will be a decisive one for Emre Can. Whether he is to have a long term future at Anfield is still unknown but what is clear is that the injury suffered to Adam Lallana which is due to keep him out for at least two months and the ongoing problems with Phil Coutinho means the German powerhouse has a great opportunity to stamp his authority on this team. Despite questions still remaining as to whether Can's best position is in the the number 6 or 8 role, what must be remembered is that he has all the attributes to become a complete midfielder. For me he is wasted in the number 6 role as he plays better when he has more freedom and the confidence to drive past players and create chances in the final third. Emre Can is physically strong, very good technically, a powerful dribbler and a good passer of the ball, as a result he has all the potential to become a world class midfielder but he needs to start dominating games of football. Because of the difficulty the Reds have had in signing Naby Keita and injuries suffered to key players in midfield, the German finds himself in the perfect situation to show the whole football club and fans of other teams just what he is all about. In this article I am going to compare him to four very talented  midfielders who play in similar positions to him across Europe, demonstrating just what areas of his game he needs to improve to get to the world class level his potential is capable of getting to. Not all of these players are world class but they all possess very similar attributes to Emre and highlight areas of his game he needs to improve. So who am I talking about? Nice's Jean Michael Seri, RB Leipzig's Naby Keita, Bayer Munich's Coretin Tolisso, formally of Lyon and Tolisso's team mate Arturo Vidal.
When we compare all five players in the league last season it is Can and Vidal who are bottom of the assists with just 2 each, Seri's top with 9, followed by Keita with 7 and Tolisso with 5. Despite all three of those players having played marginally more games than Can it is obvious he must influence games in the final third more which would lead to him getting more assists this season. Again it is Vidal and Can who sit bottom of the goals scored chart from last year with Can scoring 5 and Vidal just 4, in comparison to Keita and Tolisso who top the table with 8 and Seri who comes just behind them with 7. These basic stats just highlight where Can has to improve, he needs to be more productive. Can has all the attributes to start dominating games of football and particularly when he's deployed in the number 8 role he needs to be more effective in the final third.
When we take a look at things in a defensive sense, the German does compete well with all four of these players. The tenacious Arturo Vidal unsurprisingly leads the tackles per 90 won at 2.66, followed by Keita and Can at 2.05 and 1.96 respectively, both very impressive. It is Tolisso next at 1.19 and Seri at just 0.66. Can has always been pretty solid defensively which is why he can be very effective in the 6 role, his physicality means that when he gets near to players he is often able to outmuscle and disposes them as highlighted by this stat. All five of the players have a very similar percentage when it comes to total duels won per 90 which again bodes very well for Emre. Seri tops this statistic at 48.68%, followed by Vidal at 43.67, Tolisso at 42.94, Keita at 42.89 and Can with 40.9. Apart from Seri who convincingly wins this category, all four players are very evenly matched again reinforcing this idea that Can is very solid defensively especially when it comes to playing in the number 8. The one area Can could improve defensively is his positioning and awareness, although he has all the physical attributes to be a force at the back sometimes his lack of knowledge of where his attacker is lets him down. If he wants to become a world class footballer who influences games at both ends of the pitch he needs to become a more commanding figure at the back, communicating with his defenders and taking a lead when managing defensive situations such as set pieces and counter attacks.

When we compare the players in a more attacking sense it becomes quite apparent this is where Emre has to improve and highlights just how far ahead both Seri and Keita are, emphasising just why we are interested in both. Vidal has the fewest percentage of successful take ons per 90 at just 41.18, followed by Can and Tolisso at 56.76 and 58.82 respectively. As mentioned it is both Seri and Keita who impressively top this statistic, Liverpool's number one transfer target completes 65.81 of his take ons but it is Seri who shines with an impressive 84.62. If Emre is to fulfil his true potential he needs to become a complete midfielder which would mean he is competing with the likes of Keita and Seri in this category. The Reds midfielder has all the physical and technical attributes to improve this aspect of his game he just needs to make sure he makes the right decisions of when to dribble or when to move the ball on. When gaps do open up though he needs to take players on and commits defenders, opening up space for the likes of Mane, Salah and Firmino.
Finally let's take a look at how Can compares to the other four midfielders when it comes to key passes. Whether the German is playing in the number 6 or 8, he should always be looking to play through the lines and thread balls through to our fluid front three, therefore, there is no excuse for him not drastically improving this area of his game for the coming season. Last season again it was Seri who topped this statistic with 1.93 key passes per 90, followed by the talented Tolisso at 1.30, Keita at 1.27, Emre at 1.17 and Vidal at 1.13. One of the key aspects of a number 8's game is their ability to play through the lines and spot gaps in defences and with Emre playing behind a deadly three of Firmino, Salah and Mane it is inconceivable that he won't dramatically improve this area of his game. Can is a good passer of the ball and has the intelligence to find our attackers when they make these runs. Improving this area of his game would go a long way to not only improving his assists but transforming his overall attacking play.
Although it must be remembered Can played a large proportion of last years games in the number 6 position, when he was deployed further forward he did not dominate games and show us the potential he really has. As mentioned he has all the physical and technical attributes to become a world class midfielder  and because of the injuries and lack of success the Reds have had in the transfer market thus far, the German has been provided with a fantastic opportunity to be the leader in midfielder and become a real fan favourite. If Can can improve on the few areas of his game this article has highlighted then he could go on to be something very special in this Liverpool side. It's about time Emre started to dominate football matches.