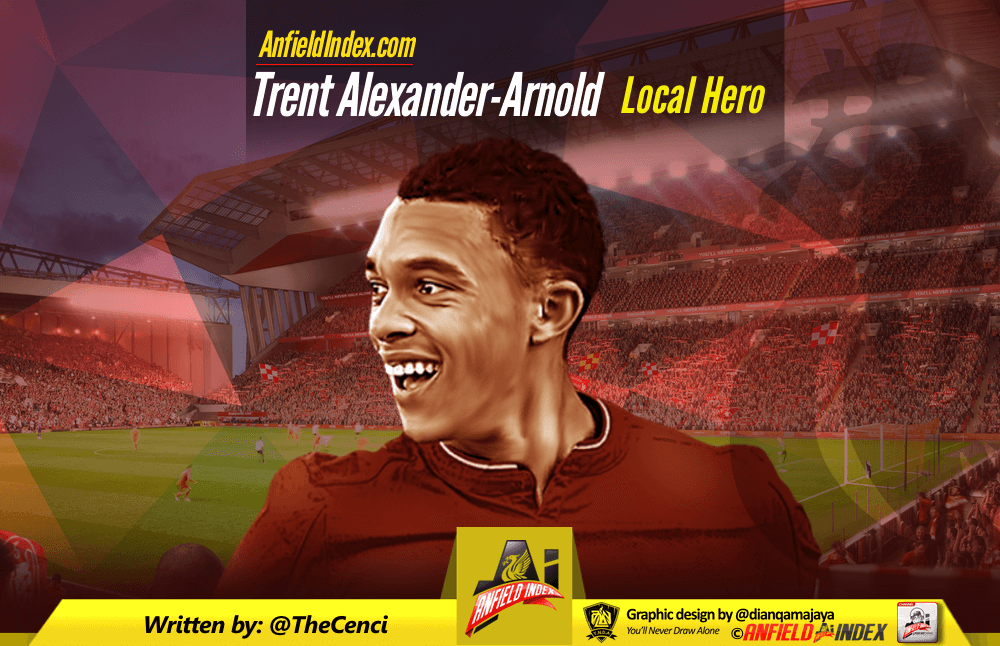 Trent Alexander-Arnold - Local Hero
I know it shouldn't be important, but it is.
I know it should just be about the team, but this isn't.
I know that it shouldn't matter who scores for Liverpool, but on this occasion it means the world.

When Trent Alexander-Arnold wheeled away in celebration in Germany this week, and tried gamely to calm his mind after his magnificent achievement, he knew that any attempt at casualness and insouciance would be an act of folly. He had just done something that very few people even have the opportunity to do, that fewer still have accomplished. Just two months shy of his 19th birthday, Trent Alexander-Arnold had scored a Champions League goal for his boyhood club who happen to play in his own city.
Trent hails from West Derby – a suburb of Liverpool about three miles from Anfield, and which is also home to the club's training facilities, Melwood. It's a quiet area where the famous children's hospital of Alder's Hey once stood. Steven Gerrard went to the local school and, far more importantly for me, my Mum lives there.
There's something really quite nice in the possibility that my Mum has walked past Trent in the street and not had a single clue who he is.
And it's that local connection which is important to me and many Reds from the city. Since Gerrard and Carra retired there's barely a link between the club and the home-grown lads. That's why Flanagan's goal at White Hart Lane was celebrated so vociferously in 2014. He wasn't just a Liverpool player scoring a goal for the Reds. Oh no. It was that it was one of us out there. He represented us. That goal was for everyone who grew up kicking a ball against a Liverpool wall and imagined that one day it would be transformed into the ground itself and maybe the biggest of stages. Oh, of course all goals are equal, but every time a native of the city nets one it feels different somehow. It gives all a little lift. It brings an impossible ambition that little bit closer.
There's just something special about a lad who used to play footy with his mates in the same streets that we did. He's just like all of us. He too has always wanted to get inside Melwood and to train with the first team. Then he wanted to make his debut. Then he wanted to be a regular. Now he's knocking in 25 yard free kicks against Bundesliga sides.
He didn't just do it for the club. He did it for us. The people with whom he rubbed shoulders.
The bird on the badge represents the city and last night it felt like that city had achieved something. One of our own.
This is why I can't get on with the notion of Liverpool fans who love the club but have no time for the district – even strongly disliking it in some instances. This is more common than you'd think. I can still remember a League Cup game at Selhurst Park in the 90's where a lad next to me, wrapped in a Liverpool scarf, joined in with the Wimbledon fans' chorus of 'Shit on the Scousers tonight.' He didn't last long, obviously.
Now, before heckles are raised at what might look like a 'fans who were born outside the city walls don't count' statement, please hear me out. I'm not saying that our –Scouse- support is the greater or anything so crass. I welcome Liverpool's global appeal, I really do. So much so in fact that Sachin Nakrani and I wrote a book about it. You can find it online. No. I'm saying that a Trent goal means more to some of us than, say, a deflected James Milner goal. It just does.
It's the rarity that makes this so great. The 1977 European Cup final side contained no fewer than four Scousers in its starting line-up – Tommy Smith, Ian Callaghan, Terry McDermott and Jimmy Case. Last season only Trent (12) and Connor Randall (1) made the first team at all. Liverpool may still bring through some local lads at the Academy, but, for some reason, they've stopped making the grade. When they do, we celebrate like Marco Tardelli on acid.
It also points to an intangible connection. If Trent can do that without being brought in from another club or city then so can we? We didn't just love Fowler because he was a genius, cheeky or quotable. No, we loved him because there's every chance you could run into him in town. My Dad was once in The Falconer in Kirkby when Phil Thompson was in there. Sadly not on the night he famously brought (and almost lost) the European Cup there in 1981, but that pub was only two miles from my front door. Two miles away from a pint with Liverpool's European Cup winning captain. No razor-wire over Melwood in those days. No airs and graces.
But, of course, that level of access is now impossible. The club doesn't encourage visitors at Melwood and the cracks in the wall (known to every kid in the vicinity) which allowed you to see in have long since been blocked up. Security is important, of course, and this is not an age in which to take risks, but the chances of seeing Daniel Sturridge sipping a light ale in a back street pub is non-existent.
So, it's moments like this which we have to cling on to. It wasn't that Trent had scored, it wasn't that it was an incredible goal, it wasn't that it was his first and it wasn't that it was on a German pitch in Europe's premier competition.
It was because it felt like he'd done it for us and his mates back home. For those in Liverpool, L12.
That's why it was important.
That's why, on this occasion, it's meant more than the team.
That's why it mattered.