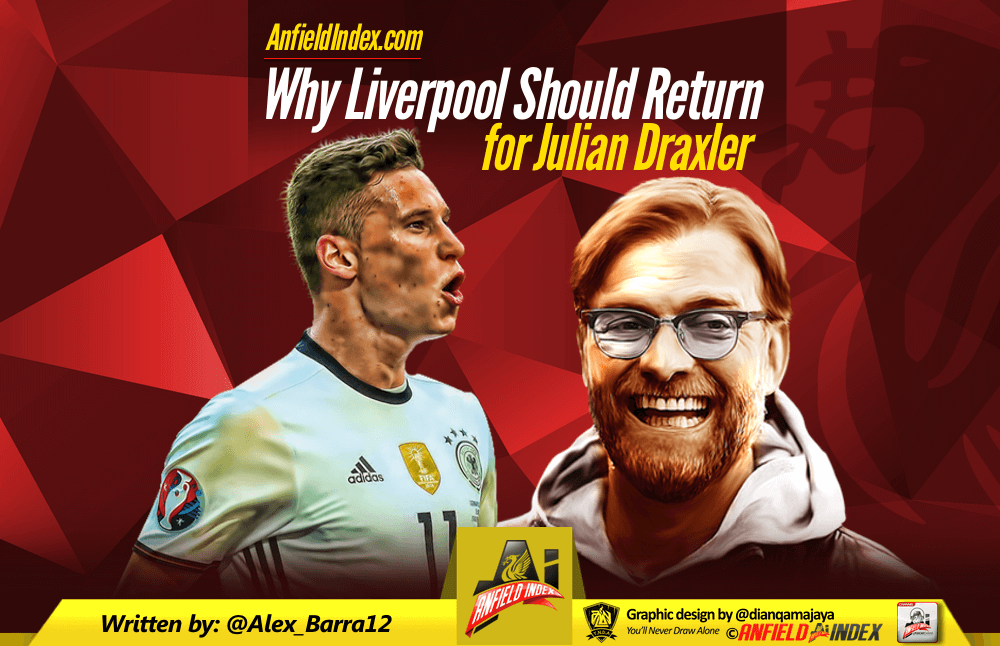 Why Liverpool Should Return for Julian Draxler
Following a superbly eye-catching Confederations Cup, the stock of one former German wunderkind turned peripheral star seems to have not been higher.
Julian Draxler, formerly of Schalke and VfLWolfsburg, is a name hitting the rumour mill once again, with the news that Paris Saint-Germain are set to continue on their path to utter and total supremacy via the purchase of Monaco's Kylian Mbappe. A forward arsenal of Mbappé, Neymar, Edinson Cavani, Àngel Di Maria, Lucas Moura, Goncalo Guedes and Javier Pastore is formidable, for one, and also rather plentiful, given no more than four of those names are likely to ever be on the pitch at the same time.
French outlet L'Equipe report that Draxler will be seeking a new club after PSG boss Unai Emery told the young German he wasn't in his first team plans – and as one might see, that is perhaps not the most surprising statement. Draxler did, after all, move to Paris St. Germain to gain first team football, and become a prominent part of a front three after his tenure at a failing Wolfsburg became untenable.

It's no surprise then, that PSG need to sell players, given their cozy €220 million outlay on Neymar, and Draxler could well be one of them.
The price tag? A relatively inexpensive €40 million – a pittance for a player of Draxler's quality in this market. The suggestion is simple: Liverpool should be all over the deal, given the quality Draxler possesses, the attributes he'd bring to Jürgen Klopp's side (who need reinforcements, even if they manage to keep hold of their prized Brazilian asset), and the fact that Draxler was targeted in January (per David Maddock).
Where does he slot in?
So, where would the 23 year-old fit in? What makes him such a tantalising prospect in this Klopp side? Is it the prospect of him interchanging with Firmino, Mane and Salah so silkily? Is it the mere idea of him gliding past defenders as if they were ghosts and hitting a sweet strike into the top corner, with his charismatic manager the one to finally unlock all that talent?
Well, yes, yes it certainly is that. But there's a precise reason as to why Draxler could become so influential to Liverpool's side – something of a game changer, in fact. Should Coutinho depart, or even should Klopp look to replace the ageing (and currently injured) Adam Lallana, Draxler is a tantalising midfield prospect.
What Klopp has done with the aforementioned duo of Coutinho and Lallana is change them – adapt their skillset to fit into a midfield three, hone their pressing abilities and set them onto teams as both a creative hub and a roaming third man in the middle of the park, able to harass defenders and see the game open up in front of them. Adam Lallana's pass to Divock Origi for Gini Wijnaldum's goal against Arsenal is the perfect example of that – winning the ball back and releasing Origi from within his own half, with a pinpoint pass.
Draxler is a technically gifted dribbler who is able to make beating defenders look seamless. He possesses a natural trait to carry the ball at his feet, and make things happen. Though his frame and style differs completely to Phil Coutinho, their strengths are remarkably similar. In fact, Draxler's passing accuracy (84% for PSG last season and 83% for Wolfsburg) is nearly identical to Coutinho's 84% in 2016/17.
The German made more successful dribbles than Phil whilst in the Bundesliga (2.6 per game to 2.3), with slightly less in Ligue 1, made more successful through balls and nearly matched his key passes too. The numbers are similar, but they're worthless without an in-depth look into why it would actually work.
The Creative Fulcrum
Draxler operated on the left side for the majority of the time at Wolfsburg, and replicated that at PSG, but during his time as the captain of Germany's Confederations Cup winning side, the PSG attacker played a more centralised key role. He was key to much of his side's build-up, demanded the ball while counter-attacking, and carved out chances for Lars Stindl and Timo Werner up front.
With an ability to carry the ball at his feet through a densely packed midfield, and the goal threat he possesses (he scored 4 times in just 12 starts for PSG), he'd offer more than simple creativity – he'd be the link between the midfield and the attack. Without being shoehorned onto a wing, Liverpool's fluid formation would not just allow Draxler time on the ball, but the ability to spread his wings and move through the middle of the park, instead of picking it up from wide and drifting in as he usually does.
He played that role for Germany, often picked out as the first pass from a high defence, turning and moving the ball quickly through the middle. With the two pacey wide men as constant dangers, Bobby Firmino's lethal movement and a goal threat of his own, Draxler would not only replicate the influence of Coutinho when attacking, but improve on it.
Under pressure, he's cool, calm and collected; evidenced by the fact he's dispossessed less than both Coutinho and Lallana, while taking less dodgy first touches. The recipe is there for Klopp to turn the German into a press-heavy, creative central midfielder, able to keep Liverpool's front three firing on all cylinders.
Who knows, Liverpool may never fix their defensive issues. But at least this would be incredibly fun to watch.