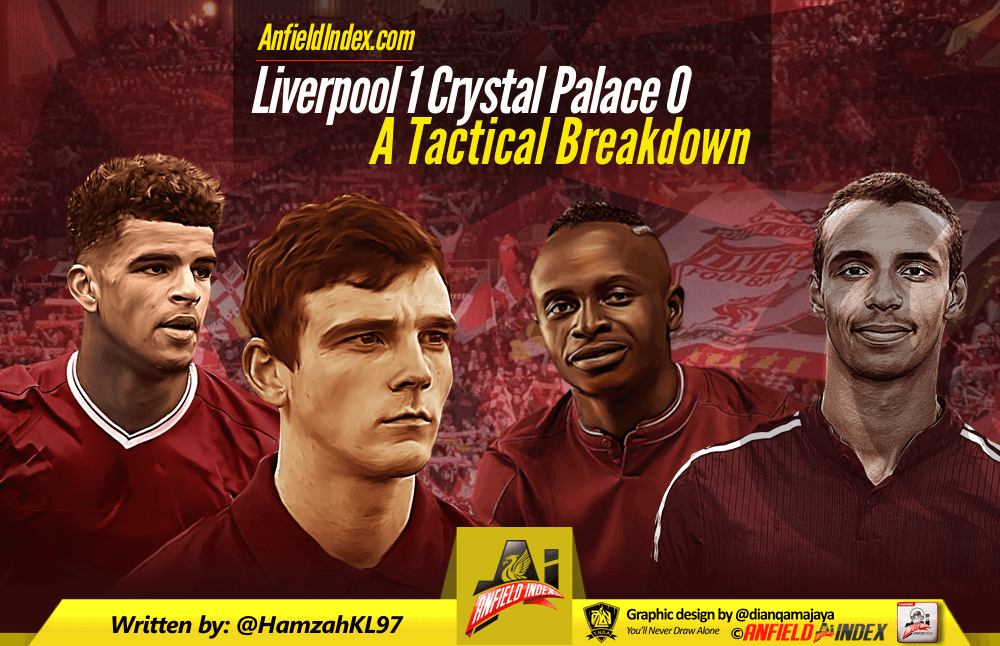 Liverpool 1-0 Crystal Palace: A Tactical Breakdown
After a late Watford equaliser, Liverpool's Premier League campaign was yet to really get going. A tie with bogey-team Crystal Palace hardly eased nerves, especially as reports of Coutinho's continued unhappiness, and rumours of a knock to Sadio Mané had fans on edge. Nonetheless, the performance was distinctly different to the Champions League first-leg against Hoffenheim, and the Watford match too. Yet, what we also saw were some themes and consistencies, that we may see continue to pop up throughout the season, and we'll be having a look at some of those today, alongside the goal, and a few other notable moments.
Match statistics
Possession
Liverpool: 72pc
Crystal Palace: 28pc
Pass accuracy
Liverpool: 84pc
Crystal Palace: 69pc

Shots
Liverpool: 23 (13 on target)
Crystal Palace: 4 (1 on target)
xG:
Liverpool: 2.55
Crystal Palace: 0.67
Corners:
Liverpool: 4
Crystal Palace: 2
Mané, 1-0, Liverpool, '73
70 minutes into the game and Liverpool's persistence had not yet paid off – the team looked slightly frustrated, as were the fans. Step forward Sadio Mané, with some brilliant individual work.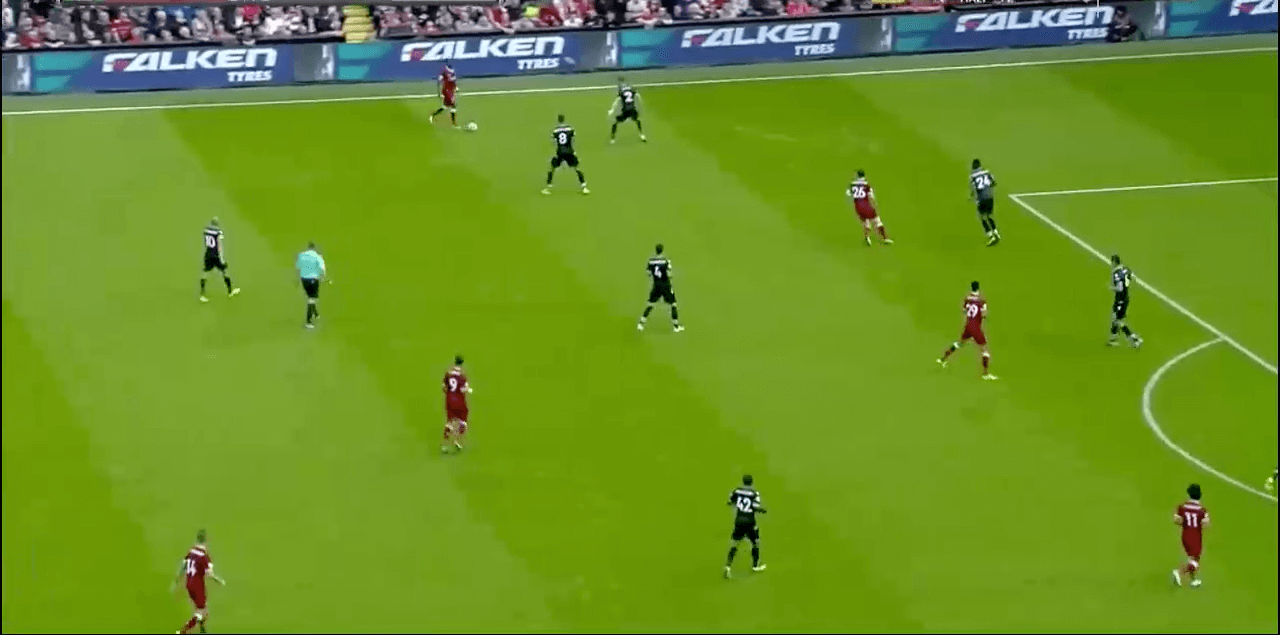 Mané started the initial movement, moving in from the left. What he benefitted from, was a greater degree of space to move around, and into, due to Robertson's advanced position, which he took up for most of the game.
Above, we can see Robertson, occupying an inside-left wing position – with him, Solanke, and Salah all positioned between the midfield and defensive Crystal Palace lines.
The image below illustrates the same point, but from a different angle. The value of the image below is two-fold though: with Solanke on, Firmino has dropped into an advanced midfield role – where Coutinho was meant to play this season, (perhaps we may see Firmino as the CAM in a 4-2-3-1 as Klopp continues to rotate?) the other point though, is something I shall touch on later too: the position of Salah, as he comes into the back post area – is something we've seen him do in the previous two games, this season.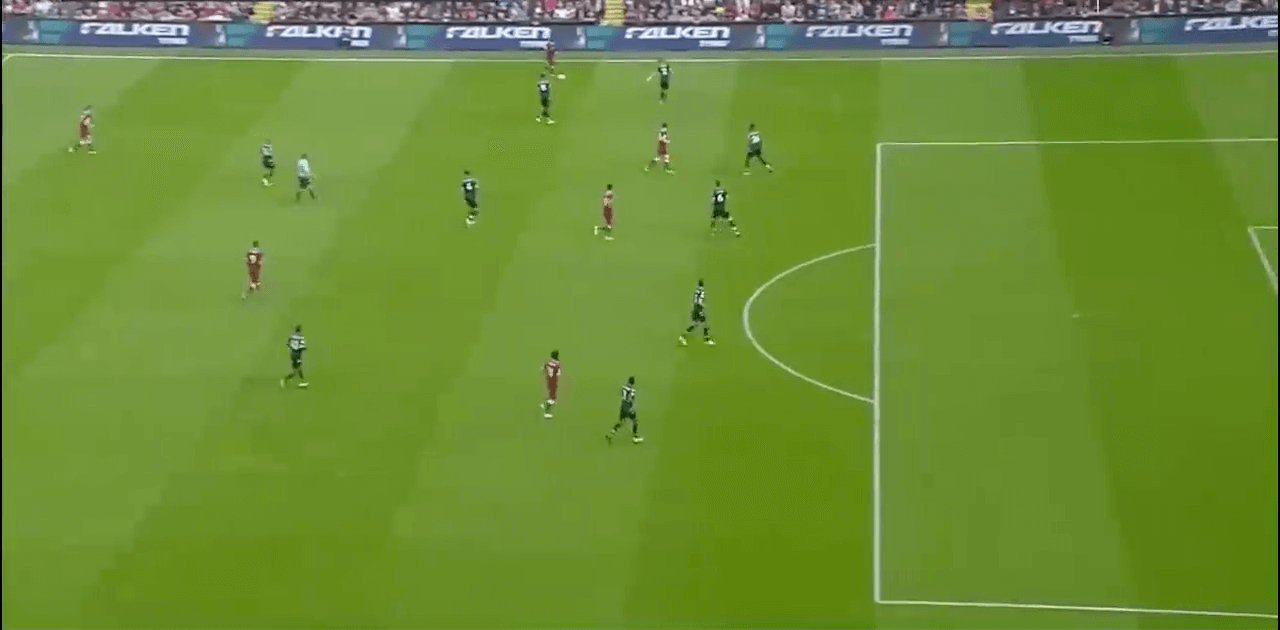 Mané's pass, and the run which followed the pass into Robertson, pulled his two markers, whilst Robertson's position drew out Fosu-Mensah, leaving a large gap between him, and the Palace centre-back.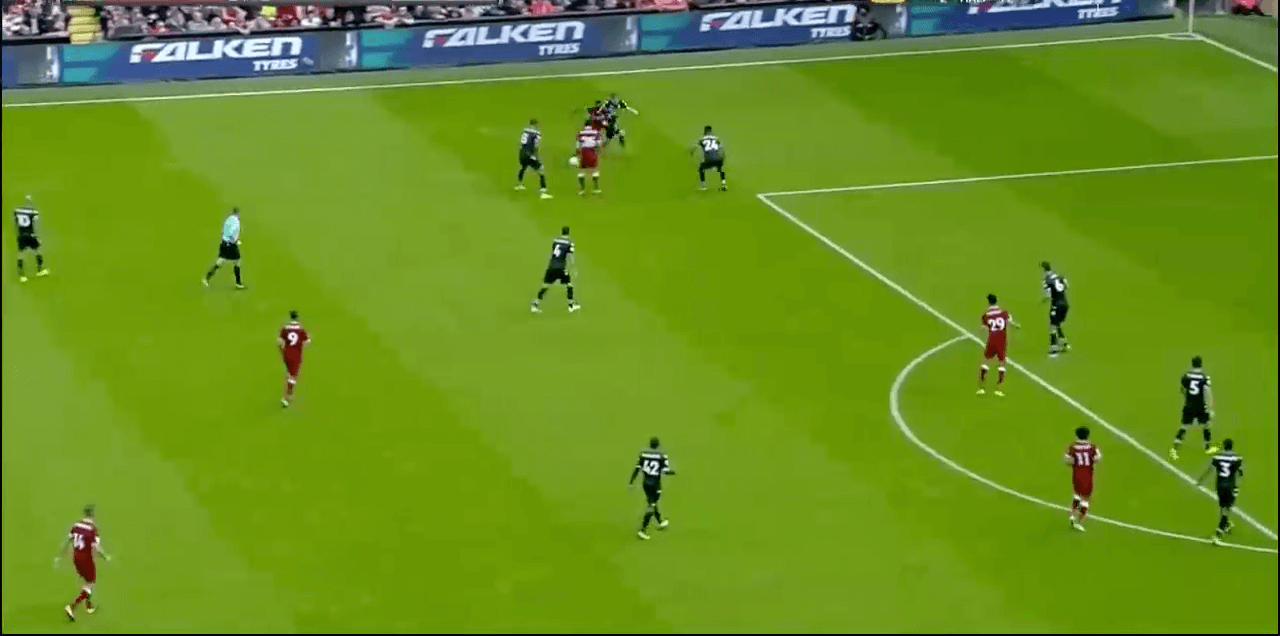 As Robertson's return pass rebounded, Solanke presses, whilst Mané continues his run – with the same sort of foresight that we often attribute to players such as Suarez, as he arrives in the right place, at the right time.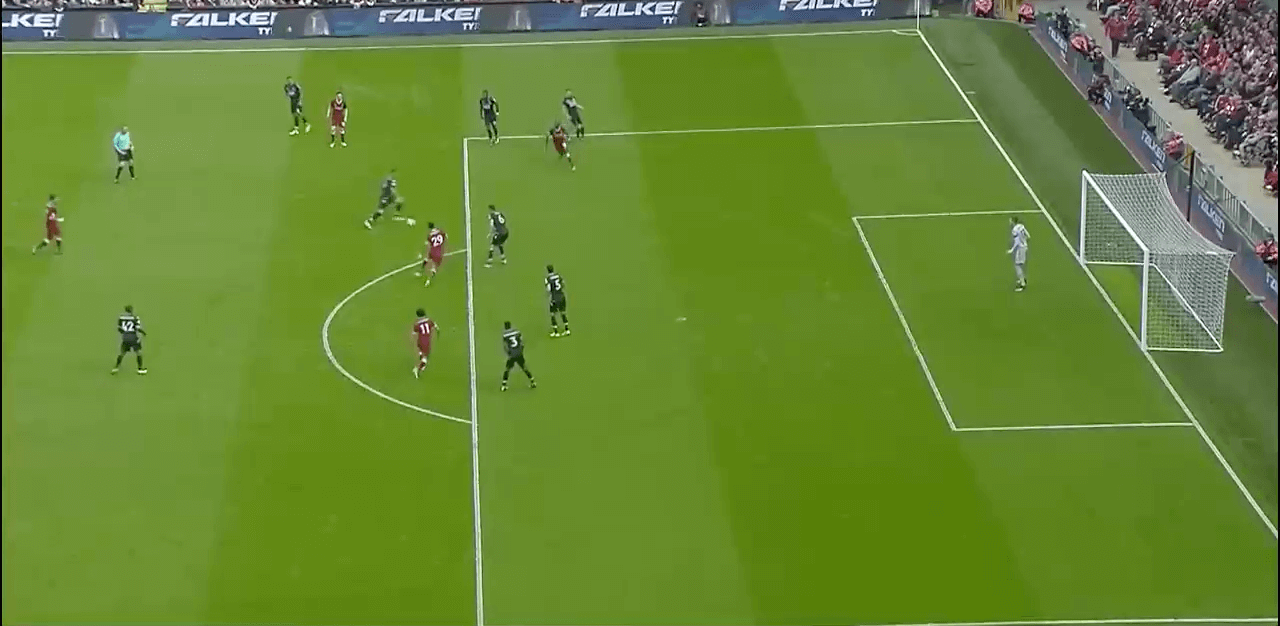 Mané takes the loose ball, and slots home – but the goal is very much the product of his work with Robertson, to manufacture space between the left-back and centre-back. The difference in space between the left-back and centre-back in the first and third images is plain to see.
Additionally, Solanke's press is important, but so too is his position, as his presence offsets Dann from moving across, and asking Tomkins to take over.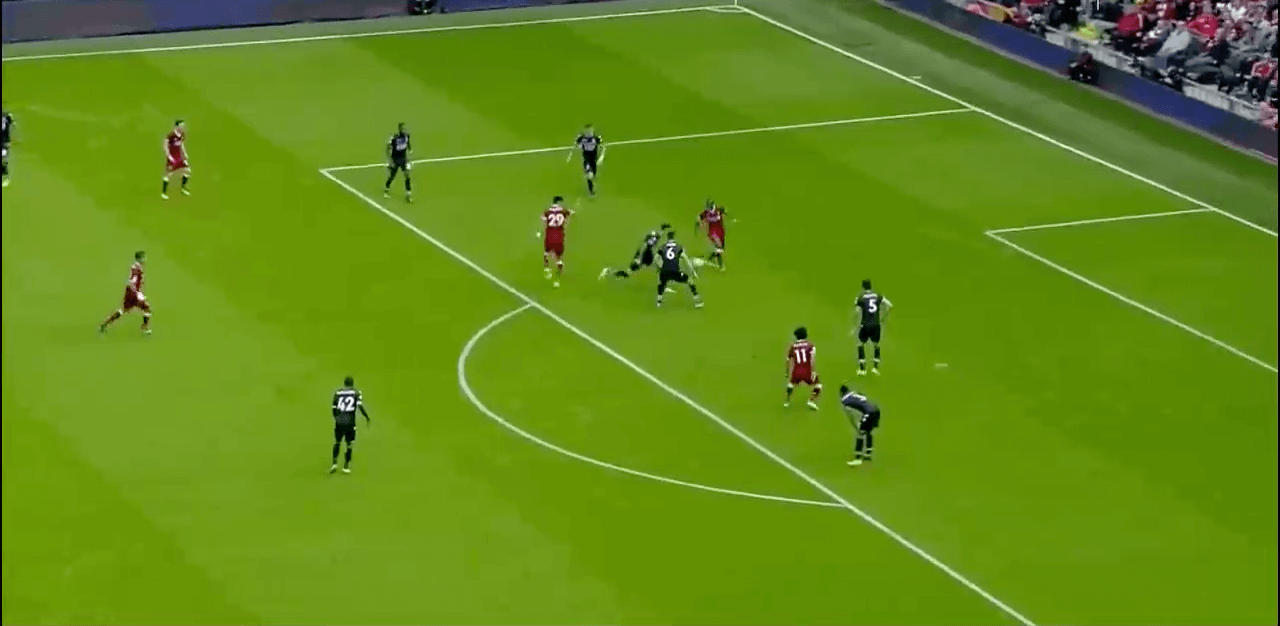 Robertson's positioning is the main aspect to take from this goal – and for a debut performance, it was certainly an aggressive, forward-thinking one from the young Scot.
Robertson's attacking positioning 
I've picked out three pieces of play, excluding the goal, that illustrates Robertson's attacking positioning – two of which should have been goals. The first of which is below.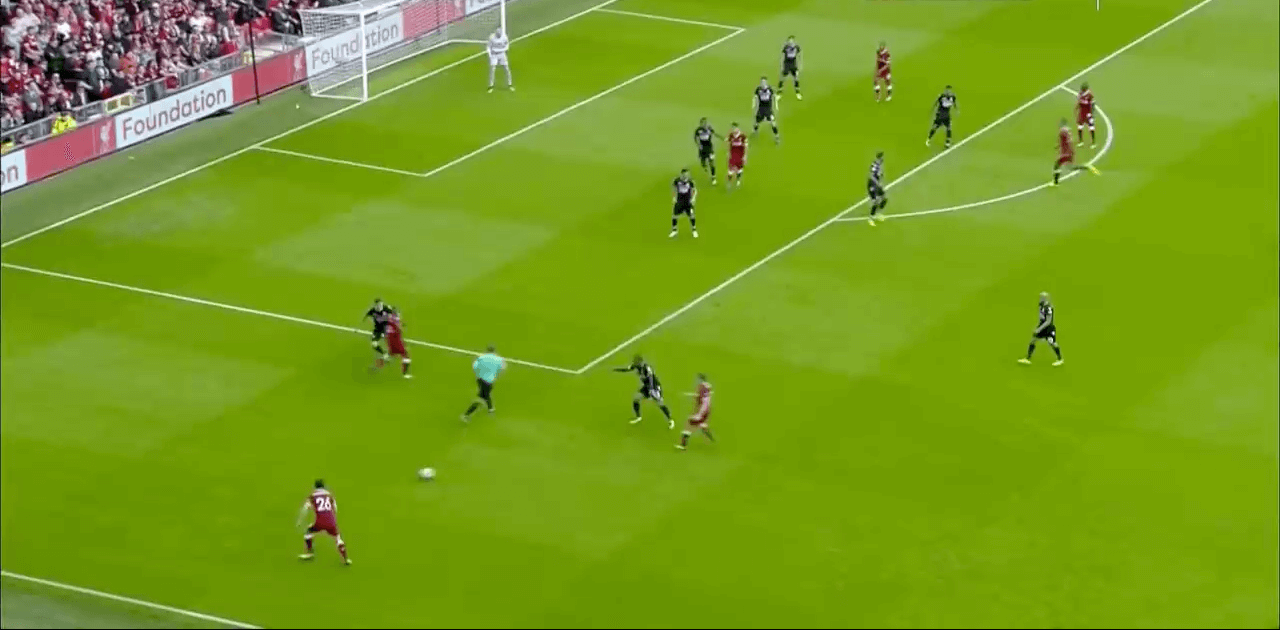 Quite often during the 2016-17 season, Liverpool would find themselves in positions like the one above, in possession on the left-wing – but when passing to the left-back, Milner, the attack would suffer, as he would cut back onto his stronger foot, and deliver an inswinging cross, easy for defenders to pick out when marking Milner, or for goalkeepers to claim.
Robertson though has a wicked left foot, capable of delivering crosses with accuracy, pace and curl – from what we saw on Saturday.
Not only this, but unlike Milner, who would cut in, and often move closer to the box, Robertson is happy to cross closer to the touchline, creating more space between his marker, and the rest of the opposition defensive line, as we can see below, with a short pass into the area for Wijnaldum also an option with potential.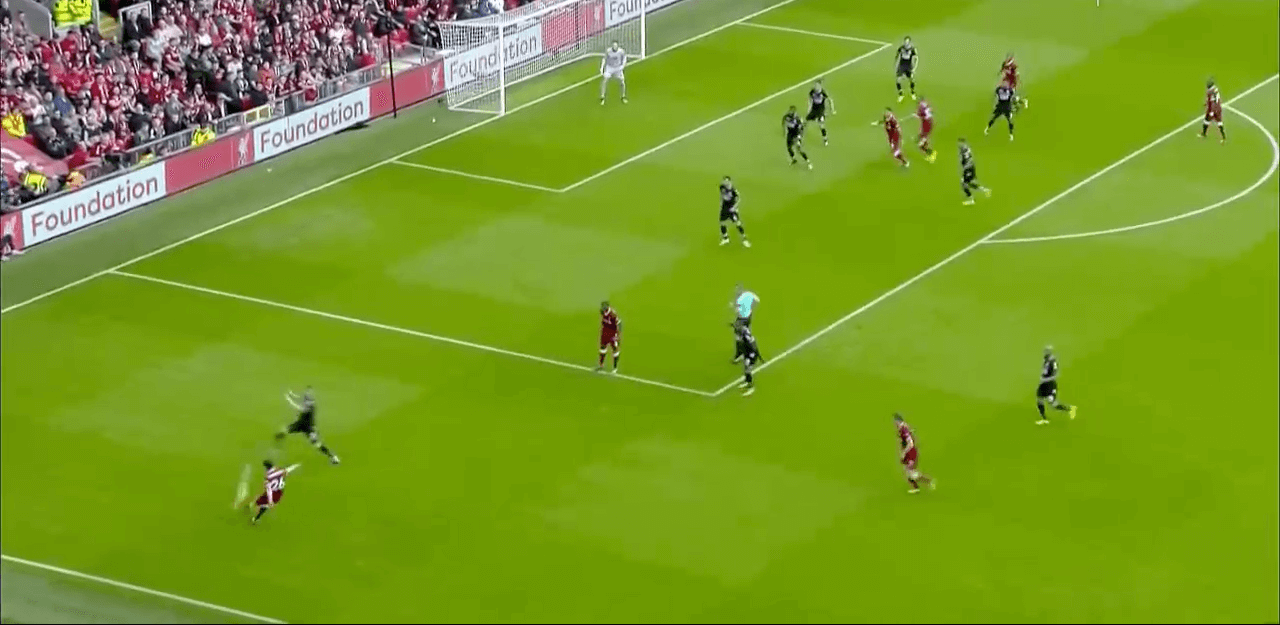 From the cross, Matip should score – but Firmino and Sturridge are also in attacking positions, ready for a cross to them, meaning now, should Liverpool opt to play with Sturridge and Robertson, there is a greater aerial presence, and a greater propensity to score from crosses – than there is when just Firmino is upfront, with Milner at left-back.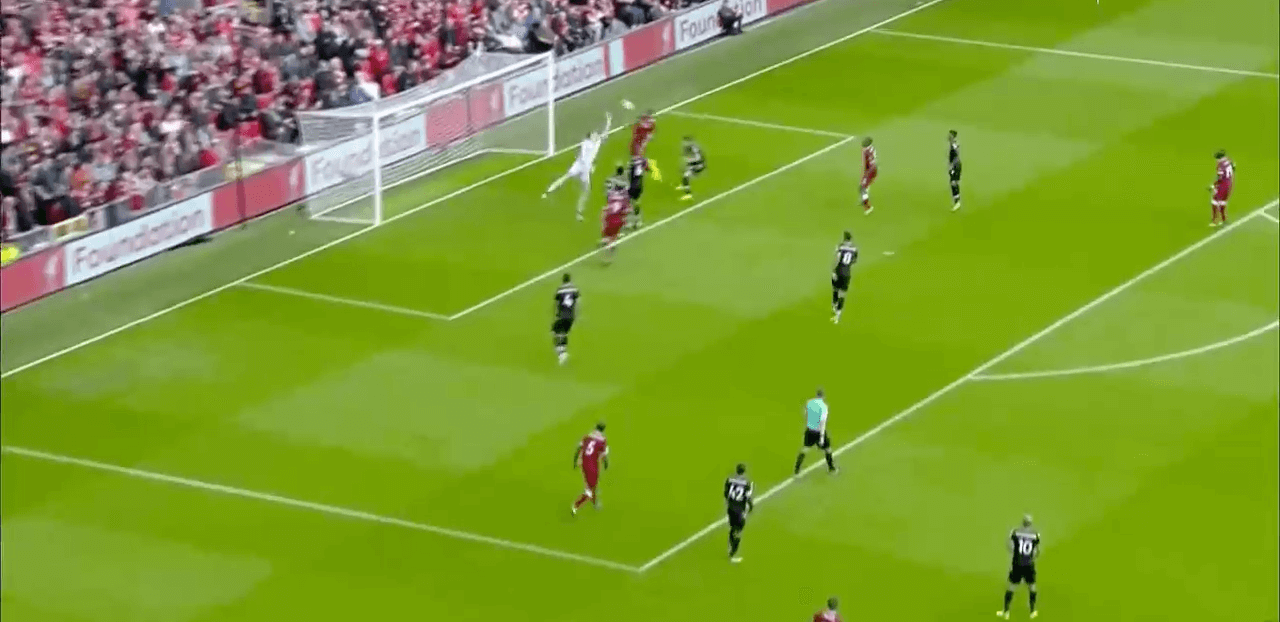 This particular move [below], readers will notice was also noted on Match of the Day for its intelligence.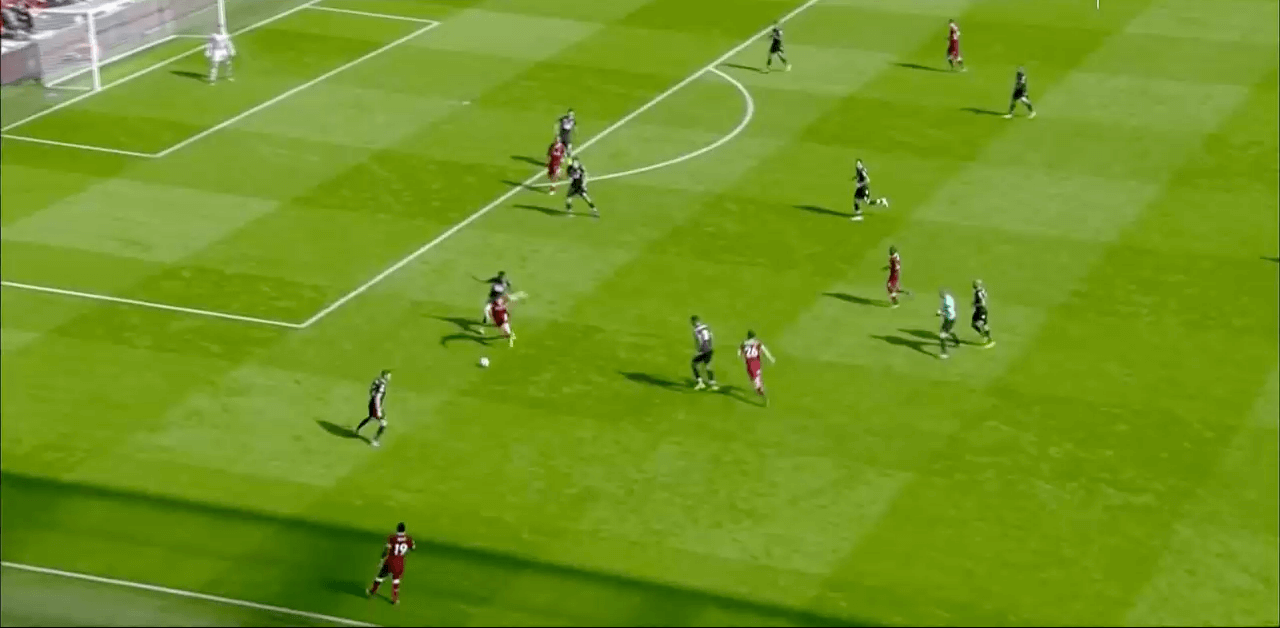 Instead of running an overlap with Mané, Robertson uses the threat of a pass to Mané, and Milner's immediate threat, as he is on the ball, to exploit space inside of the full-back, rather than outside – running in the same channel Mané does for his goal.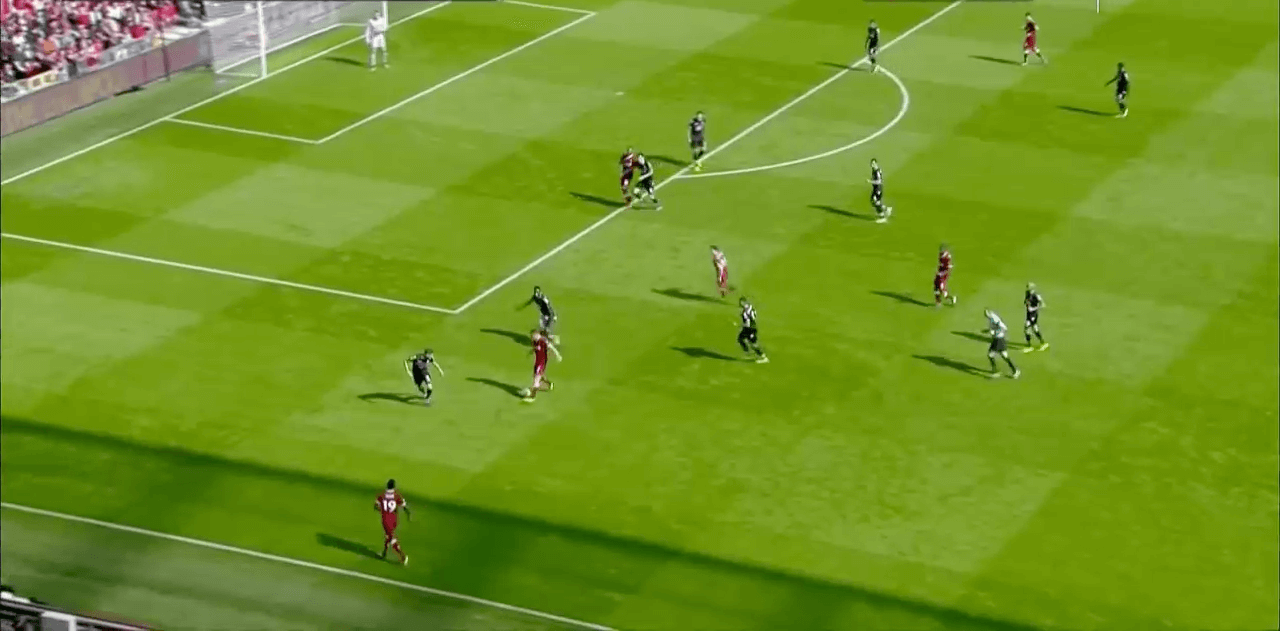 The variety in Robertson's runs is absolutely essential for a team wanting to break down a stubborn defensive line, whilst it also accommodates for the lack of penetration offered by the midfield three.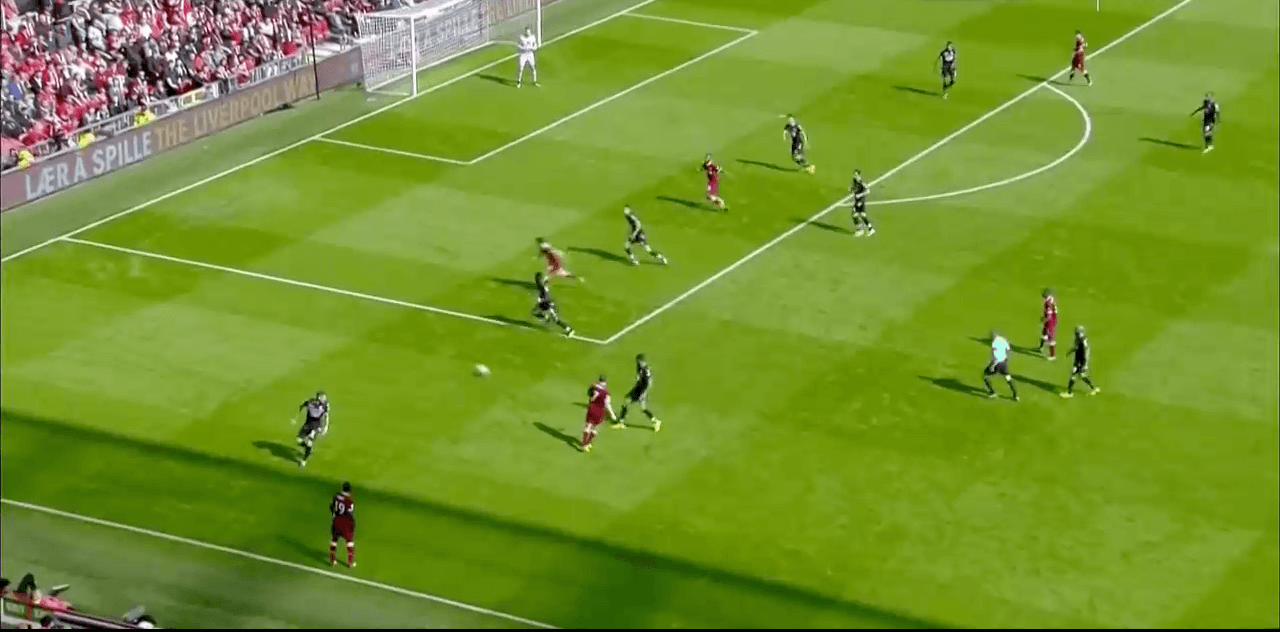 Robertson's run actually attracted two Palace players, and either Milner or Wijnaldum could have run into the box for a cutback.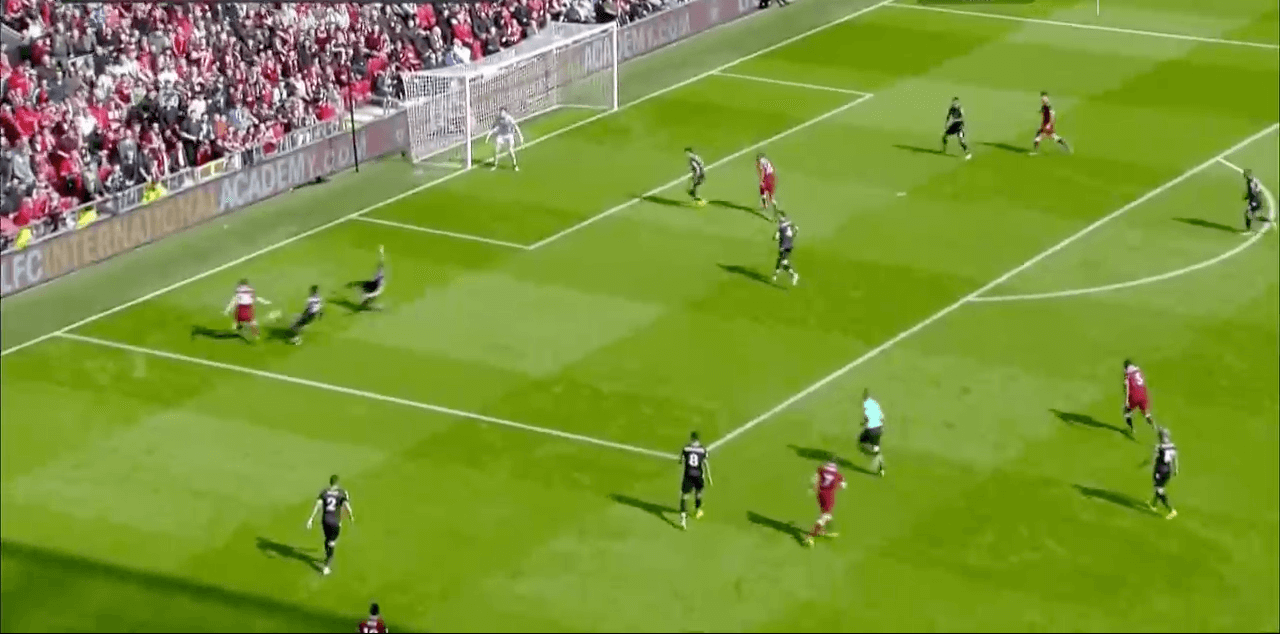 Through a simple one-two, and a run inside the full-back, Robertson moved the Palace defensive line from outside the area, to the touchline – creating space for the forwards where there previously was none: Sturridge was able to move from the edge of the area to the edge of the six-yard box, a simple run – the sort that the midfield failed to offer, as did Milner as left-back last season.
https://twitter.com/Squawka/status/898944541973245952
Robertson's second cross that I've highlighted was played into Mané, who, like Matip, should have done better.
However, this piece of play came from a corner, as Milner passed it into Robertson, who teed off from the edge of the area.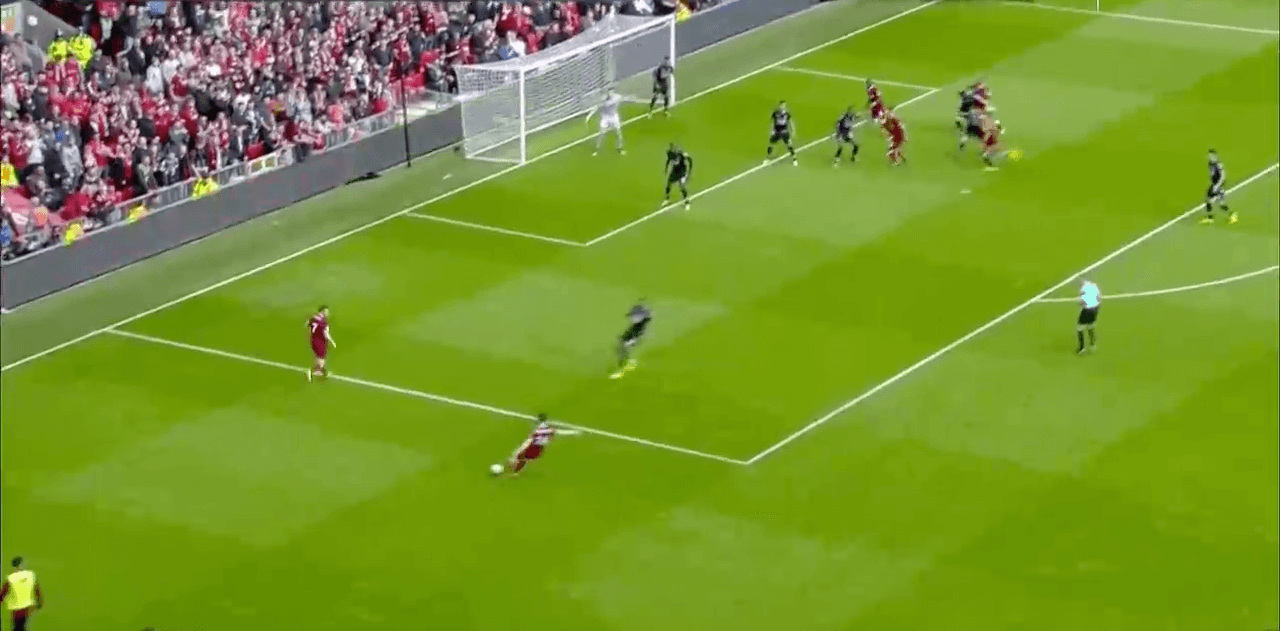 With Trent Alexander-Arnold taking set-pieces in the Hoffenheim first-leg, and flourishing going forwards, it now appears Liverpool have two offensively aggressive full-backs, suited for home fixtures against sides that utilise a low block, as their crossing ability will cause many a team issues.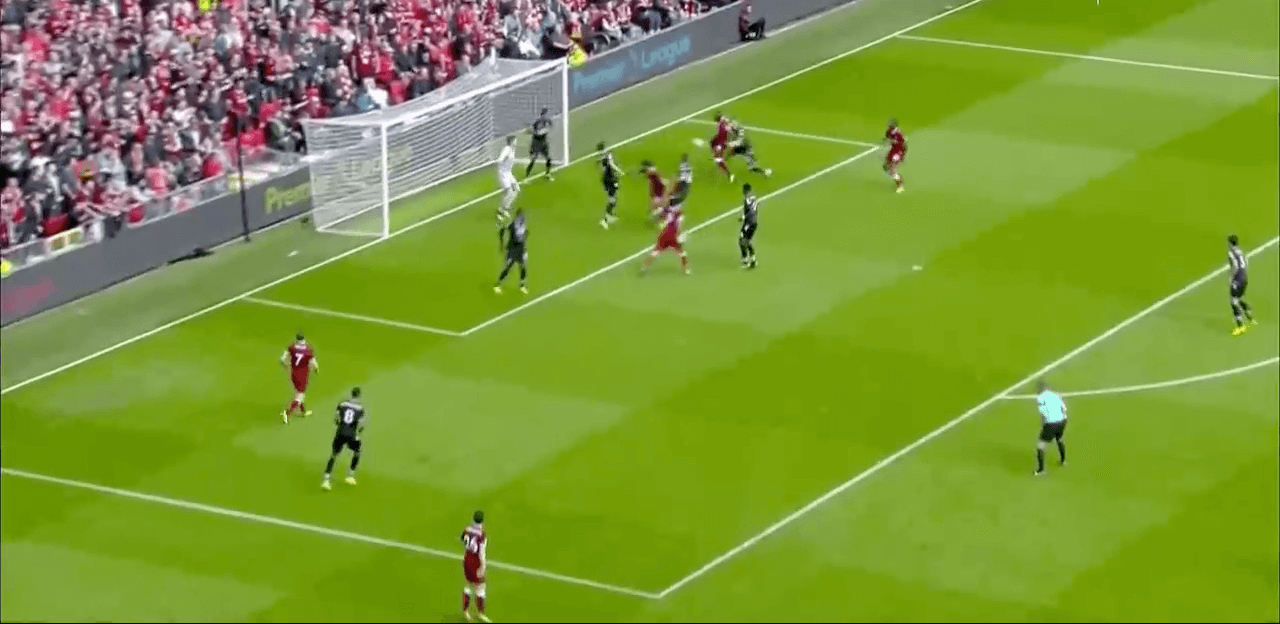 Leading nicely onto the next point is Mané's positioning – around the back post, anticipating rebounds or crosses, something Salah has done, and continues to do, along with the other forwards too.
Targeting Danger Areas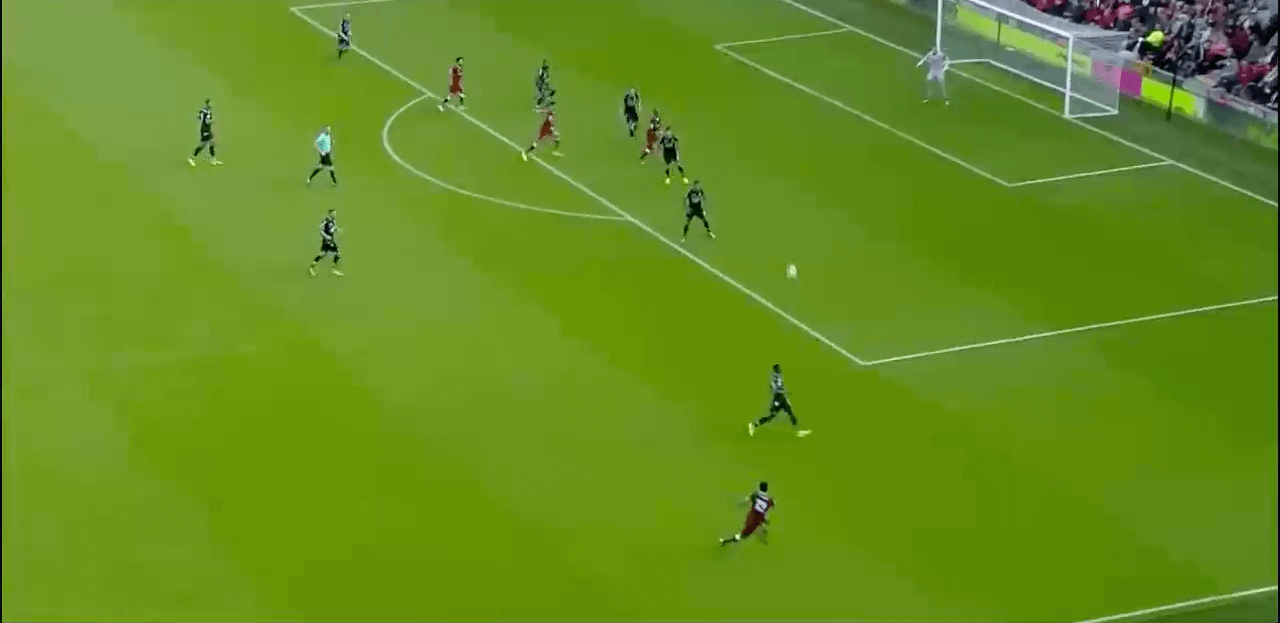 It appears that Liverpool's forwards, and wingers in particular, whilst starting wide, are instructed to continue runs in behind, to come inside when in the final third, and attack the back post in particular, or at least, remain around the six-yard box for rebounds.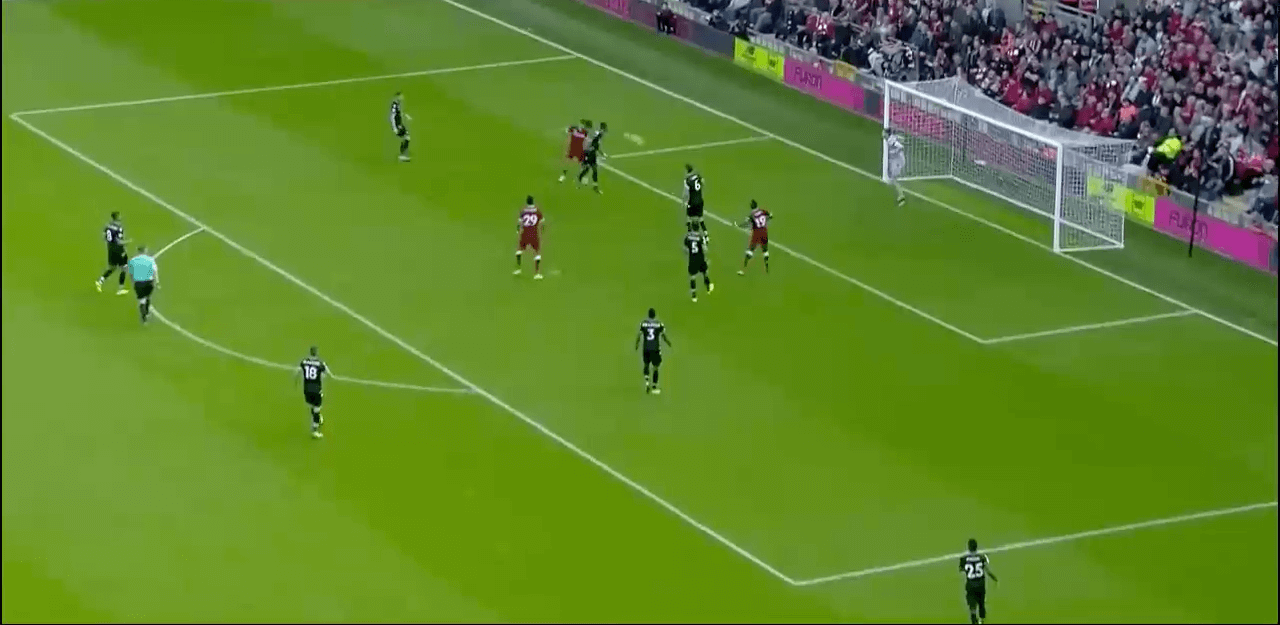 Above, we can see Salah attacking the far post, with Mané positioned on the edge of the six-yard area, whilst below, Mané has come inside again, as Sturridge runs towards the front-post area. If Liverpool had Lallana, or Alexander-Arnold playing, they may well have positioned themselves beyond Mané, in the empty space he vacated.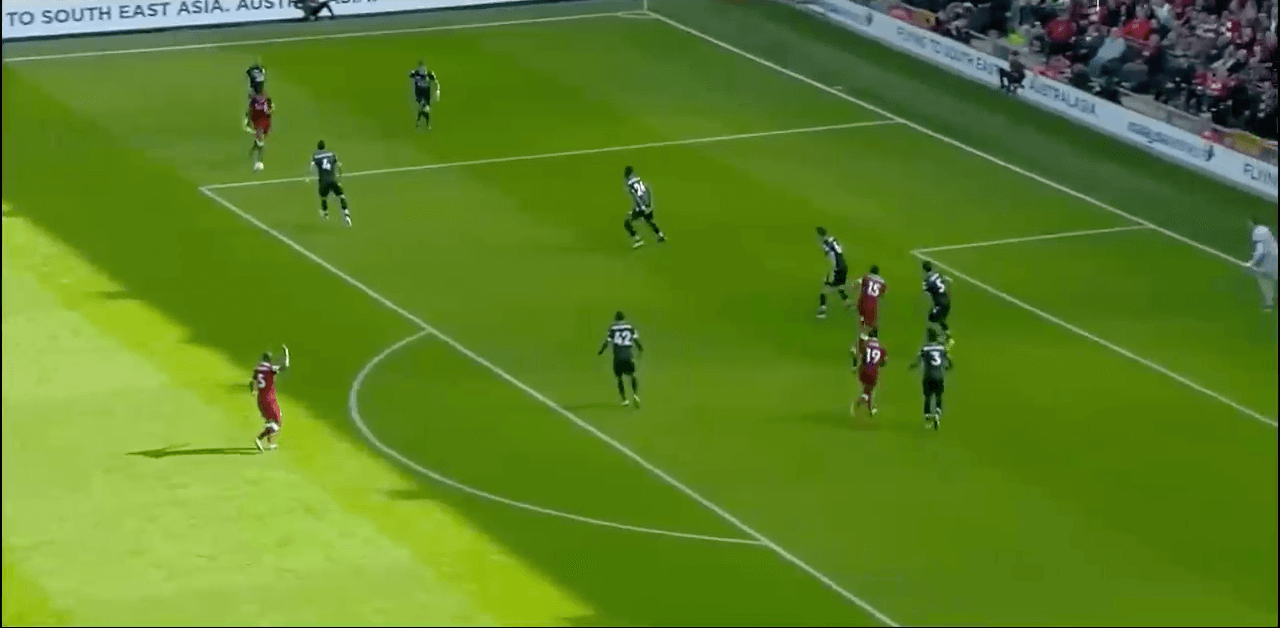 The image below depicts Mané's run, to the six-yard area, as Firmino shoots from outside the area – with Mané attempting to anticipate any rebounds first.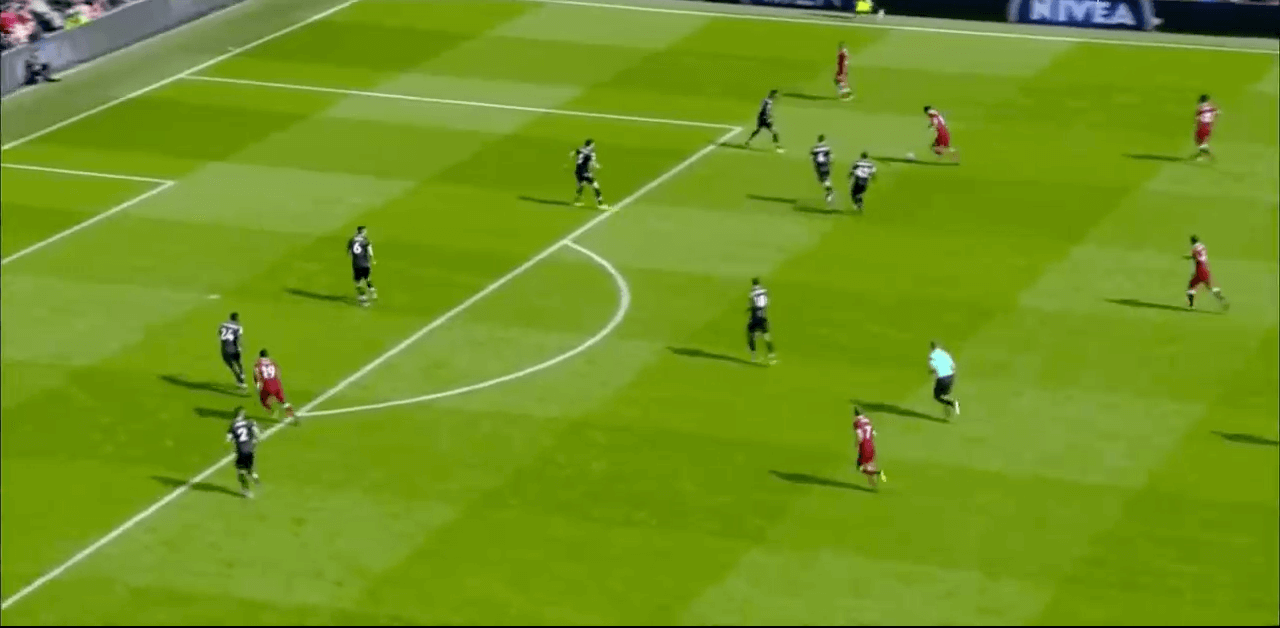 His poachers' run into the area is unfortunate, as Hennessey's save bounces over him. Milner's late run into the box almost pays off, but he loses the challenge. With a player such as Lallana or Coutinho making late runs into the box, as either Salah or Mané target rebounds, Liverpool should be on course to cash in on the large number of shots the team is taking.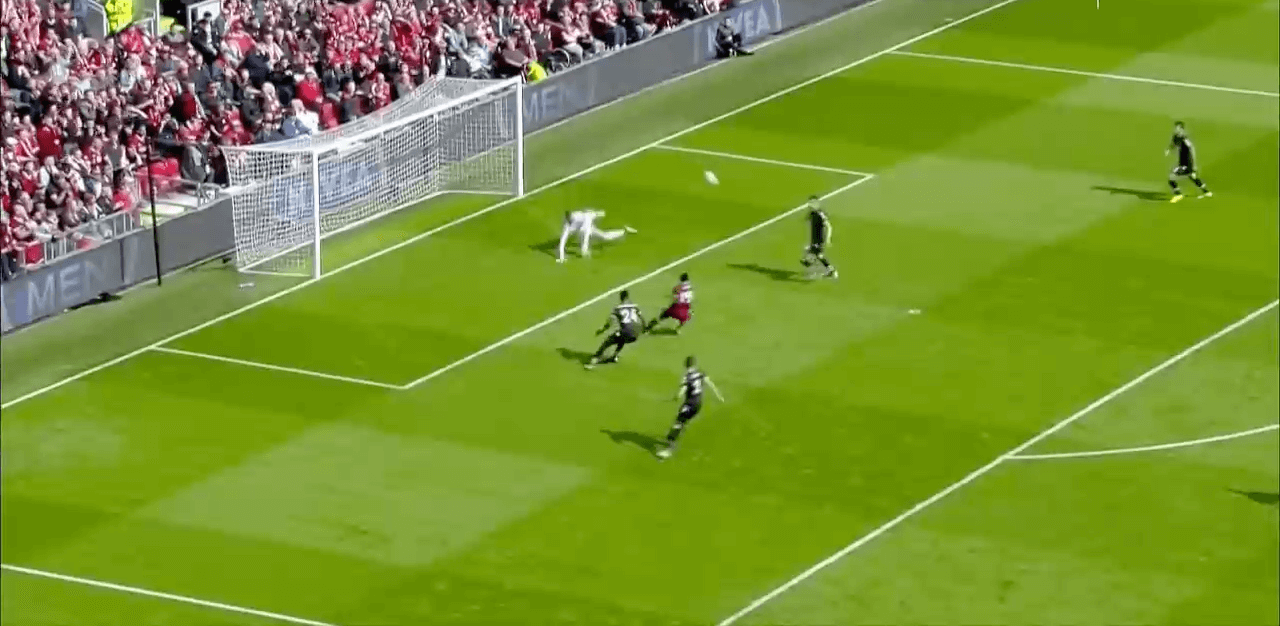 Benteke Chance
For Liverpool though, it could all have been very different, if former Liverpool and Villa hitman, Christian Benteke scored.
Liverpool appeared set to deal with the Palace attack in its early stages: a simple long pass from inside their own half.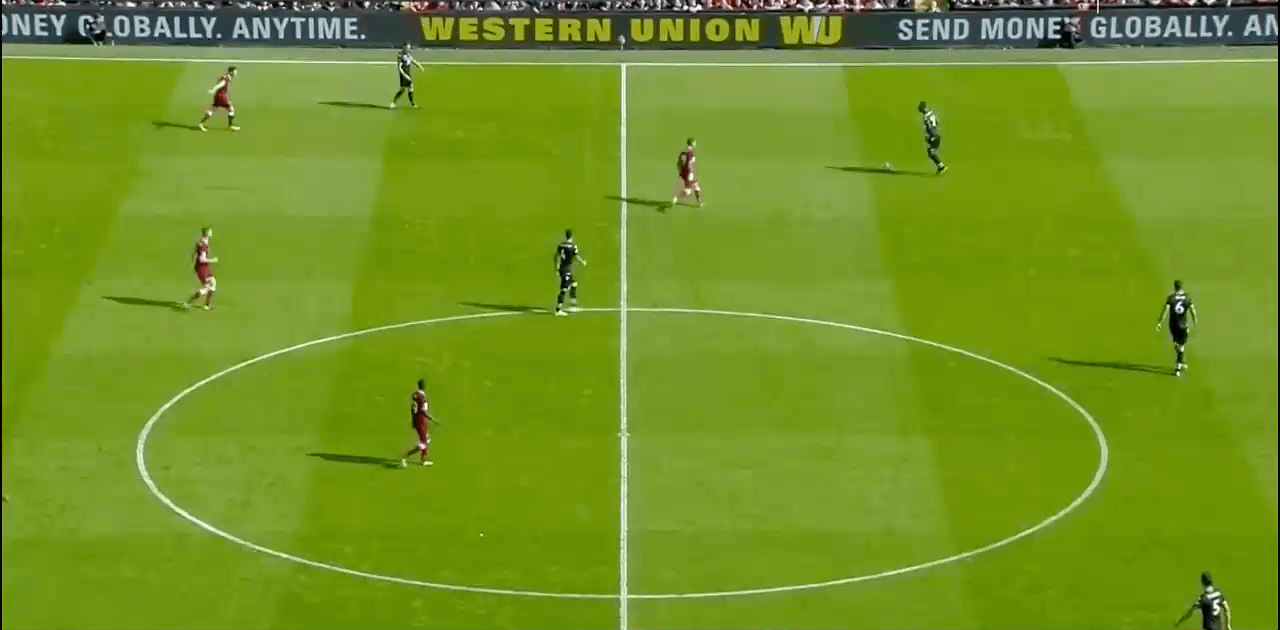 Robertson was in an advanced position, however, Milner was covering him, whilst Klavan was in a position to win the header.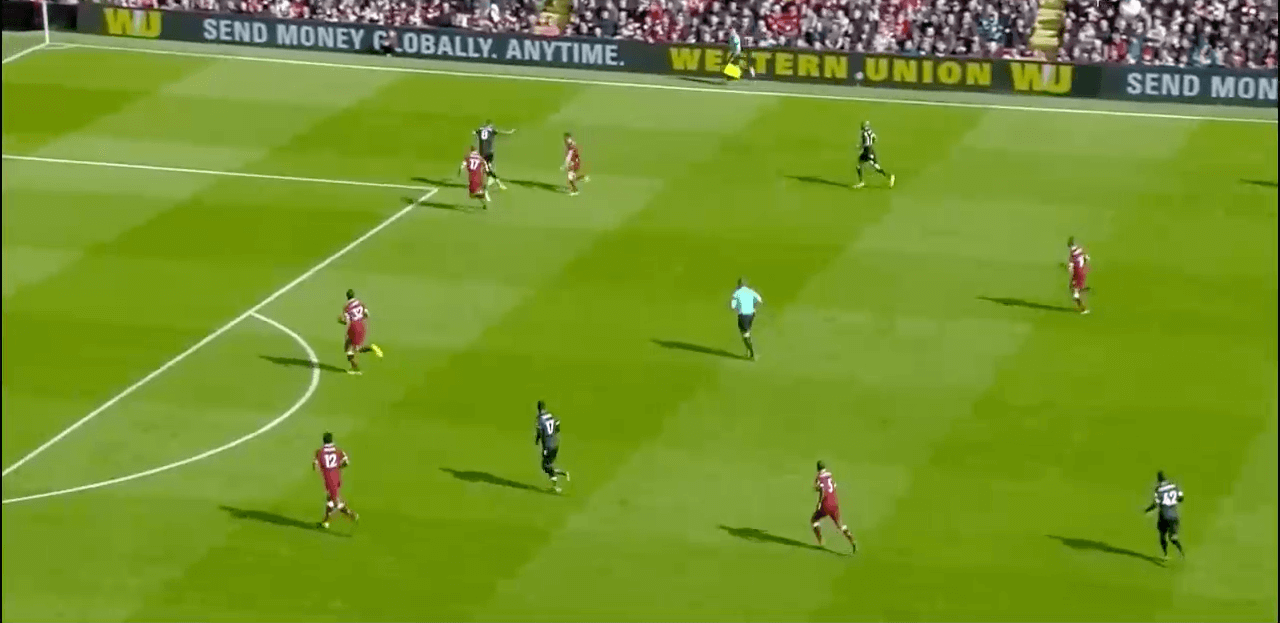 He failed to even challenge aerially though, giving the Palace player time to get the ball under control and run past him.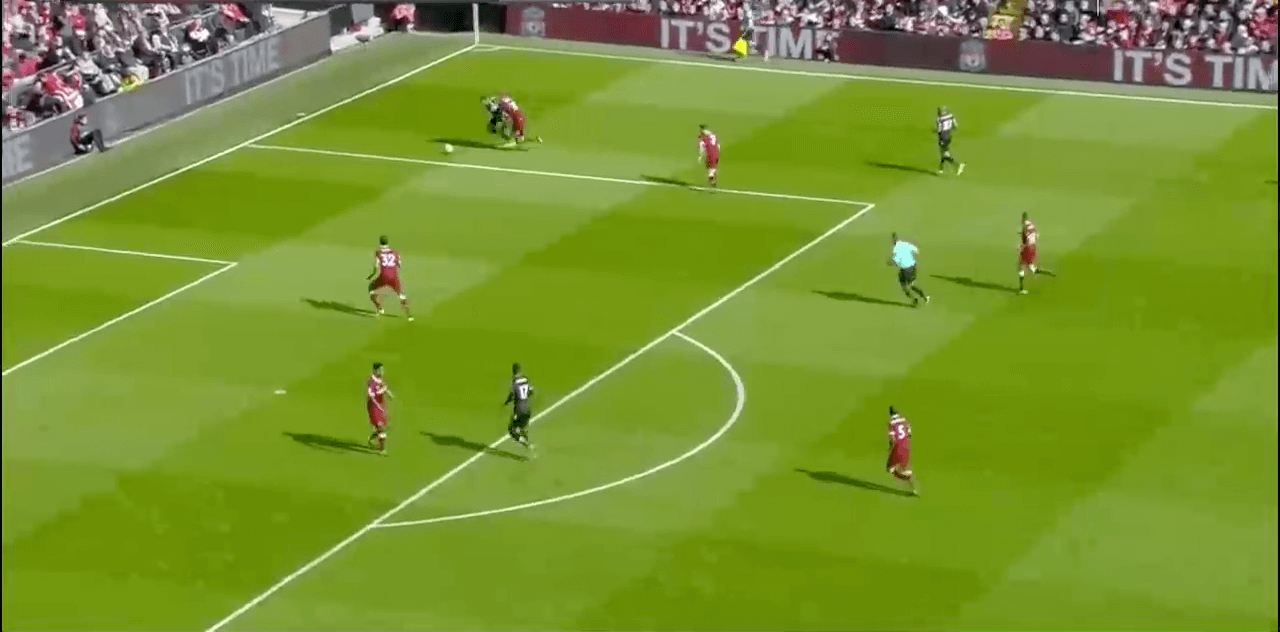 Matip was forced to move over, towards Klavan, allowing Benteke to run across, towards the ball.
Whilst Benteke should have done better, had he left the ball, Palace would almost certainly have scored, with Van Aanholt free, with no midfielders tracking his run – as was the case against Watford too.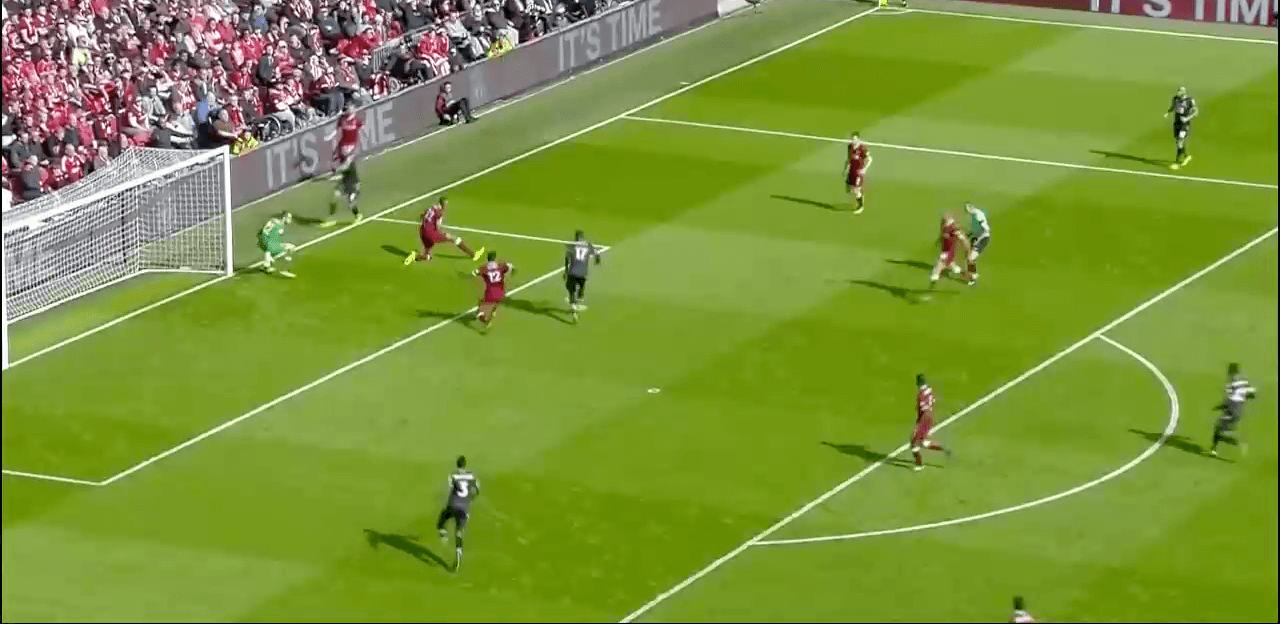 For Gomez though, whilst he did not block the shot, he had an encouraging game, covering Matip well when Matip moved out of position, and importantly, he got considerable competitive minutes under his belt. For a player who has struggled with injuries, Gomez did very well when called upon, especially as he was asked to play right-back, instead of his favoured centre-back position. A Gomez-Matip partnership appears a prospect we should keep our eyes on for later on in the season.
Final Thoughts
Jürgen Klopp recently praised Sadio Mané, insisting there's more to come from Liverpool's star man. With his goalscoring record and consistency, Liverpool will be relying on him more than ever, as Coutinho is still unable to play. With Arsenal next up in the league, Mané may prove to be the difference, and he was recently described by Arsenal Fan TV's Troopz as the 'Black Suarez' – with his tenacity, incessant play and knack for scoring important goals on his own, it's easy to see why that comparison is being drawn. Indeed, since Mané has signed, he has scored 15 goals, more than any other LFC player in that period.
The challenge for Klopp though is to manage him, bearing in mind his recent injury, and the squad, given the frequency and intensity of the upcoming games.
https://twitter.com/Squawka/status/899170637721325568
The Liverpool group of forwards looks strong in quality and depth, boasting Mané, Firmino, Sturridge, Salah, Solanke and Origi. However, it's the Liverpool midfield which is now a major concern; not only are Lallana and Coutinho unavailable, but the midfield has failed to fully function in its offensive and defensive responsibilities, as both Wijnaldum and Henderson have put in poor performances, with both failing to mark their opposite number, in multiple instances over the first two league games. Wijnaldum, in particular, has appeared to go missing, registering minimal touches, and not creating spaces or chances with his positioning.
Milner was asked to function as the 8, and was the only player to make 100 passes, yet despite all of these, and the 72% possession Liverpool had, he failed to create a chance for his teammates, whereas debutant Robertson created three chances, two of which should have been converted into goals. In fairness, Milner did push forwards on occasion, working with Robertson, and having a shot of his own – but the entire midfield contribution in regard to creativity was shocking.
With the threat of Mané, Salah, Firmino and Sturridge, they simply did not receive the ball in behind anywhere near enough. All four of the forwards just mentioned prefer passes to run onto, yet the midfield was passing into feet, completely wasting the strengths of players such as Sturridge, and limiting the space Mané and Salah could exploit, when he was brought on.
The team took 23 shots, with an xG of 2.55, yet only scored one goal, and made few notable chances, other than those supplied by Robertson.
Wasteful today though… previous games when having 13 SoT:
5-1 vs Newcastle A 2008/09
3-0 vs Wolves A 2010/11
4-0 vs Everton H 2015/16

— Andrew Beasley (@BassTunedToRed) August 19, 2017
When considering the number of shots taken, it's surprising how few real chances Liverpool had and took properly. Hennessey did make a number of good saves, but it was hardly a Man of the Match performance, instead when looking at the game, it seems the Liverpool front line was so frustrated with a lack of creative support from the midfield, they resorted to shooting from more speculative areas.
Contrariwise, Liverpool have secured their first clean sheet of the season, and have won a second game without even playing particularly well, and with 5 changes from the side which lined up against Hoffenheim. Even with these positives though, it's hard to ignore the problems in midfield – Coutinho needs to get back on the training field, and Liverpool should try to purchase a creative midfielder before the window closes.
Looking to the Arsenal game, Liverpool's midfield will certainly need to step up their game, but with Salah and Mané playing well without really hitting top gear yet, there's still certainly more to come.