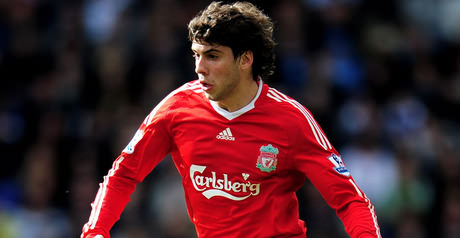 Why Insua Deserves A Chance

There seems to be a large number of supporters who simply do not like Insua, and they will all tell you he simply isn't good enough. But is this actually true? or a very misinformed judgement?
Most who criticise Insua, don't seem to take note that he is only 22 years old, and played most of his Liverpool first team games at the age of 20/21. That is a young age for a player to be thrust into the starting 11 of a team that is supposed to be challenging for top honours on multiple fronts. It also highlights just how big a problem the left back situation is at Liverpool.
His young age is a big factor, recently Glen Johnson signed a contract extension at Liverpool, and Damien Comolli was eager to point out that "His best years are yet to come.Very often defenders peak between 26-31, so he is just entering into those years where a maturity comes in and his knowledge of the game gets better and better. We are happy his long-term future is at Liverpool." So the stats man thinks that clubs get the best out of defenders between the age of 26-31, Insua has another 4 years to go to hit this period in his career – so it could be that the young Argentine does have a future at the club.
To consider just how well Insua performs he needs to be compared with players in his own position, and increasingly we are told by the media, pundits etc that the best left backs in the Premier League are Ashley Cole (dubbed best LB in the world by many media outlets), Patrice Evra and the emerging Gareth Bale who is the same age as Insua and in my opinion over-hyped and over-rated, but still has the potential to be a great LB.
Both Cole and Evra are 30 years old, so if we believe the stats man they are in their prime as defenders and wont get much better than they are, but looking at their stats in comparison to their younger counterparts both have already peaked and could potentially be on the downward trail, with the two youngsters Insua and Bale often having better head to head stats.
As Insua was on loan all last season his stats are taken from his last season in English football (09/10) the season that promised much yet delivered nothing. The stats for Cole, Evra and Bale are from the 2010/2011 season.
And here are the stats: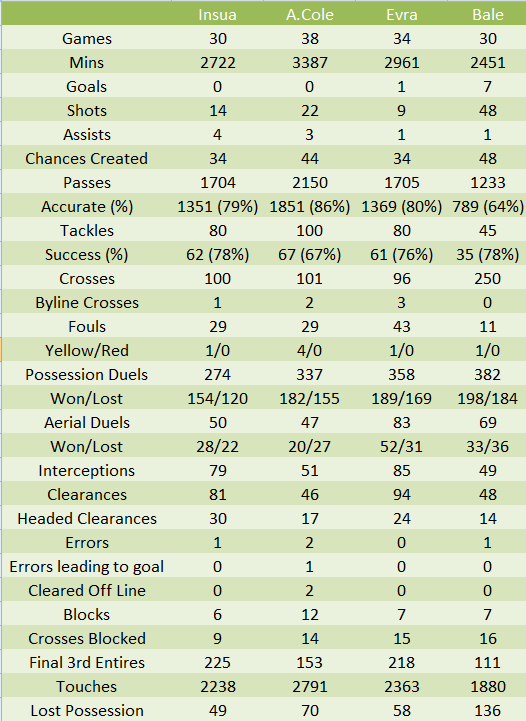 As you can see all played over 75% of their clubs respective games, with Cole the only player to start all of his teams league games.
Time to break the stats down:
#1 Attacking:
By notching up 7 goals Bale is the highest scorer, self explanatory there, Insua and Cole failed to register any goals with Evra getting 1. Spurs tended to use Bale as a wing back or a straight left back in their games this season, this could account for the higher number of goals, but generally defenders are not expected to be scoring goals, merely preventing them and with regards to the wide players, creating the chances that lead to goals. And it is here where Bale excels again, 250 crosses with 54 of these being corners, out of the 4 players he is the only regular corner taker. Given that Insua, Cole and Evra's crossing stats are so closely grouped, it would appear that Bale is over-performing in this area but also a lot of Spurs attacking movements were played through Bale on the left, so his crosses were required much more often. What is surprising though is that given the large number of crosses in general, Bale never once hit the byline and whipped a cross in, if you ask most journalists or pundits they would probably tell you that this is one of his strengths. In general the number of byline crosses from the other 3 is also not what you might expect. One other surprising thing is that it is Insua who was most eager to enter the opponents final third, with Bale being the least eager and also the least active on the ball with fewer touches than his fellow left backs. Bale also created the most chances, with Insua creating just as many chances for Liverpool as Evra did for Utd. Bale also fired in the most shots with 48, given the lower number of shots for the other players the importance of Bale to Spurs attacking force is further highlighted, Insua contributed 14 shots, more than Evra, less than Cole. What surprises even more is that Insua notched up the most assists!
In Fairness there was only going to be one player come out on top here and that was the attacking minded Bale, but Insua more than holds his own against much more experienced players.
# Defending:
Ultimately these players are defenders and it is here that they come under greater scrutiny. As far as tackling goes, whilst Cole attempted the most tackles, his success rate is the lowest, it is actually Insua who comes off best just ahead of Evra in this area, whilst Bale also has a 78% success rate he attempted almost 40 tackles less so it is unclear if he would retain such a high success rate had he attempted significantly more tackles. Bale gives away the least number of fouls but again, he is much less defensively involved, Evra gave away the most fouls, possibly a sign that he is finding it hard to to keep up with the pace of the game at this level?? Insua gave away 29 fouls in 30 games, so just under one a game. The most alert to what is going on is Evra, notching up 85 interceptions, with Insua not far behind, could be evidence that he is quite adept at reading the game. In terms of possession duels our man Insua comes off best again, successfully winning the ball more times that other players, but in terms of aerial duels he comes off second best to Evra, but importantly still won more aerial duels than he lost. In terms of clearances he also comes off second best to Evra but the gulf between Insua/Evra and Cole/Bale in this area shows the difference in mentality between them, Insua/Evra are much more defensively involved in the game, whilst Cole/Bale are much more offensively involved. But when you consider headed clearances Insua is top dog in the air  Where Insua does need to pick his game up is dealing with crosses before they are delivered, put simply he needs to stop more crosses getting over.
Here Evra just edges it, but Insua isn't far behind at all.
#3 Everything else
Ok not a great title for #3 but basically looking at everything else about their game. No messing around here, Cole is hands down best passer, with Evra just edging it ahead of Insua but Bale is lacking in this area in comparison to the others. Discipline wise, all 4 are pretty much well disciplined, even Cole with 4 yellows from 38 games, you have to say its quite low for a defender these days, not much in it, all four have a good temperament – on the field at least. As far as errors go, all 4 make very few, with Evra making none at all and Cole the only one to give away a goal directly from a mistake.
No winners here, but Bale certainly needing to improve his passing.
#4 Head To Head
Wouldn't be a comparison if they didn't go head to head now would it. Based on everything covered the following table I feel best illustrates who would come off better in a direct comparison:

This is of course by no means conclusive, and takes into account their all round game, but doesn't consider the external factors such as who they play for, how opposition teams line up against them etc. For example, teams tend to sit back more against Utd and Chelsea, putting less pressure on the defenders, whereas teams are usually a bit more adventurous against Spurs and to a lesser extent against Liverpool meaning that the defenders are quite often a bit busier.
#5 Conclusion
The easy bit. What is apparent from these stats is that it is easy to tell what each players playing mentality is. Evra's mentality is much more balanced between attack and defence, which for a left back is a good thing, you know he will get forward to support attacks but will also be on hand to carry out his defensive duties. Insua seems to be developing into a balanced left back, he already has a decent balance between attack and defence, which with the right training and guidance will only improve and at the age of 22, a bit of patience and hard work could see him becoming one of the best left backs in the country. Cole seems to be much more attacking minded, not ultra attacking, but he certainly doesn't have a 50/50 balance between attack and defence. Bale you could argue is definitely a much more attacking minded left back, almost more of a left midfielder really, much less active in the defensive third and not entirely convincing when he is.
Interestingly, Insua has more assists, a better passing ability, a better tackling ability, a better battling ability in terms of player v player duels both on the ground and in the air, a better defensive ability all round, and is seemingly able to read the game better than Gareth Bale – who in this comparison and probably the league, is the best player to compare him to. Take into account that the stats for Insua are from the season before last – he could already have improved on these to some extent.
I think that allowing him to leave on a season long loan was just another bizarre Hodgson decision, Insua has his critics but he deserves a chance to show what he can do, and based on the stats at least, he is not a bad option to have, he is certainly better than Roys mate Paul and with Aurelio an almost ever present on the treatment table, he was our best option going into last season. Konchesky flopped, Fabio was crocked, and we resorted to playing right backs and centre backs at left back – not an ideal situation.
You ask me, Insua deserves a chance.
#REQUEST
As requested, Insua's stats compared to Baines.