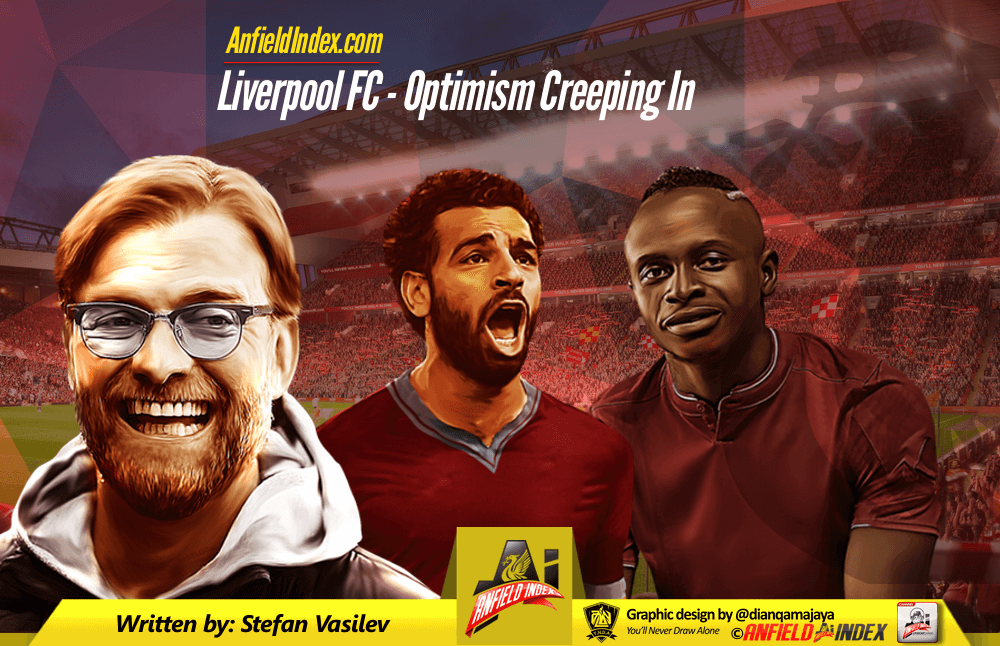 Liverpool FC - Optimism Creeping in
The season is rolling. And, boy, has it been eventful. Games are coming fast one after the other, leaving supporters little time to reflect on what is happening. We are always looking ahead to the next game. As I am writing this the focus has already shifted from the win against Palace on Saturday to the second leg of the Champions League playoff in midweek. In addition to that we are still heavily involved in the most insane transfer window in recent times. This situation clouded the start of the season with negativity and uncertainty. While the fans have had reasons to moan through the years – bad owners, championship level players being brought in to be starters, selling our best players and questionable managerial appointments are only a few of them, things are starting to change under Jurgen Klopp. For the first time in a decade we went in for top tier players that don't have any baggage (by baggage I mean a biting habit), we are refusing to sell our best player to one of the Spanish giants and while the only big positive this has brought to the squad so far is the addition of Mo Salah the club is clearly on the right track. Yet the transfer window is already deemed a failure by some.
In such an environment a bad result at the start of the season could have triggered the moaners and doubters. And it did. The reaction after Watford's last minute offside equalizer could have you believe that LFC is headed to a mid table finish.The shortest team in the league conceded 2 set piece goals against the tallest team in the league and the verdict for the season was set – our defense is shit, there is no one we can rely to on the bench. Some so called "supporters" even questioned Jurgen Klopp's position. The German knows there is a problem in defense, he has acknowledged time and time again – that's why we offered 70 million pounds for a center back! Was I also fuming immediately after the match – of course. Watching us defend set plays is nerve wracking, every free kick within crossing distance of our box and every corner feels like a penalty. As soon as team manages to get close to LFC's penalty area I find my self screaming at the TV: 'Don't foul, don't foul!'. But it was just the first game of the season, why panic? The last two Premier League champions had a tough(ish) time at the start of their campaigns – in 15/16 Leicester got their first clean sheet in the 10th Matchday, last season Chelsea lost 2 of the first 6 games and was sitting 8th in the table. Both teams were considered bad defensively. They ended up champions by a pretty big margin. As I was watching Burnley hammer Chelsea at Stamford Bridge the scapegoating had began. Moreno, Lovren, Mignolet, Wijnaldum, Henderson. There is hardly a bad performance or result that is not blamed on one or a combination of those players.
And while a lot of times they deserve the criticism I believe the fans are unfairly harsh towards them. It's a topic for a whole other article. To be fair in Gini's case it is fair this time. It's not about the one defensive error or a weak shot on goal, the Dutchman has been poor overall since the start of the season.

Going into the match in Germany the sense of doubt and negativity was getting stronger. Hoffenheim were the best set piece takers in the Bundesliga last season – a recipe for disaster. The team put up a good defensive performance and managed to take home 2 away goals. Hoffenheim now need to score at least two at Anfield, which people might say is not that hard. Attacking us however is not the best idea, when you have Mane and Salah ready to tear you apart every time you lose the ball. Did we play great? No but we got the job done against a side that hadn't lost at home for over a year. That's what LFC does in Europe and we are (almost) back.
The reaction to the 5 changes, Jurgen Klopp made, for our fist home game summed the lack of belief some of the fans have in our current squad. I wish I could say doubters were proven wrong but that won't be entirely true. Still, Joe Gomez reminded us why he was so highly rated before the injury, Klavan had a good game and the strangely looking defense hardly put a foot wrong. Going forward weren't very good but did enough to get the win. After the final whistle on Saturday for the first time this season optimism was creeping in the collective LFC mind. Two wins in a row plus a firm stance on the Coutinho saga started to change people's minds.
At the same time look at our main league opponents – other than the Manchester teams, which spent a small country's GDP this window. At Chelsea Conte is replacing the starting striker for the Spanish National team with his back up and is openly having issues with his higher ups and we all know how that ends. Spurs might face a player revolt over salaries, will have to play their home games at a stadium they have only won once and are yet to make a signing. Arsenal are playing a system with 3 center back, when they only have 2 healthy ones, their best player's contract is up at the end of the season and might walk away for free, they will be playing in the Europa League, which historically doesn't reflect well on your premier league points tally. All them have already lost a game. Compared to what is going on in London, LFC is doing pretty well.
I am a big fan of our current squad, after all the team managed to finish 4th while being ravaged by injuries. When healthy the same players, being doubted now, had the best start of any Liverpool team in the Premier League era. We are in a better position than we were in last season (and arguably any season since 2008) both in terms of squad depth and on the transfer market and still have 10 days to fill the deficiencies. FSG have improved their transfer policy and decision making over time, Klopp is possibly the best asset we've had since a certain Uruguayan. For the first time in a while we can look forward to a season and realistically expect it to be better than the previous one – there is no reason to panic. So stop moaning, at least until 1st September. Judging by the first three games we are in for another wild ride, so get your 13/14 pacemakers out and hop on.