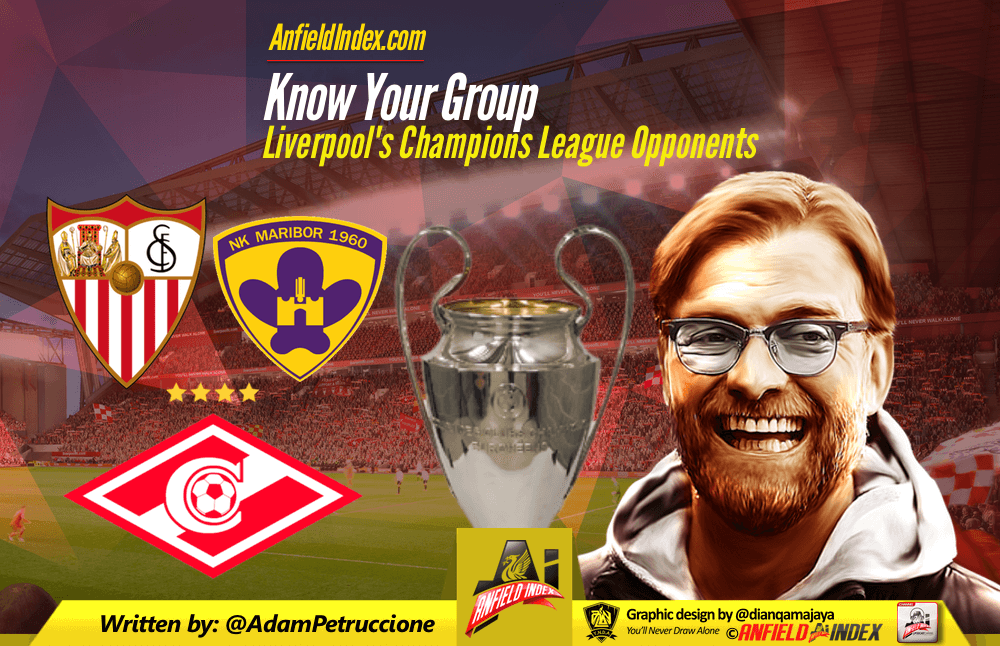 Know Your Group: Liverpool's Champions League Opponents
Now that all of the gnashing of teeth from May's race for a Top 4 position is a distant memory and August's ulcer inducing playoff with Hoffenheim is over we get to finally enjoy the Champions League group stages.  We are going to enjoy this right..?  OK, let's be honest, you'll need to pound a few pints just to get through the manager's pre-match press conference.
You're stressed out.  We get it.  But, now that the group stage draw is over and we finally know who our opponents (victims) will be let Anfield Index take some of your tension away by helping you plan for what's to come.
Worried if our false-nine will match up well with Spartak, we've got you covered.  Want to know how much a pint will set you back in Slovenia?  We took care of that too.

So sit back and enjoy the ride, Liverpool.  You've earned it.
Champions League Group Stage Key Dates:
MatchDay 1 – September 13, 19:45: Sevilla (h)
MatchDay 2 – September 26, 19:45: Spartak (a)
MatchDay 3 – October 17, 19:45: Maribor (a)
MatchDay 4 – November 1, 19:45: Maribor (h)
MatchDay 5 – November 21, 19:45: Sevilla (a)
MatchDay 6 – December 06, 19:45: Spartak (h)
SPARTAK MOSCOW
– Location: Moscow, Russia
– Stadium: Otkrytie Arena
Playing Style:
Where have you heard this before? Spartak are exceptional at converting and defending set-pieces. The good news is that they're awful at defending down the wings, so it should make for a nail biting home-and-home series. September 26th is a great time to travel there in terms of their home advantage.  If we had to travel there in early December, this could have been a much tougher fixture.
Summary: 
When you scan through the squad list for Spartak you'll notice some familiar names.  Former transfer target Quincy Promes is their main danger man while Brazilians; Fernando and Luiz Adriano patrol the midfield.  They typically play a 4231 which Klopp should know how to attack as well as anyone.
Average AirBNB Room: 33 GBP
Average Mid Sept Temperature: 10C
Pint Of Beer:  3.50 GBP
Tipping Required: Yes (12.5%)
Uber Available: Yes
Budget Air Carrier: Aeroflot
SEVILLA
– Location: Seville, Spain
– Stadium: Ramón Sánchez Pizjuán Stadium
Playing Style:
Late addition Luis Murielis the key to Sevilla's revamped attack while former Stoke midfielder Steven N'Zonzi is their enforcer if they can hold onto him throughout the window. The Spanish side play a 4141 and are a notoriously tough out in tournament play.
Summary:
If Liverpool supporters wanted to exact some revenge in the Champions League, our former Europa League Final foe was not a bad draw. So far this year they haven't hit their best form, getting by Istanbul Basaksehir 4-3 on aggregate to qualify and suffering a home draw to Espanyol in their La Liga opener.  Reds supporters will hope that ex-City forwards, Jesus Navas and Nolito remain in their Premier League form when they face Liverpool.
Average AirBNB Room: 30 GBP
Average November Temperature: 15C
Pint Of Beer:  2.58 GBP
Tipping Required: No
Uber Available: Yes
Budget Air Carrier: RyanAir/Iberia
MARIBOR
– Location: Maribor, Slovenia
– Stadium: Ljudski Vrt
Playing Style:
Their danger man is Brazilian, Marcos Tavares.  But the forward is 33, two years older than Ragnar Klavan.
You know what, forget the strategy for this trip.  Maribor is in the middle of the Slovenian wine region.  Enjoy yourself.  Check out the Vinag Wine Cellar or the Vinogradi Horvat vineyard and celebrate, because Maribor will not give us any trouble.
Summary: 
Maribor landed in the Champions League by getting past Hapoel Beer Sheva in the qualifiers through the away-goal advantage.  So you could argue that the Slovenians haven't exactly proven themselves.  They shouldn't give the Reds any trouble if all goes to plan.
Average AirBNB Room: 46 GBP
Average Mid October Temperature: 10C
Pint Of Beer:  2.00 GBP
Tipping Required: No
Uber Available: No
Budget Air Carrier: Adria
That's it folks.  No Real Madrid or Juventus in this group.  We really should sail through and be able to keep our normal rotation so that Jurgen Klopp won't have to make major sacrifices in the league to get through this stage.  After all the waiting to see if we actually qualify for the Champions League, it seems only appropriate that we have to wait until January to start facing the real giants of Europe.
Up the Reds!