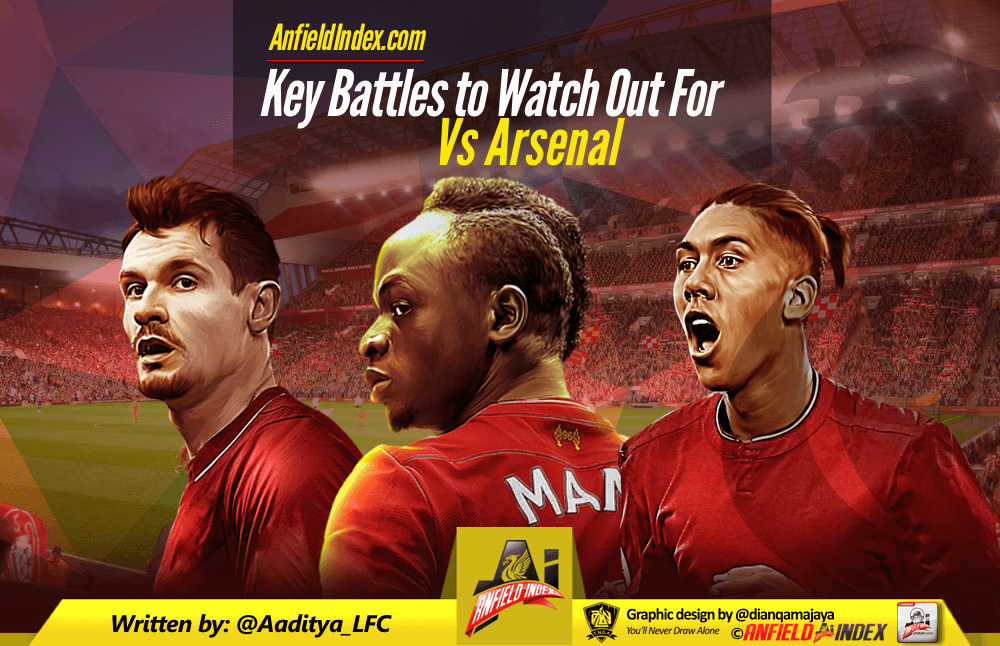 Liverpool v Arsenal Preview - Key Battles
Liverpool are back in the Champions League proper. The draw for the group stages could have been far worse than it has ended up being, but for now, that doesn't matter. What matters is Sunday evening at Anfield, for the first high-profile Premier League game of the season.
When Arsenal came to Anfield last season – in early March – they were in turmoil. They had just been beaten 5-1 at the Allianz Arena, and it looked like that could be Arsene Wenger's last visit to Anfield. It wasn't, as he prepares his charges for another trip to a venue where they have not won since 2012.
Liverpool are on a high after three consecutive wins and a smashing performance to round off the Champions League playoff against Hoffenheim, but only a lunatic would write off a side with as much talent as Arsenal possess. Laurent Koscielny is back from a suspension and Alexis Sanchez is likely to feature too, as the Gunners look to bounce straight back from a disappointing 1-0 reverse at Stoke last weekend.

For Liverpool, there is nothing new in terms of the team news. Nathaniel Clyne and Adam Lallana are still injured, and Philippe Coutinho is still unavailable. That should mean that Jurgen Klopp puts out an unchanged side from the playoff against Hoffenheim, as his players head into an international break after the game on Sunday.
Here are some key individual battles that will decide the outcome of the game.
ROBERTO FIRMINO v SHKODRAN MUSTAFI
What a performance Firmino put in against Hoffenheim! It was magnificent to watch and I can only imagine what a pleasure he would have been to play with on Wednesday night. He led the press, he provided the creativity, he provided the key passes, he took shots on goals and could easily have ended up with more goals than just the one that he managed.
Why this will be a challenge for Mustafi and co. in Arsenal's back three is because, as a defender, you don't know how to deal with Firmino when he is at his best. He is not the stereotypical no. 9, who makes those darts in behind or is a fox-in-the-box. What Firmino is, is the Raumdeuter. The one who finds himself in the space. And with Arsenal's new system – 3 centre-backs – Firmino will keep drifting deeper into midfield to drag a centre-back with him and let Sadio Mane or Mo Salah use that pace to get in behind the defense.
But he will also work it wide for Salah and Mane to take the wing-backs on, he will try and get Emre Can and Gini Wijnaldum involved in Liverpool's attacking player.
Arsenal have conceded four goals in two games in the Premier League, and do look shaky at the back as they still adapt to a change in the Wenger system. But they cannot afford any lapses on Sunday, for Bobby Firmino will make them pay.
SADIO MANE v HECTOR BELLERIN
With Koscielny available again, it is highly likely that Bellerin will move back into the right-wing-back position, with Sead Kolasinac slotting back into his usual role at right-wing-back. For a right-sided defender in the league this season, tests won't come sterner than the one posed by Anfield's new Senegalese darling.
There is a beautiful simplicity to Mane's game. He has a strength and he uses it. Boy, he uses it! Bellerin is one of the quicker full-backs in the league, and in that sense, better equipped than quite a few others to deal with Mane.
But that is where the unpredictability of pace comes in for Mane, as his two back-heels to set up goals on Wednesday night showed. The pace is the obvious strength, but Mane is a much more rounded player now.
The massive factor for Liverpool is that Mane is loving his football at the moment. He is at the peak of his powers and is getting the Anfield love that a Luis Suarez or a Fernando Torres commanded.
Arsenal's system, in theory, is best exploited when you get runners into the space behind the wing-backs and on the sides of the centre-backs. It is safe to say very few in the league do that better than Mane, at the moment.
DEJAN LOVREN v ALEXANDRE LACAZETTE
Yes, Lovren is the weak link in our defense. Yes, that is where Arsenal will look to exploit us. At the moment, Lacazette looks like their best attacking player. That is why this battle within the battle will be critical in deciding which way the pendulum swings.
Lovren was definitely culpable for the first goal that Hoffenheim scored on Wednesday, as he put in a third uncertain performance in three starts this season. Lovren's season has started off so badly his best contribution so far has been taking a bang to the face from Christian Benteke in injury time against Crystal Palace.
With Lacazette, Lovren cannot afford to lose concentration or make schoolboy errors because Arsenal's new no. 9 is lethal. He scores goals, is the most simplistic and accurate manner to describe Lacazette.
With the likes of Mesut Ozil, Danny Welbeck and, at some point, Alexis likely to give Lacazette company, the Liverpool back four will have their hands full.
It is important to defend as a team, and that is what we don't do. Even against Hoffenheim at Anfield, there were a couple of moments when the two full-backs and Matip pushed up and held their line, while Lovren lurked behind, playing the Hoffenheim attackers onside.
That is a concentration thing, not a system thing. Those are the kinds of mistakes that a change in personnel can eradicate. There will be no change in personnel by Sunday, so one can only cross their fingers in the hope that Lovren will not have one of those days. Again.