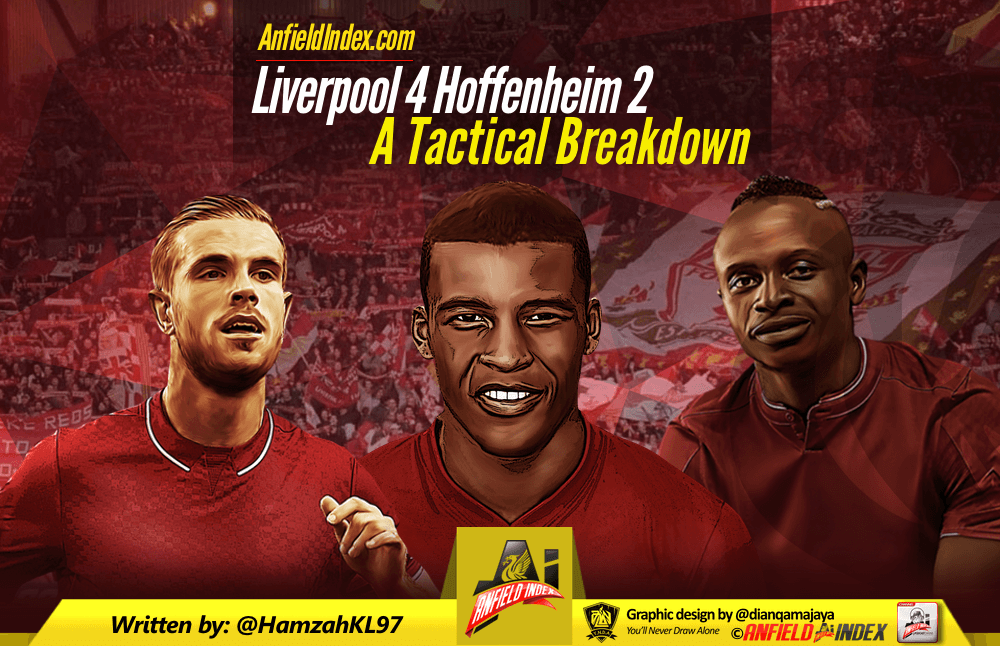 Liverpool 4-2 Hoffenheim: A Tactical Breakdown
Anfield, under lights, with a European fixture: the stage was set. Klopp's Liverpool did not disappoint, with perhaps the best team performance of the calendar year, Liverpool's attacking play was simply breathtaking, as the team dispatched Hoffenheim over the first 20 minutes.
With the same midfield as the first-leg, and the first league game of the season, what did Liverpool do differently, and why was the performance so drastically different to the three preceding games?
Stats
Possession
LFC: 45pc (in most recent game versus Crystal Palace LFC had 72pc, and in first-leg LFC had 37pc)
TSG: 55pc

Pass success
LFC: 84pc
TSG: 82pc
Key passes
LFC: 15
TSG: 7
Total passes
LFC: 425 (15pc long)
TSG: 531
Shots
LFC: 20 (9 on target)
TSG: 9 (3 on target)
xG
LFC: 3.88
TSG: 0.51
The goals
1-0, Liverpool, Emre Can, 10′
This goal started with Wijnaldum pressuring Hoffenheim, on their left-hand side. Through forcing the player towards the touch-line, and with Henderson and Trent Alexander-Arnold closing in, the Hoffenheim player opted to loft the ball forwards.
From here though we see one of the first instances of a theme of this match: Firmino not pushing up through the middle of the pitch – instead, roaming freely, far deeper than usual.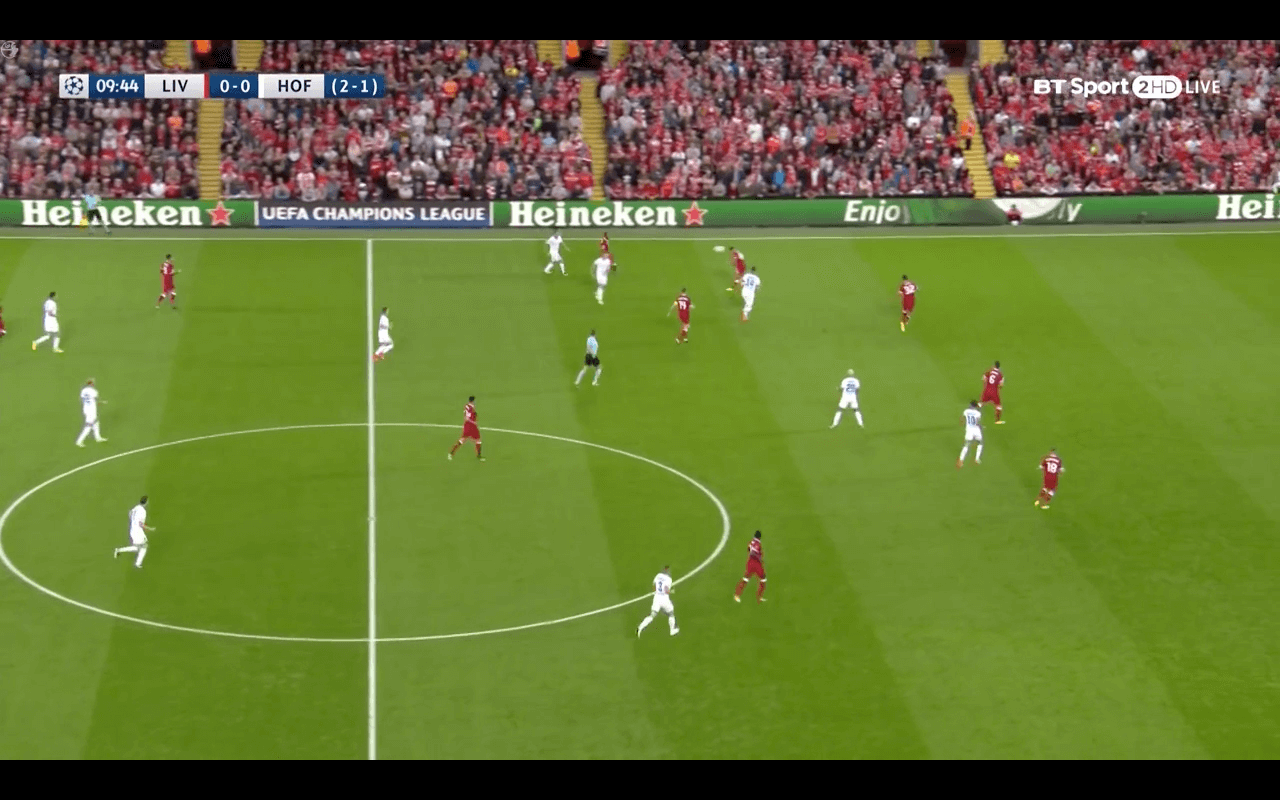 As Firmino collects the ball, both Mané and Salah set off.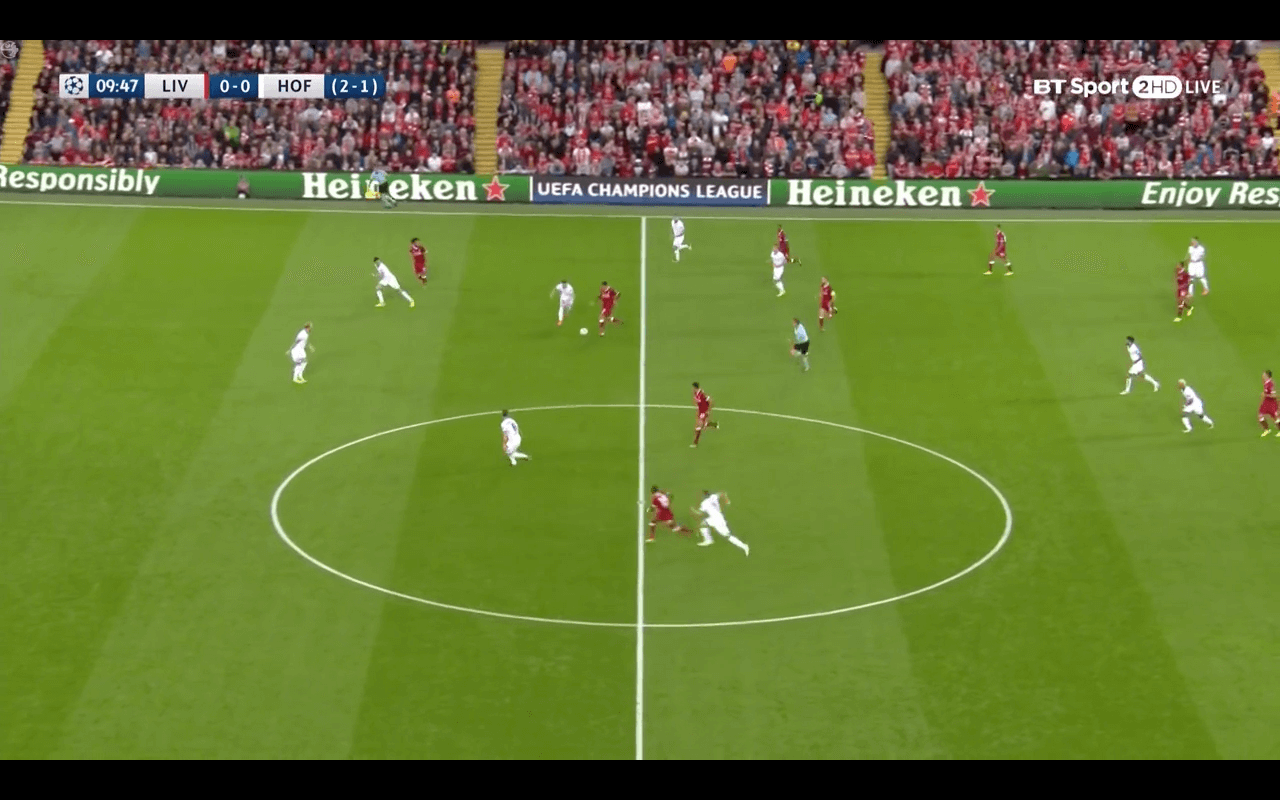 As we know, Hoffenheim uses a system with three at the back. The advantage of this is that teams that use it will often find themselves with five players back when defending (excluding their midfielders). What Liverpool attempted to do in this game though, was to create situations where Mané and Salah could position themselves between the centre-backs and the wing-backs, creating a 2 vs. 3, or a 3 vs. 3 situation, depending on whether Firmino was involved.
Through giving Hoffenheim a greater share of the possession, the TSG wing-backs were expected to move higher up the field, allowing Mané and Salah to take the positions that they have, above.
What transpires, below, is certainly something to keep an eye on for the rest of the season though.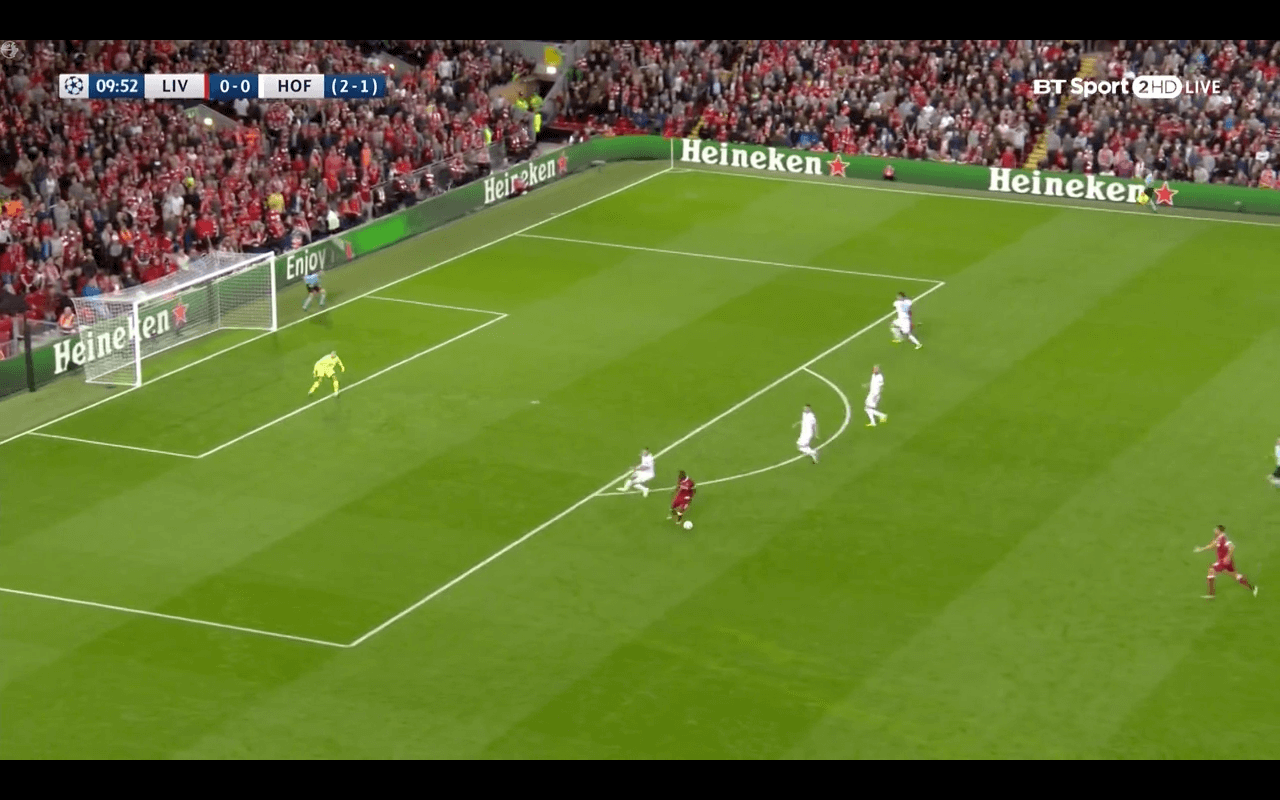 Salah and Mané, from their wide positions, run inwards, compacting the defence. However, whilst a compact defence is usually seen as a strength, there is a clear issue, clearly visible in the image above: the space to the left of Mané, and to the right of Salah, who is obscured by the TSG defender on the far side. It's this space which Mané and Can exploit.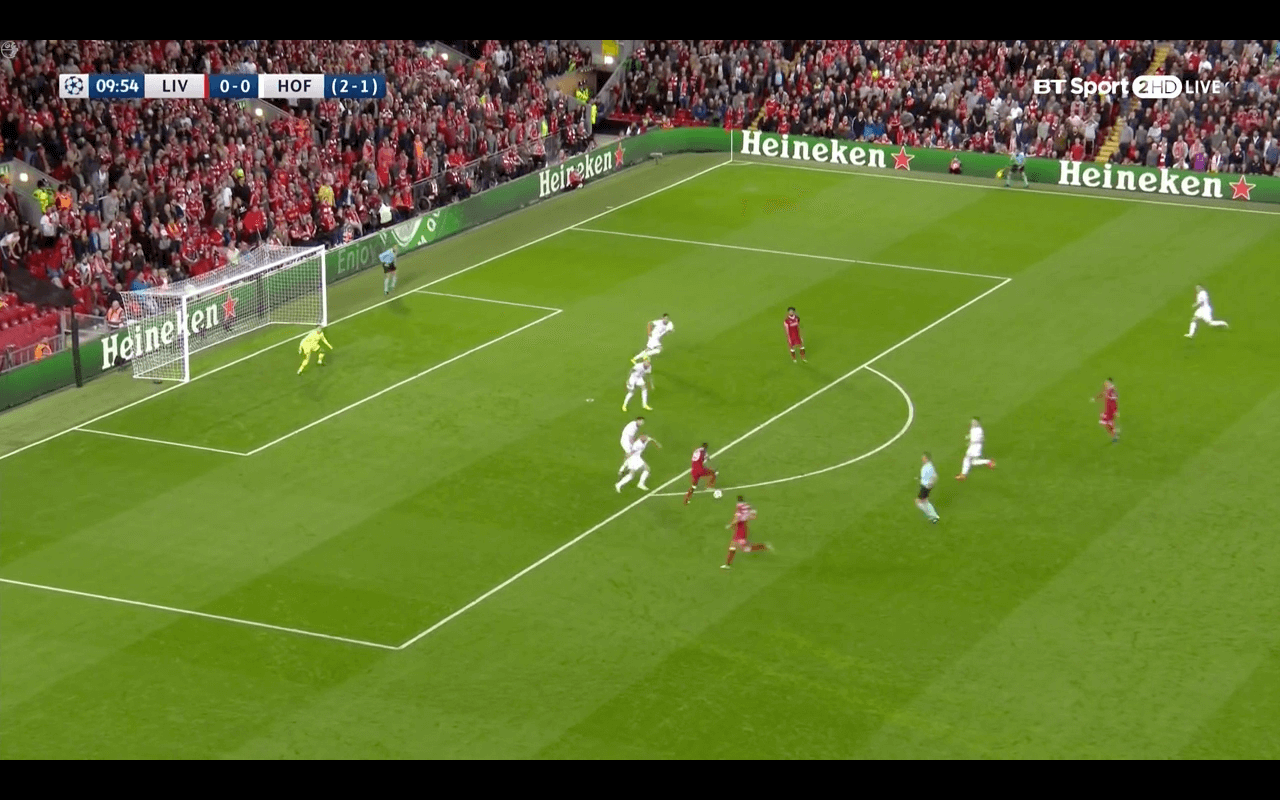 TSG have six outfield players back, to Liverpool's four, but the Mané's inward run has created space for Can to run into, and Mané's run disguises it perfectly.
From there, it's just a matter of finishing the chance off, and whilst Can gets fortunate with a deflection, this tactical setup tore open TSG's defence, like wrapping paper on Christmas Day.
2-0, Liverpool, Salah, 18′
This move starts with Alberto Moreno winning a header in defence, but his contribution does not end there and is actually hugely important to the goal.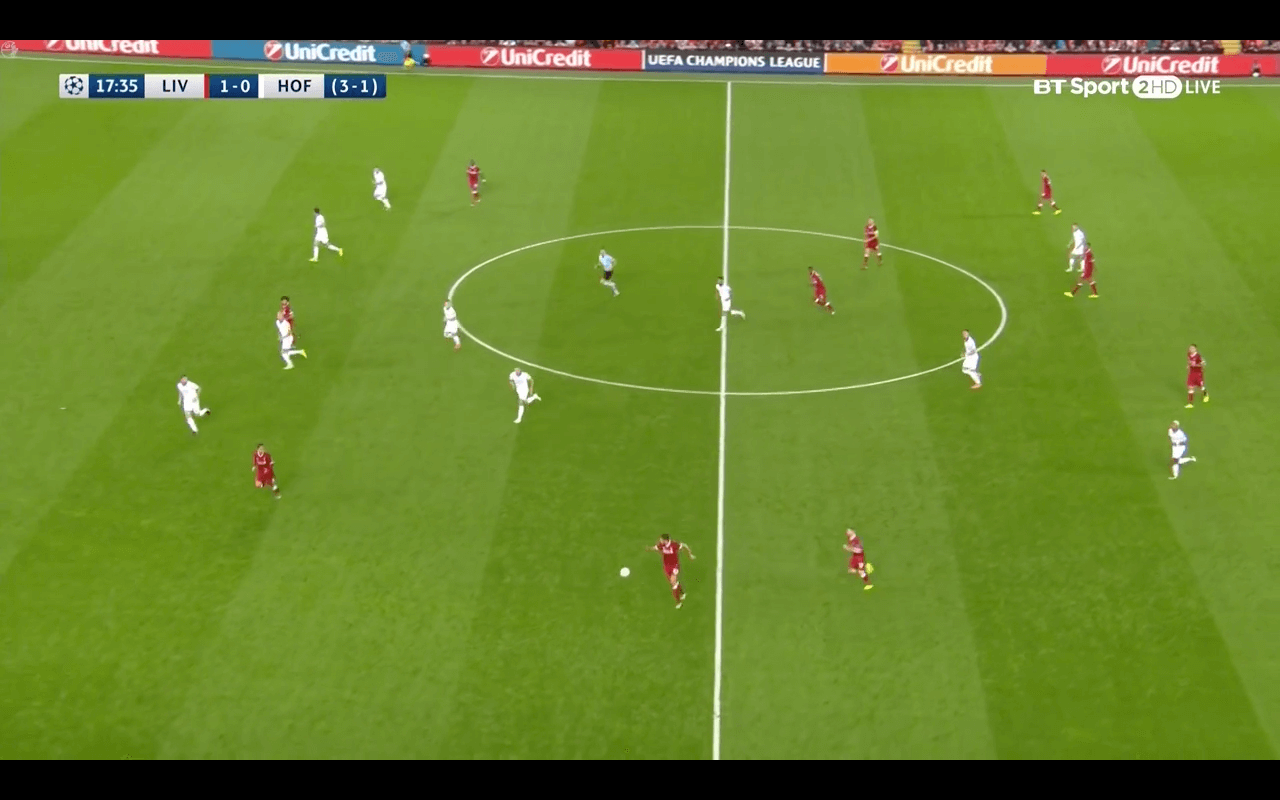 Can picks up the ball, and Moreno runs inside him – the same move Robertson did, and was praised for, against Crystal Palace.
Firmino stays wide, with Salah in the middle, and Mané positioned on the right-wing. Keep an eye on Wijnaldum too, who holds his run, knowing there are three midfielders ahead of him.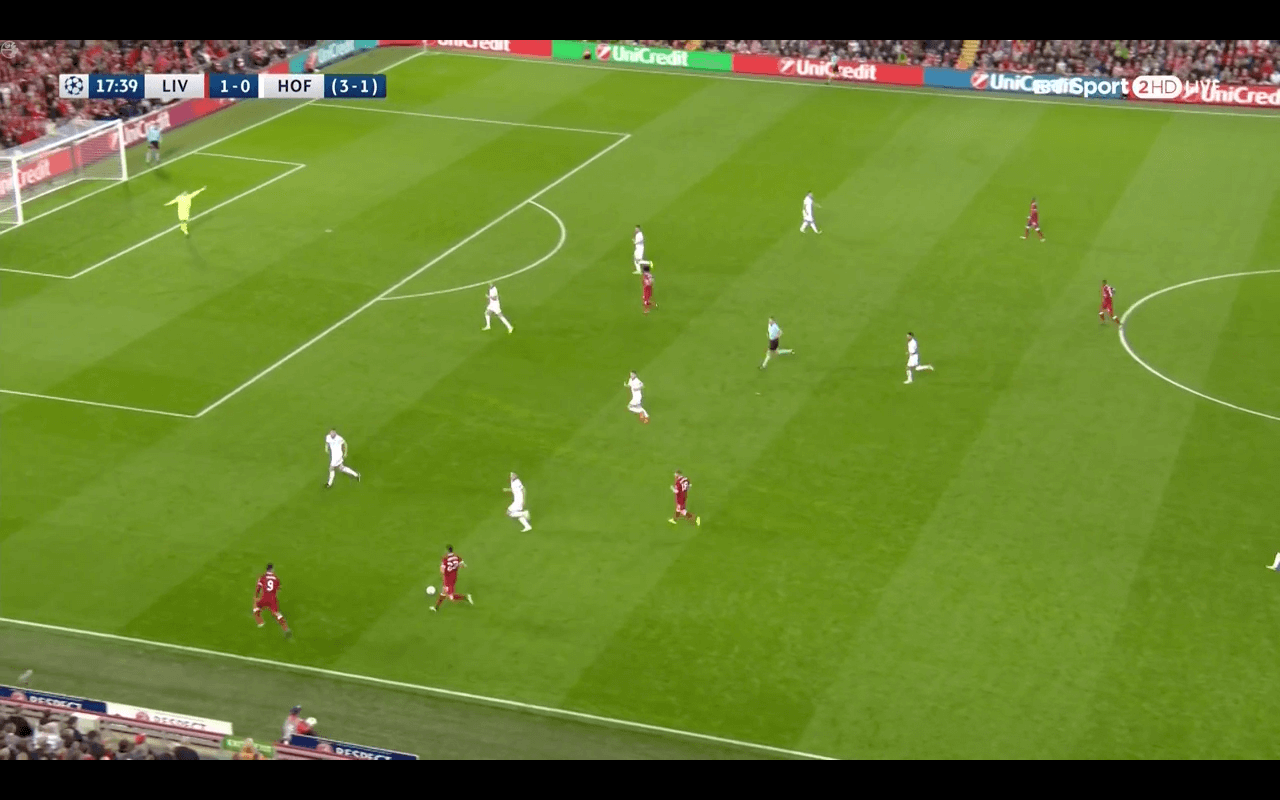 TSG appear set, but there's a gap which Moreno exploits, between the two defenders on the near side.
Can then takes up the same position which he did against Watford, for Mané's goal, occupying the half-space, and drawing players in. There are now four players in close proximity to Firmino, Moreno and Can, with Wijnaldum about to start his run into the box.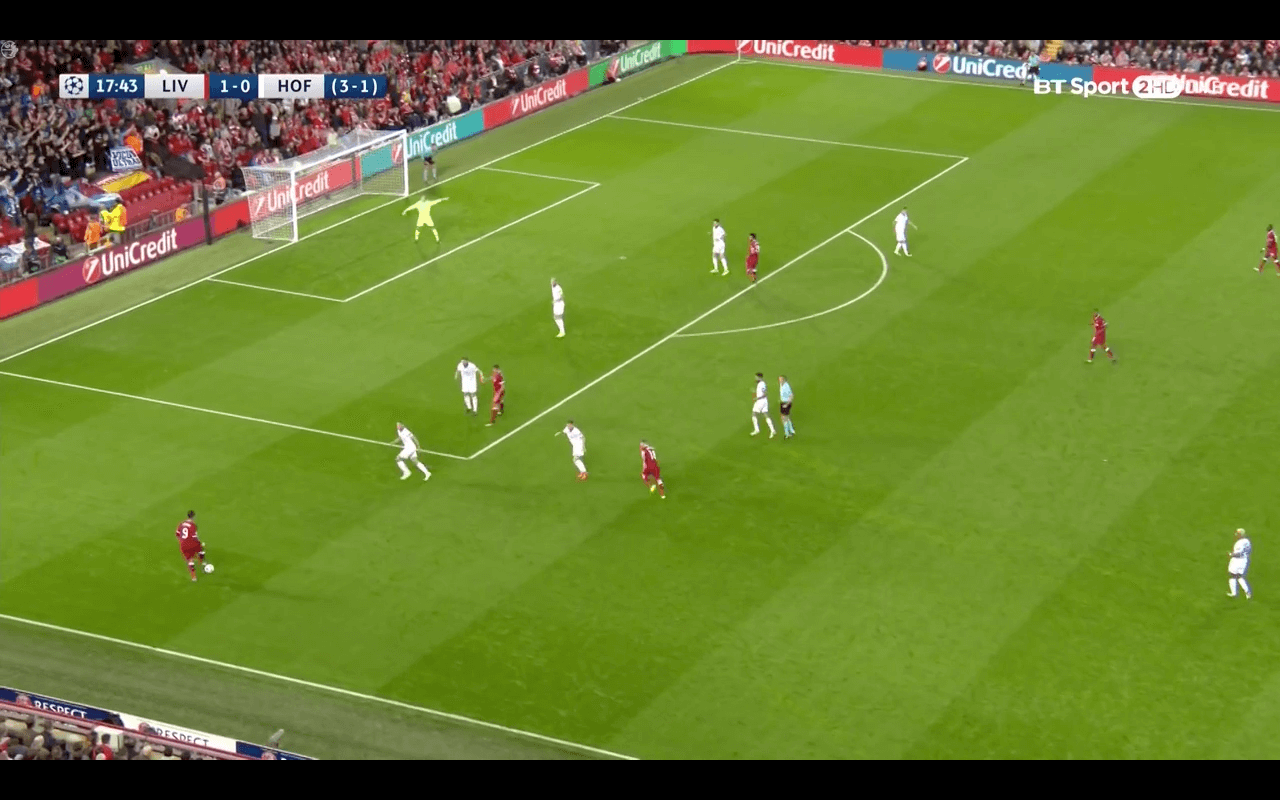 Firmino however, opts not to use him – but both his and Moreno's runs have pushed the TSG defensive line onto the six-yard box. Furthermore, Liverpool have used the same tactic again – Salah's positioning has narrowed and compacted the TSG defensive line, leaving Mané with plenty of space ahead of him.
As Firmino and Moreno push the TSG line back, from the edge of the penalty area, to the edge of the six-yard area, the space on the edge of the area suddenly becomes available for Wijnaldum to run into.
His run, which he delayed, is timed perfectly and coincides with Can running backwards, from inside the box, to outside the box, creating a channel for Firmino to play the pass.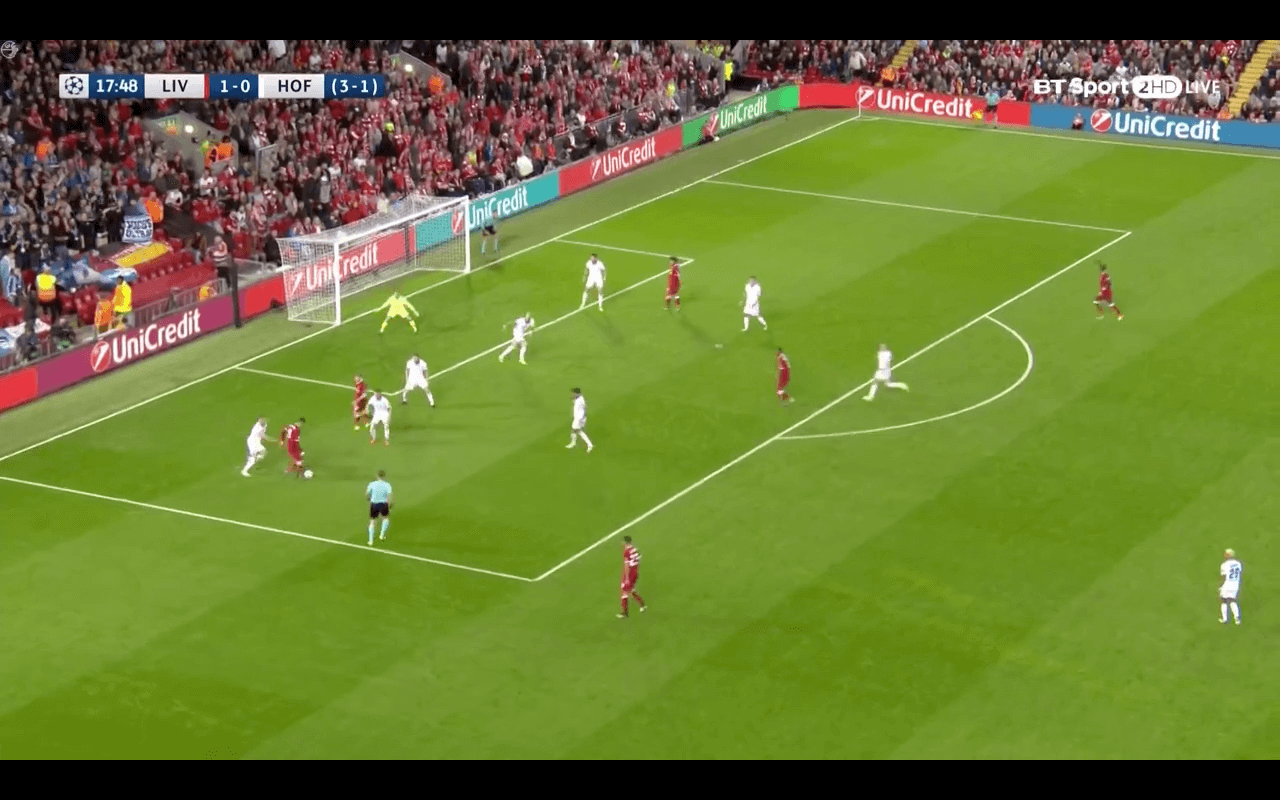 From there, Wijnaldum should score, but strikes the post. However, as we've noticed over the past three games, Salah has often finished his runs at the far-post, ready to pounce on rebounds or loose shots. His positioning pays dividends, and he taps home for Liverpool's second.
3-0, Liverpool, Emre Can, 21′
In Stephen King's On Writing: A Memoir of the Craft, he said
'Fool me once, shame on you. Fool me twice, shame on me. Fool me three times, shame on both of us.'
This time though, the shame is firmly with Hoffenheim, as they fall victim to the same trick, as Liverpool sprang into life, with a devastating display of liquid football.
Moreno, again, started the move, fizzing it into Wijnaldum.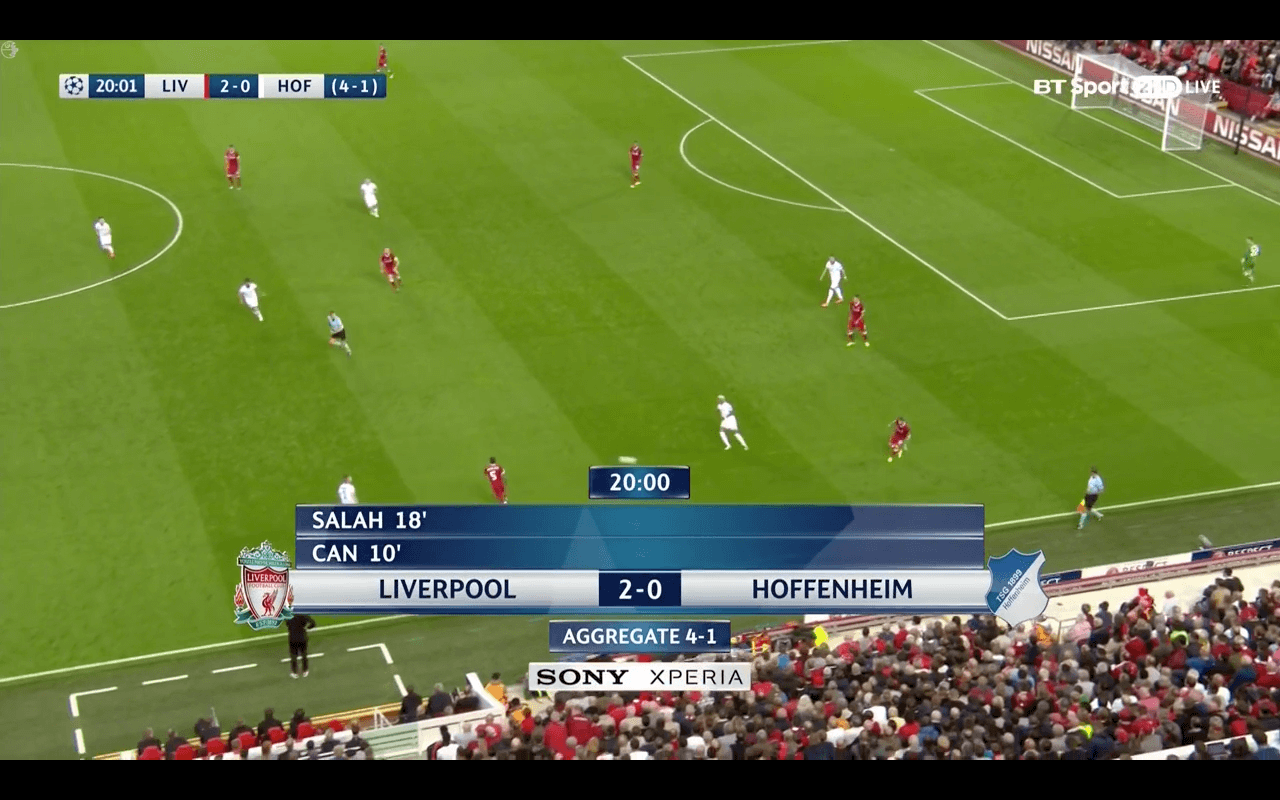 Like in the first goal, Firmino drops deep. His presence sucks in the TSG midfielders and centre-backs, enticing Nordtveit to move across to mark Mané, leaving a huge space between him and Vogt, the central centre-back. Wijnaldum's pass is fantastic, releasing Mané, with the ball well ahead of him, allowing him to utilise his pace to the fullest extent, and catching TSG in a transition, as the TSG midfield attempt to press in the Liverpool half.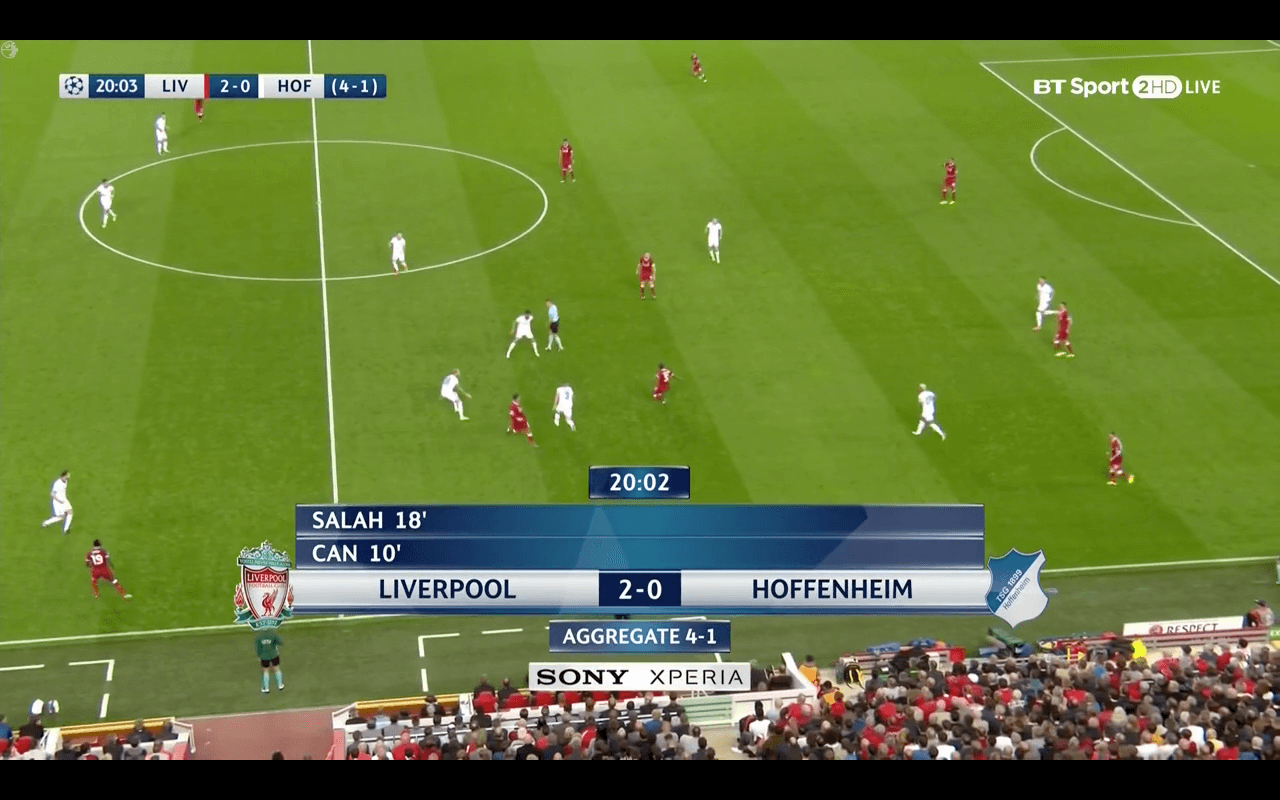 From here, instead of running directly to the centre of the box, like a typical centre-forward, Firmino opts to run the overlap with Mané, as Salah runs inwards. He's allowed to do this because Wijnaldum's initial movement to the ball attracted the wing-back.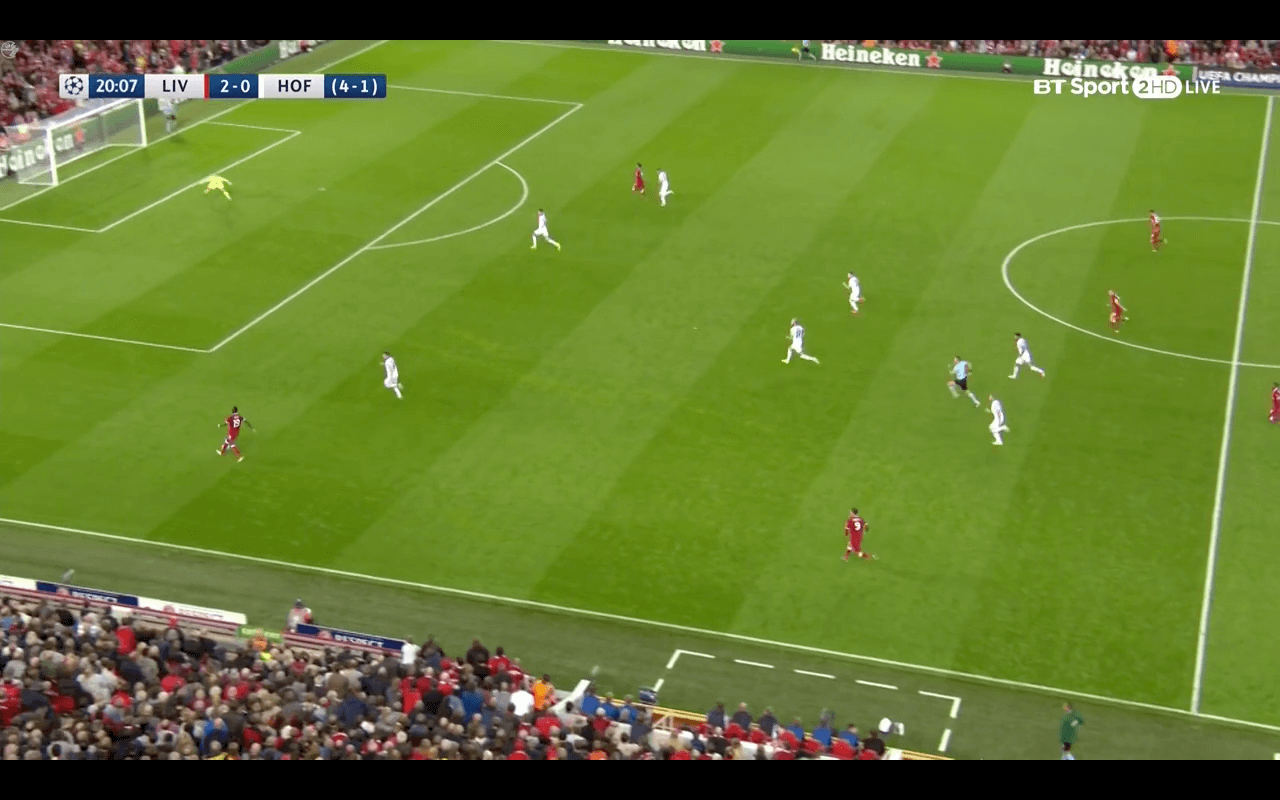 In this instance, Henderson makes the same run which Wijnaldum did for Liverpool's second goal, whilst Salah's position on the far side has compacted the TSG defence again, allowing Can to move to the back-post, unmarked.
Despite the seven TSG outfield players who are in the box at the point Firmino makes the cross, they cannot cope with the intelligence of Liverpool's movement, as Can sweeps home, and seals Champions League qualification for Liverpool.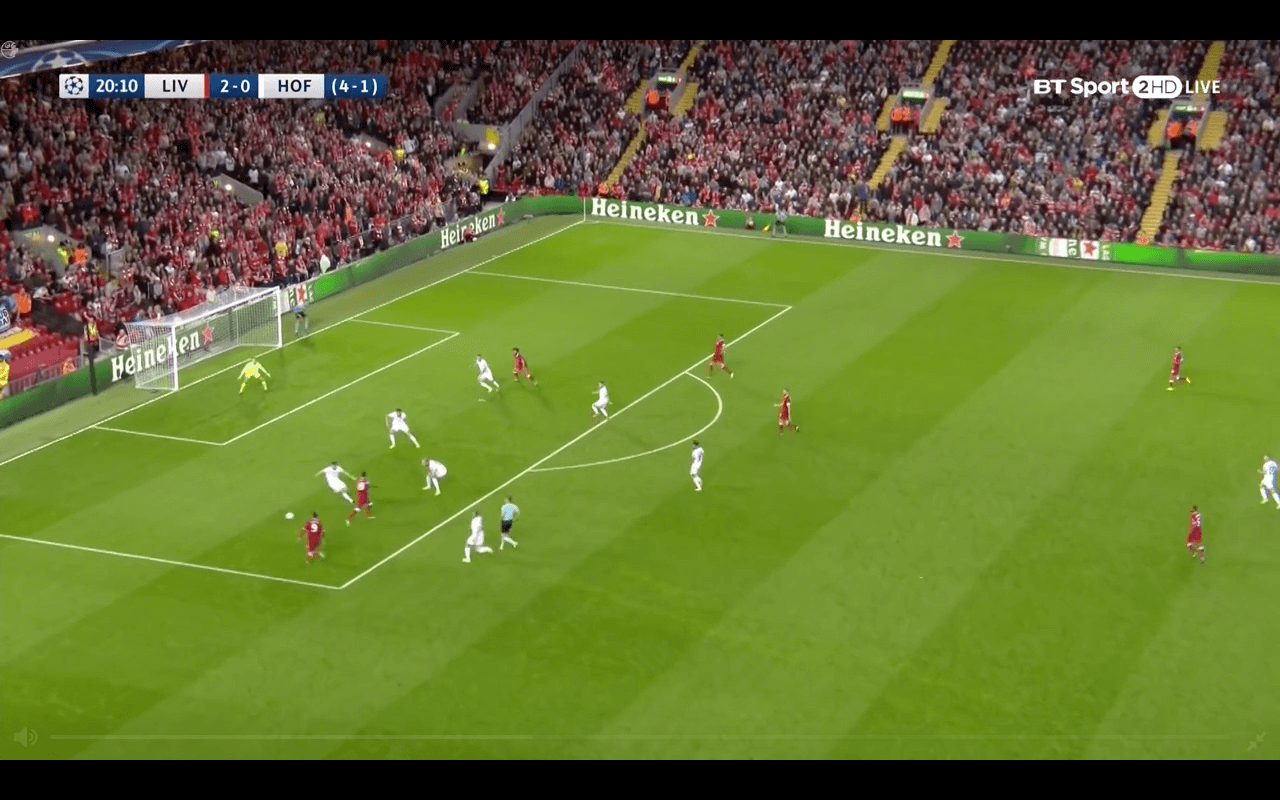 3-1, Hoffenheim, Uth, 28′
It's not quite Liverpool without some form of silliness at the back. This time, it's a mistake by Dejan Lovren.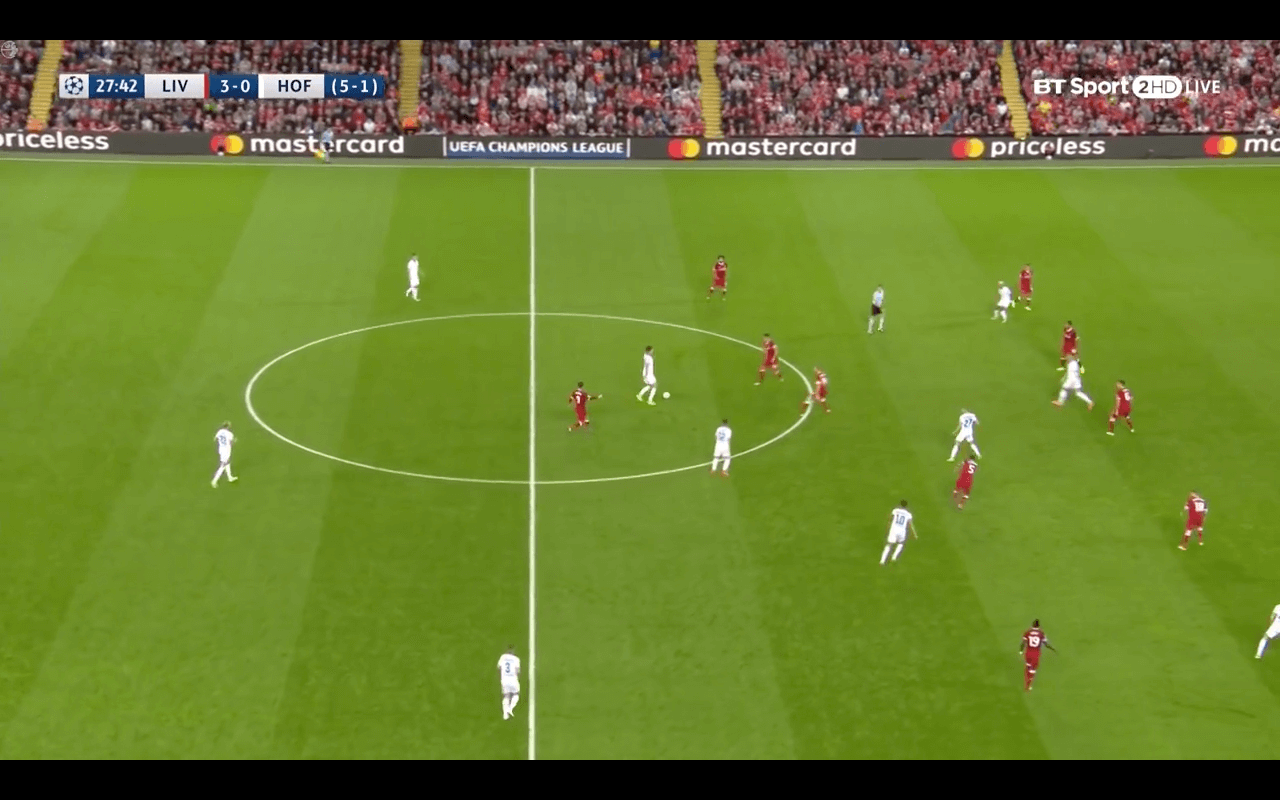 Henderson initially stays with Krameric (no.27), but lets him move past, as he tries to put pressure on the ball.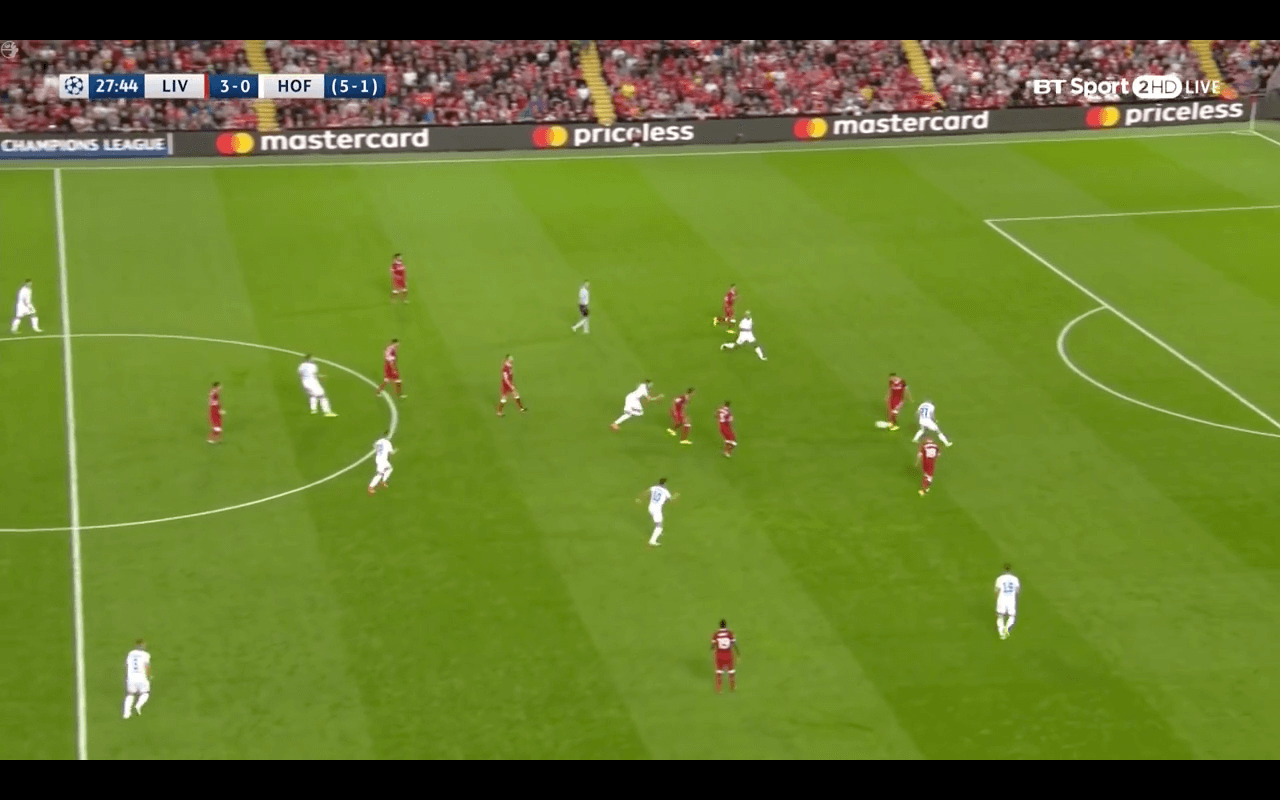 Matip comes over to try and cut out the knock down, but misses it. However, the ball falls to Lovren who attempts to pass into the unexpecting Matip, but TSG are poised to take advantage of this mistake.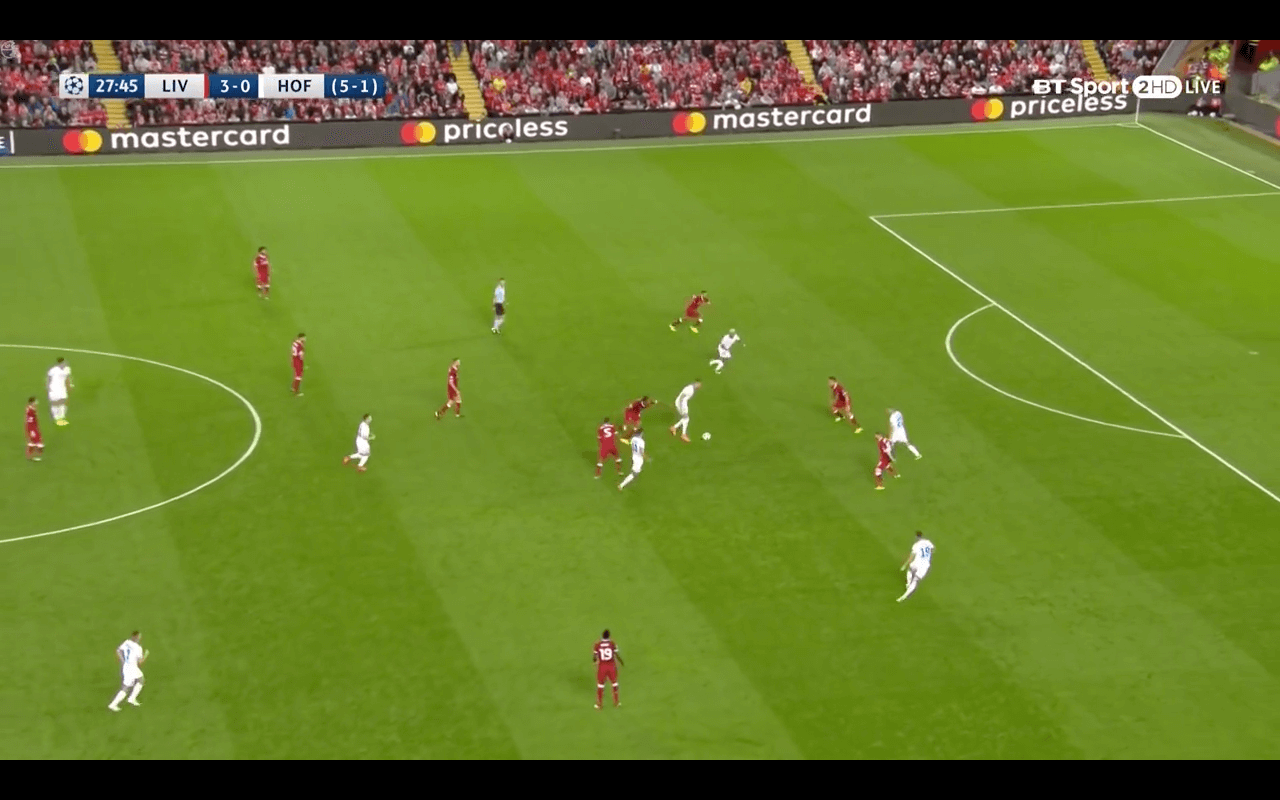 With one player to the left and right of Lovren, and the ball carrier, Krameric, bearing down, Lovren has to commit, and chooses to cover his right side – where Alexander-Arnold's man has got ahead of him.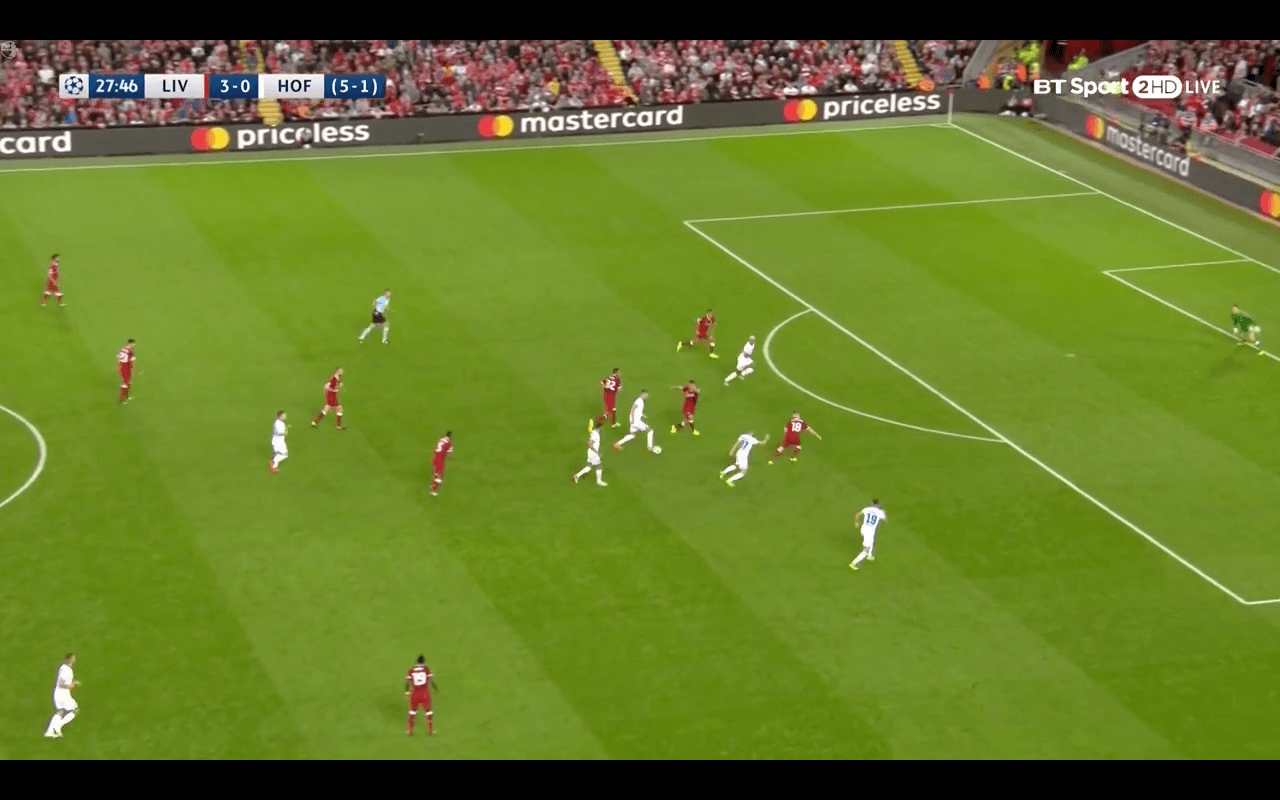 In doing so though, Lovren forces the Hoffenheim player to shift over, and pass to his right.
Henderson, Wijnaldum and Can react too late, with the LFC defence overwhelmed.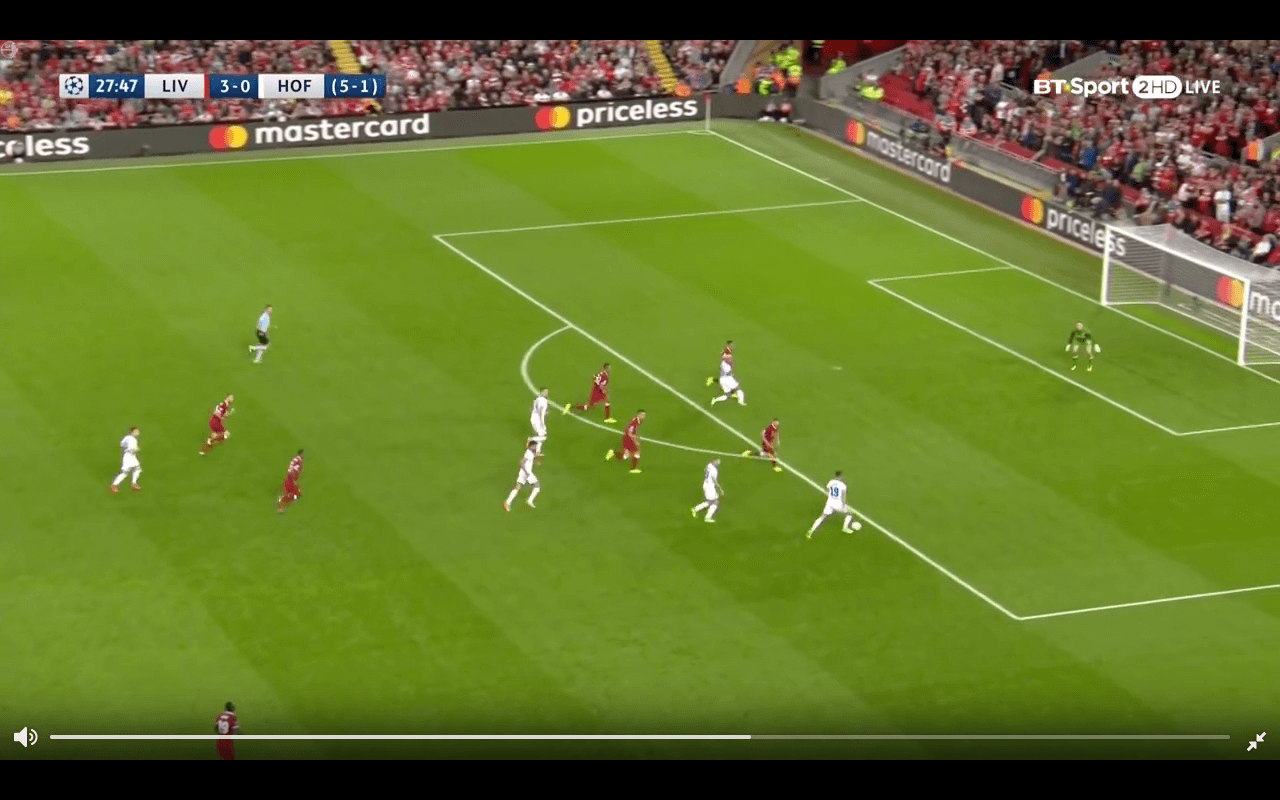 Moreno tries to get across and block the shot, but Uth is in space, and his strike is well placed – beating Mignolet.
4-1, Liverpool, Firmino 63′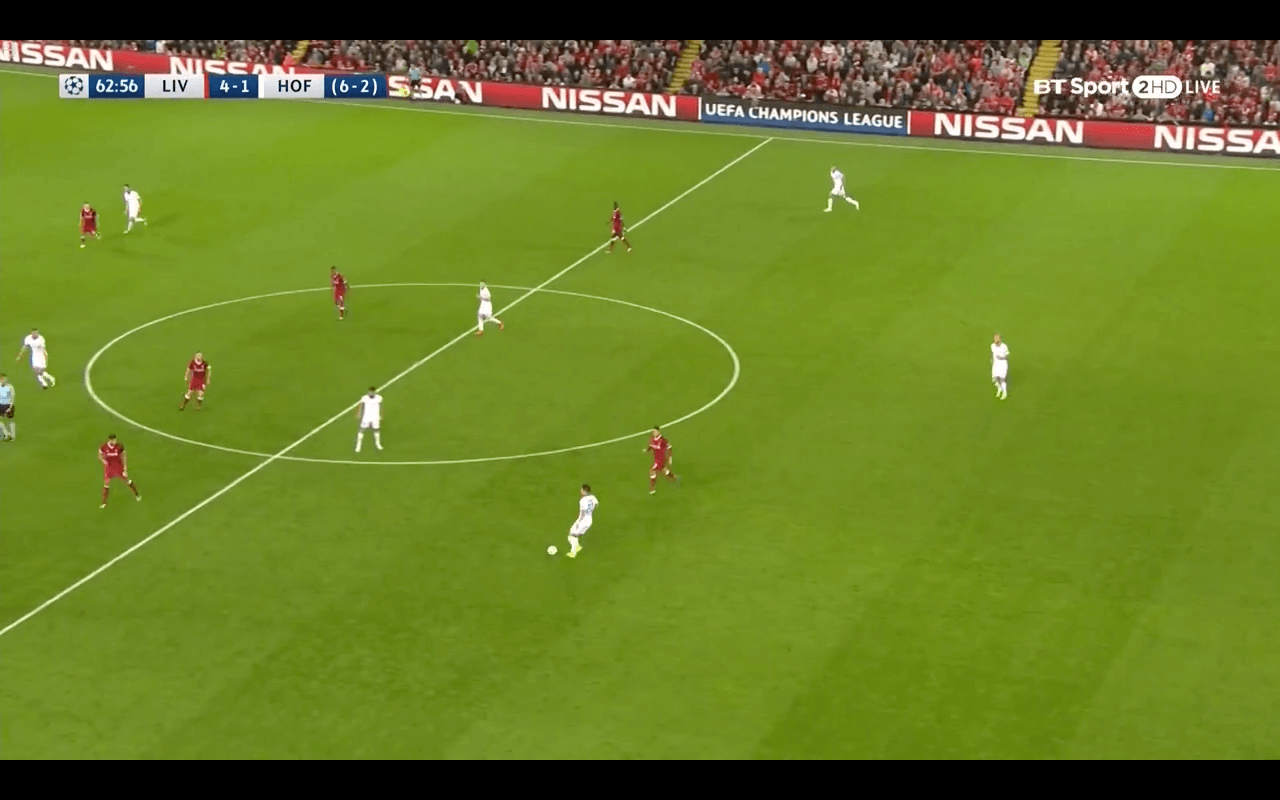 With Liverpool 3-1 up, the team settled down, but as we can see, Mané is still taking up the same position, ready to run in the channel between the centremost-centre-back and right-centre-back.
Demirbay recieves a soft pass, with limited options, as Henderson recognises, and thus he presses. Demirbay's touch is poor, and he takes extra time to control the ball before under hitting a return pass to the TSG captain.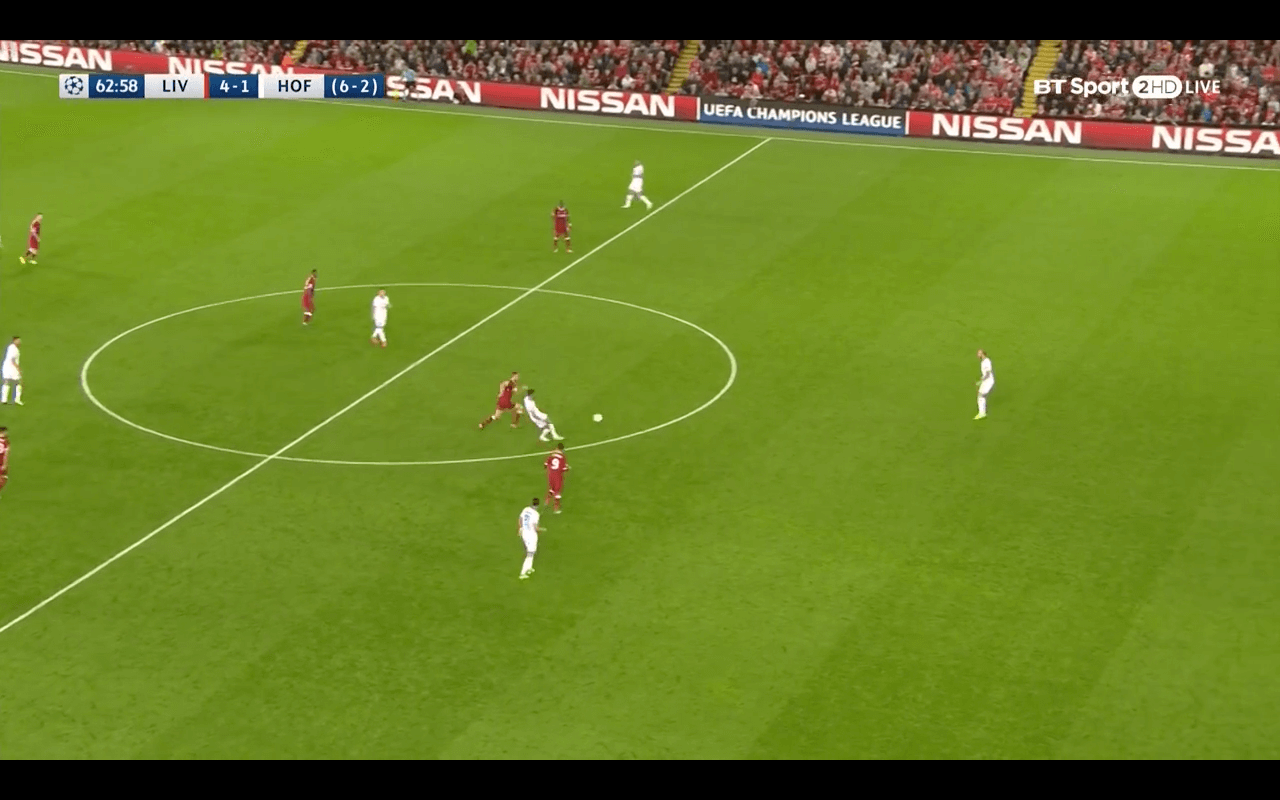 From there Henderson enters a challenge, but simply gets his foot and body behind the ball.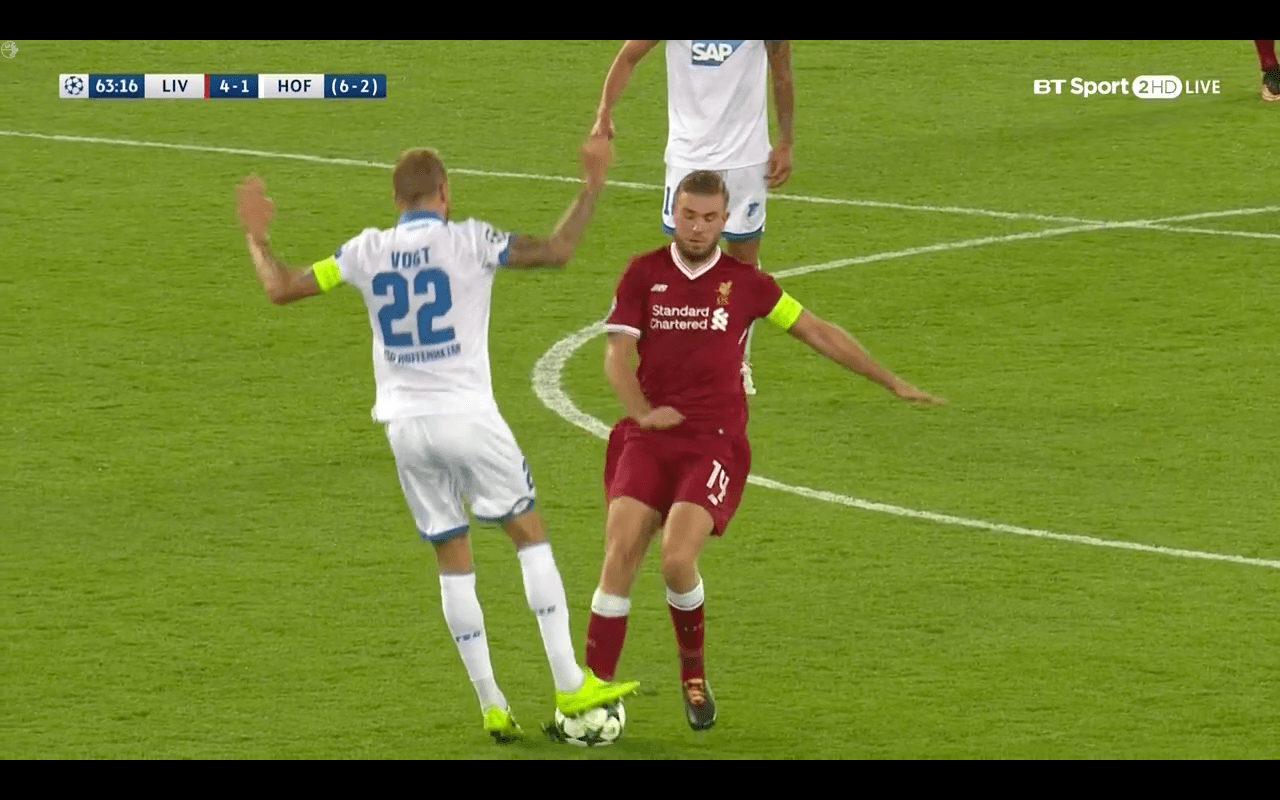 It's a simple 2 vs. 1, and Firmino slots home.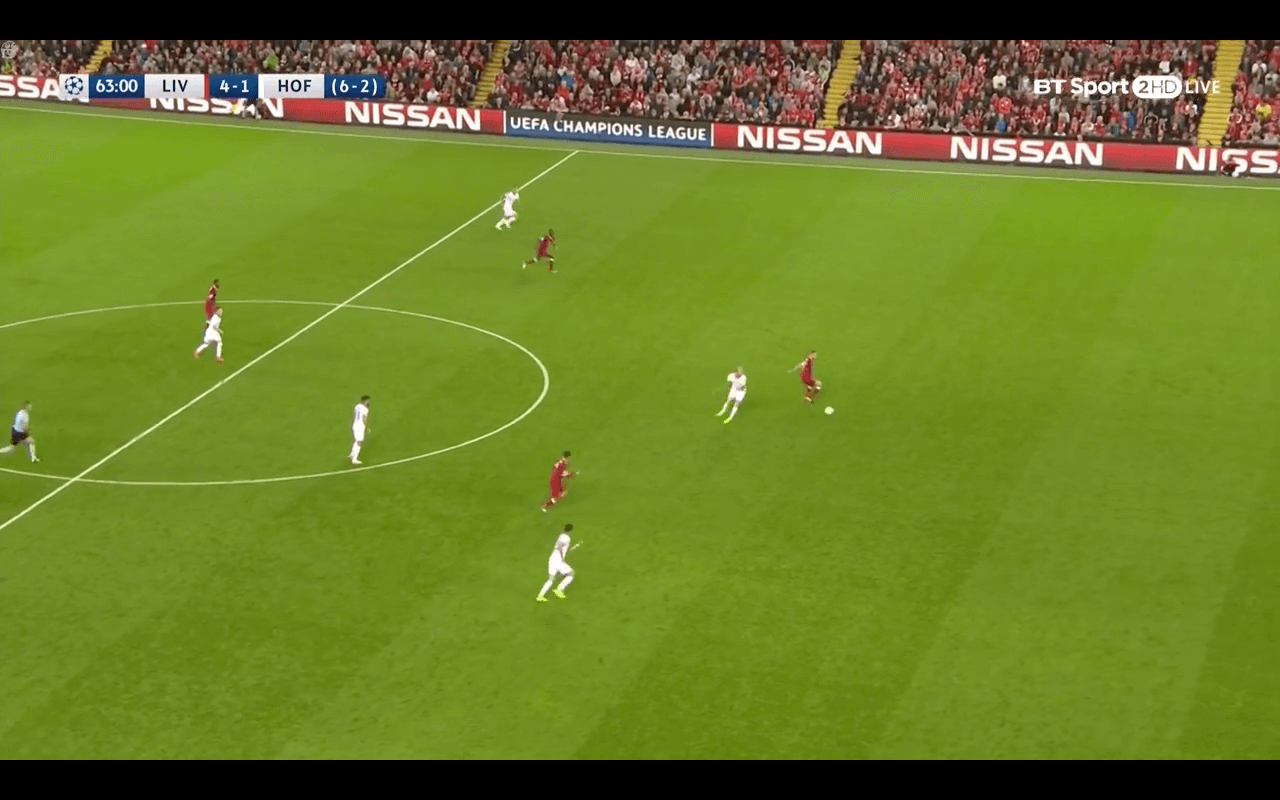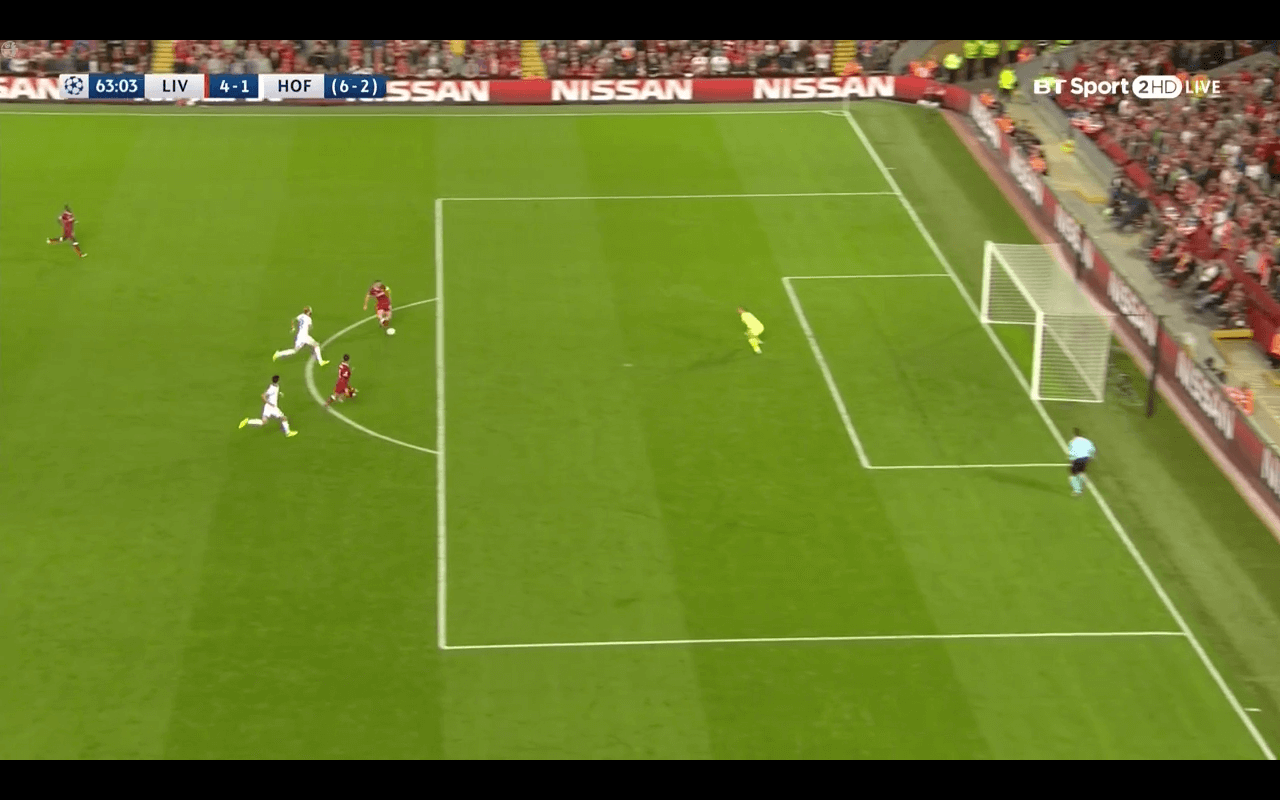 4-2, Hoffenheim, Wagner, 79′
With Gomez replacing Alexander-Arnold around the 65′ mark, Hoffenheim tried to attack down Liverpool's right side.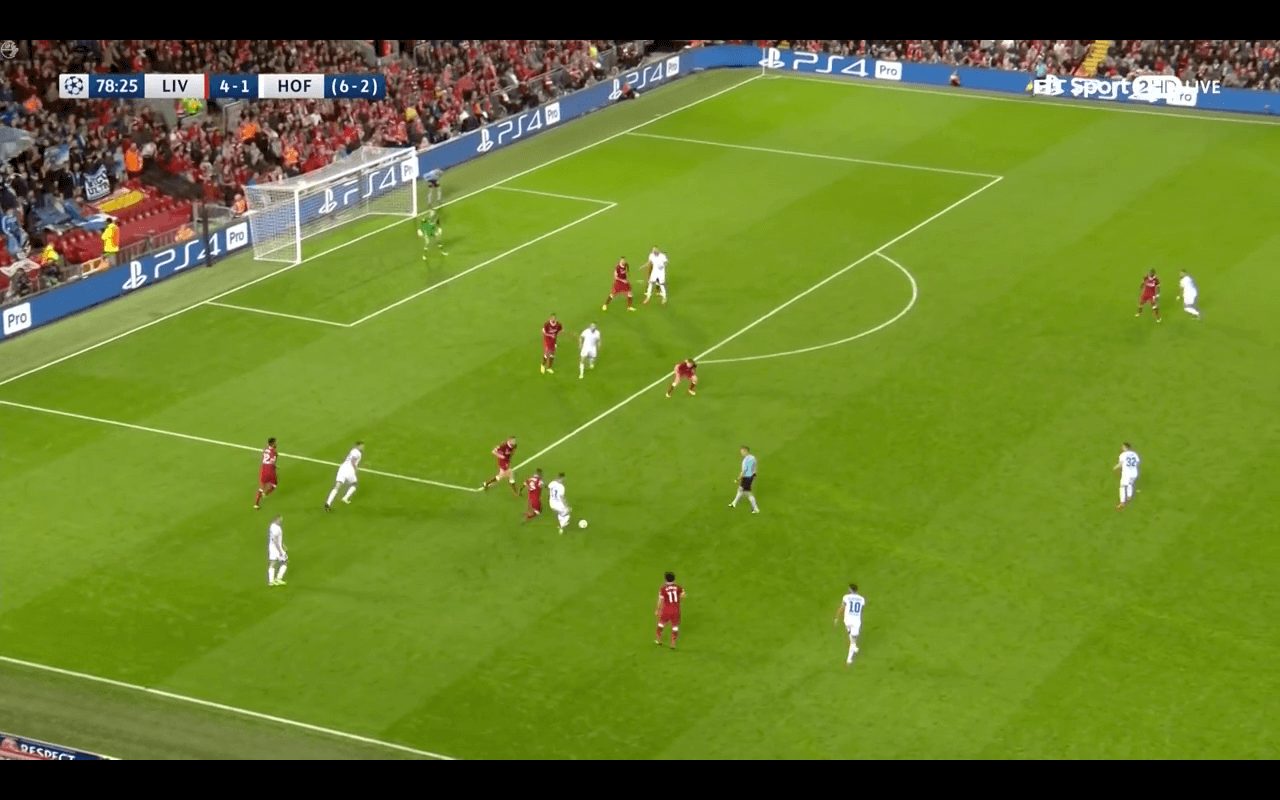 Below, we can see the goalscorer Wagner initially being tracked by Gomez, before moving into the box, from where Henderson steps across to mark him.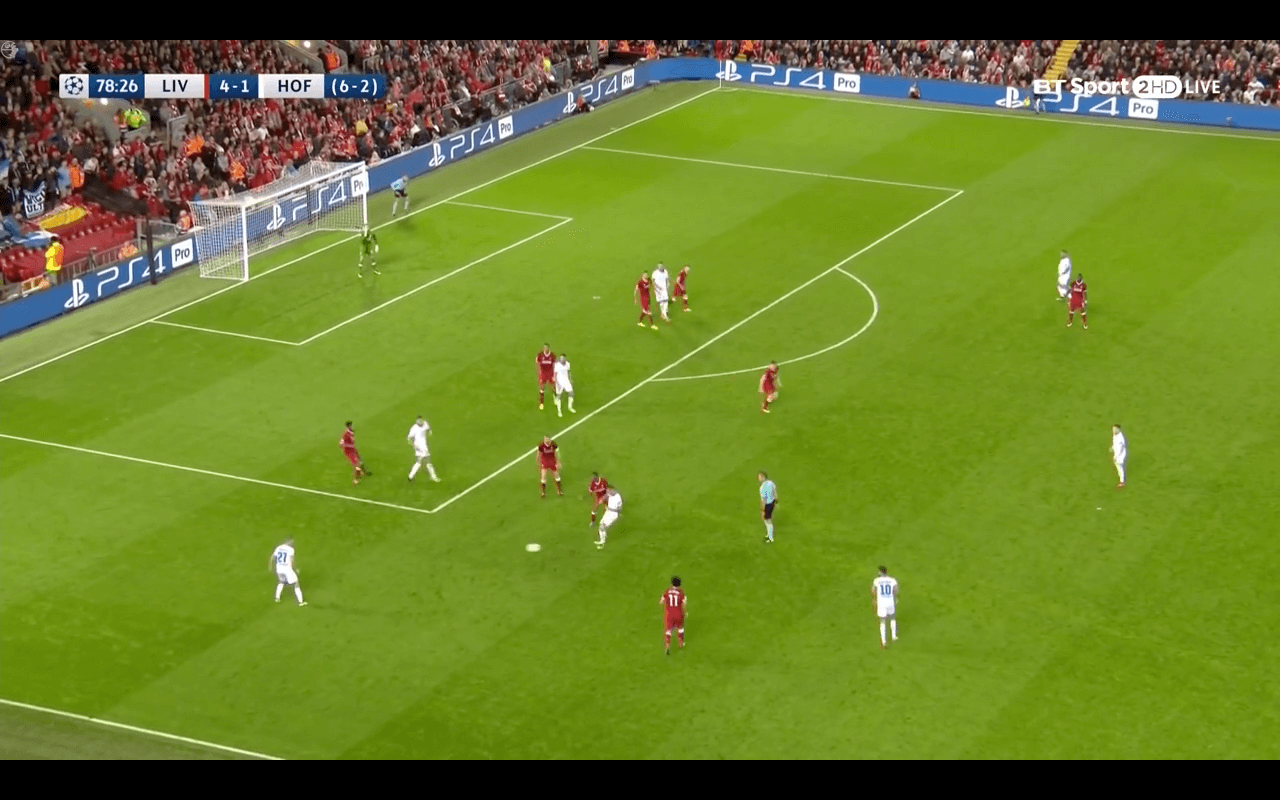 Gomez, knowing Wagner is being tracked, comes forward to block the cross, but is sold with a simple feint. At this point though, Henderson has passed on responsibility for marking Wagner over to Matip.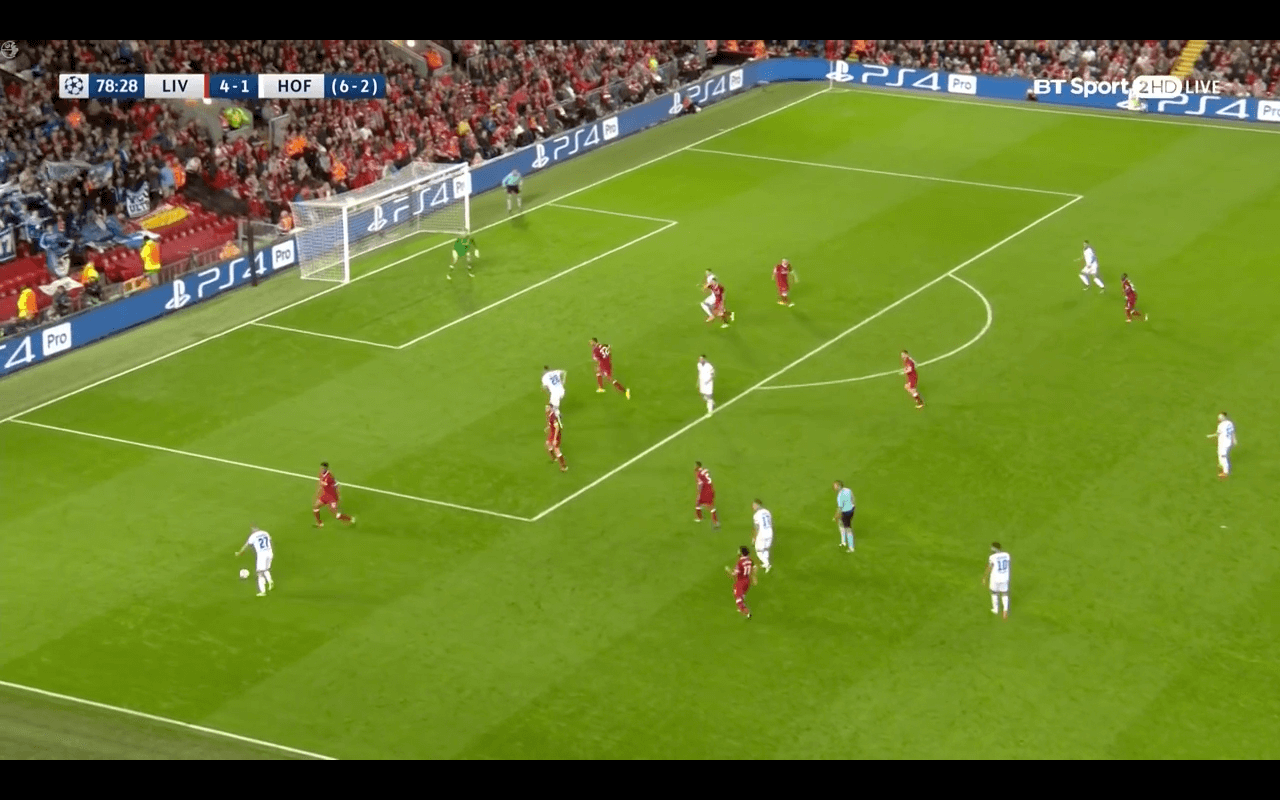 At the point the cross is made, Lovren is already marking a player, but Matip has left a space between himself and Wagner.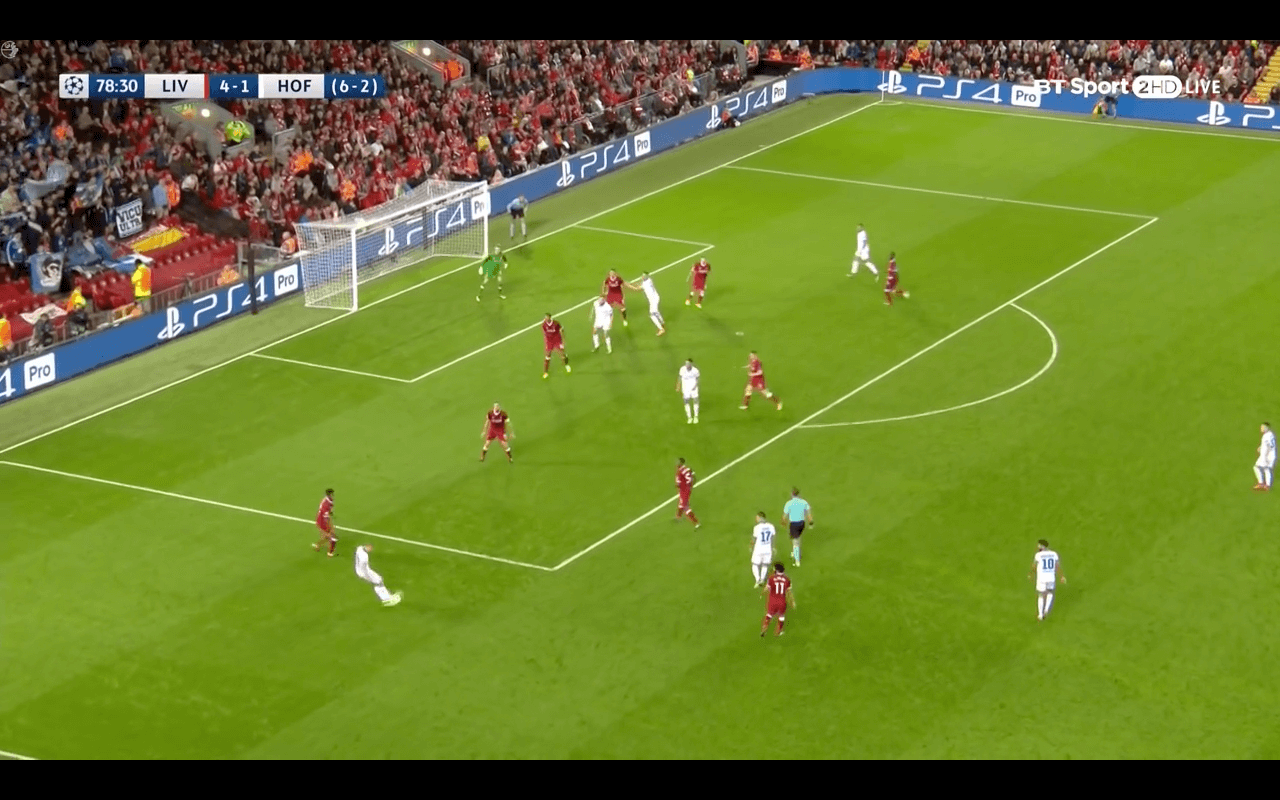 Moreno is positioned at the far post, and Lovren is left to contend with two TSG players challenging for the ball. Lovren is positioned well to cope with his own man, but is helpless to get in front of Wagner, who Matip has left.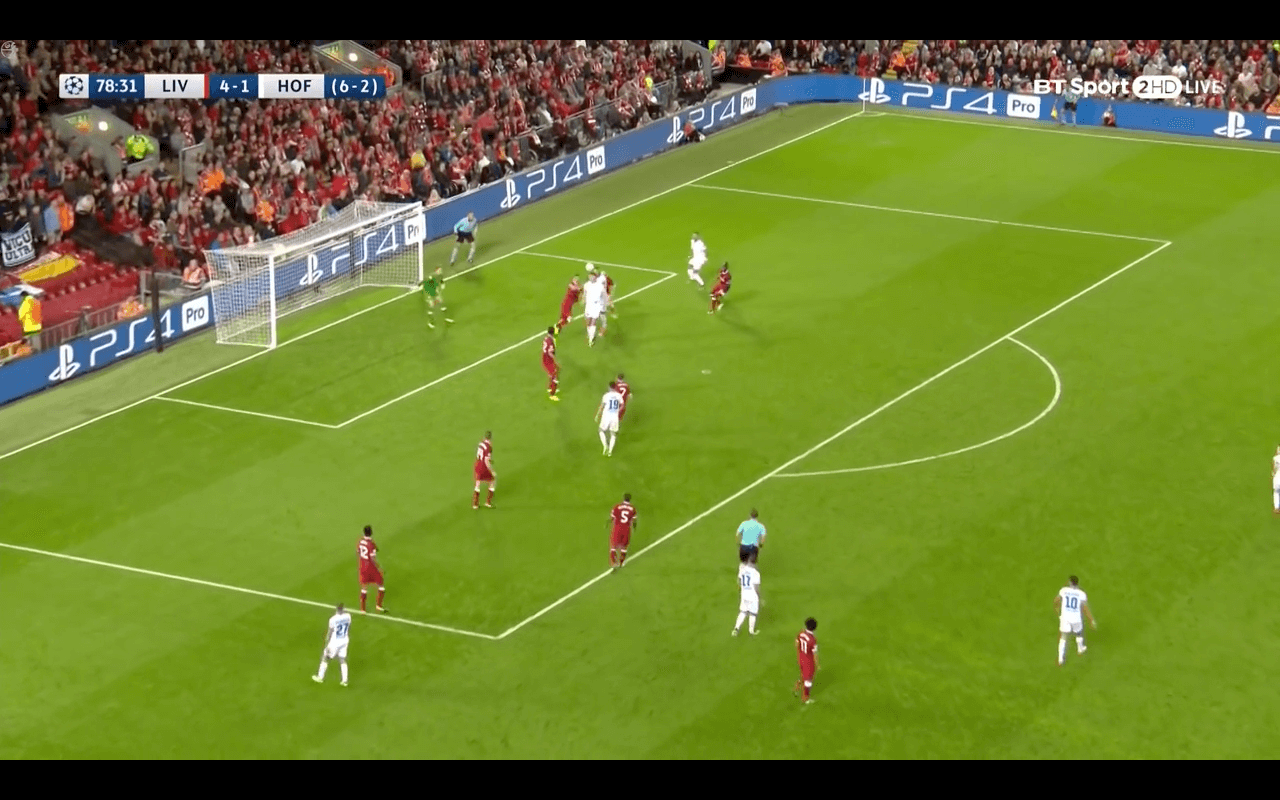 It's a momentary lapse of concentration, in a move that developed over 7 seconds. It was hardly costly, but it's exactly the sort of thing Liverpool cannot afford to do in the league or in any more Champions League games this season without expecting to suffer for the mistake.
Final Thoughts
After some questionable displays, Georginio Wijnaldum and Jordan Henderson stepped up their game for the biggest match of Liverpool's season so far. The pair found themselves doing more defensive work, and stayed for the most part in the middle of the pitch, allowing Emre Can to run free, and produce a fantastic display, with his average position for the match, just a few metres behind Firmino – who was instrumental, but in a different way to what we usually expect from Firmino, as he dropped far deeper than in any other game this season, and allowed Salah and Mané to break so well.
https://twitter.com/DanKennett/status/900458956220452864
For the past three games, I, amongst others, have been critical of the midfield, arguing that it is neither creative enough, or productive enough in terms of offensive contribution. The midfield seemed intent on proving the latter wrong, with Can scoring two and Henderson and Wijnaldum assisting. Yet in one sense, we must also ask why the midfield was so creative? To me, I feel that the midfield's ability to be creative was facilitated by two contributors: the Liverpool wingers, and the Hoffenheim system, which allowed Mané and Salah to position themselves between the wing-backs and centre-backs. Through Salah and Mané positioning themselves in those areas, it was a simple matter of playing the right pass. Is this really the creativity of the midfielders shining through, or is it the product of a tactical setup which creates space and chances?
| | | | | | | |
| --- | --- | --- | --- | --- | --- | --- |
| Player | Shots | Shots on target | Key Passes | Pass Accuracy | Touches | Contribution |
| Henderson | 0 | 0 | 1 | 89.4pc | 68 | Assist |
| Wijnaldum | 3 | 1 | 3 | 86.4pc | 69 | Assist |
| Can (substituted 69′) | 4 | 2 | 0 | 95.7pc | 34 | Goal x2 |
That's not to say Wijnaldum and Henderson were not good – far from it – they all performed to a high standard, I'm just questioning whether their performances were a result of Liverpool's setup, or their own individual qualities shining through in a big game.
The Liverpool full-backs enjoyed a good game, and Klopp's assertion that Alberto Moreno is 'back' seems justified now. The stand out performers have to be Mané and Firmino though. If Coutinho returns to the fold, Liverpool's forward line may well hit stratospheric heights, but even without him, the team looks breathtaking going forward. For Liverpool, it's just an issue of replicating this offensive performance against Arsenal.