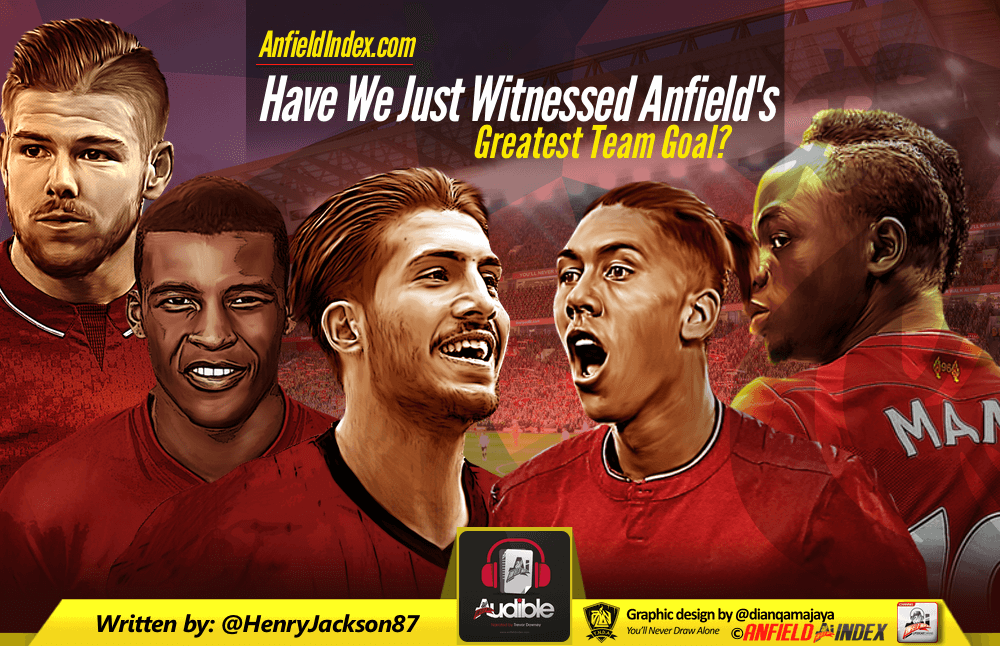 Have We Just Witnessed Anfield's Greatest Team Goal?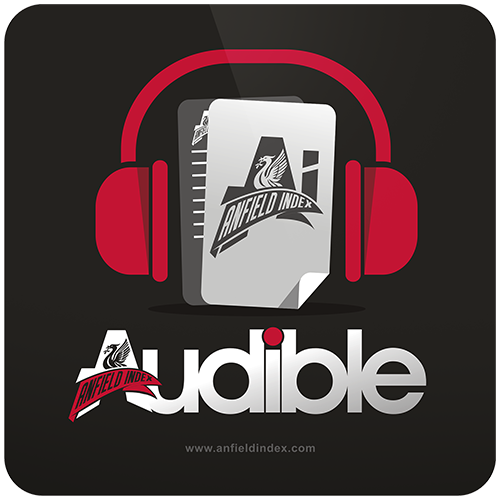 Listen to this article via @AIAudible !
Nostalgia is a wonderful thing in life – we all love harping back to the past and convince ourselves they will forever be the best days.
When it comes to selecting the greatest, most significant things to have happened in sport, art, science, nature and whatever you can think of, we invariably go way back in time, relatively speaking.
In film, it is seen as a sin if you don't consider Citizen Kane, Casablanca and Gone with the Wind as among the best in history, and we may as well accept that "Imagine", "Bohemian Rhapsody" and "Stairway to Heaven" will still be considered the greatest songs ever written for the rest of time.

After going off on a bit of a tangent, this leads us to Liverpool.
No set of football supporters like to look back at the past as fondly as us Reds, partly due to us being brilliance "back in the day" and also because we take great pride in being knowledgable about the history of the club we love.
Anfield is a special stadium, and since opening its gates in way back in 1892, it has witnessed so many special goals and moments it is impossible to keep count.
Steven Gerrard has rifled endless long-range stunners into the top corner; Kenny Dalglish bulged the net with inch-perfect magic time and time again; unforgettable European nights have been forged; Luis Suarez is worthy of having a DVD released of his best Anfield strikes.
Everyone will have an opinion on what the greatest ever goal scored by a Liverpool player is at Anfield, with individual corkers often more likely to come out on top, but what about the finest ever team goal at the home of the Reds?
On Wednesday night, as Liverpool brushed Hoffenheim aside with some breathtaking football, we may well have witnessed it.
With Jurgen Klopp's 2-0 up after a blistering start, a goal of such perfect beauty was scored – one that will be shown on a loop for eternity.
In case you inexplicably haven't seen it yet, or need reminding, here's what happened…..
Alberto Moreno lays a slick pass into Roberto Firmino from his left-back position, and the Brazilian's one-touch lay-off finds Gini Wijnaldum just inside his own half.
Wijnaldum's first-time pass in behind the Hoffenheim defence is sensational, with Sadio Mane collecting the ball in space on the left-hand side of the penalty area.
Awaiting the run of the tireless Firmino, Mane's back-heel eventually finds the on-rushing forward, whose beautiful dinked cross with his weaker left foot is volleyed home by Emre Can from close-range.
It was the most perfectly-executed, high-quality team goal you could wish to see, with every single player doing their job superbly and Hoffenheim bordering on powerless to do anything about it.
Firmino was particularly brilliant for it, but everything from Wijnaldum's vision to Can's lung-busting run was a joy to watch.
It has deservedly been talked about to death since – if you haven't yet seen the many angles it has been shown from, make sure you do.
To reiterate my point, and I know that this may sound knee-jerk to some of you, there is a strong argument to say that this is the best ever team goal scored by Liverpool at Anfield.
Opponents have scored a few sublime efforts, in fairness, with Marc Overmars' for Barcelona in 2001 and Patrick Vieira's for Arsenal three years later both immediately springing to mind, but have the Reds?
The one that will always get a more than deserved mention, which takes us back to the original topic of nostalgia, is Terry McDermott's against Tottenham in 1978.
It was a fantastic goal, without a doubt, with every aspect of it as well thought out as Can's, but it didn't possess the same level of skill and pace.
It is only natural that many will put it at the top of the pile because it is romantic to gaze longingly at special moments from the past, but Can's effort is better, when you dissect both goals.
Divock Origi finished off a beautiful move in the 4-3 win over Borussia Dortmund last year, which is certainly worthy of a mention, while much-maligned former left-back Jose Enrique scored a wonderful strike against Swansea in 2013, following a superb passing move involving Luis Suarez and Daniel Sturridge.
Raheem Sterling's tap-in in the 5-1 mauling of Arsenal in 2014 was ruthless in the extreme, and almost every goal in the incredible 5-0 win against Nottingham Forest in 1988 was attacking football at its best.
John Barnes' strike against Everton in the Merseyside derby in 1990 was very good, as was Fernando Torres' against Newcastle 18 years later, following a wonderful Gerrard pass and an outrageous dummy by the Spaniard.
These are just a sprinkling of examples, and there will be plenty of others no doubt popping into your head as you are reading this.
I'm not convinced any are as good, or at least not better than, Can's.
It is very easy to just swat it aside because it has only just happened, telling yourself, "there have been loads better than that in the past", but have there really?