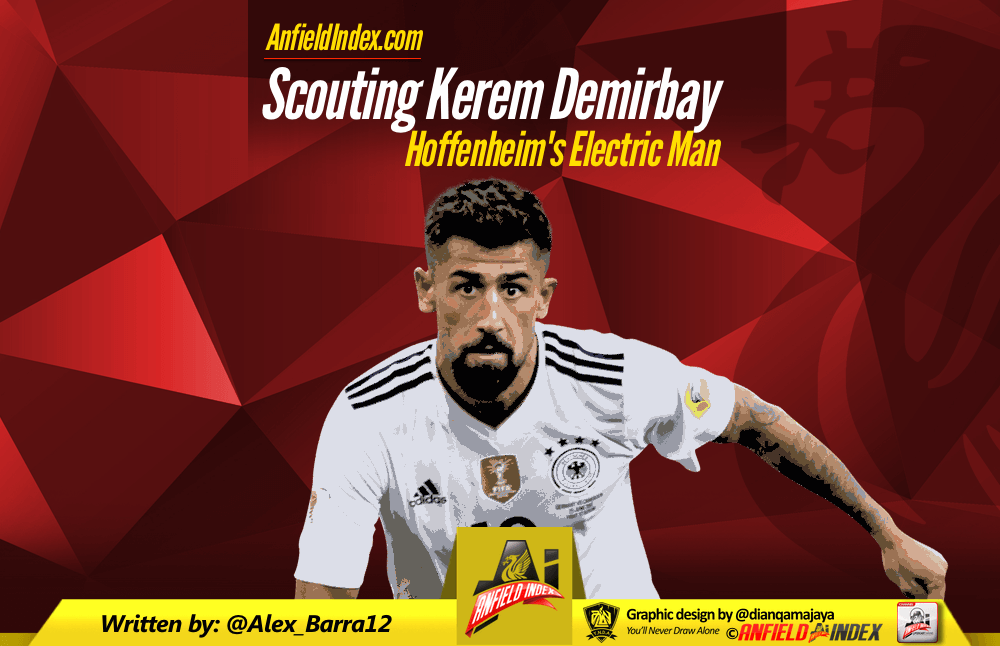 Scouting Kerem Demirbay - Hoffenheim's Electric Man
As Liverpool stormed into the Champions League group stages with an effervescent performance, their opponents seemed awed by the big stage. Julian Nagelsmann's men fell victim to Liverpool's superb attacking impetus, though their achievement is no less impressive.
Hoffenheim got to the Champions League qualifying stages off the back of a tremendous campaign, with a young and idealistic manager who has vowed to play a brand of exciting football. One of that brand's chief proponents has been Kerem Demirbay, who has been waltzing past midfielders and surging into the box on a regular basis. In fact, it was his goal that secured Champions League football for the first time in the club's history.
"We're good enough to survive there and score at least two goals. There's no atmosphere like there is at Anfield."

"I'm definitely not intimidated. On the contrary, I find it amazing when there's such a feeling in a stadium. It's absolutely inspiring."
Demirbay said of Liverpool – and Anfield – ahead of the Champions League tie.
Low and behold, though, news broke a couple of days later, per Bild, that Kerem Demirbay is on Jürgen Klopp's radar, and a move could come to fruition before the deadline on August 31st. He was even given a big Jürgen Klopp hug following the match at Anfield, and the pair talked for some time.
So, is Kerem Demirbay the midfielder Liverpool have been looking for?
Style
An all-action central midfielder, Demirbay scored a third of his side's goals in 2015/16 when playing for 2. Bundesliga side Fortuna Dusseldorf. He carried his team to safety, scoring 10 and assisting 3 in 25 appearances. The German-born, Turk-blooded midfielder would then go on to become the mainstay of the young, vibrant Hoffenheim team that went undefeated for 17 games.
His hallmark became his late-runs into the box and electric dribbles past defenders, having to launch off their heels to haul a body part in front of the incoming strike. Months after a phenomenal goal against Bayern (which became Demirbay's calling card) – which left Manuel Neuer rooted to the spot, having been hit first time from the edge of the box – he made his first start for Germany at the Confederations Cup against Germany. Again, his calling card came to the fore – nailing a similar rocket (this time with his opposite foot) into the top corner.
He's made a name out of the energy and dynamism with which he's able to dribble past players – reminiscent of Liverpool target Naby Keita in the way he's able to carry the ball past a player, lay off a short pass for a quick one-two or passing triangle, and then re-appear with the ball around the box.
Aged 24 and somewhat of a late bloomer, Demirbay's strength lies in the quick speed of thought and speed of feet he brings to a midfield, and his adaptability. He's been deployed in the #6, #8 and #10 roles, dealing with every situation capably. And, most importantly, he's brought goals, though not as many as he would've liked given his start to the season.
Strengths
An underrated hallmark of any midfielder – also an intangible one – is the ability to cope with pressure, when there are a bunch of players around you. Composure, combined with grit and determination to simply burst out of a bad situation and turn it into your favour, is far from a common trait. Combine that with a creative spark matching Phillipe Coutinho's, and the recipe seems to suit Jürgen Klopp down to the ground.
He makes 2.1 key passes per game – equal to that of the want away Brazilian in Liverpool's side – and more than both Naby Keita and Adam Lallana (with whom he'll inevitably be compared.) And he scores too – making late runs into the box on a regular basis. All but one of his goals last season came from first time finishes.
As a creative link in midfield, combined with the ability to move and press – and vitally not being a static option who's only good at one or two things – the German seemingly fits the bill. He's also got a knack for dribbling, able to skirt past players with quick feet. While not in the seismic realms of Naby Keita's dribbling ability, it is at least comparable to Phil Coutinho. Demirbay's not got Phil's fleet feet, but is quicker, and more dogged.
When he's afforded space, you can be sure he'll drive into it. But he's not just an all-out attacker who's carried by having three centre backs behind him and a stable midfield. He contributes to his side's defensive stability – often the instigator of presses in the middle of midfield. His off-the-ball work is part of the reason he moves around so much, like Keita, as is his footballing brain. He makes more tackles (2) per game than both Coutinho and Lallana, too.
That presence, combined with the combinations he'll make alongside Firmino, Manѐ and Salah, is a tantalising prospect indeed.
Weaknesses
He scored six times, yes, but his goals all came patches, scoring 3 goals in 6 games in the first half of the season, and then 3 goals in 2 games during the final stretch of the season. He also should've scored more, given a lot of chances that came his way, but with better service, perhaps he'll find the net even more.
Then there's the topic of adaptability, and the common trend that is midfielders finding it difficult to penetrate parked buses that rock up to Anfield looking to frustrate. Going from a quick, counter-attacking side like Hoffenheim means he'll suit the big games to a tee, where the opposition actually wants to come out and play football. But against the lower echelons of the Premier League, there may be some frustrating days. Then again, he may be the creative spark that sets Liverpool's front three alight. It's simply too hypothetical to tell properly.
What is true is that Demirbay is a German, all-action midfielder who suits a high press and contributes goals and chances from deep.
Sounds like a pretty good fit, then.