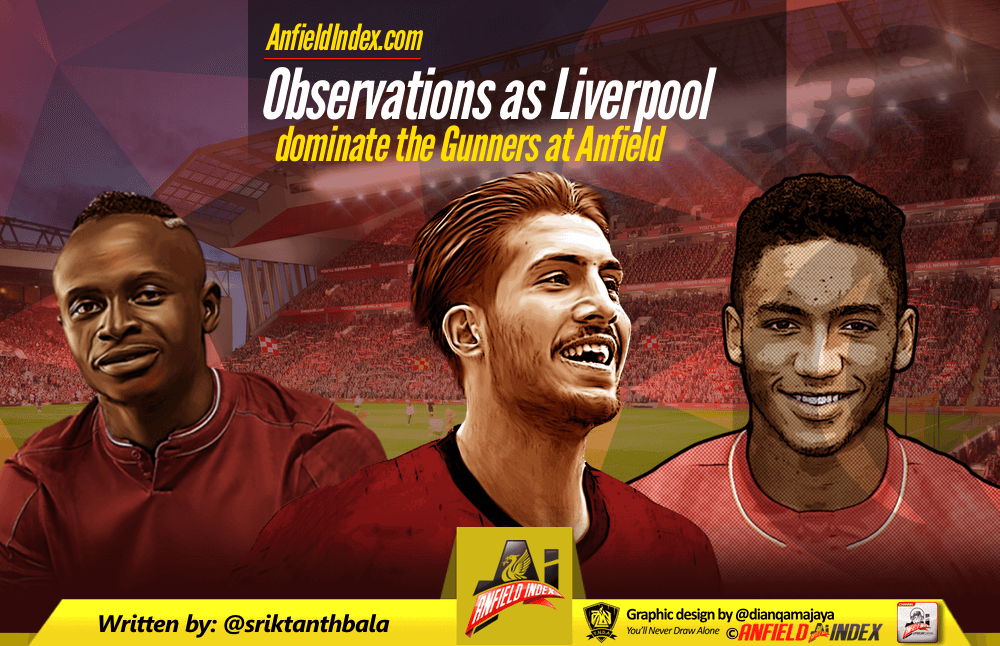 Observations as Liverpool dominate the Gunners at Anfield
Liverpool drubbed a listless Arsenal team as the attack ran riot for the Reds. The front three took their well-deserved goals and could have easily scored half a dozen tonight.
Read on for my key observations from the game.
The Line-up Surprise
There was an equal measure of shock and surprise as Simon Mignolet was dropped altogether from the matchday squad, to be replaced by Karius in the line up. This was just the third game in the league, so the explanation of a 'rest' for Mignolet was puzzling. Karius did not do himself any good though, with him ending the game being ironically cheered for a successful pass.

No Easy Pick for Man of the Match
There were so many good performances all through the pitch for Liverpool today. The forwards will obviously be in the spotlight for the goals, but there was solidity and assuredness at the back from Joe Gomez. The midfield functioned excellently for the second home game in a row, with Can excellent again and Henderson being a pressing machine again. It was also good to see Gini emerging from the lamp again.
Liverpool need to get Can to sign a new contract
Can has been the standout player in the midfield, and this has been a great week for him specifically with goals and dominance from midfield. With Juventus doing their usual thing (sign good players for a low fee), it is imperative that Liverpool get him signed for the long term.
Mane the Talisman (?)
With the uncomfortable situation surrounding Coutinho, the pressure was on the shoulders of Mane, and he has duly delivered. Mane has scored in all three games in the league, and today's goal was a reminder of a certain #10 with the patented cut in and shot at the far corner. Liverpool would only want Coutinho to join in this revelry.
Where do Arsenal go from here ?
When your team concedes four goals, and you goalkeeper is still the best player on the pitch, it cannot get worse. Not a single Arsenal player turned up other than Cech and questions need to be asked if they are indeed playing for Arsene and Arsenal . Arsenal have had their share of heavy defeats, but this must be one of their worst. Lack of desire and decision-making are huge issues for Arsenal. Aaron Ramsey talking up Liverpool's title chances in the post match chat is not what Arsenal fans want.
Salah is FAAAAAST
Most of us knew that Salah was quick, but even many of us did not think he was that QUICK. His ability to carry and control the ball at that pace is mind boggling. He did miss few chances, but that front line is going to cause nightmares for quite a few opposition teams.