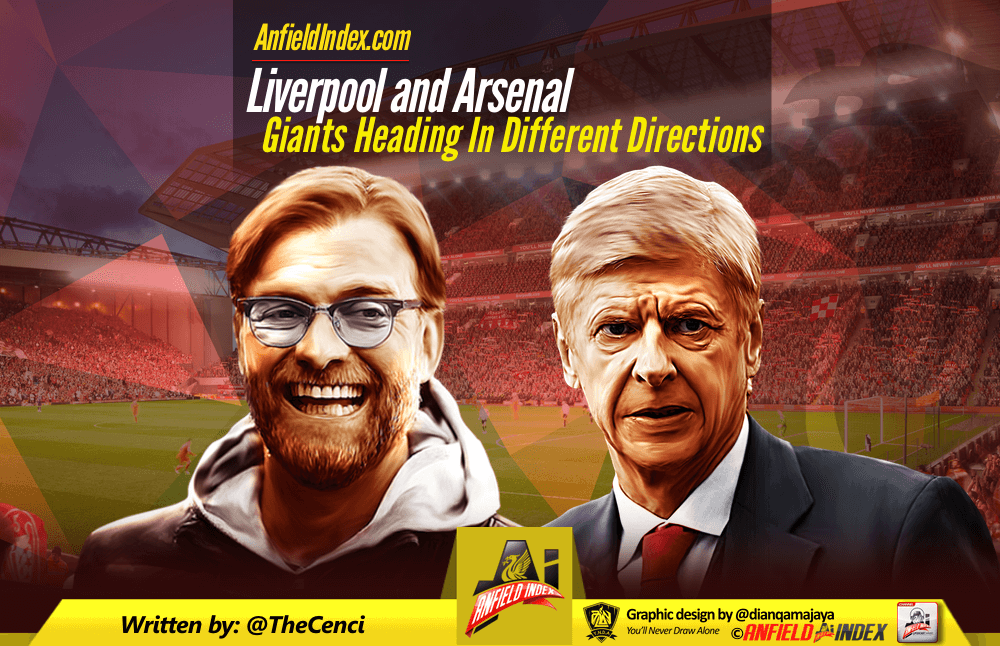 Liverpool and Arsenal | Giants Heading In Different Directions
There are times when Liverpool just plain annoy me. There are times when I look back at all the personal and financial sacrifices I've made over the years in their name and wondered just why I bothered. When Liverpool were played off the park in the first half against Blackpool in 2010 I sat in my seat and thought about leaving the ground early for the first and only time in my life. That was an especial low point. Just why, I wondered, do I give so much time and devotion to something so capable of hurting me.
Today is the reason why.
Days like today. Days when you sit back and hope for three hours injury time just because the lads are so rampant.

There's no such thing as a perfect game. Sure, you can point at the hammerings – the 9-0 against Palace in 1989 and the 8-0 against Besiktas – but there were still mistakes in those games. I can dimly recall Palace hitting a post on that September night though that may be a false memory. Today's trouncing of Arsenal wasn't perfect either as we should have won 14-0. What's more it's Arsenal and even when they're bad they can still force errors and score, but today was as good as – if not better – than anyone could have supposed. I fancied a win, maybe even a convincing one, but not that performance, that dominance.
It was more than a 4-0 home win against a side low on confidence and ambition. Far more. It was a seismic win. It was a message.
The top six sides are forever jostling between themselves for supremacy and that battle is always transitory. One week one club noses ahead, the next another can come from nowhere and take the top spot. At the moment, Manchester United are ahead of the rest while Chelsea are putting the horror show of Burnley behind them and getting on with a run. Spurs haven't settled at Wembley yet and City are eerily reminiscent of Liverpool with their frightening attack and leaky defence. Liverpool are gaining ground and find themselves in second place already.
But Arsenal?
Arsenal are looking like a side who don't fancy a fight. They look like a gap year club.
It's always dangerous to make predictions of this kind, but I can see some similarities between them and the Liverpool sides of 1991-1994. Those were the years when the Reds ran head first into calamity and were unable to deal with the reality that other teams would quite like to be League champions. What's more, other sides fancied their chances playing against us and getting something other than the usual shellacking.
Everyone who likes football can see where Arsenal's strengths lie. They can overwhelm sides with their passing and movement and, when the mood is upon them, are capable of absolutely hammering even the strongest opposition. If you show them fear or a little too much respect, they need no second invitation to kick you in the nuts. Repeatedly.
But over the last few years their soft underbelly has been on show more and more frequently and while it's lovely to watch their flair players do beautiful things, sometimes they just don't like the rough stuff. As Souness said of them a while back they are 'a team of son-in-laws' – always nice, always keen to impress and show how pleasant and well-mannered they can be. Liverpool in the early 90s were the same when Molby and Whelan's midriffs expanded with every passing week. By the time the Sky era kicked in, Liverpool were getting flabby.
That's not to say that Arsenal are chubby. It's far worse than that. They've got lazy. Complacent even. Arrogant. Their starting eleven seemed to think that we would be cowed just at the sight of their kits.
Look at their central midfield. If I were an Arsenal fan in the ground at half time I would have done all I could to get my hands on the substitution notification board, type in Aaron Ramsey's number and hold it aloft in the hope that Wenger would see it and nod accordingly.
The Welshman was everything that Emre Can wasn't. I've not always been a Can fan, but he was exactly what Arsenal needed and didn't have. Physical in the challenge, cute in possession and a tank when moving with the ball. What he didn't do was throw his hands up in the air and complain to his teammates when the right ball didn't come off. You know what teams do that? Teams on the decline.
Liverpool are far from the finished article and there are many concerns about the squad and first team, but there is something oh so right about them at the moment. They are swift, they are headstrong but most of all they are hungry. At 4-0 they wanted more goals. They craved them. Not for them the acceptable tactic of just seeing the game out. No. Liverpool were starving for goals and Arsenal were offering up space and chances in ladles.
So when the top six meet each other it becomes a huge opportunity to set down a marker and even win to such an extent that, like the chubby Reds of the early 90s, they realise that they are beatable and not just by the elite – but by everyone.
Liverpool took more than three points from the Gunners today. They took their self-respect. It was like watching a wrestling challenger throw a champion out of the ring. Arsenal didn't deserve to be in the same ring as the Reds today and they knew it.
13 years ago Arsenal went through a whole League campaign without defeat. Thirteen years is a long time but, watching that today, it must seem like centuries for their fans.
But none of this should take anything away from Liverpool. Their attitude was magnificent and while the three forwards will claim the headlines and plaudits, the midfield three were frighteningly good. Henderson badgered everyone until they yielded possession; Gini danced and was everywhere while the imperious Can showed just why the owners had better get a decent contract offer on the table. He was a revelation today. An absolute revelation.
Momentum is vital in a league campaign and it seems that both clubs are hurtling in different directions.
Enjoy the international break. Let's hope that Manchester City sleep uncomfortably tonight.