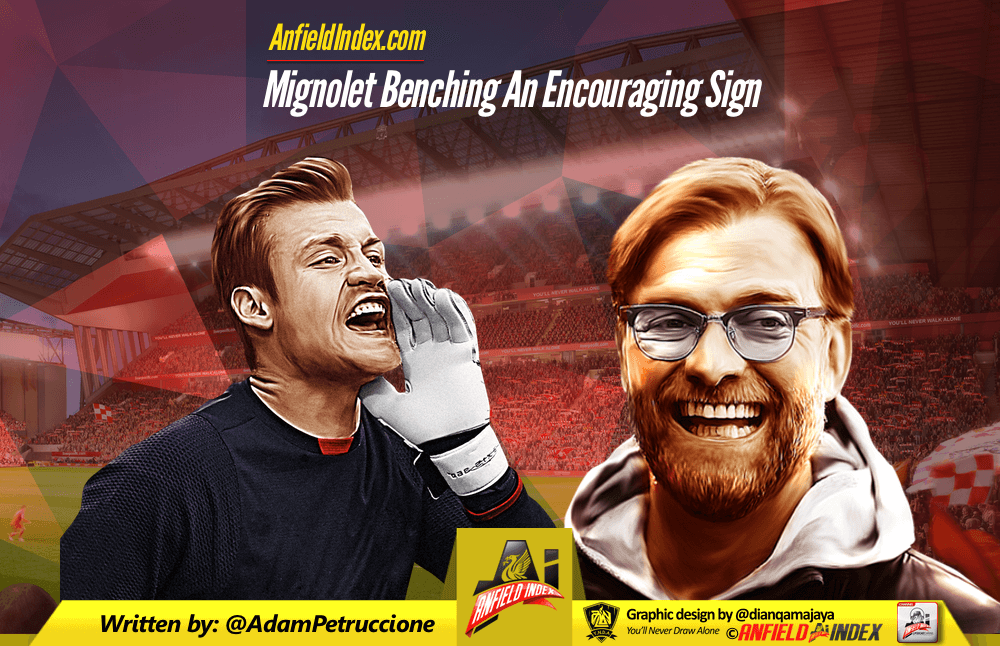 Mignolet Benching An Encouraging Sign

Leading up to the Sunday match against Arsenal rumors started spreading about Simon Mignolet being not only benched, but completely out of the squad in favor of Danny Ward and Loris Karius.
Why is Klopp doing this?  That's so unfair to Simon!  The Twitter grievances started to flow, calling out Liverpool's manager for seemingly reckless behavior.
In his pre-match presser, Klopp confirmed the rumour, but stated, "We spoke about it yesterday. It's just that I want him to have a rest."  It is a bit odd for a keeper to be rested in a Premier League match, especially against a top-six rival, but Klopp insisted that this was all part of the plan.
Is this really a benching for poor performance, dressed up like a simple day off?
The truth probably lies somewhere in-between.  Mignolet retained his position over the summer based on a strong second half to the previous campaign where he commanded his box in ways we rarely saw previously while continuing to provide excellent shot stopping.  In the opening four matches of this season however, signs of the old Mignolet started to creep through with some awkward goals conceded against Watford and less than performances in the Hoffenheim series when defending set pieces.
Don't get me wrong, Simon Mignolet hasn't been poor so far and at times he's been vital.
However, is Klopp searching for something more?
If he is, that kind of ruthlessness should be encouraged from supporters, not criticized.  The fanbase is desperate for the club to acquire upgrades at several positions before the window closes at the end of the month.  So if Klopp isn't satisfied with 'mostly good' at a position where he has the possibility for an upgrade on the roster, why wouldn't he give it a shot.
In reality he should take the same approach to more positions than just goalkeeper.
If Dejan Lovren can't stop making mental errors, how long do we keep starting him because of his physical attributes alone?
If Gini Wijnaldum can't replicate his home performances on the road, is it his smile keeping him on the team sheet away from Anfield?
If Origi isn't going to press like other Liverpool forwards are required to, and isn't as clinical as Sturridge, as imposing as Solanke or as instinctive as Ings, how long should he be a passenger in this club that, at least externally, has a goal of winning domestic and European trophies again?
Signs are pointing up for Liverpool at the moment, and that's exciting.  But, the better the club performs the higher the stakes are.  What silverware we end up with in May will depend on how ruthless Klopp is right now with not only our goalkeeper, but with every potential weak point in the squad.  The manager is stating that he wants to keep Ward because it is helpful for the squad to have three top keepers.  Well if he's trying to strengthen that far down on the roster, then surely other positions are being looked at just as critically, or at least should be.
As the transfer window closes we'll have a much better idea of what Klopp thinks of our depth at other positions.  Prior to today it wasn't clear how much Klopp felt that we needed to improve in order for the club to have a successful year.
The benching of Mignolet doesn't feel nice for Simon, and might even be jarring to some supporters, but it is really a positive sign.  It's a signal that Klopp is determined to push this club forward.  He's not satisfied with 'good enough.'  He's not waiting for a point of weakness to costs us something that counts before he makes a change or at least tries something different.
For our expectations in the remaining days of the transfer window and for Liverpool's long-term future, this new, ruthless Klopp must be an encouraging sign because at long last… his goals, his targets just might match our own.