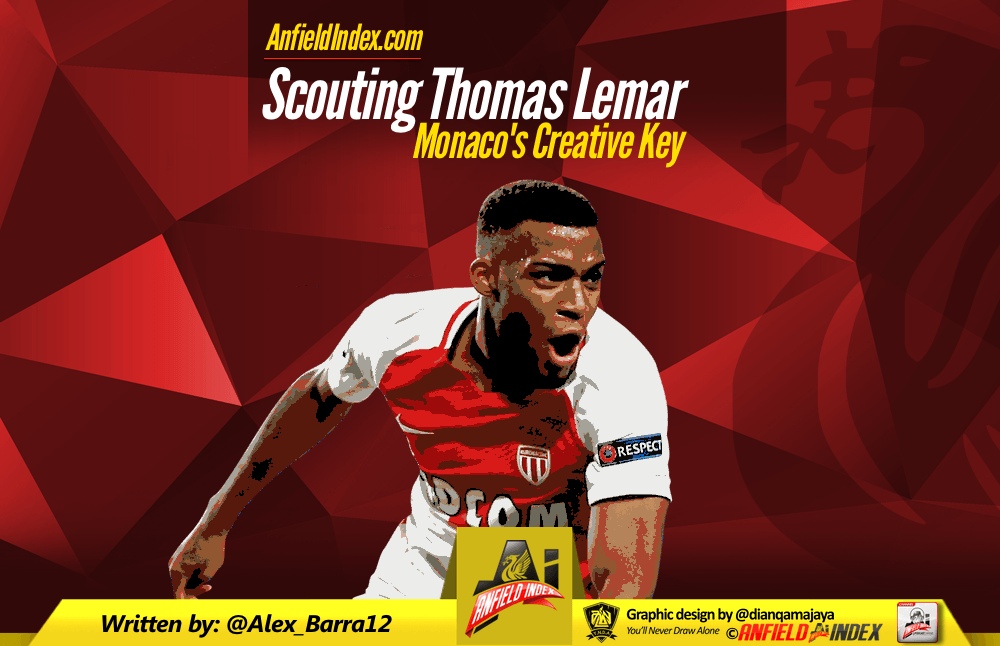 Scouting Thomas Lemar - Monaco's Creative Key
A lot goes into making a top striker succeed. Behind every great striker, there's a creative hub. A plethora of reasons that the goals go in, a variety of different passes and angles in which a defence is stretched and manipulated so that the finisher can do what he does best – finish.
Thomas Lemar made Kylian Mbappe.
The man currently the subject of a ludicrous transfer to Paris St. Germain and the talk of European football – a mercurial talent whose pure goal-scoring potential is rightly compared to Thierry Henry – owes a great deal to the feet and mind of Thomas Lemar. For every goal Mbappe scored for Monaco on their road to the Ligue 1 title, there was a key pass made by the French maestro, weaving magic with his quick speed of thought and wicked delivery.

Now, imagine, for a brief second, the front three that ripped apart Arsenal being fed by a superb creator of chances, someone who's able to score goals himself, and whose ability has not even reached its pinnacle.
Despite the battering of Arsenal, Liverpool do require someone to unlock opposition defences, especially when they're persistent in their desire to frustrate. Thomas Lemar is the key to unlock those defences.
Style
Though he's technically a winger, you'd be forgiven for thinking otherwise. Lemar's natural tendency to drift inside when collecting the ball sees him operate in the #10 position a lot of the time, and when he does end up attacking out wide, it's almost always to collect the ball and either whip a cross in, or cut inside and thread a pass. His head is always up, not simply down to try and beat defenders.
He's the definitive attacking playmaker; due to his ability to inflict pain on the scoresheet, as well as concoct the danger himself for someone else to finish.
Strengths
Having scored fourteen and assisted seventeen across all competitions last season, you could easily just earmark the 21-year old as being the classic winger who gets obscene numbers due to some prolific strikers. But he's so much more than that: operating on the left side of a 4-2-2-2 under Leonardo Jardim, Lemar was integral to most of Monaco's attacking work. He pressed, he carried, and most importantly, he was the one that the midfield would look to in order to execute the final ball. To brandish Thomas Lemar with such a singular paint brush would be to ignore the phenomenal playmaker he is becoming.
He carves out 2.2 key passes per game, effectively creating more chances for his attacking counterparts than much-maligned Phil Coutinho did for Firmino and co. last season, whilst creating nearly double that of the attacking-minded Julian Draxler, who's been the subject of previous Liverpool interest. Nevermind that he's still only 21, and has the potential to become an important cog of whichever attack he's deployed in, Lemar would be able to step into a side with multiple attacking options and have an absolute field day – as he did with Mbappe, Falcao and Silva.
His dribbling ability is peculiar because he seems to switch between favoured feet. Not quite at the level of Ousmane Dembele, of course, but at a point where defenders are often wrong-footed by a simple change of direction, purely because they don't know where he's going. He won't dribble past players with the ball stuck to his feet like Coutinho can, but he will be able to beat a player. Only he won't try to beat another but look for the killer pass, as to bypass them entirely.
A playmaker of his calibre is also benefitted by his superb set piece technique – a wicked delivery – which would be a bonus to a Liverpool side without anyone able to whip a ball into a pack and pick out a header.
Weaknesses
He's not the strongest, nor the tallest, and in a midfield battle – which is often combative in the Premier League – he may struggle initially. That being said, he'll likely be playing as a third midfielder, trying to unlock a deep-set defence, or as the instigator of counterattacks in big games. His slighter frame, then, doesn't become as much of an issue, when you've got Gini Wijnaldum and Adam Lallana performing similar roles.
There's also the pass accuracy – which stands at 82.8% – a statistic that really should be higher, given how often he has the ball. Yes, his team is often moving at pace, but for someone as inventive as he is, there should be a better hit rate.
Where does he fit in?
Would he slot into the front three? Possibly. But his future really lies central, at the behest of a manager who turned Adam Lallana into a key part of a three-man midfield. Lemar doesn't yet possess Lallana's manic energy, but he's a stark improvement in every other facet. The plan was to allow Phil Coutinho to play that role as the third midfielder and allow him more space to work.
Why not give that same opportunity to another phenomenal playmaker with all the hallmarks of a star? Often, Lemar would drift inside from the left, collect the ball in the middle of the park with space to manoeuvre, and carve out a terrific pass to one of those fantastic dynamic forwards. Previously, he had the goal nous of Falcao, the running of Valere Germain, or the instinct of Kylian Mbappe, who was seemingly always in the right place.
Imagine what Lemar could do with Firmino, Mané and Salah. Imagine the havoc the quartet could wreak as a lethal, counter-attacking force.
Go on, imagine. You'll enjoy it.