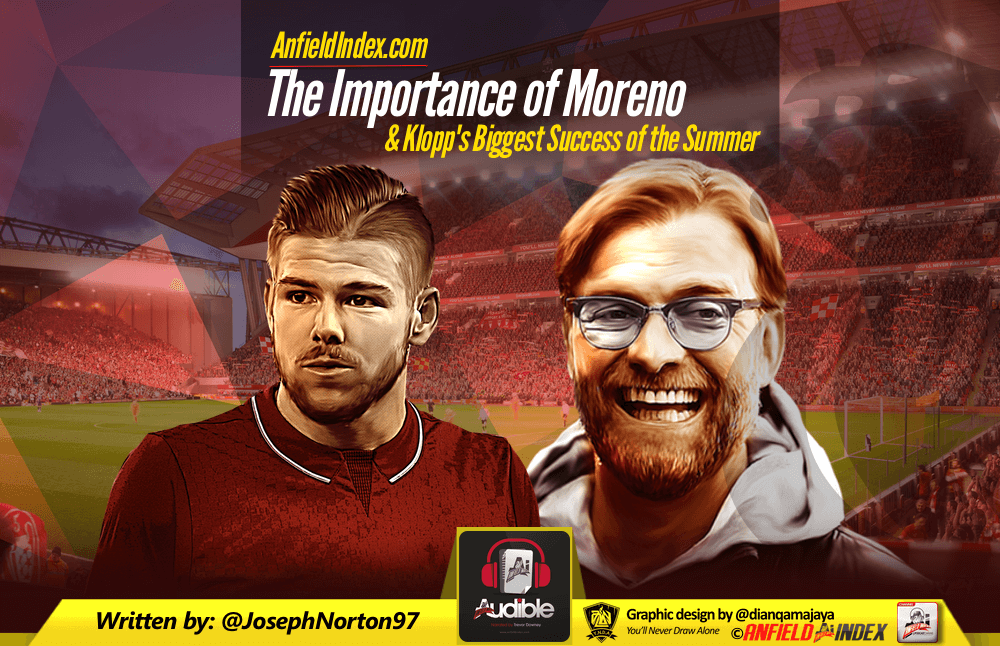 The Importance of Moreno & Klopp's Biggest Success of the Summer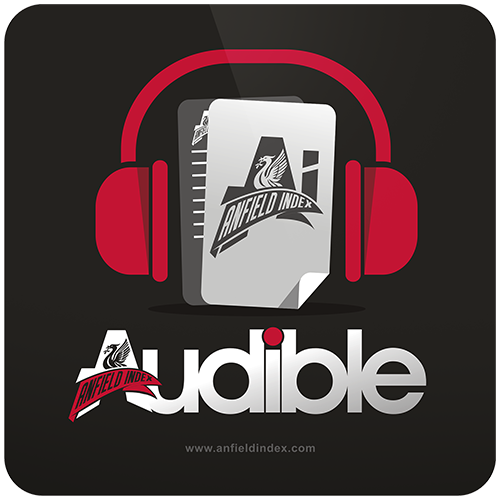 Listen to this article via @AIAudible !
The summer transfer window is now closed and Alberto Moreno is still a Liverpool player, this statement would've infuriated me six weeks ago. Despite not criticising the Spaniard as much as many Reds supporters I had came to the conclusion that although Moreno possesses many attributes which mean he should thrive in Klopp's Liverpool team it appeared he did not have the football brain or even attitude to want to improve and develop under the German.
Although he's only started four games this season, two in the league and two in the Champions league the early signs for Alberto Moreno and Liverpool fans are very positive. As mentioned Alberto is a front foot, all action defender, who carries the ball well and has the ability to deliver quality in the final third, however, far too often over the last three years his decision making and concerning lack of game intelligence has constantly let him down leading to both Klopp and Liverpool supporters losing trust in him. Moreno has now started as many Premier league games this season as he did last which highlights just how far he's come over the summer. Even when the ageing James Milner was struggling to maintain his performance levels at the end of last season, Klopp never saw Moreno as being good enough to replace him – he just couldn't trust him. But now after an impressive pre-season and a string of good performances to start the season it looks as though the Spanish left-back may prove everyone wrong and develop into a very good player. It's early days though.
Due to Coutinho's absence and Adam Lallana's injury, Liverpool's midfield has severely lacked any creativity which has meant attacking full backs such as Alberto Moreno and Trent Alexander-Arnold have been the major beneficiaries as Klopp has recognised he needed to find a way of creating chances from a different area of the pitch. Despite both having solid seasons, Nathaniel Clyne and James Milner rarely put in outstanding performances, which although may not usually be a concern, in Klopp's system where the full backs are asked to push high and wide and be important parts of our offensive play it did become of bit of a problem. The Reds and Tottenham play in a very similar way and we all know how influential Danny Rose and Kyle Walker were for them last season, whilst also being crucial parts of their impressive defensive unit.

Yes a balance can be stuck between the two. Despite having all the attributes to be eye catching in an attacking sense, Moreno often made poor decisions in the final third leaving supporters questioning just what he offered to the team especially given the fact he was a liability at the back. The biggest problem we had with Moreno was that he just never learned from his mistakes, when all his team mates were developing under the coaching of Klopp he just continually made the same errors time and time again, however, this summer something seems to have really clicked with him. He's finally realised they'll be no better manager for him to learn and develop under, if he leaves a club like Liverpool he probably won't get the opportunity to play for a better club and there is no system more suited to his style of play than the one Klopp has implemented over the last two years.
Moreno's improvement has been there for all to see and apart from a few difficult moments away at Hoffenheim he has hardly put a foot wrong. Because the Spanish left-back hardly played last season I have compared some of his stats from the 15/16 season and Milner's stats from last season to see if his apparent improvements have been reflected when we look at a few key areas. Moreno's tackles per game at 5.5 are significantly higher in the first two league games of this season than in 15/16 when he averaged 2.4; this suggests he is reading the game better and is recognising the right times to make a tackle and when it is best to simply slow his winger down. His tackles per game are also much higher than what James Milner averaged last season at 2.6. This is unsurprising to see as Moreno is a more aggressive, front foot defender which makes him perfect for Klopp's system. The Spaniard also impresses when we compare the number of clearances he's made per game, he averages 3.5 this season, compared to 2.8 in 15/16 and the 2.3 that Milner averaged last season. Again although there is only a small sample size from this season there are encouraging signs that Moreno is reading the game better and thinking about his positioning meaning he is in good positions to either make tackles or clear the ball. In the the few games we've seen of Moreno, he now appears to understand the importance of covering for his left sided centre back when the ball is on the opposite side of the pitch making us much more solid defensively. The most impressive stat for me comes from Squawka which shows that Moreno has won 65.38% of his duels which is extremely impressive when compared with Milner's 42.23% from last season and Moreno's 45.80% in 15/16. Again this reinforces the idea that the Spaniard is reading the game much better and making smarter decisions when defending. As well as contributing a lot more defensively with tackles and clearances he is also being successful in these actions which is a major positive and something which supporters have always been very critical of.
When we look at things in a more attacking sense it is unsurprising that Moreno averages more dribbles per game than Milner did, with both averaging 1 and 0.9 respectively with Moreno in 15/16 averaging 0.8. James Milner averaged 1.6 key passes a game last season the same as Moreno in 15/16, however, Alberto is currently only averaging 1 key pass per game. Again it must be remembered that we're looking at a very small sample size so these could all change significantly but I have always thought that considering how attacking Moreno is his end product has to be a lot better. He often finds himself in very good positions but his decision making often lets him down, therefore, as well as continuing his improvement defensively he also needs to work on his influence in the final third of the pitch. What can be taken by looking at these stats is that Moreno is clearly listening to Klopp and improving as a player particularly in a defensive sense. He can at times get beaten too easily which is often down to him over committing and then making a rash decision to lunge into a tackle which we saw him do on more than one occasion away at Hoffenheim.
One of the key areas the Spaniard has been criticised for is his decision making and defensive positioning which as I have mentioned seem to be improving. Having watched him very closely over the last couple of weeks he is now making a conscious effort to protect and cover his centre-back which is a job a full back must be able to do. Another major positive is how Moreno is now jostling and making contact with opposition forwards to either stop their runs or make it difficult for them to get away from him. These small details are often overlooked by supporters but they're all aspects of the game the best defenders in the world have, ensuring their attackers rarely get the better of them.
As stated it is too early to make a sweeping judgement about Moreno and how positive of an influence he will have on the team this season but the early signs are extremely encouraging. As supporters we've all been quick to criticise Moreno when he has let the defensive unit down and rightly so, therefore, it's only right that we recognise the impressive performances he has put in this season. At a crucial time where we have been without some of our best players there has been an added pressure on our full backs to deliver in both an offensive and defensive sense and Moreno seems to be taking his final opportunity with both hands. The Spaniard has all the attributes to flourish in this Liverpool team under the guidance of Klopp so let's hope he continues this wonderful improvement meaning the Reds will have real strength in depth in our full back positions. Moreno finally seems to recognise what is required to play at a top club like Liverpool, impressing in both an offensive and defensive sense. At the end of last season it looked impossible for Alberto to play for Liverpool again which is why his transformation could be Klopp's biggest success of the summer… It's still early days though!
*Statistics courtesy of whoscored.com