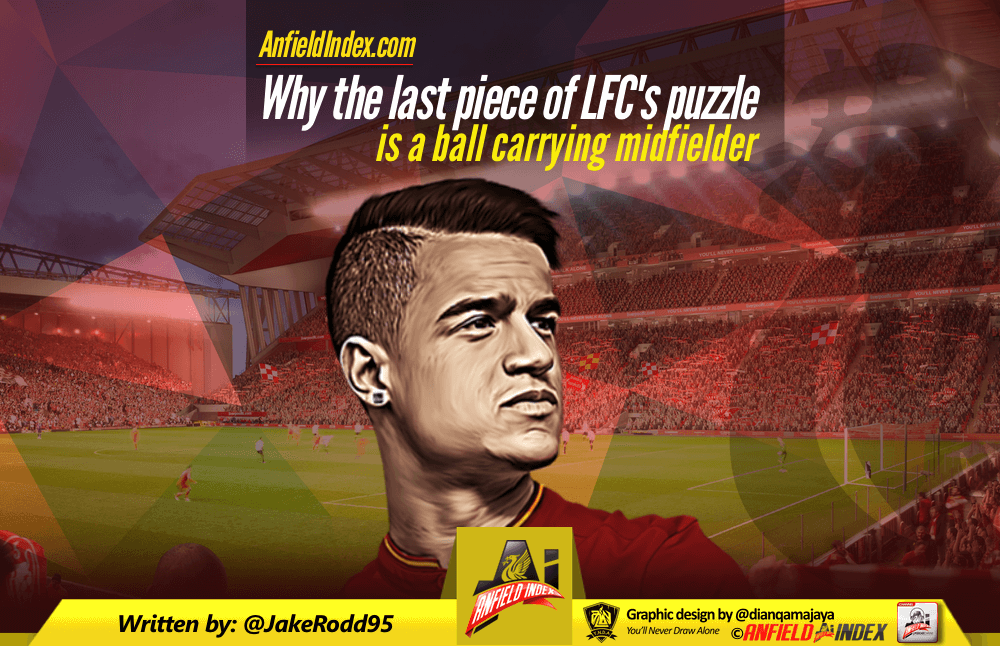 Why the last piece of LFC's puzzle is a ball carrying midfielder
Liverpool have kicked off the 2017/18 season in some style, taking seven points from a possible nine in the Premier League whilst cruising through their Champions League qualifier with surprising ease. Moreover, off the pitch, the rejection of Catalan advances on Phillipe Coutinho in conjunction with big money bids for Thomas Lemar and Naby Keita (the latter, of course, being successful) seems to indicate a refreshing, positive attitude from Liverpool's heirarchy that bodes well for the future.
Liverpool, it seems, are doing their best to tick the boxes that need ticking if the Reds are to consolidate their place in the Champions League for the foreseeable future.
Work is still required, of course. Failure to defeat Watford and an unnecessarily nervy victory at home to Crystal Palace indicates that Liverpool's midfield can, at times, be a little too defensive.

Against offensive sides (such as Arsenal), a midfield trio of work-horse style midfielders such as Jordan Henderson, Emre Can and Gini Wijnaldum offer enough offensively, since the opposition defence pushes up – allowing Sadio Mane and Mohammed Salah space to run in behind and create chances. In this scenario, the industrious midfielder mould is ideal since winning the ball back, followed by quick distribution to the wings, is the way in which Liverpool intend to create chances.
However, when teams do not attack Liverpool, this approach is not a viable one. When opposition defences sit deep (as most will do), they do so to counteract the threat posed by Salah and Mane – if there is little space in behind, the counter-attacking threat is largely nullified. The onus, then, shifts onto Liverpool to carve out opportunities by moving opposition players out of position.
One way to do this, of course, is by moving the ball quickly.
This, though, requires at least one very quick-thinking midfielder that excels in tight spaces. Fortunately, Liverpool have two excellent players that fit such a description. Unfortunately one, Adam Lallana, is injured, and the second, Phil Coutinho, is not guaranteed to be a Liverpool player come September 1st.
In the possible scenario that Phillipe Coutinho leaves this week, Liverpool will need a replacement. Naby Keita, having demonstrated competence offensively and, albeit to a lesser (but satisfactory) extent, defensively, fits the bill perfectly. His transfer fills an urgent gap but he, unfortunately, is not a usable asset until July 2018.
Having a midfielder that is willing to carry the ball will be an enormous help to a Liverpool side that, currently, possesses immense threat up front but lacks the key to truly unlock its potential against more defensive set ups. Against Crystal Palace, for example, 43% of Liverpool's efforts on goal were from outside the opposition penalty area with a further 18% coming from crosses which, in itself, indicates difficulty penetrating opposition defences.
A creative midfielder to sit alongside Emre Can and Jordan Henderson solves this problem by allowing Liverpool to attack with more fluidity and creativity, thus making full use of the outstanding abilities of Mane, Firmino and Salah.
The return of Phillipe Coutinho is just what Klopp's system needs. If Liverpool's diminutive number 10 stays, he will slot into the midfield-three, pulling the strings from deep – such a system allows him the freedom to influence games and make the most of his outstanding talent.
This midfield role is crucial to the team – it links midfield and attack. Given Adam Lallana's lengthy projected spell on the sidelines, Liverpool cannot let Coutinho leave without a replacement – doing so risks a lack of creativity in midfield that could cost Liverpool results.
It is the next few days, then, that shall define Liverpool's season. Liverpool have depth enough in central midfield and sufficient attacking options, but failure to hold on to Coutinho (or replace him, if need be), who links midfield and attack expertly, will severely hinder Liverpool against lesser teams – at least until Lallana, Klopp's other 'offensive number eight', returns. If Lallana is absent until November, Liverpool are taking a big risk.