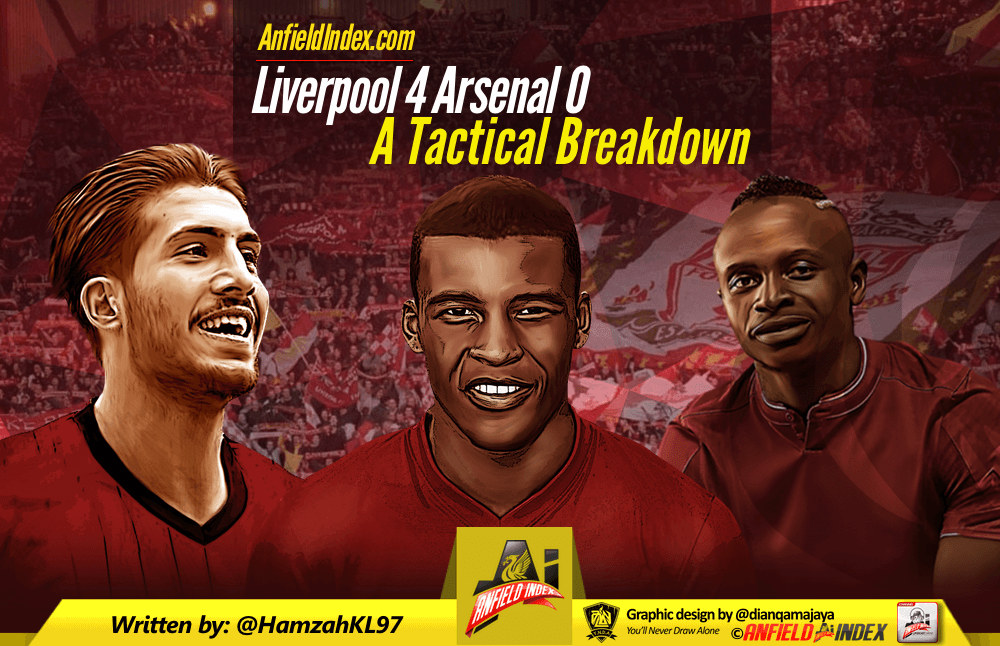 Liverpool 4-0 Arsenal: A Tactical Breakdown
After a dominant display against Hoffenheim, Liverpool were starting to look something like the team that did so well for the first half of the 2016-17 season.
Whilst Liverpool have a good record, of late, against Arsenal and the rest of the top six, there are few games that get fans so excited and worried at the same time.
Arsenal though, played into Liverpool's hands with their tactical setup, and as a result Liverpool simply blew them away. We'll be looking at how Arsenal's tactics led to Liverpool's four goals, and how Liverpool worked to create them too.

The Stats
Possession
LFC: 49pc
AFC: 51pc
Pass success
LFC: 81pc
AFC: 81pc
Key passes
LFC: 13
AFC: 6
Total passes
LFC: 508
AFC: 538
Shots
LFC: 18 (10 on target)
AFC: 8 (0 on target)
Team distance
LFC: 111
AFC: 107
Interceptions
LFC: 15
AFC: 16
xG
LFC: 3.9
AFC: 0.6
1-0, Liverpool, Firmino, 17′
Liverpool's opener was deserved – after around 10 minutes of pressure, and a wonderful chance engineered by Can, for Salah, Liverpool should have already been one up. Nonetheless, Firmino was on hand to score.
Joe Gomez may have got the assist for this goal, but he can also lay claim to starting the move: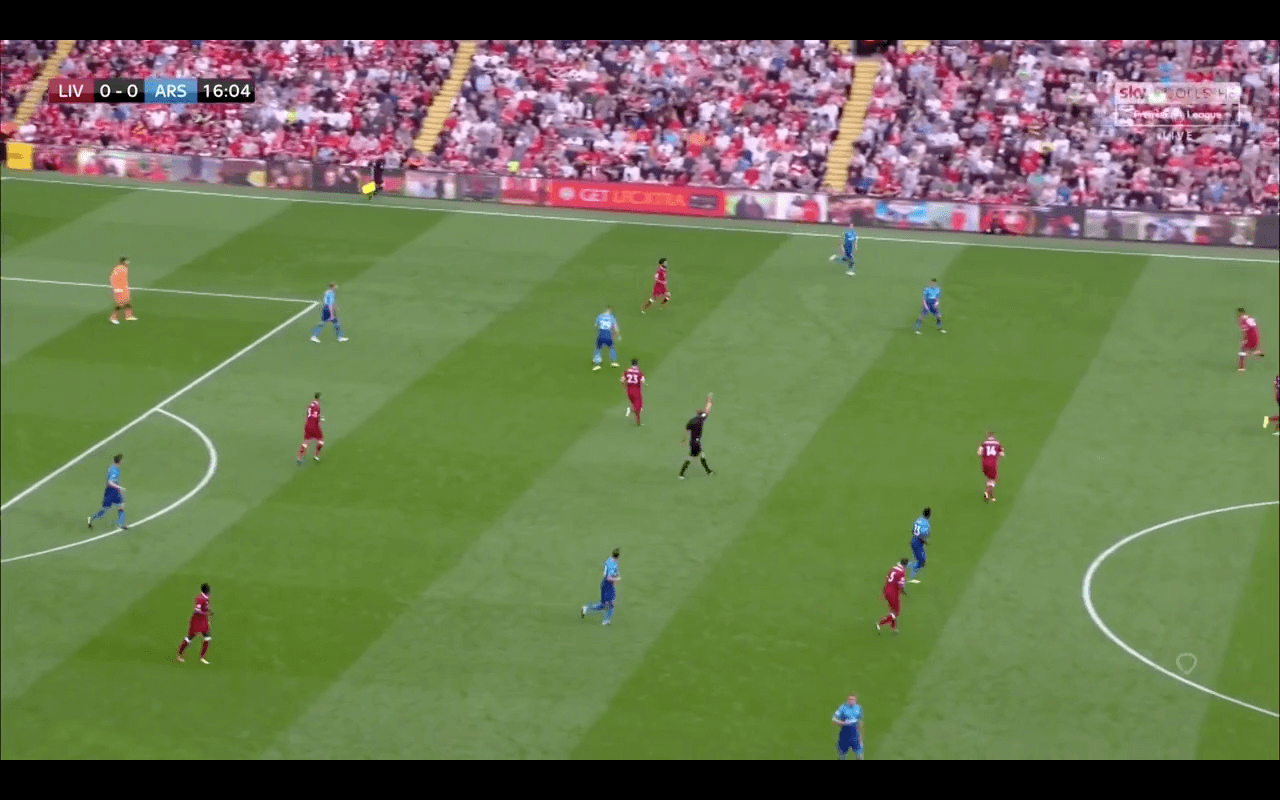 Key to understanding Liverpool's dominance, and tactical superiority is the position of the Liverpool wingers.
Liverpool used the same tactic to devastating effect against Hoffenheim, who also utilised a 3 at the back system. The wingers would start wide, between the WB and CB, before coming inwards, compressing the Arsenal defence, allowing for overlap runs, or space creation in the LW/RW channels for the full-backs.
In the image above, we can see Salah positioned in the gap between the LBW, Bellerin, and the LCB, Holding. Mané took up the mirror position on the other side of the pitch.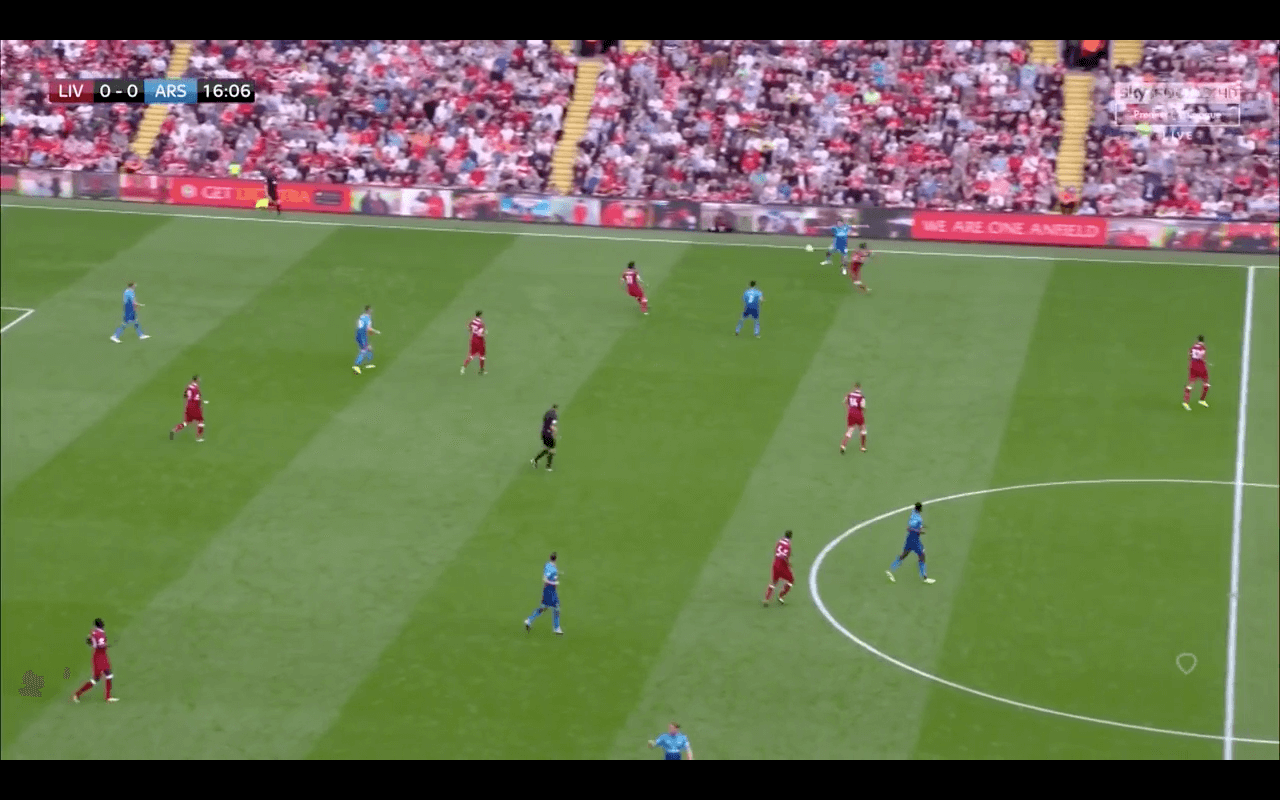 In this frame, we see Gomez challenge for the pass into Bellerin, who as a natural right-footed RB, prefers to take the ball on his right side – but as he was forced to play as a LWB, he opens himself to control the ball with his right foot, allowing Gomez the opportunity to poke the ball away.
Essential to this goal is the work and run of Salah, so keep an eye on how he shapes his run.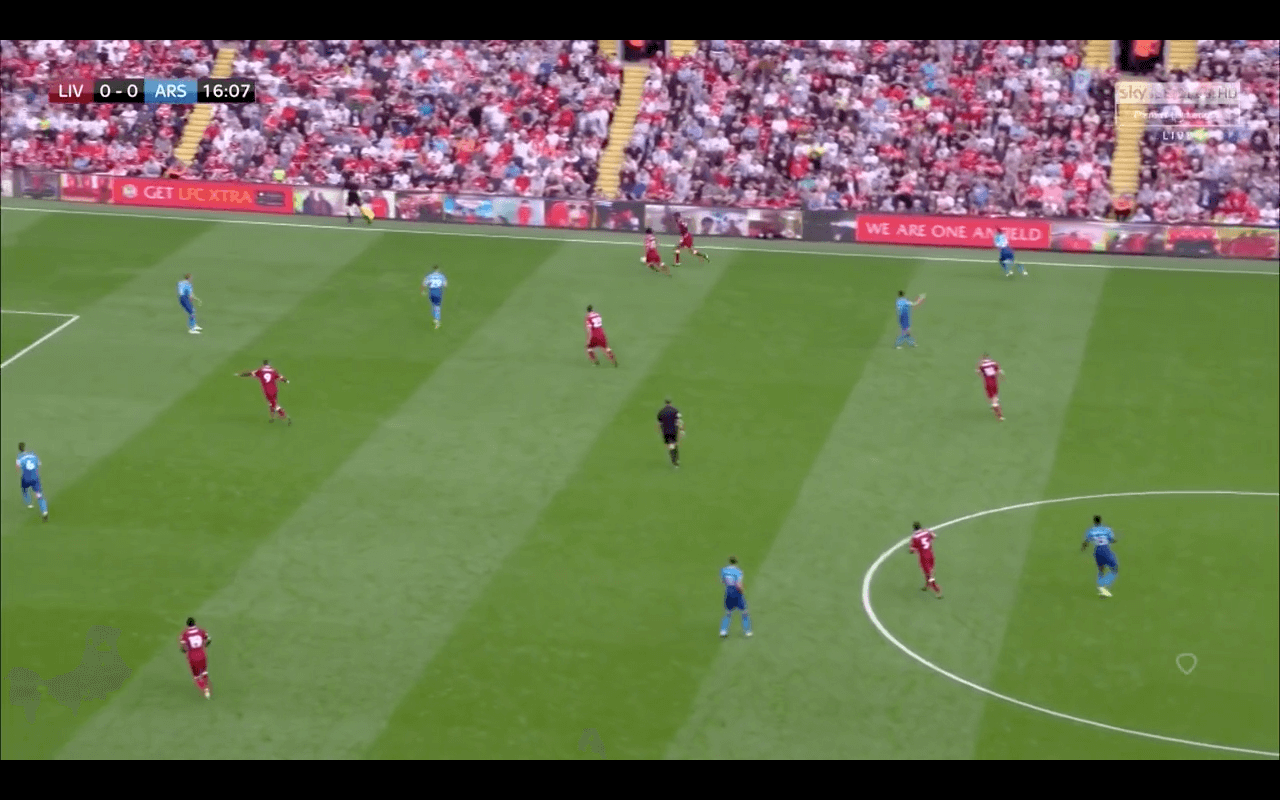 Liverpool are fortunate Sanchez, in his frustration, decides against tracking back, but now we see the benefit of Salah targetting the channel between the LWB and LCB, with space ahead of him, and Xhaka forced to come across – creating space centrally.
Look at Salah's run in the next four frames: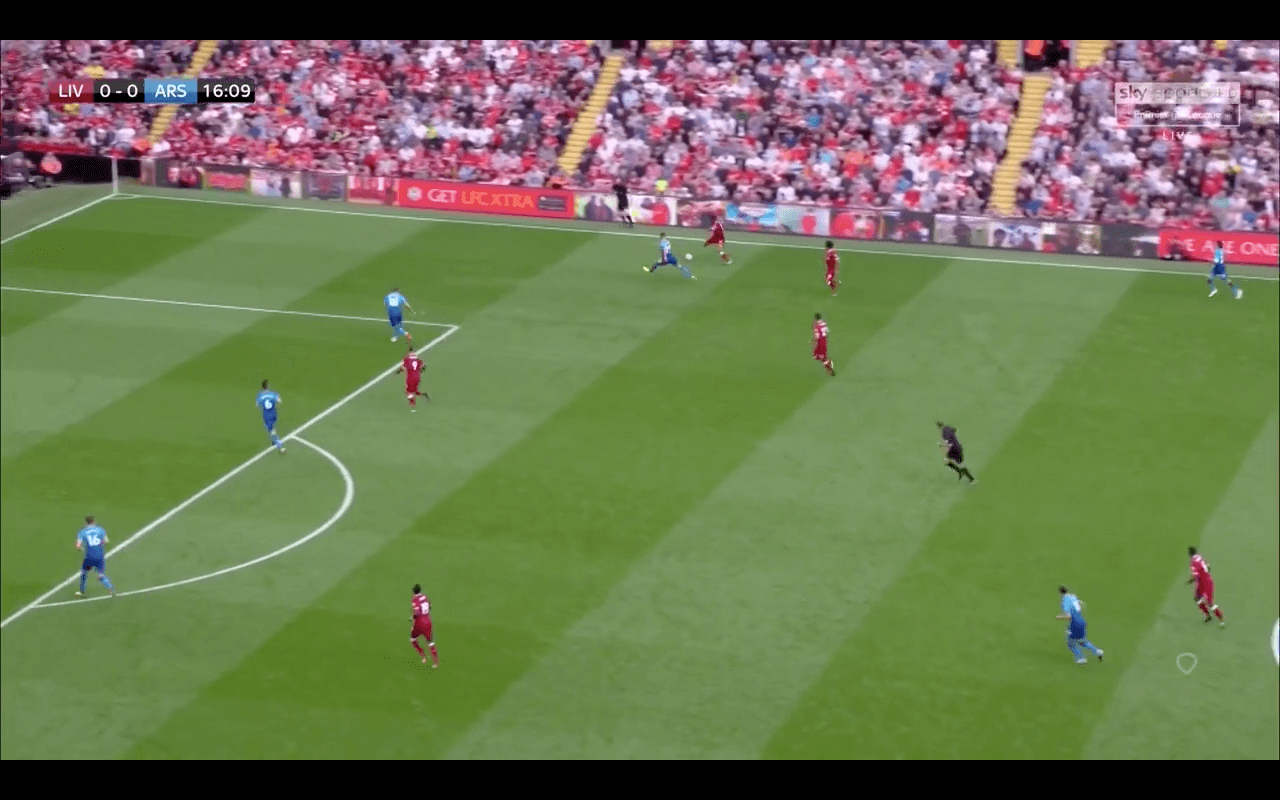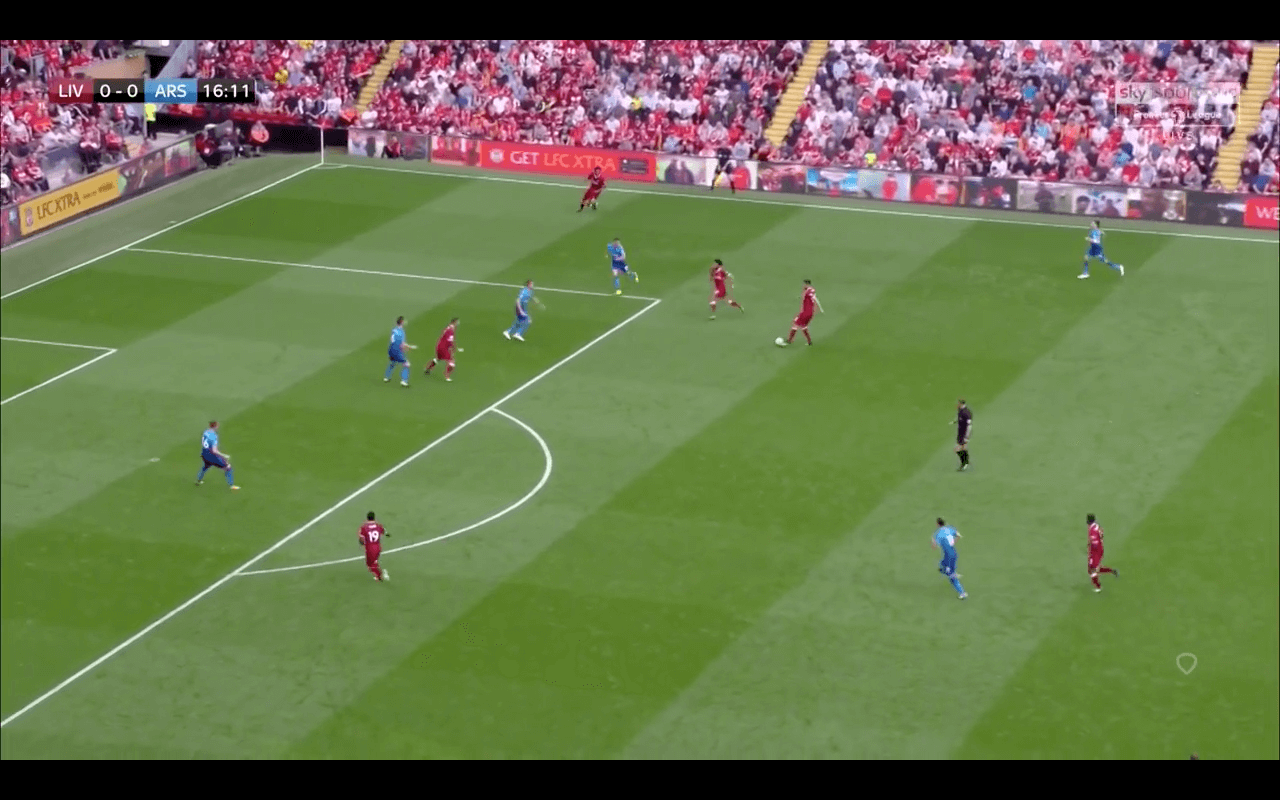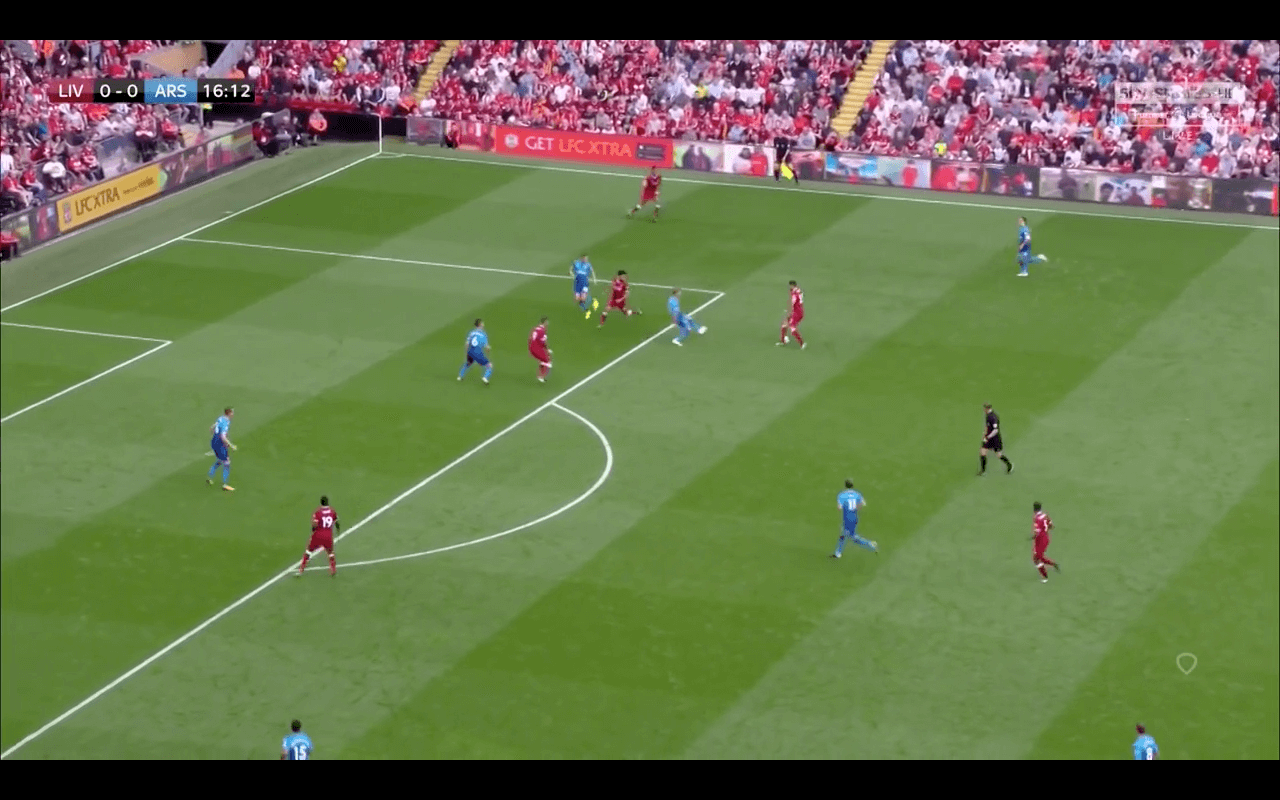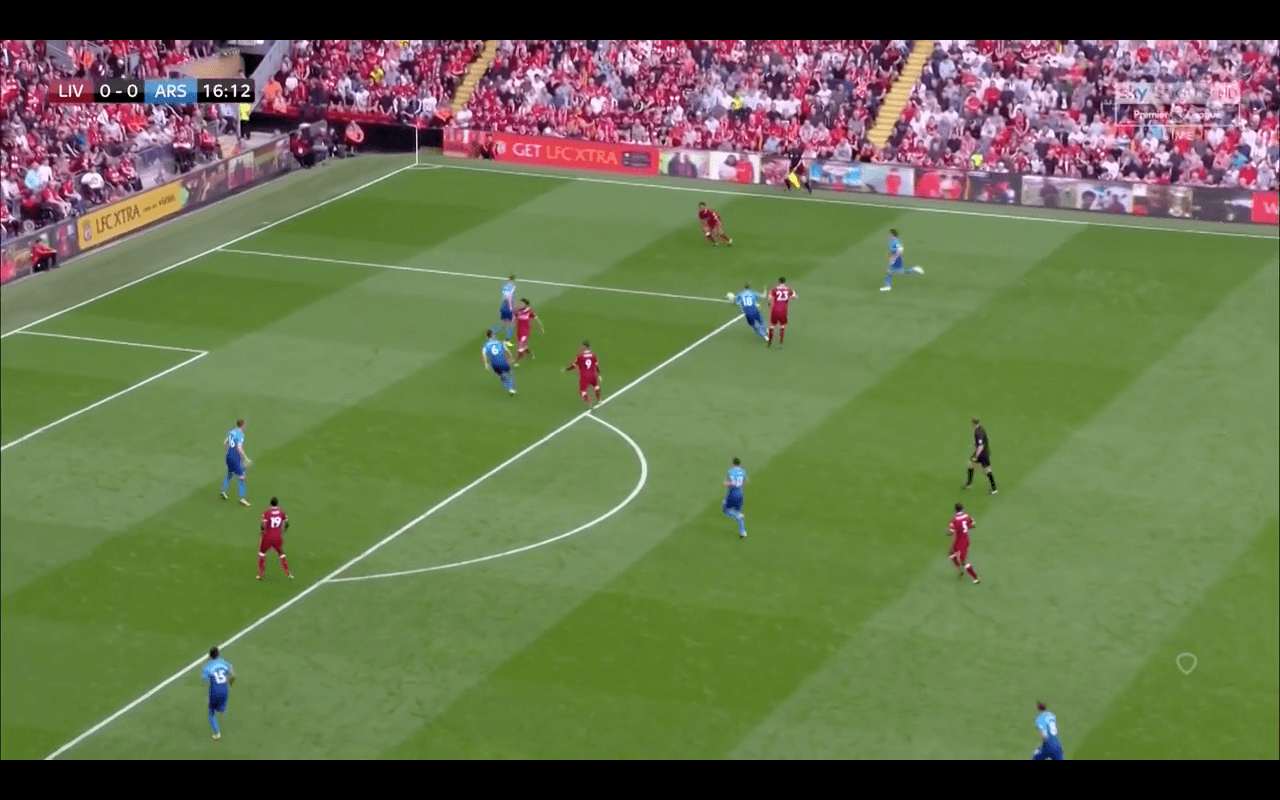 From the right wing, Salah runs into the box, right into Firmino, who was being marked by Koscielny.
With Bellerin yet to recover, Holding is concerned about the threat of Gomez running at him.
The product of Salah's and Gomez's runs are that Firmino, through pulling away a few steps, has suddenly found space aplenty, and runs between Koscielny and Monreal – the latter of whom is concerned with Mané: positioned between the RCB and RWB.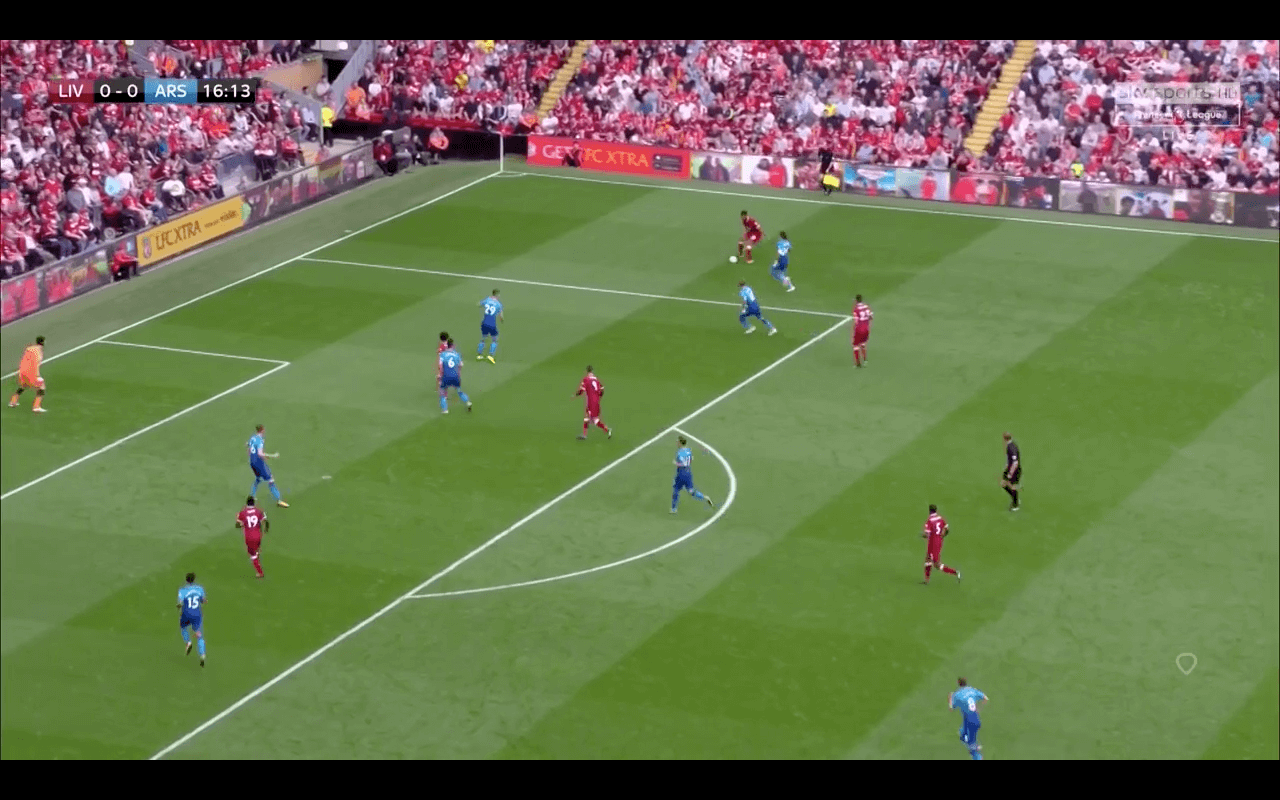 Gomez cuts back, onto his weaker foot, and delivers a fantastic cross, which Firmino is all too happy to knock into the net.
Even with eight Arsenal players in the box, Liverpool were able to score with just three of their own in the box, due to positional play, and some terrible work by Arsenal.
2-0, Liverpool, Mané, 40′
40 minutes in and Liverpool were utterly dominant. Fans were anxious that all of the good work the team had put in would go unrewarded, and Arsenal may just survive conceding the goal that could put the game out of reach for them.
In one sense, this was simply a clinical, fast counter-attack, which Liverpool worked well. However when we look at it, it's nothing more than a total shambles by the Arsenal midfield.
Arsenal actually found themselves in a promising position, just before the Liverpool counter-attack, but note the position of Aaron Ramsay, who is offside and cannot affect the play.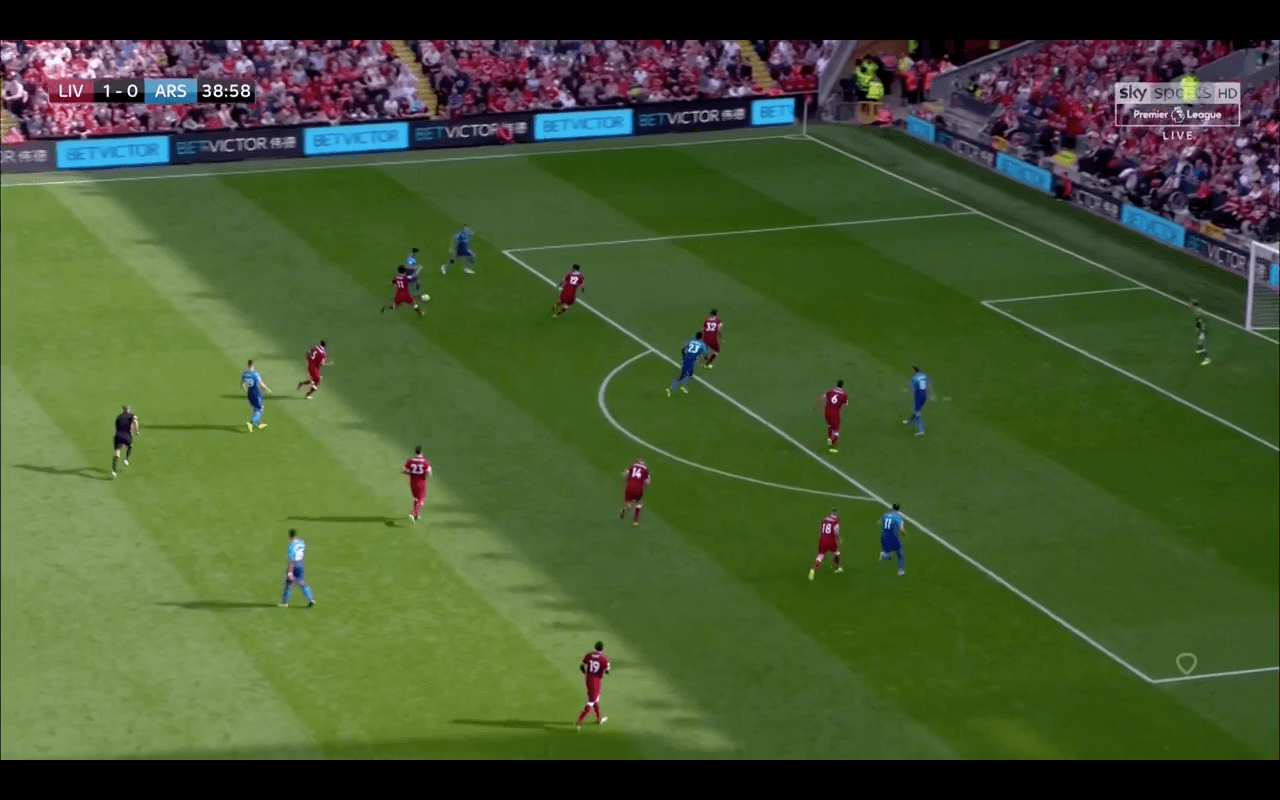 As Gomez makes the interception, it is clear Arsenal have overcommitted, but, despite this, Xhaka charges in, instead of backing off to help his defence set itself.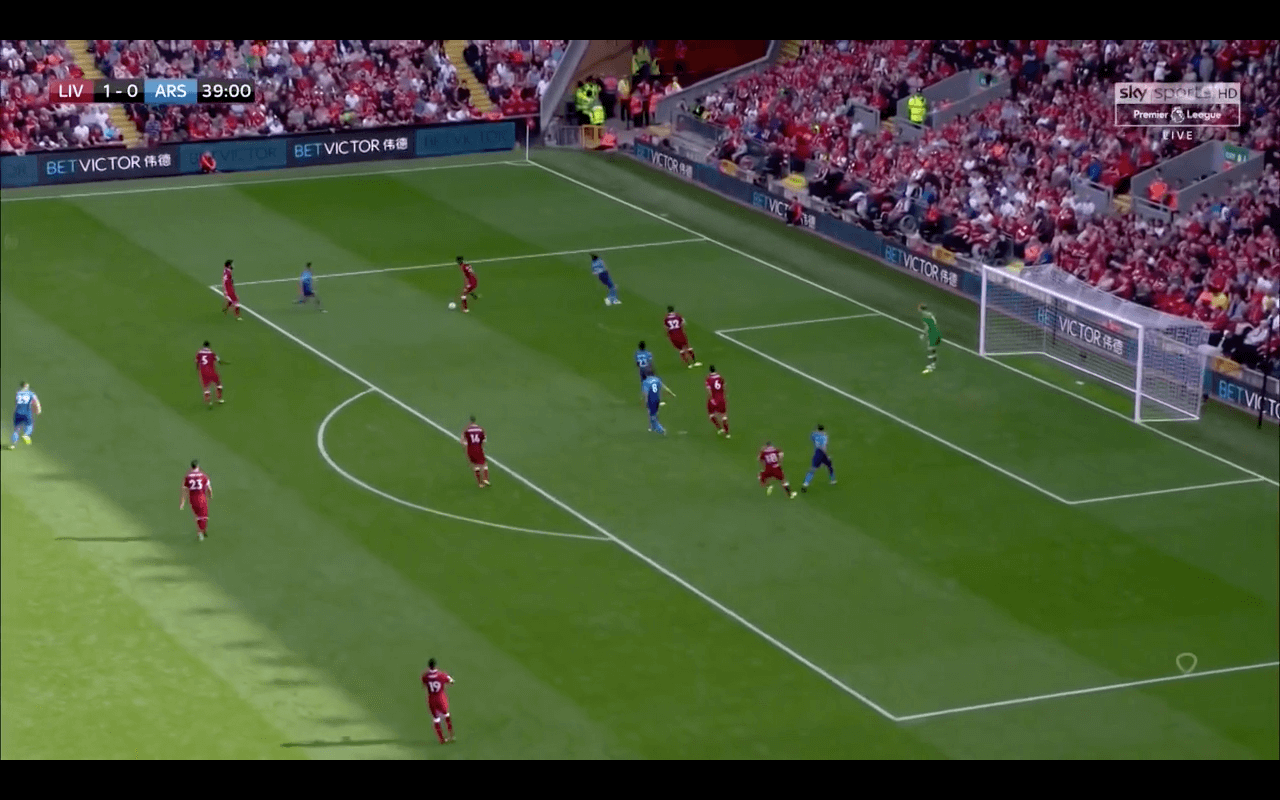 Xhaka's reckless run actually gave Emre Can the freedom to turn, and run towards the Arsenal goal. Realising his mistake, Xhaka tries to foul Wijnaldum, and succeeds, but only after the pass is made, and the damage is done.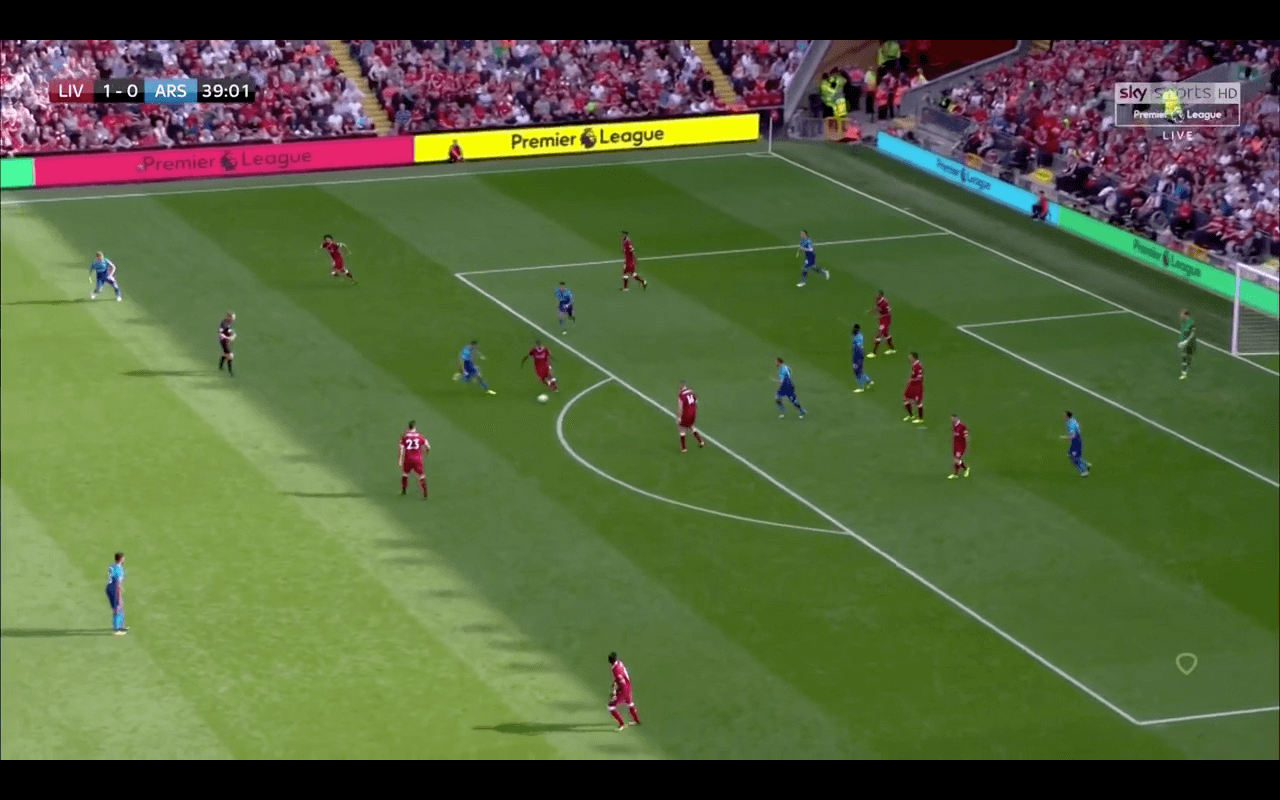 From here, Salah and Mané charge down the wings, keeping their wide positions, to stretch the Arsenal defence, and to create gaps, between the CBs.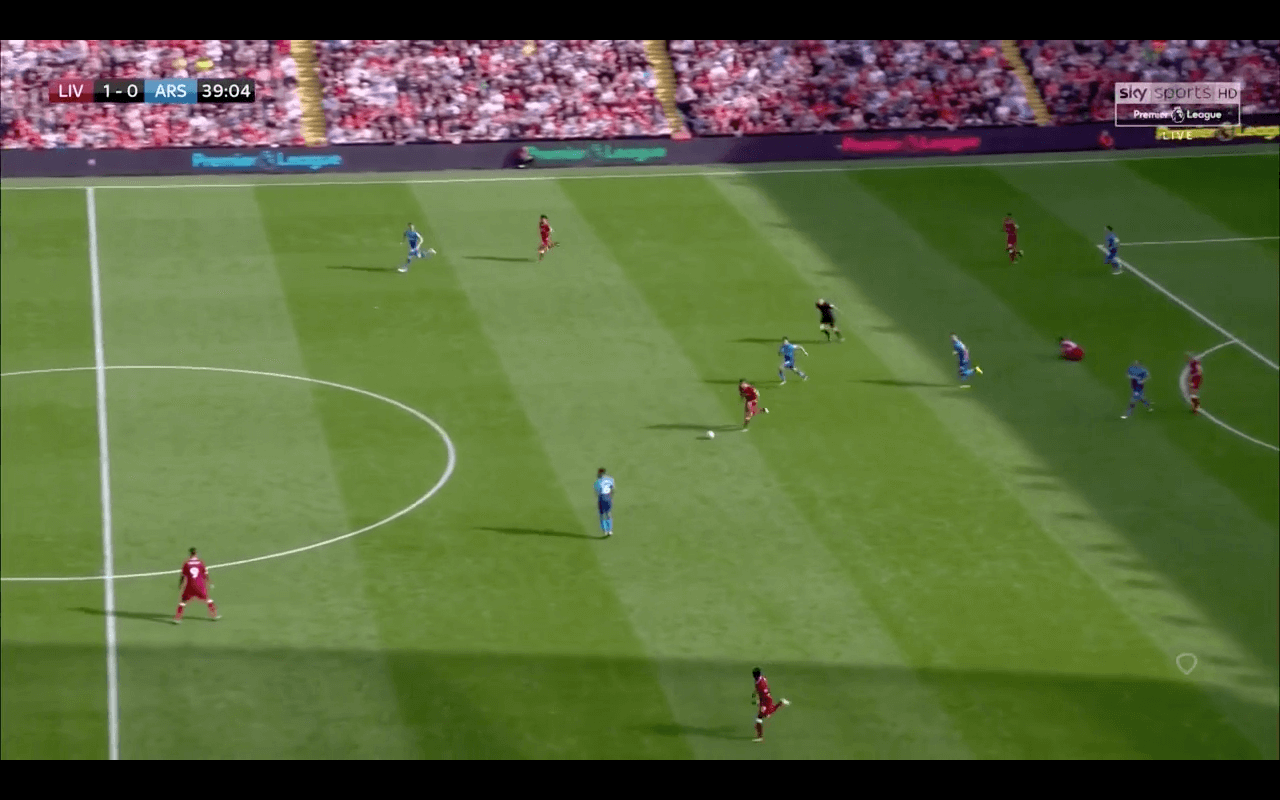 Firmino, below, stays central, and draws out Holding, creating explicit space for Mané.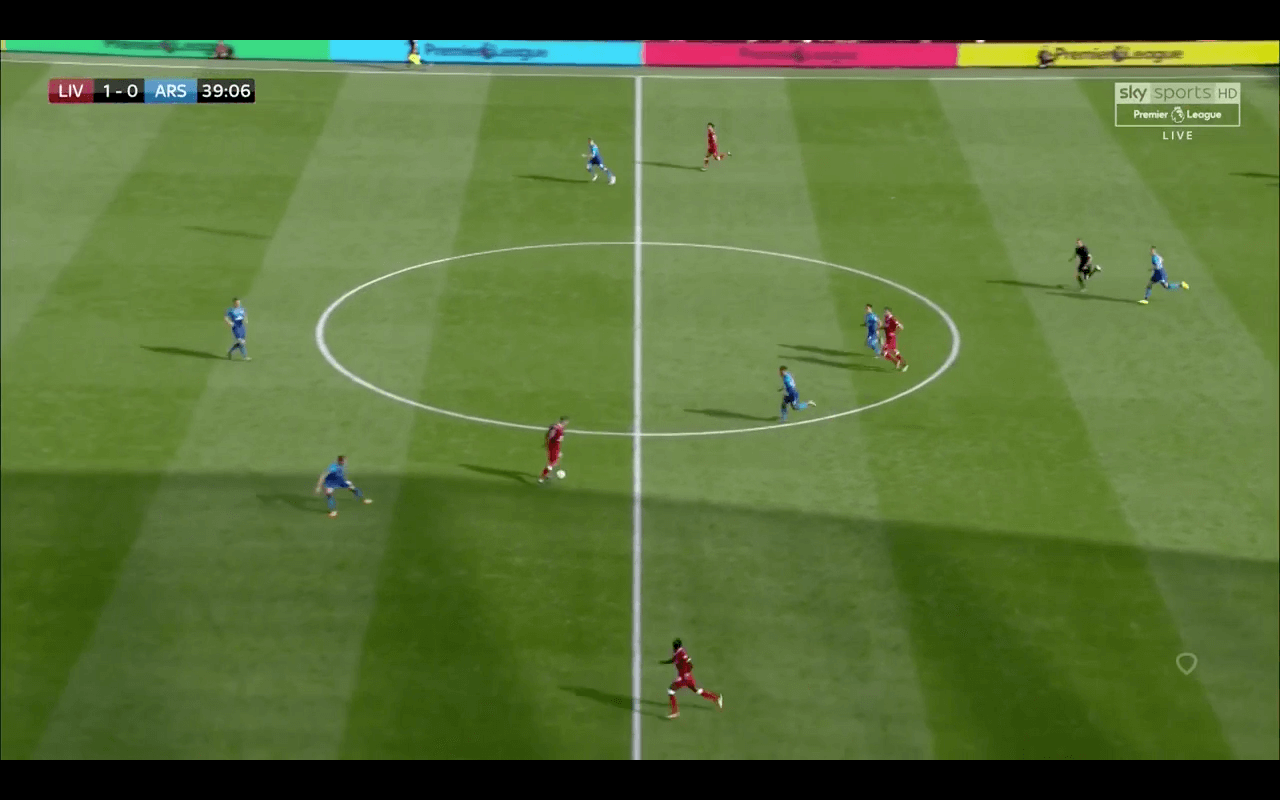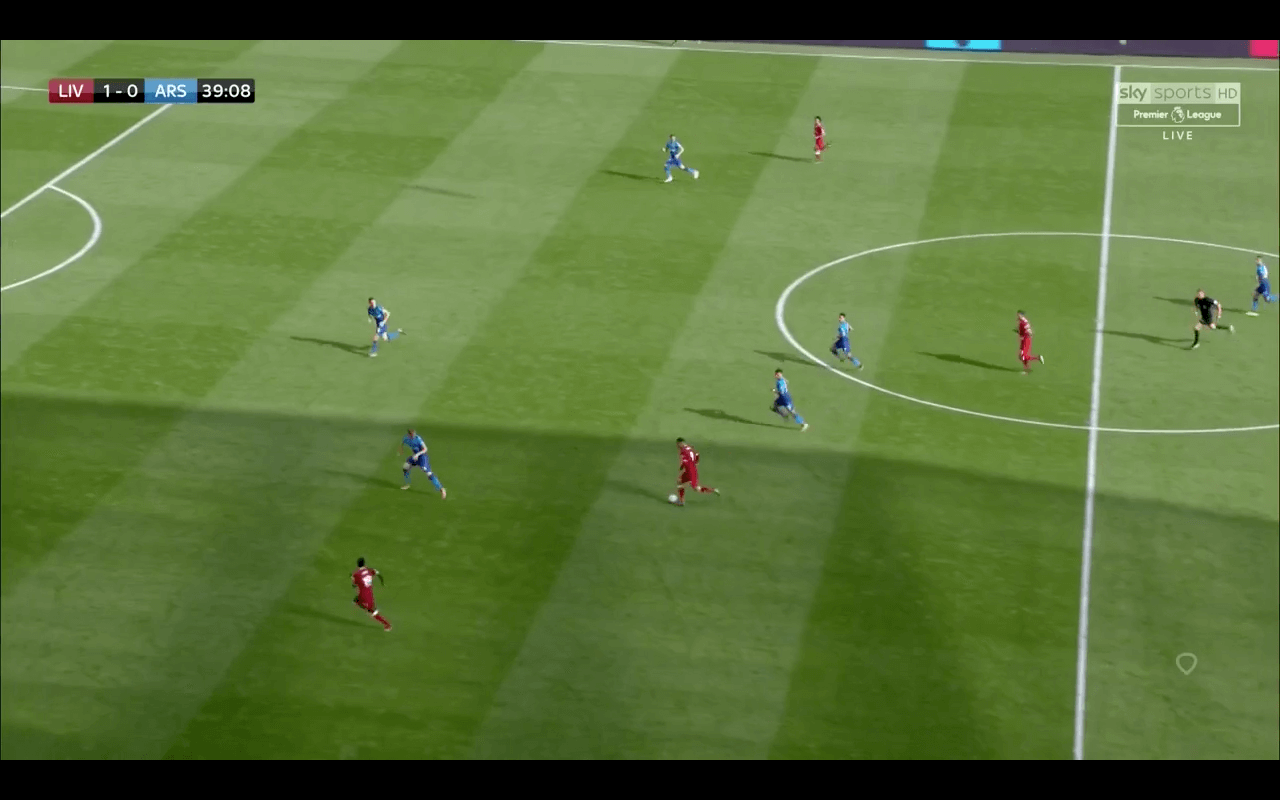 In the last frame, we see how Salah has now come inside, but has cut back to the middle of the box, whilst Firmino is targeting the space Salah's run has just made: attempting to slot in between the CB and LCB. Mané though, in a one versus one situation needs no help, as he cuts inside and fires away his shot, and with it, Liverpool's second goal.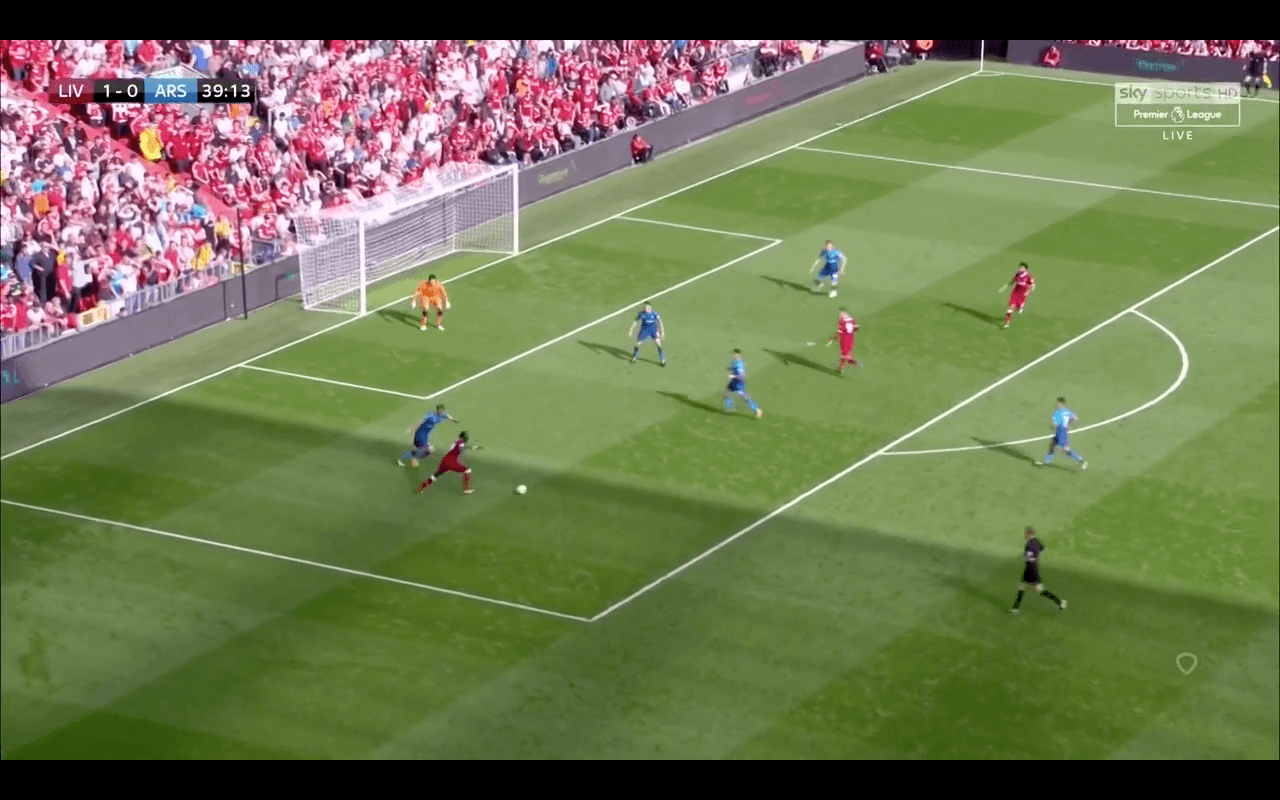 3-0, Liverpool, Salah, 57′
A breathtaking display of pure pace, from Liverpool's roadrunner, Mo Salah. At the point at which Matip heads the ball away, it appears Bellerin is set to control the ball, and recycle it.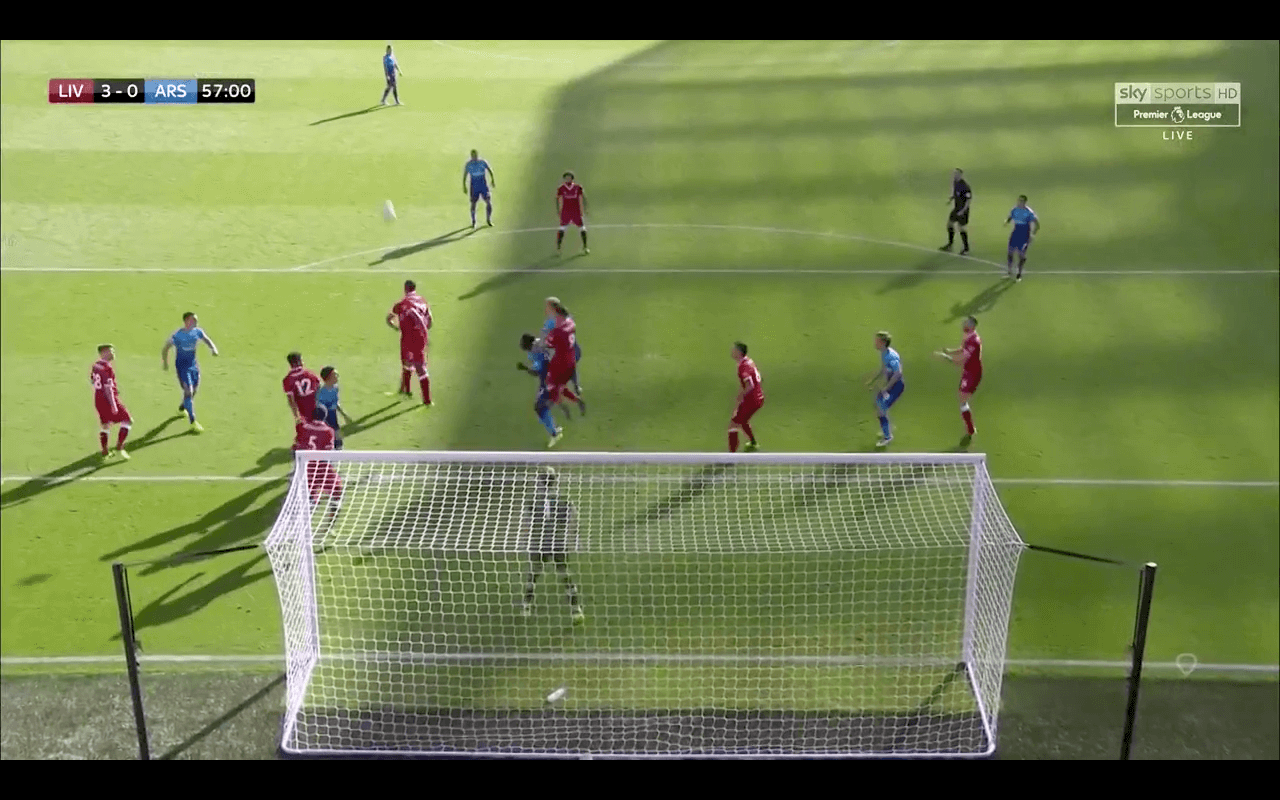 Salah though, gambles on Bellerin miscontrolling the ball, despite initially facing the Liverpool goal and having to turn before even deciding to press.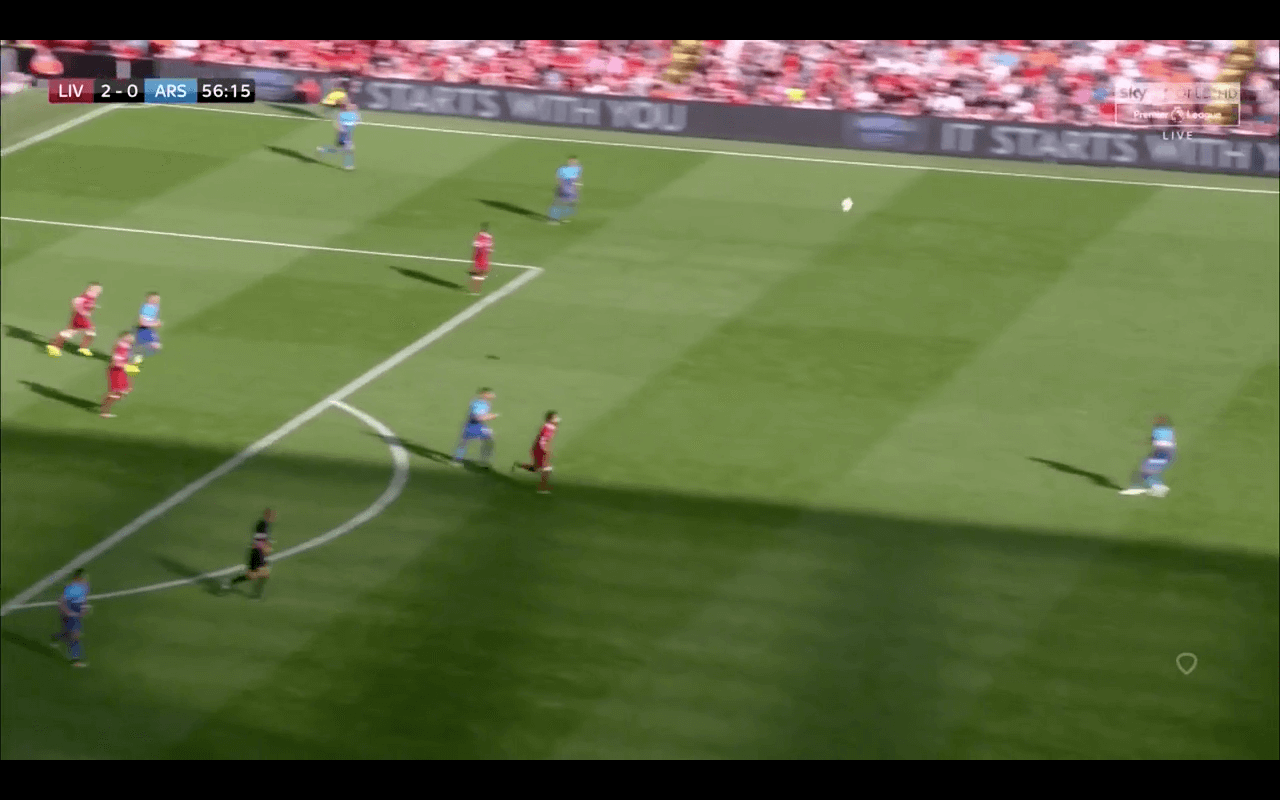 Bellerin's touch is poor, but he has an opportunity to clear, instead though, he decides on taking on Salah's gamble.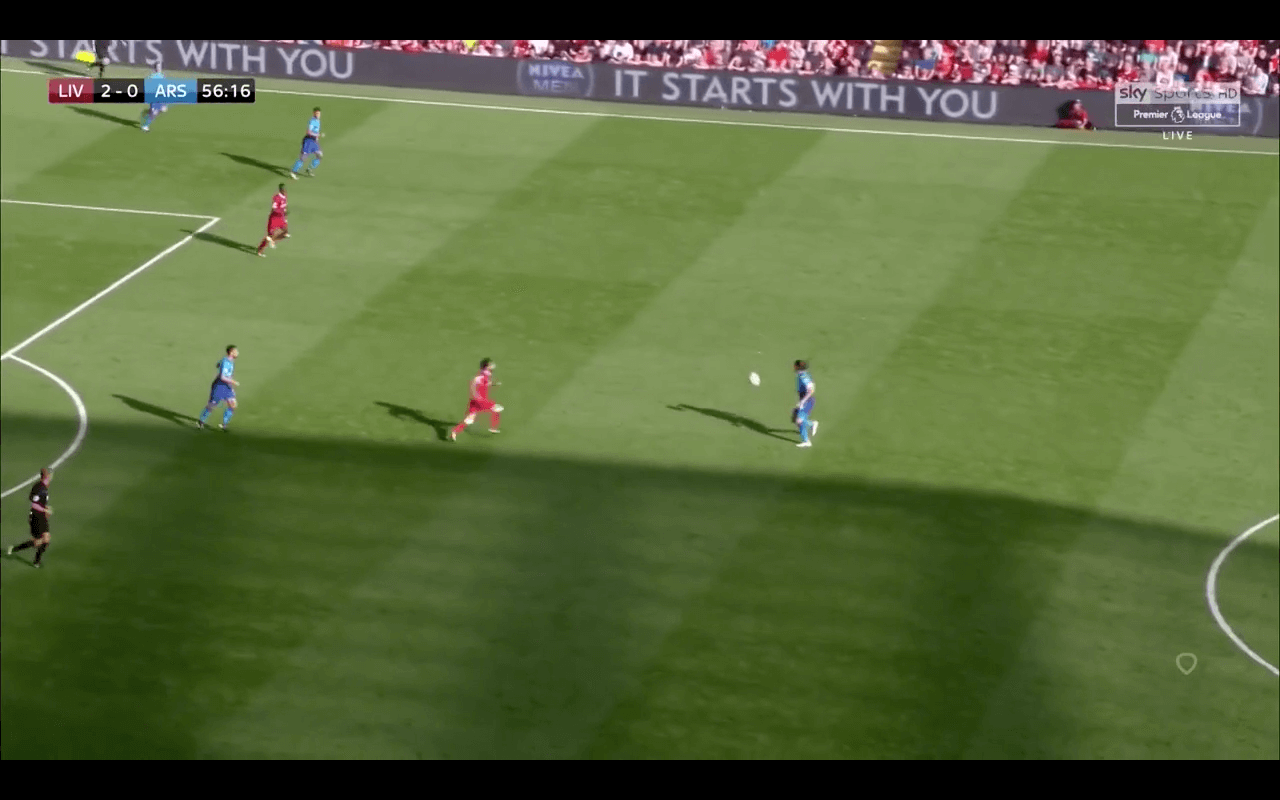 It appears a simple goal from here, but do not underestimate the work Sadio Mané puts in to support Salah.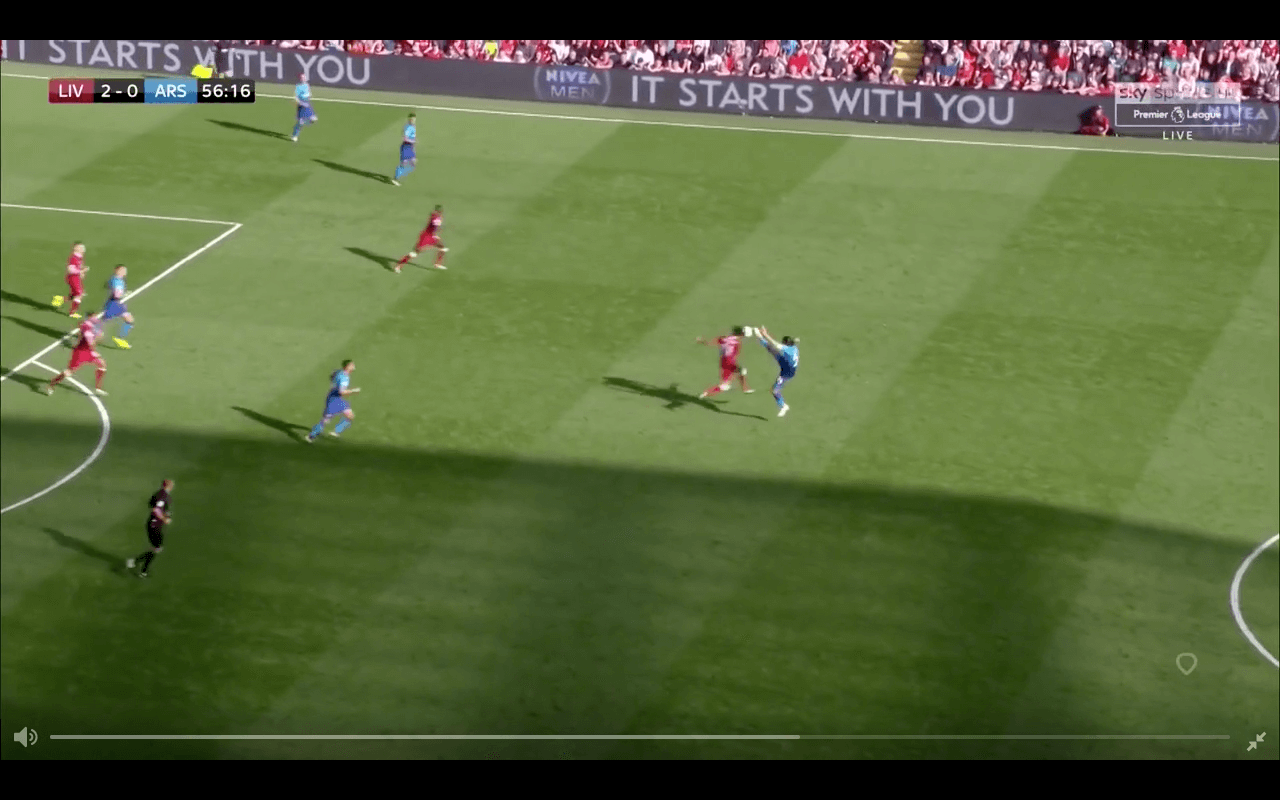 Salah may be Liverpool's quickest player, but when carrying the ball, players cannot fully sprint, and Bellerin is also one of the quickest players in world football.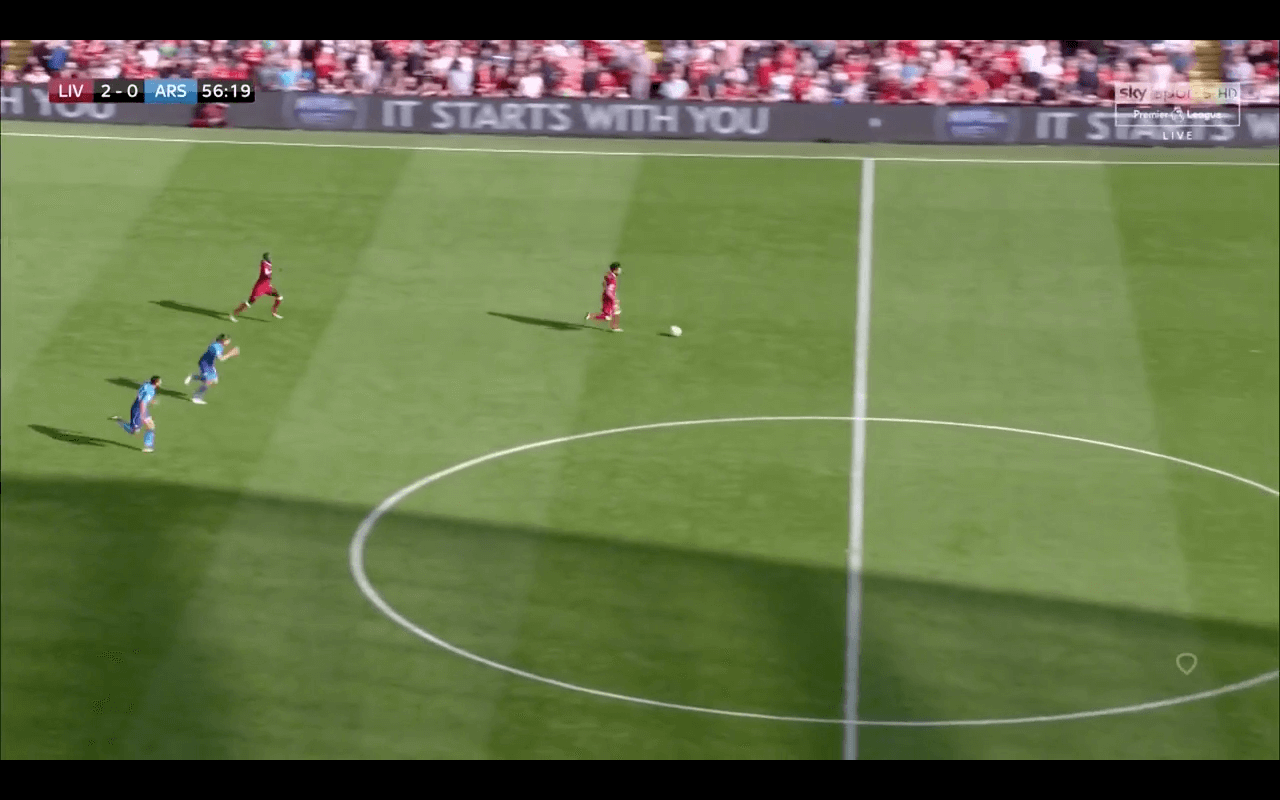 Intelligently, Mané runs across Bellerin and Coquelin, slowing them down.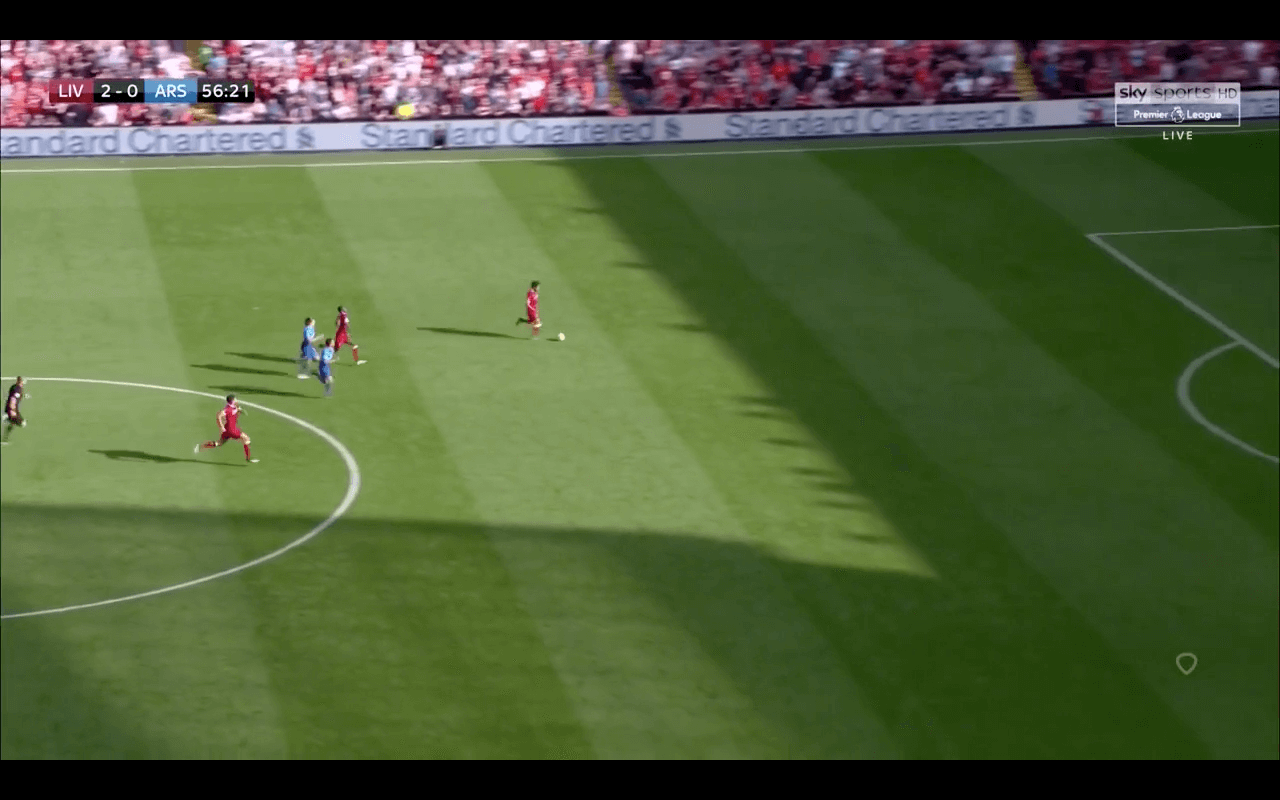 Cech, in an advanced position at the time Bellerin lost the ball, had to get into position, but did not get forward enough, perhaps wary of Salah passing to can.
As a result of this, the near post is open, and Salah scores.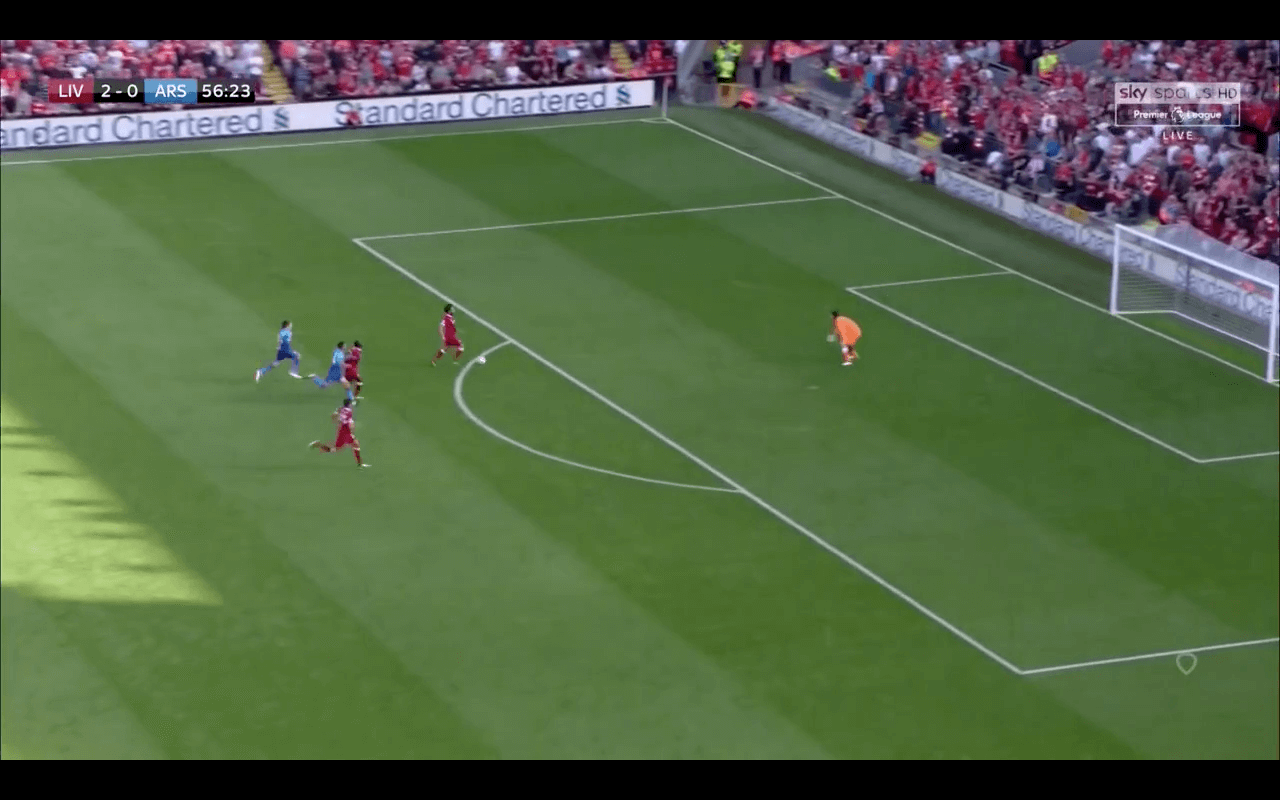 4-0, Liverpool, Sturridge, 77′
For me, this was the real icing on the cake. As we all know, Sturridge has suffered with injuries since 2014, which have blighted his career, stunted his development, and perhaps ruined the potential of one of England's most talented strikers ever. Nonetheless, his hunger is still there as he returns from yet another injury, off the back of rejecting advances from China.
Unlike another player, who shall not be mentioned, it's clear Sturridge clearly wants to play for Liverpool, and treats the club, badge and manager with respect. The cheer that the Liverpool fans gave him when he came on, and then scored, epitomised that, and it's always pleasing to see one of the good guys in football get a break.
Anyway, the goal.
Gomez wins the ball, and it falls to Firmino.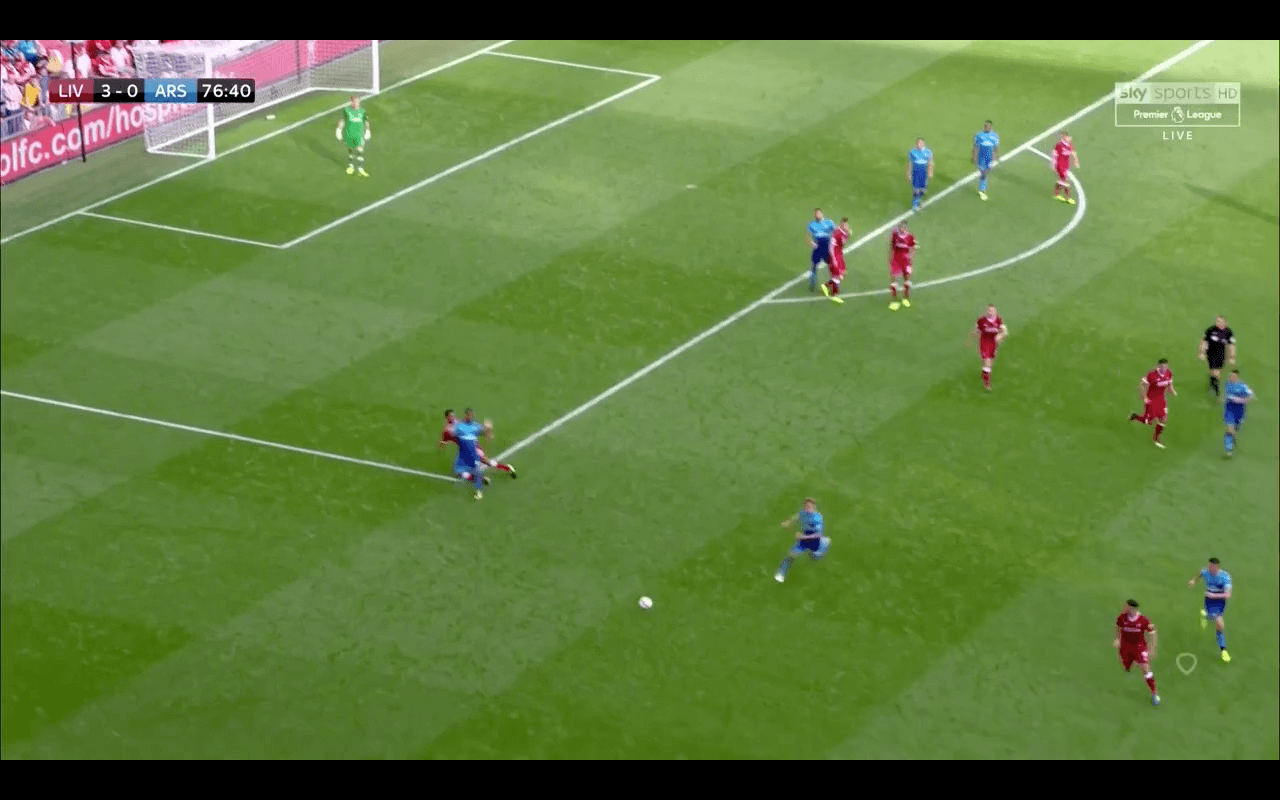 Despite having two players on him, Firmino shifts around, and Can makes a run in the cnetre.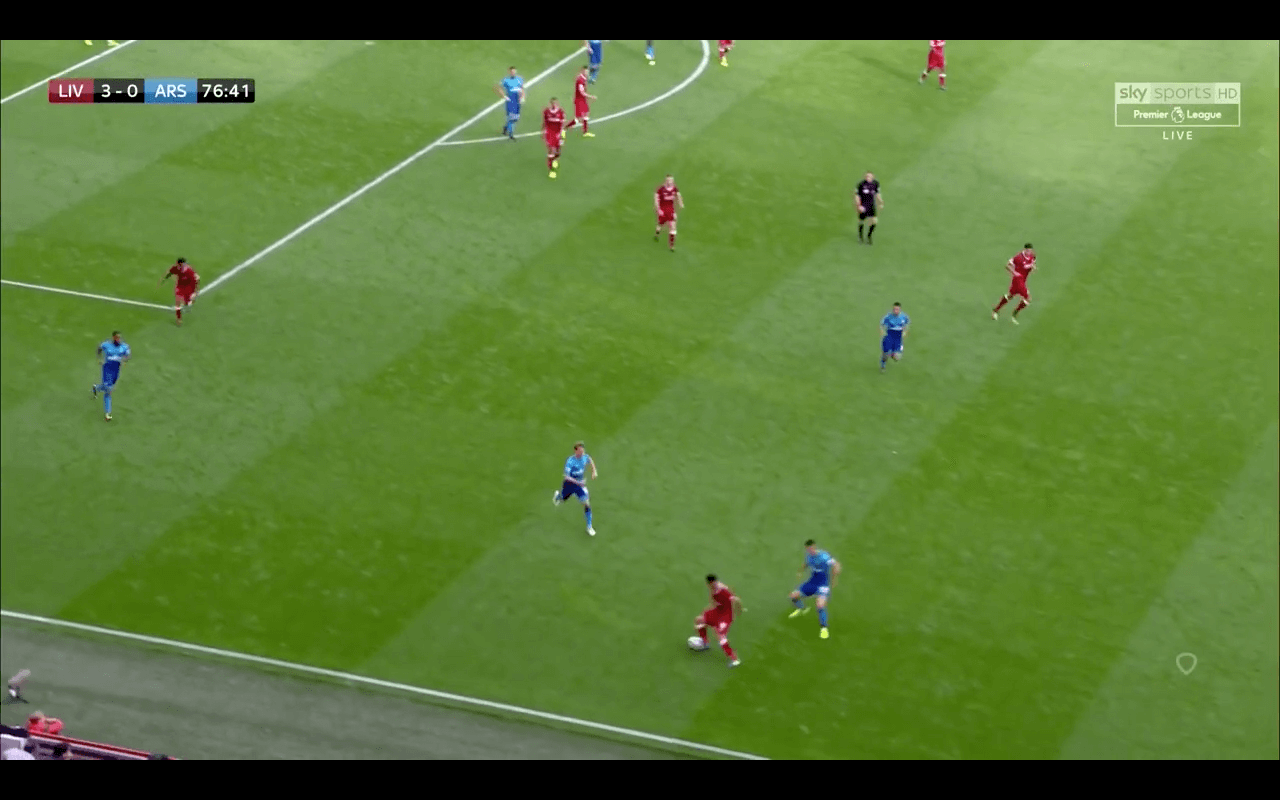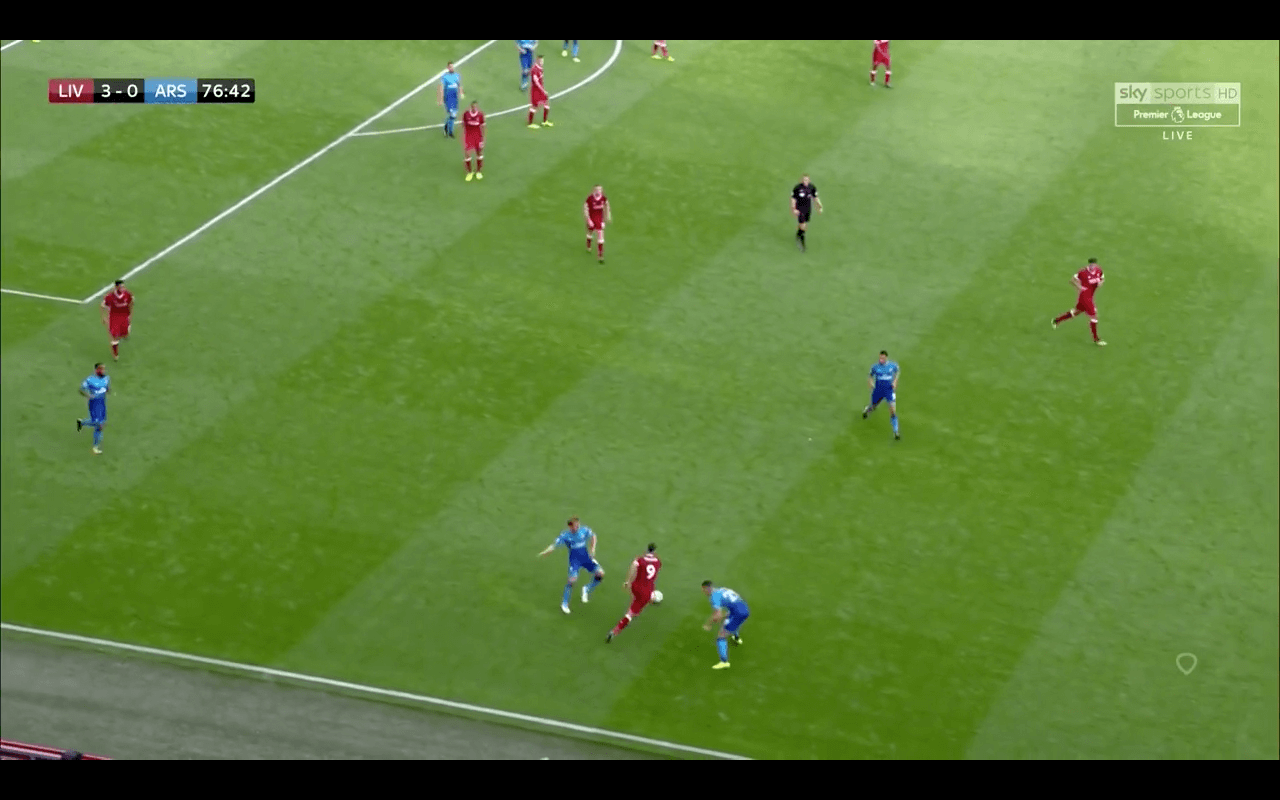 As Firmino escapes his two markers, Can's marker is attracted to the ball, and loses Can – allowing Can to take on Holding one on one, when Firmino plays the pass.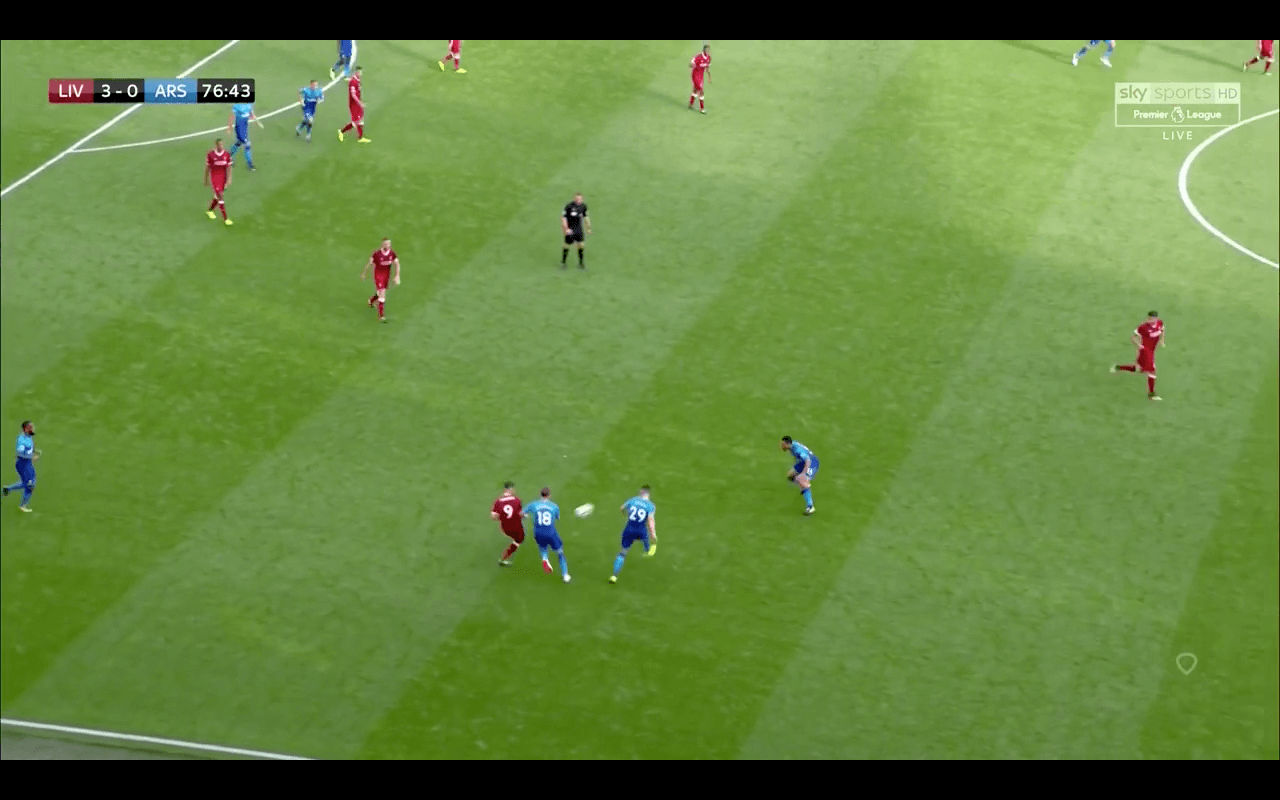 As Can takes on Holding, Salah and Sturridge both run in the wide channels, keeping the Arsenal defence open.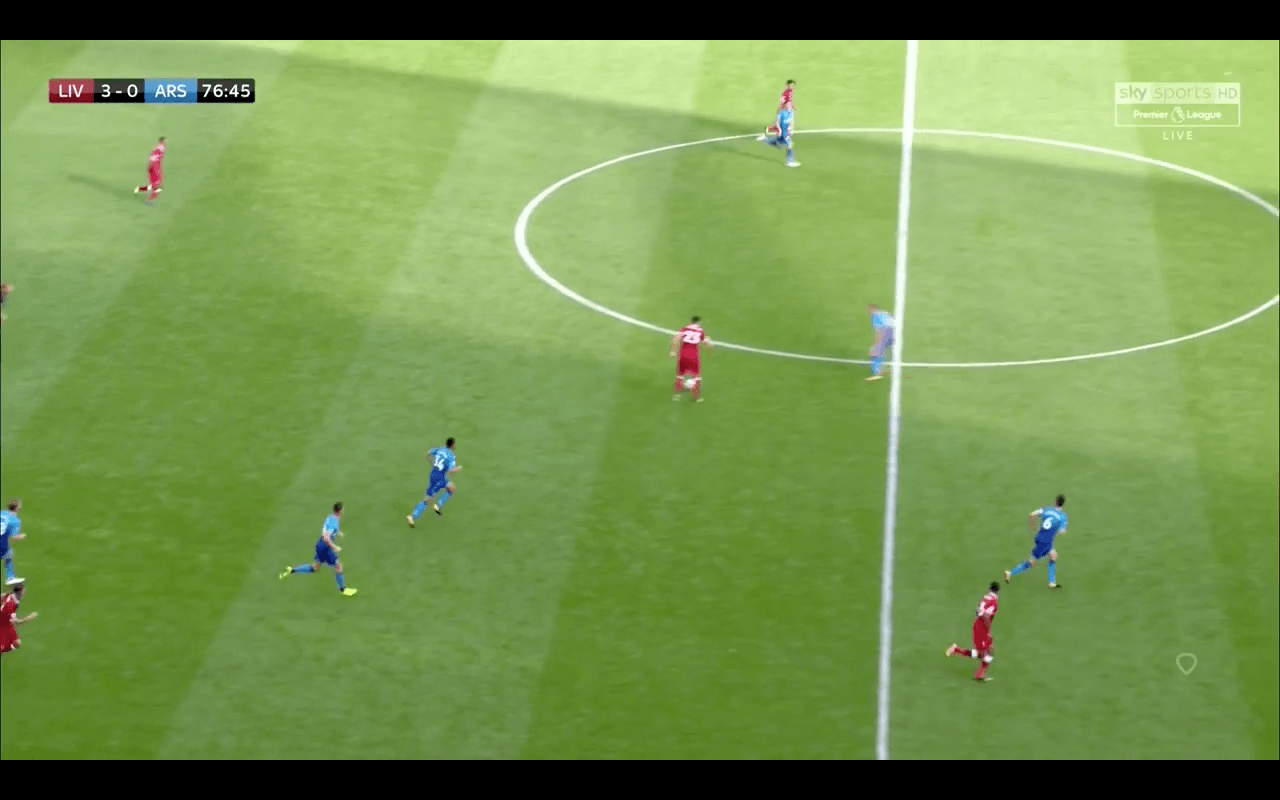 Can though, decides against running straight down the middle: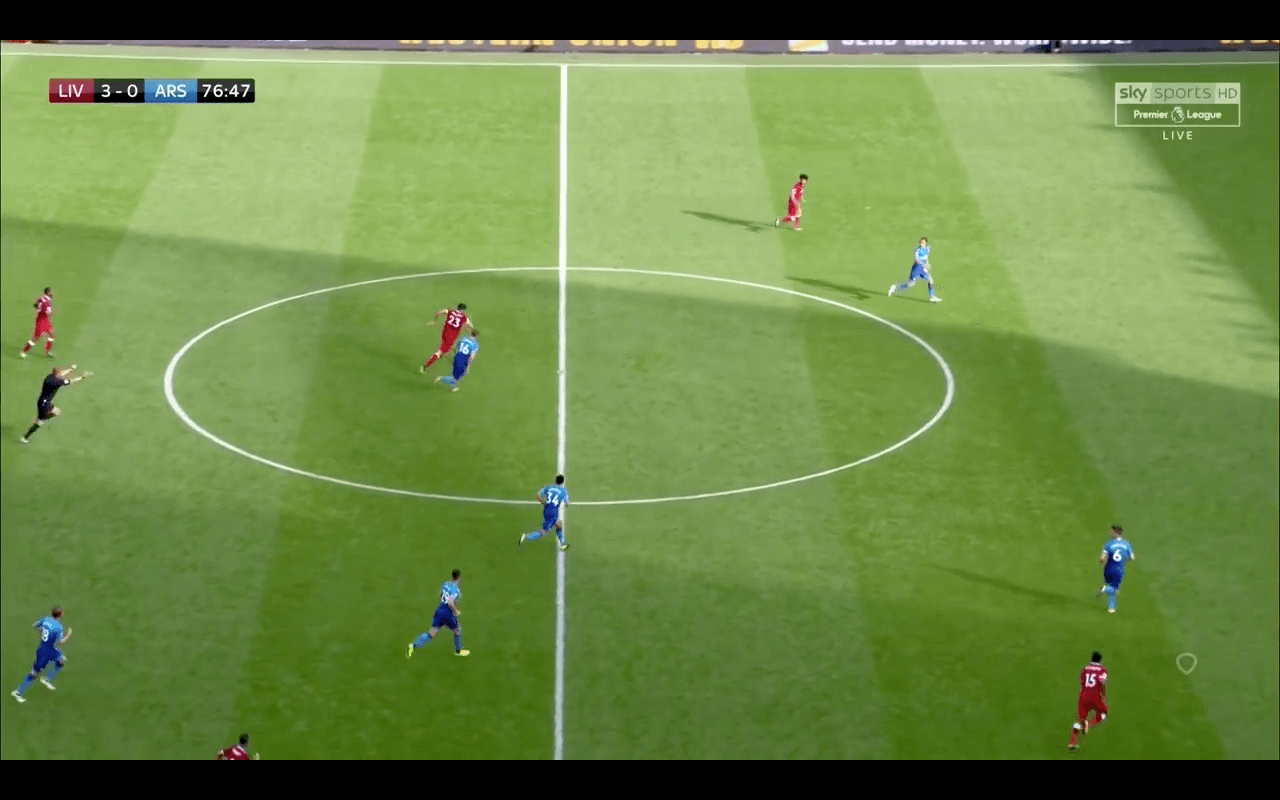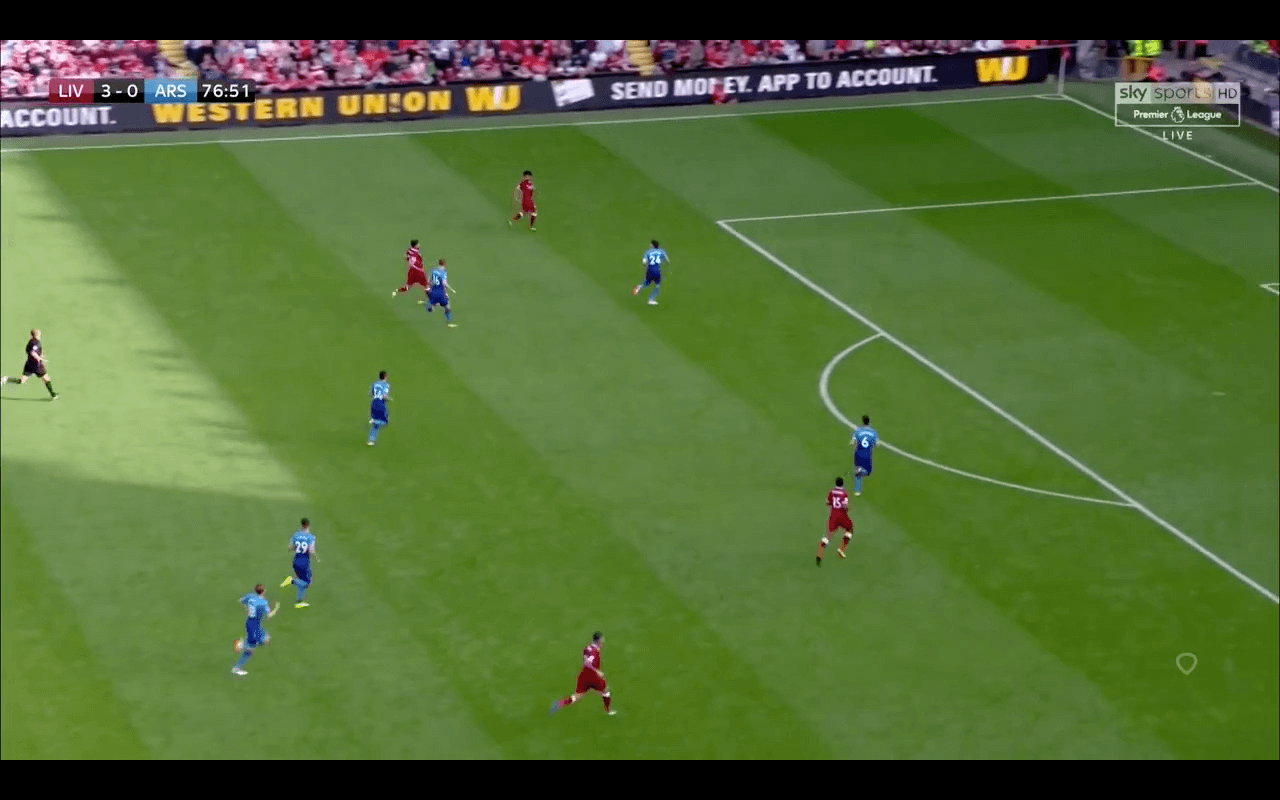 Because of this, Sturridge moves into a central position, and Firmino runs behind him, the same move Salah has been doing since the first game of the season – targeting the back post, and exploiting the gap between the CB and WB, which the team had been doing all game.
Sturridge though sets off, and sprints, showing that he still has that short-burst electric acceleration, as he sprints to meet the cross, despite Firmino having a running start – albeit after running the best part of 75 minutes.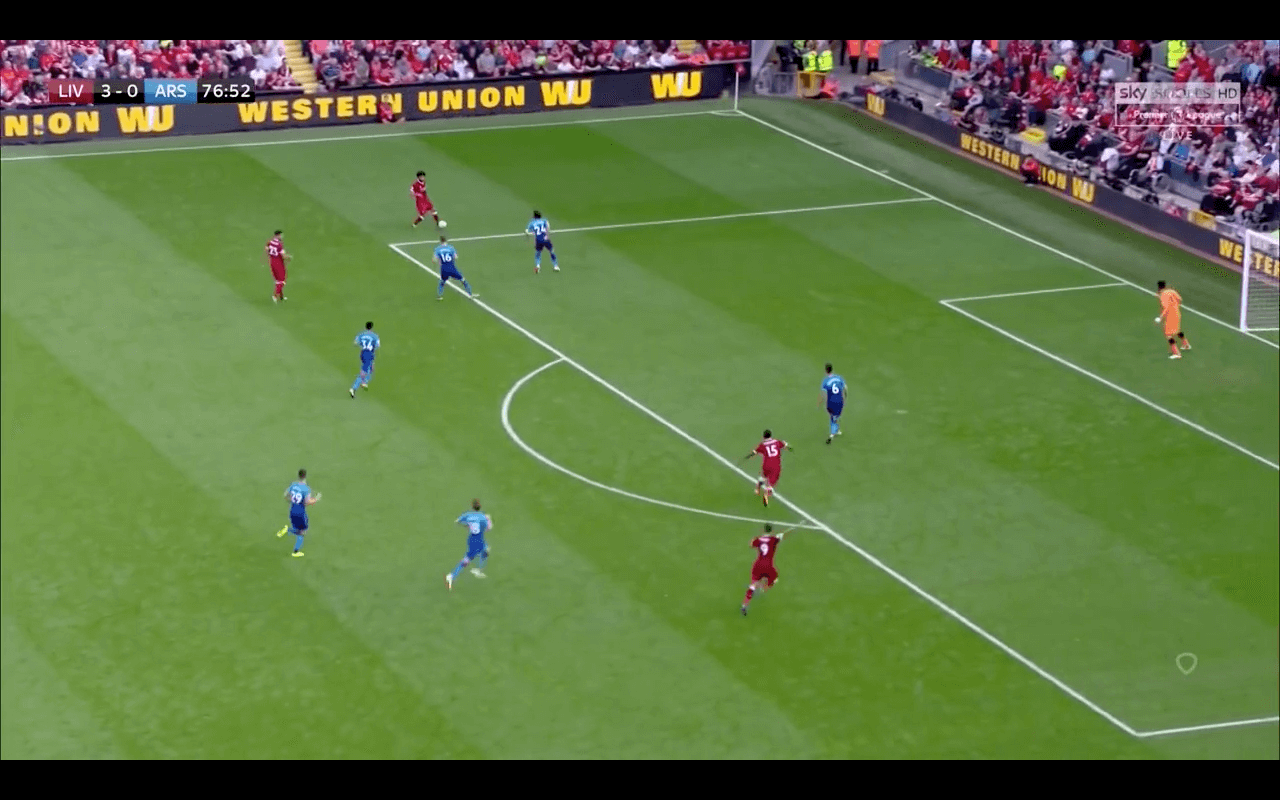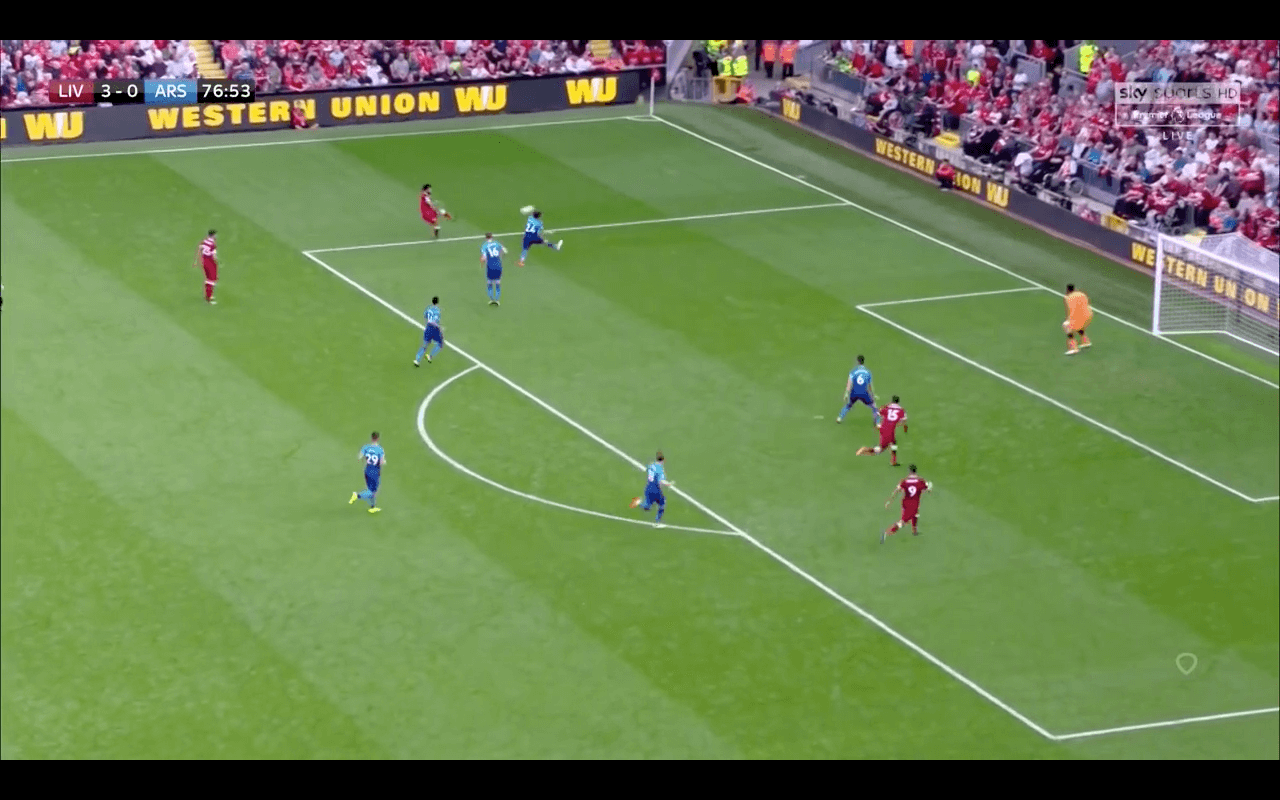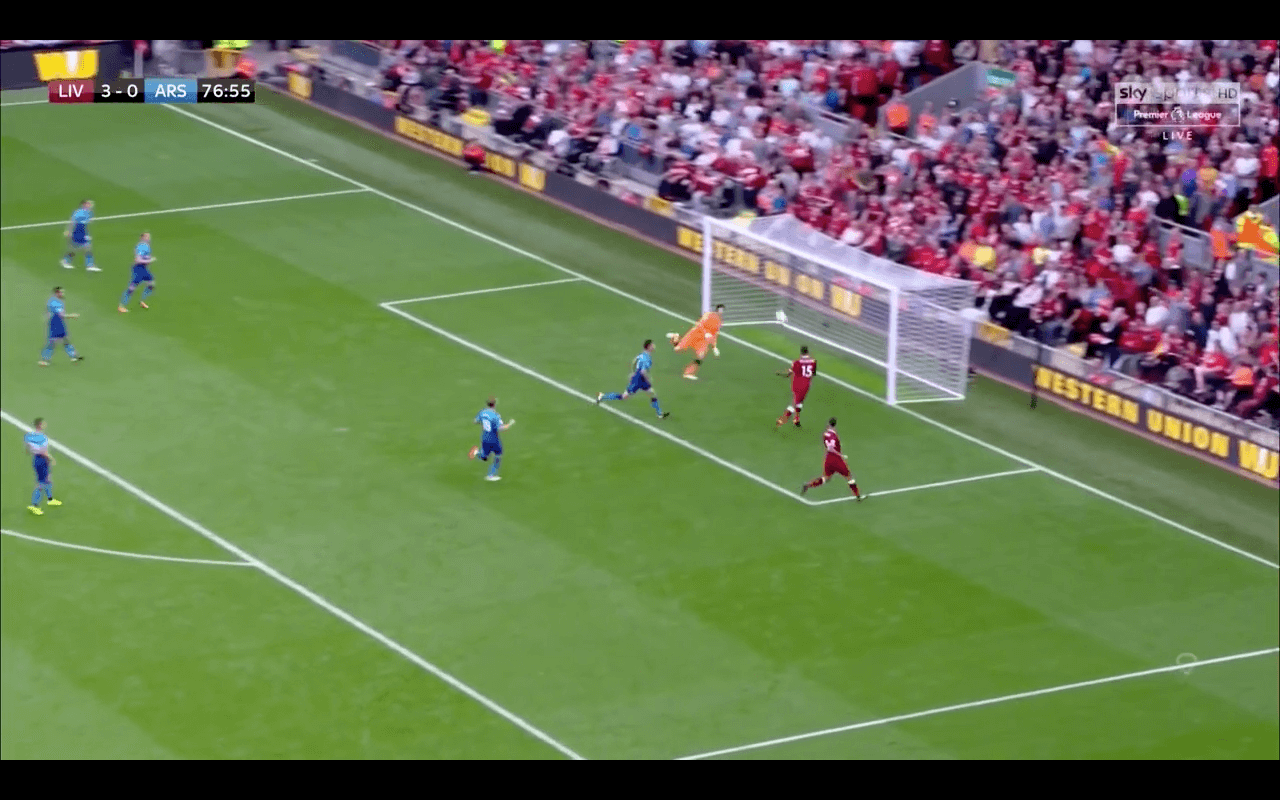 The real genius of this move actually comes from Sturridge though.
Before Firmino even has the ball, he's alongside Koscielny and Holding on the halfway line.
As he notices the opportunity for an attack though, he brings Koscielny across, with him to the near side. Leaving Holding totally exposed, so that Can is able to take him on, and run past him.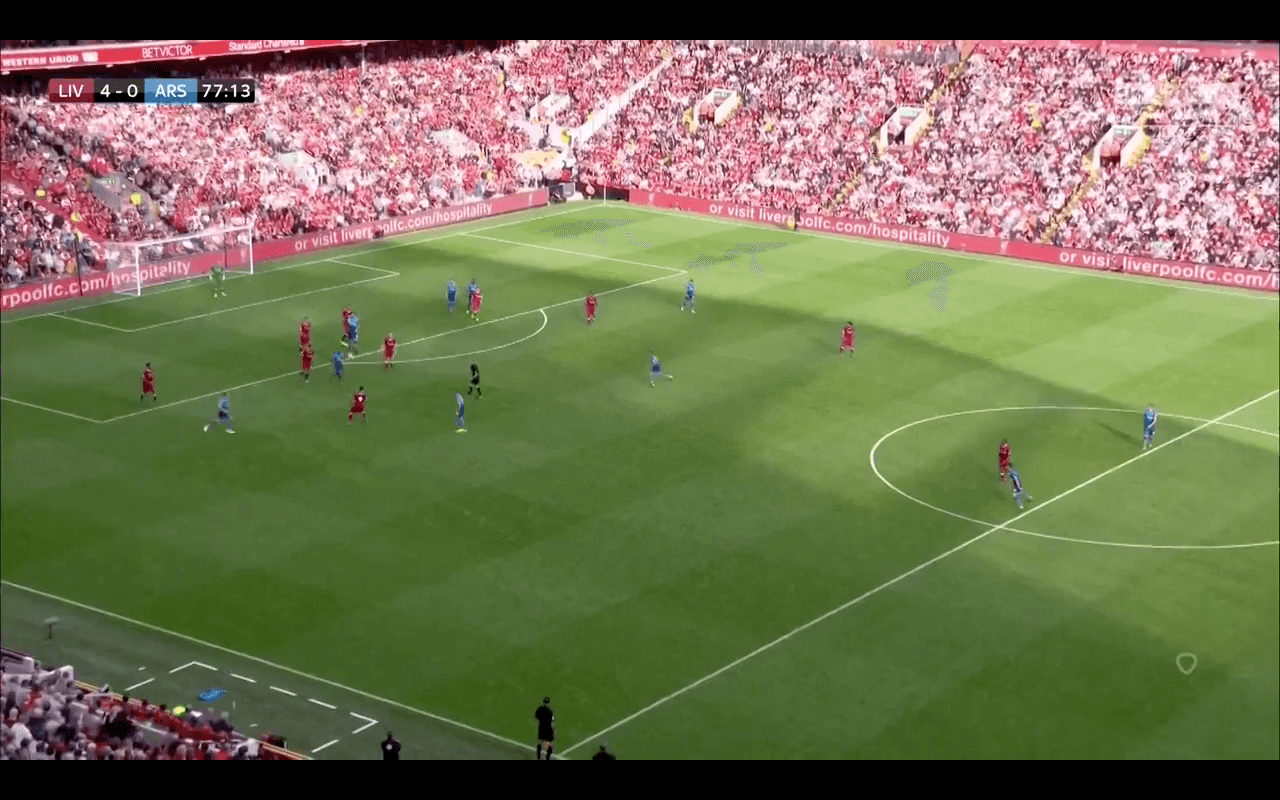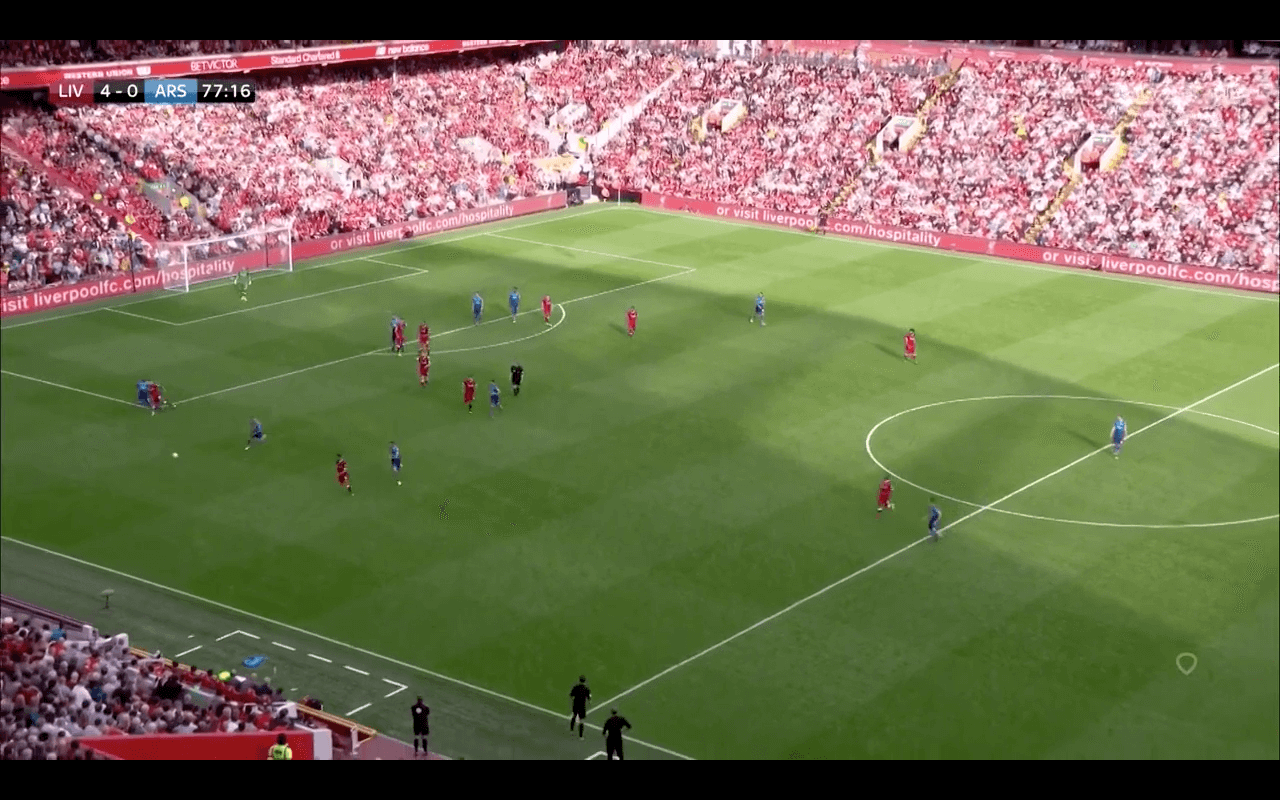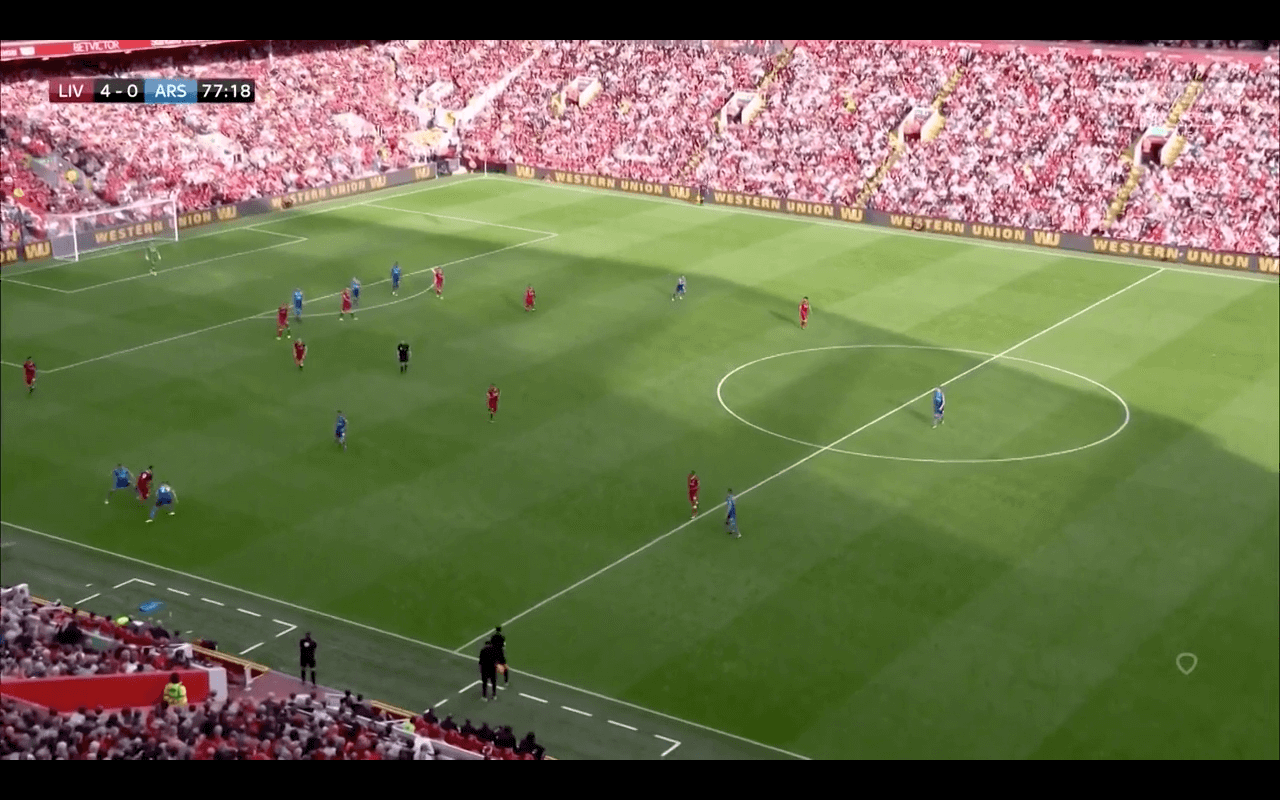 Despite looking a simple counter-attacking goal, it's truly a piece of outstanding intelligent play from players that, 75 minutes into the game, and 3-0 up, really don't have to put in this extra work, but chose to run from one half to the other with more aggression and intensity than any of the Arsenal players.
Themes of the match
Exploiting the wing-backs.
Instead of sending the Liverpool forwards bombing ahead, Klopp had Gomez and Moreno rein themselves in, especially in the second-half. This worked perfectly with the positioning of the Liverpool wingers mentioned earlier.
https://twitter.com/Squawka/status/902054646516248576
With the Liverpool full-backs deeper, and the Arsenal midfield getting overrun, the Arsenal full-backs were enticed forward, leaving more space in behind, and the opportunity for Mané and Salah to run at the Arsenal LCB and RCB, Holding and Monreal.
Liverpool's passive aggression
Liverpool's defensive shape was a very impressive feature of their play too. The team utilised a 4-5-1, with Firmino heading the line. Instead of pressing incessantly in the second half, however, the team patiently pushed Arsenal back by covering passing channels.
Rather than pressing the ball carrier, Firmino would come across and cover the immediate outlet pass on the open side, whilst the midfielders would sit in front of their Arsenal counterparts, preventing passes going through.
Henderson played a key function in the press though, despite playing as the deepest midfielder when in possession. When the Arsenal players turned away, and had their backs towards the goal, he would press – winning the ball in advanced areas in which Liverpool could run directly at the Arsenal CBs, and create a 'chance' without having to manufacture it with passing play.
When looking to break though, Mané and Salah were able to have even more space to run into, as Arsenal committed more and more offensively, allowing for a greater number of situations in which one of the Arsenal CBs was isolated, against the Liverpool wingers.
A shocking Arsenal midfield display
Arsenal's midfield was disjointed and disparate. Effectively, Xhaka and Ramsay, who, far too often were not close enough to each other, were asked to compete with Henderson, Winjnaldum, Can and Firmino, who dropped back a great deal. It was a 4 versus 2 situation in the heart of the midfield, and it's no surprise why Liverpool came out on top when the only support for the Arsenal midfielders came from LWB Bellerin and RWB Oxlade-Chamberlain – both of whom were out of position and clearly uncomfortable.
Don't tell me he's not a false 9, he's fucking brilliant at it though pic.twitter.com/rG7EABbRuI

— SimonBrundish (@SimonBrundish) August 27, 2017
Firmino's average position was actually farther behind Wijnaldum and Can, and he was one of the (many) contenders for man of the match. But his performance there raises the question of whether he may be suited, or rather, whether he can successfully play in a midfield role – the same function as Lallana, or the one which Coutinho was meant to fill, this season. Having Firmino there may provide options for Liverpool when using Sturridge, Origi or Solanke upfront, for games that demand a different approach.
Final thoughts
The Liverpool midfield stood up today, like in the Hoffenheim fixture, and excelled.
Can dominated with the ball, whilst Wijnaldum made Xhaka and Ramsay look like schoolchildren. Henderson looked a bit unsure at first, but made up with his pressing, picking up where he left off against Hoffenheim, where he set up Firmino through leading the press from deep.
Emre Can's game by numbers vs. Arsenal:

100% aerial duels won
88% pass accuracy
3 take-ons
2 chances created
2 shots

Colossus performance. pic.twitter.com/JHIn4FEaV2

— Squawka Football (@Squawka) August 27, 2017
Georginio Wijnaldum's game by numbers vs. Arsenal:

100% take-ons completed
88% pass accuracy
42 passes
8 take-ons
2 chances created

Class. pic.twitter.com/KX5XNvmlSE

— Squawka Football (@Squawka) August 28, 2017
For Liverpool though, the two best performances of the season have come against teams that employ a three at the back system, so it will be interesting to see if the midfield and team replicates these sort of performances against more orthodox systems, which Liverpool struggled against during the second half of the 2016-17 season, and before that too.
Which means Arsenal on the weekend with their new back 3 should be interesting. Looks tailor made for another gegenpressing masterclass.

— Dan Kennett (@DanKennett) August 24, 2017
As terrible as Arsenal were though, Liverpool had just played a crucial Champions League qualifier in midweek, and were missing both Coutinho and Lallana. Despite this, the team put in one of the most dominant, aggressive, breathtaking and stunning displays seen in a long time, especially against a major rival.
With the international break and the end of the transfer window coming in the next few days, Liverpool's midfield may well be the most frightening in the country if the club secures its targets, keeps Coutinho and Klopp manages to fit them all into one system. Thomas Lemar seems perfectly suited to Liverpool's midfield, whilst Naby Keïta will elevate it to another level, when he joins next season, providing he peforms to the same level or higher.
It's strange ending a piece like this on such a positive note, bearing in mind the torrid summer and slow start to the season. Long may this continue!