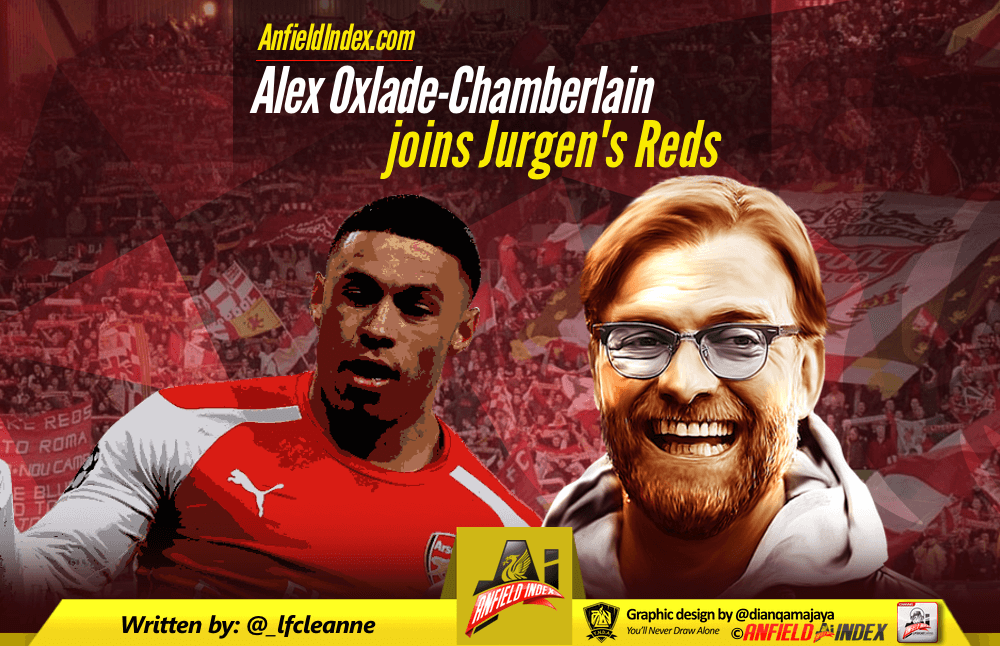 Alex Oxlade-Chamberlain joins Jurgen's Reds

Another day, another signing.
Chamberlain looked destined to join Chelsea a few days ago after Arsenal agreed on a fee in the region of £40million for the midfielder. However, with his heart firmly set on a move to Liverpool, the 24-year-old snubbed the Premier League Champions, and 220k per week, to link up with Jurgen Klopp.
Admittedly, there's been a mixed bag in terms of reaction, with the club's pursuit of Thomas Lemar gauging more interest, but signing Oxlade-Chamberlain this summer makes perfect sense for the Reds.
Having fended off Hoffenheim with relative ease in the Champions League playoffs, Liverpool must contend with a far more rigour campaign in four competitions. Naturally, that demands a certain depth from the squad that was lacking last season.
Chamberlain fits that role to a tee.
Starting off as a winger, he has gone on to play in central midfield and right-wing back, occupying eight different positions during the 2016/17 season including defensive midfield, left and right midfield, attacking midfield and either wing.
Given Liverpool need players who are flexible and adaptable to their style of play, have a rigour work-ethic and diligence both in and out of possession, the 24-year-old ticks all the boxes for Jurgen Klopp. He embodies the type of player that the Liverpool system depends on.
Not to mention he's an ex-Saints player.
In terms of creativity, Chamberlain has proved to be a useful tool in unlocking a packed defence with incisive, forward-thinking passes between the line of defence and midfield – a welcome trait in the Liverpool camp.
For you statistics lovers, Chamberlain created three chances in four Premier League games, registering two assists in the wingback role. His movement and creativity would be a welcome addition to a Liverpool attack already purring with talent in Sadio Mane, Roberto Firmino and Mohamed Salah.
In terms of where he fits into the squad, the former Arsenal man will likely find himself used as a winger or option through the middle. Liverpool have a relatively thin squad for a team fighting in four competitions this season, particularly in the wide areas, which could see the 24-year-old get a number of opportunities to impress.
Alternatively, he would suit Liverpool well in a role similar to Adam Lallana. Chamberlain's industry and physicality suit the demands of the Reds' gegenpressing game, while possessing the ability to transition quickly into attack – a trait that would give Sadio Mane, Roberto Firmino and Mohamed Salah further support.
Lallana is always a huge miss for Liverpool when not available, with Georginio Wijnaldum often unable to inject much-needed impetus into the front line. Thus, the signing of Oxlade-Chamberlain will ease the impact of Lallana's absence, while offering healthy competition for places in the middle of the park.
Klopp has already harnessed the potential of various Liverpool players since joining the club – most noticeably Adam Lallana, who also lacked sufficient end product and quality in the final third under Brendan Rodgers. If he can do the same with Chamberlain, whose career has undoubtedly stagnated at Arsenal in recent years, he could flourish at Anfield.
Let's just hope Thomas Lemar joins him.