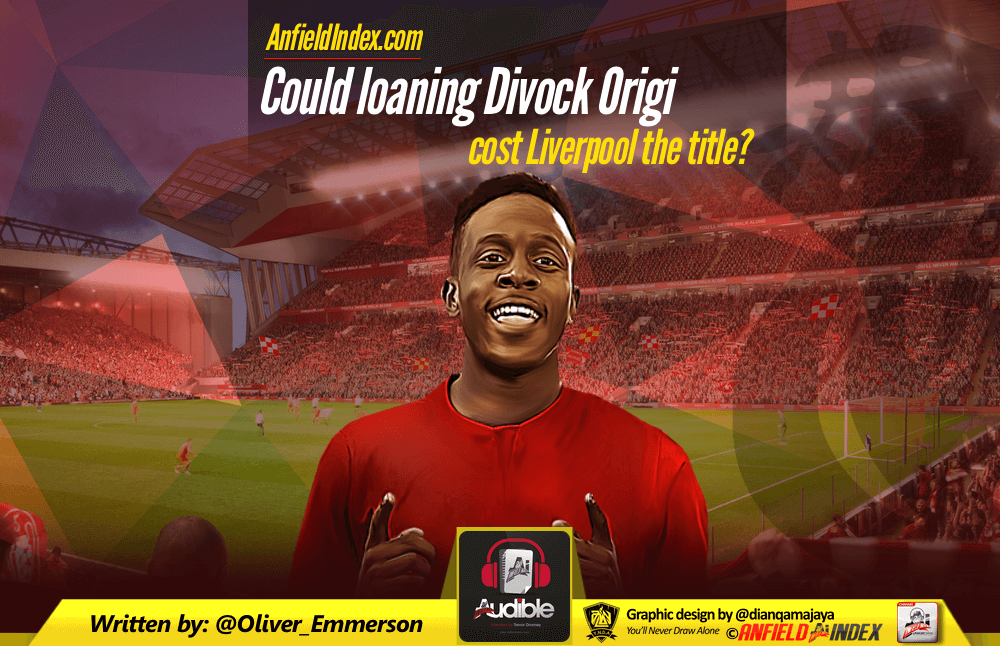 Could loaning Divock Origi cost Liverpool the title?
Amid the madness of Deadline Day, Divock Origi's loan move to Wolfsburg went a little un-noticed.
Touted after the striker wasn't included in squad's for either of the last two Premier League games, Jürgen Klopp granted Origi his wish of more first team football by sanctioning a move to the Bundesliga side.
Liverpool have done well financially from the deal, Wolfsburg paying Origi's wages plus a rumoured loan fee of six million pounds.

On the surface, it seems a good deal for Origi.
He gets regular football ahead of a World Cup year and will likely lead the line for a talented – if underachieving – Wolfsburg team that were poor last season.
With Roberto Firmino, Daniel Sturridge and even now Dominic Solanke are ahead of Origi in the pecking order, the striker can't afford to be playing fourth fiddle in a World Cup year.
A load of Bundesliga goals, something he's definitely capable of, and he can come back next year ready to make an impact on the Liverpool team, possibly with Sturridge bringing his tenure at Liverpool to an end.
That may suit Liverpool too. Origi's clearly got talent, and he'll benefit most as a player from a year away, the consensus is.
A good financial deal and a better player next year? Seems perfect.
But, not perfect for me.
Here's my issue. We all know that Divock Origi has talent. You don't play for Belgium at a World Cup at the age of 19 if you don't. You don't put in a stunning performance away to Borussia Dortmund, you don't score double figures for Liverpool in consecutive seasons.
I understand as well as anyone the frustration that Origi can bring, as any young player can bring. In some games he seems on the periphery, unable to link play and not using his impressive physique well enough.
But despite that, he often finds a way to have an impact.
In just 14 league starts last season, Origi found the net seven times, with three assists. He averaged a goal or assist every 146 minutes, despite often being on the periphery in selection terms.
The season before, just five goals in seven league starts. That's not even taking into account his Europa League performances, League Cup goals.
In two season's at Liverpool, despite never being first choice, he's scored 21 goals.
When he has played, the striker has shown an ability to get a run of form going. Five consecutive games with goals in last season showed that.
Of course, Liverpool do have good back-up.
Daniel Sturridge is well, Daniel Sturridge. But, as he's Daniel Sturridge – he's an injury risk.
I've been impressed with Dominic Solanke so far, but he's played less than 30 senior games. With Firmino knackered and Sturridge crocked, would you feel comfortable turning to Solanke for any length of time?
Goals against Bournemouth and West Ham as well as the opener at home to Sunderland saw Origi directly hand Liverpool five points last season, whilst his strikes also helped seal wins against Middlesbrough, Everton and the Hammers.
Regardless of whatever faith you've placed in Solanke so far, expecting him to manage that sort of out-put in his first senior season outside of Holland is a gamble.
Klopp's late attempts at transfer business indicates he's looking to build a squad worthy of winning a league, and an extra five points can make the difference between first and second.
Is Origi's development at Wolfsburg worth the risk of losing those points?