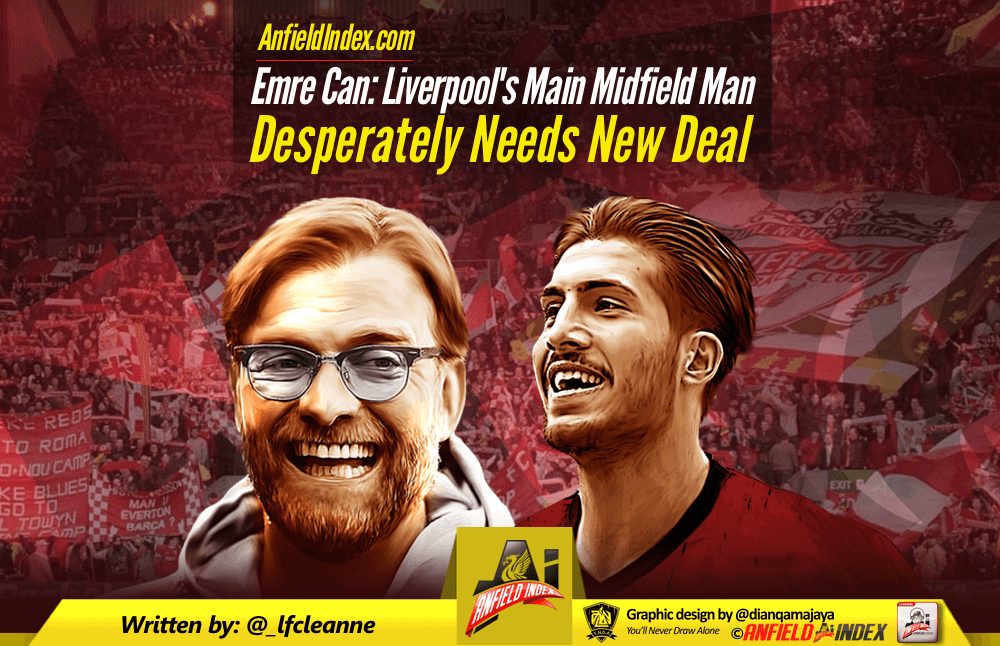 Emre Can: Liverpool's Main Midfield Man Desperately Needs New Deal
Emre Can has enjoyed a thoroughly impressive start to the 2017/18 Premier League campaign, having played a key role in both legs of the Champions League qualifier against Hoffenheim followed by a crunch tie with Arsenal at Anfield. Yet, there remains a huge cloud of ambiguity over his future on Merseyside – a cloud Liverpool would do well to disperse before others come calling.
Last season was a pretty mixed bag for Emre; some fans rejoiced over his brilliance while others questioned his quality after a string of sub-par performances. A poor patch of form at the start of the year saw many fans calling for the club to move him on. Starting against Hull City at the KCOM, the 23-year-old struggled to get his team going in the middle of the park. He dwindled on the ball, giving time for the home side to kill the space, making it impossible for Liverpool to play their natural game.
With a poor first touch and a lack of his usual guile on the ball, Can became a hindrance to The Reds' energetic, free-flowing style of play. The plentiful supply of criticism the 23-year-old earned was certainly understandable.

However when his injury cleared up, the real Can returned; boisterous and dogged in possession, he slowly began to make his mark on games, showing willingness to venture forward past opponents and into the danger zone – the pinnacle of which came at Vicarage Road via that sumptuous bicycle kick.
It was a fitting culmination of his form, snapping into tackles to add a steeliness to the midfield. Take the opening game of the season for example, when Can's dominance and aggression set the tone for those around him. In the reverse fixture, he showed a snide off the ball that we haven't seen since the days of Carragher, Mascherano and Gerrard.
Since then, he's continued to go from strength to strength, chipping in with some top drawer displays already this season.
The 23-year-old delivered a dominant performance against Julian Nagelsmann's side in Germany, leading by example at both ends of the pitch. Snapping into tackles and demonstrating the bullish nature that make him such an asset to Liverpool, Can didn't give his opposing player a moments rest.
In the reverse fixture it was the other end of the pitch where he gained the plaudits. Scoring two goals on the night after some forward thinking and ingenuity in possession, Can also appeared to have stepped it up a fear in a box-to-box sense. Surging forward alongside Mané, Moreno and co, the former Bayern Leverkusen capped off one of the best team goals Anfield has witnessed in a long, long time. His end product was there, alongside a dominant and physical stronghold to fend off any attacking moves from Hoffenheim. It was the complete performance in more ways than one.
That was followed by a 4-0 rout against Arsenal – the crème de la crème of midfield performances.
Working in cohesion with Jordan Henderson and Georginio Wijnaldum, Liverpool delivered a truly scintillating performance to blow the Gunners away. Living up to his nickname, 'the tank', Can bullied and battered Aaron Ramsey and Granit Xhaka all day long, winning all of his aerial duels while proving to be utterly relentless in his pressing. That was embodied when he was seen to sprint back into his own half, catch up with the Arsenal counter and cut out the danger.
Simply unplayable at times, the 23-year-old's decision making was spot on, carrying the ball forward with confidence and drifting past opponents with ease. He may not have got on the score-sheet this time, but a total of three successful take-ons, two chances created and two shots point to his attacking output.
Jamie Carragher commented on his colossal performance at full-time, describing Can as the £60-70m midfielder Liverpool had been so desperate to sign this summer. Based on the evidence of the last few games, it's hard to disagree with him; Can continues to evolve into an all-round midfielder capable of delivering a performance of the highest quality.
He's got more about him than most, if not all, of Liverpool's other midfield options as shown by his performance in the last three games and given his age, it's imperative the club tie him down to a new deal sooner rather than later. The fact that clubs like Juventus are already beginning to monitor the situation between the two parties speaks volumes about Can's potential to mature into a top midfielder.
Of course, there are areas of his game that still need work. Consistency is to be expected from a player just 23-years-old but if he wants to be commanding a regular starting spot in Liverpool's midfield trio, he's got to maintain his performance level. There's plenty of players waiting in the wings if not.
If Liverpool want to be challenging for silverware, keeping hold of your best and most promising assets is paramount. Emre Can is in that category, having shown in the space of a few days what he can offer Klopp's midfield in the years to come. Letting him go, not to mention on a feee transfer, could prove to be one of the club's biggest regrets.
Bullish but stylish, Can has it all. It really is time to get him that new contract, lads.