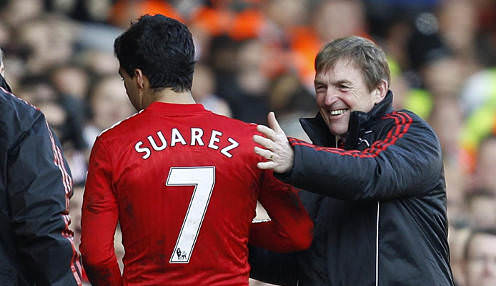 Liverpool FC 2010/11 3 Best & Worst Performances
2010/11 was a season of two halves for Liverpool FC. From the mediocrity of Roy Hodgson to the success of Kenny Dalglish – there were many ups and downs.
In part 1 of my season analysis, I gave a detailed report of the season from start to finish. Part 2 is where I select the three best and three worst performances from 2010/11. I'll start with the three worst, then give you all something to smile about with the best three later on.
Three Worst

3. Liverpool 1-2 Blackpool – October 3rd 2010
The Premier League newcomers had hit the ground running, taking everyone by surprise and proving they were no pushovers with a famous win at Anfield. Goals from Charlie Adam and, winger, Luke Varney gave the travelling seasiders a fantastic day out.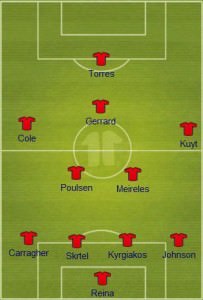 Hodgson set his team up in a 4-2-3-1 formation which, in previous years, has worked well with the Liverpool players. This particular formation has been successful in the past as the passing has been fluid and the players have worked well within the system. The big problem with Hodgson's 4-2-3-1, compared to Rafa Benitez's is that there is no fluidity. Playing Kyrgiakos and Skrtel together in defence provides no passing from the back so the ball is either given away and/or hoofed up-field – which didn't bring the best out of Fernando Torres' game.
Glen Johnson was struggling to contain Luke Varney and gave away the penalty, from which Charlie Adam converted. Gary Taylor-Fletcher, DJ Campbell and Varney were pulling the static Liverpool defence apart as Adam picked them off. When in possession of the ball, Liverpool just couldn't keep it. The midfield partnership of Poulsen and Meireles were struggling with the passing of Adam and Vaughan.
The injury to Fernando Torres after 10 minutes didn't help things as David N'gog replaced him but the tactics remained and the Frenchman struggled to control the long balls kicked up to him. With the constant hoofing from the defenders, Dirk Kuyt, Steven Gerrard and Joe Cole were unable to find enough of the ball to make any impact on the game – with Liverpool's only goal coming from a set-piece.
Now looking at the stats, it seems like a completely different game and looks like a decent Liverpool performance. This is not the case as once the Reds went 2-0 down, they stepped up a gear but couldn't find a way back against the Seasiders. Liverpool had 57% of the possession and 18 shots in total – six more than Blackpool managed. Hodgson's men also completed over 100 more passes than Blackpool who sat back on their lead in the second half. Liverpool certainly stepped up a gear in the second half, but it was still a dire performance that resulted in an embarrassing defeat.
2. Blackburn Rovers 3-1 Liverpool – January 5th 2011
This dismal performance was Roy Hodgson's last as Liverpool manager. Goals from Benjani and Olsson sent Liverpool to their 9th defeat in 20 games. To make things worse, Steven Gerrard missed a late penalty to end any hopes of a late comeback from the Reds.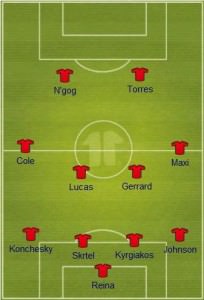 In what proved to be his last game in charge, Roy Hodgson set his team up to play a simple 4-4-2, with two deep banks of four soaking up the pressure of the home side and then forcing the ball back up-field in an attempt to counter-attack.
Again, the statistics seem to suggest that Liverpool dominated the game, but that was far from the truth. Liverpool managed 67% possession and 438 passes, compared to Blackburn's 171. However, Rovers don't play the ball on the ground so it is quite normal for the opposition to complete more ground passes than them. The shots on goal were pretty similar with Liverpool firing in 10 (5 on target, 5 off) and Blackburn hitting 9 (4 on, 5 off).
This performance showcased everything that was wrong with a Roy Hodgson Liverpool side – there was no fight or passion, the defence was static and the passing in the final third of the pitch was atrocious. The stats suggest the performance was a decent one and that Liverpool were unlucky to lose 3-1, but the defending was poor – Liverpool winning 13 out of 21 tackles, compared to Blackburn's 11 successful tackles in 15. Due to Blackburn's direct style of play, the ball was in the air a lot. The Reds lost out on aerial duels 26-12, which made a huge impact on the result as constant long balls were not being dealt with, which proved costly. The passing was very suspect as well, with Blackburn intercepting 38 of Liverpool's passes and only losing track of 11 of their own. The overall performance was rounded-off by a poor Steven Gerrard penalty late-on. Conspiracy theorists claimed Gerrard missed the penalty on purpose to make sure Hodgson was sacked. But that's a bit unfair on Stevie, isn't it?
1. Liverpool 0-1 Wolverhampton Wanderers – December 29th 2010
This defeat at the hands of Wolves will go down as one of the worst Liverpool performances at home… ever. It was the third defeat from the last four league games and pressure on Roy Hodgson was heavier than ever. The Kop had even started to chant Kenny Dalglish's name, with calls for the 'King' to return as manager getting louder.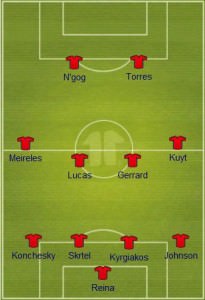 Again, Liverpool set up in a standard 4-4-2 formation, but by now, many people were against this formation as it wasn't working with the players that were being used. Once again, Raul Meireles was played out on the left-wing, where he struggled immensely. Playing Meireles on the left will never create goalscoring opportunities – well not many, anyway. In the whole match, Liverpool only created 12 goalscoring opportunities, with 4 shots on target and 3 off – a poor statistic for a home team pushing for a win.
Although Liverpool had more possession and slightly more shots, Wolves took their chance and pressed Liverpool high up the pitch – forcing Pepe Reina to hit long-balls throughout. This slowed Liverpool's game down further and passes were going astray, Wolves making a huge 26 interceptions in the match, compared to the miserly 7 of Liverpool.
Feeling a little depressed after remembering those awful performances? Well now I'm about to cheer you up with the three best performances from 2010/11.
Three Best
3. Fulham 2-5 Liverpool – May 9th 2011
Since the return of Kenny Dalglish as manager, Liverpool's away form and overall performances had picked up and the team were playing with tons of confidence. This win away to Fulham – who had the fourth best defence in the league – was a brilliant showing of skill, passing, fluidity and confidence. Another hat-trick from Maxi – his second in three games – and goals from Luis Suarez and Dirk Kuyt gave the travelling Kop a night to remember.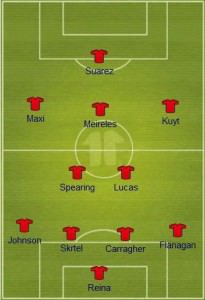 When Kenny Dalglish came in as manager, he scrapped the 4-4-2 that Hodgson employed and went with a more suitable 4-2-3-1. The current Liverpool squad are very adept at playing in this system as the two holding midfielders allow the three attacking midfielders to support the lone striker. Usually Dirk Kuyt drifts in from the right to help out the lone striker so the formation can change to a 4-2-2-2. Not only is the formation useful in possession but without the ball, the players resort to a 4-5-1 to try and contain the opposition from breaking through to the defence. In this match, the system worked perfectly as Fulham were unable to break down the determined Liverpool defence and were struggling to keep up with the slick passing between the front four of Meireles, Maxi, Kuyt and Suarez.
This was one of the best away performances in recent years with the Reds going 3-0 up inside 20 minutes. The statistics are very impressive, also. Liverpool completely dominated the match with 51% possession, and 9 shots on target. Under Hodgson, 9 shots on target away from home would have been a miracle; under Dalglish, it was a definite possibility. There were 10 goalscoring opportunities created through the fluid passing between the front four. Backing up the attackers were the full-backs of Johnson and young, local lad, John Flanagan. The possession duels are not often spoken of, but Liverpool's performance warranted it. The away side won 71 of the 116 possession duels – a phenomenal stat. Surprisingly, there were no headed shots from Liverpool, which just goes to show how effective their passing game was.
This was an extremely good, all-round Liverpool performance.
2. Chelsea 0-1 Liverpool – February 6th 2011
With the bitter departure of Fernando Torres, all Liverpool fans wanted revenge and there was no better way to gain it than to beat Chelsea on Torres' debut for the Blues. Much like the Fulham away performance, the players displayed an excellent array of passing with solid defending throughout. The clinical finish from in-form Portuguese midfielder Raul Meireles gave the Reds a famous away win at Stamford Bridge and left Fernando Torres slumped in his seat on the bench.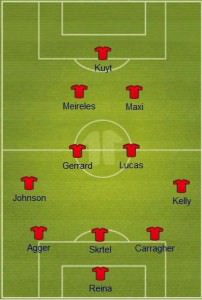 In this match, Dalglish surprised everyone and went with a 3-4-2-1 formation with Dirk Kuyt as the lone striker and Glen Johnson and Martin Kelly as wing-backs. Not only did they offer constant attacking threat, but they kept the Chelsea wingers largely subdued. With Lucas and Steven Gerrard in the middle, Liverpool had a combination of the dogged, defensive Lucas and the box-to-box Gerrard which brought a lot of balance to the side. And finally, the duo of Meireles and Maxi backing-up Dirk Kuyt gave the attack some spark and allowed both men to come from deep and pick-up any loose balls – which is exactly what Raul Meireles did for the winner.
The statistics are dominated by Chelsea as they had most of the ball during the game. That is no surprise as Chelsea will always have more possession and shots at home. What Liverpool did so well, though, was limit Chelsea to where they were shooting from. Throughout the whole match, the Blues only managed one shot on target, compared to Liverpool's 3. In total, Chelsea had 20 shots; 1 on target, 13 off target and 6 blocked. Of these 20 shots, 10 were taken from outside the penalty area, which just goes to show how solid Liverpool's defending was as they restricted Chelsea and kept them at bay.
This victory was different to the Fulham win. It was a smash-and-grab victory at an extremely tough place to take not only a point, but all three.
1. Liverpool 3-1 Manchester United – March 6th 2011
Whenever Manchester United travel to Anfield it is always a feisty occasion and the Liverpool players didn't let the fans down. A hat-trick from Dirk Kuyt and an all-round brilliant performance, mainly from new signing, Luis Suarez, gave the Kop some bragging rights over United and left Fergie red-faced once more.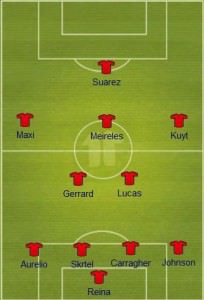 Once again, Dalglish set up his side in a 4-2-3-1 formation. The tactics were to get at United from kick-off and bombard them with attack after attack. The pace and trickery of Suarez, the hard graft of Kuyt and the battling mentalities of the whole team drove them to victory. Man Utd simply couldn't handle what Liverpool were throwing at them.
Liverpool had a total of 16 shots (6 on target, 8 off, 2 blocked) compared to United's 13 (3 on target, 6 off, 4 blocked). Looking over the statistics for this match, Liverpool completely dominated on all fronts; they created more chances (11 to Utd's 9), had more corners (6-4), more tackles (24-20), won more possession duels (61-48), won more aerial duels (14-11) and more interceptions (19-7).
The only downside to the day was that the home side conceded a goal late-on to Hernandez and the only stats that Man Utd came out on top of was the possession and completed passes.
It was a fantastic performance and was my pick for the best of 2010/11. I'm sure it will also be many people's choices as well, but do comment and leave you top 3 worst and 3 best performances.
Coming Soon:
Part 3: Defence, Midfield and Attack Comparison