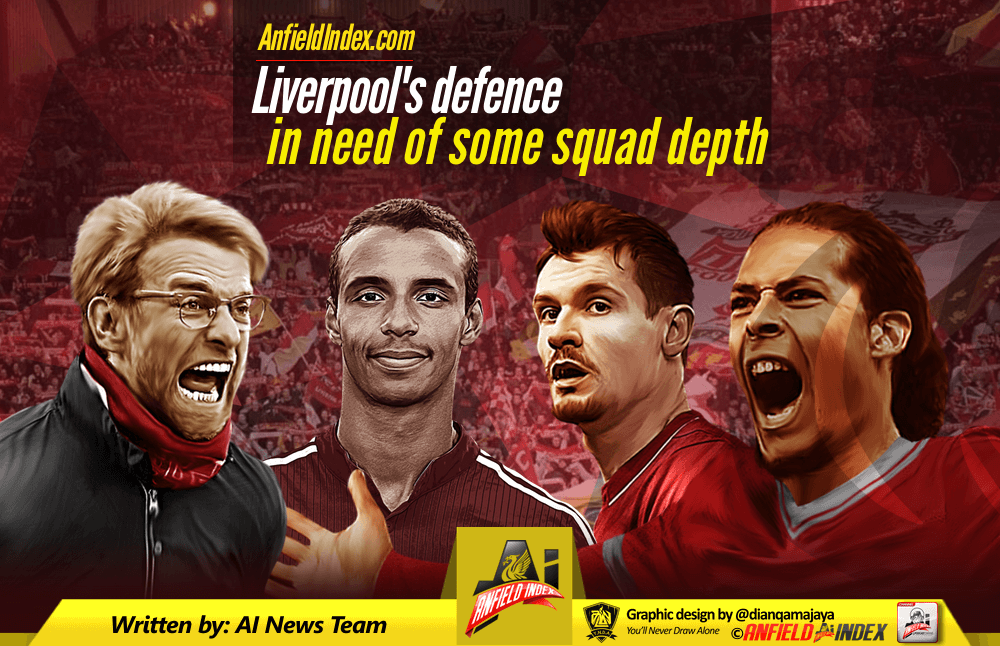 Liverpool's defence in need of some squad depth
It's not about quantity, it's about quality. But sometimes in football it's about quality in quantity. Squad depth is a major part of football nowadays, as a greater number of games means a strong XI does not suffice anymore. Having depth in every position, where there's at least one solid back-up, keeps the starting XI on their toes and provides solid competition, while keeping players fresh.
At Liverpool, there's depth in some positions, but is it always of the right quality. For example, at left-back Andy Robertson was signed from Hull City this summer to strengthen the left flank. But with the misfiring and distrusted Alberto Moreno as the only other true left-back (if you can call him that), it prompted Jurgen Klopp to play James Milner there last season. A central-midfielder, it was to Liverpool's benefit that Milner provided a temporary solution to a gaping hole, but for all of his virtues, he's not a proper left-back. Many football predictions provided by bigfreebet.com for Liverpool suggest this season will see the same issue arise, and it is surprising that they would not have two specialist left-backs that the manager trusts.
On the opposite side of defence, things are brighter. Nathaniel Clyne has been solid at right-back for the past two years, even if his performances lately have the air of someone who's not been challenged enough for his spot. With Jon Flanagan slowly regressing post-injury, the emergence of Trent Alexander-Arnold and his rapid development provides Klopp a solid and exciting young talent to cover for Clyne. He's slowly pushing Clyne for his spot, and with Joe Gomez capable of playing at RB too, this is one position where Liverpool has no qualms with depth.

At the heart of the defence though is where the true issues lie. Joel Matip's signing on a free last summer was inspired business; without him, the Liverpool defence may have been in pieces. Dejan Lovren has done well enough in most parts last season barring the occasional lapse in concentration. But it simply isn't enough. Ragnar Klavan should be a fourth-choice defender at most but finds himself playing more often than he should. And without Mamadou Sakho, Joe Gomez is the only other option at the back. He shouldn't have to be.
Liverpool's pursuit of Virgil van Dijk all summer has been well documented, with Southampton complaining of Liverpool's 'tapping up', which put the deal on hold. It's expected that the imperious Dutchman will join eventually, but with four days left in the window, it's a deal that needs to be sorted out as soon as possible to ally fears of fans. The commanding defender will strengthen Liverpool's defense on many levels, providing more competition at the back. It's a no-brainer.
Raymond Verheijen has detailed Klopp's training methods for being responsible for the various injuries last season. Whether or not it's true, the number of injuries make a deeper squad a necessity in order for the club to do well in all competitions. The addition of Virgil van Dijk will go some way towards achieving this.