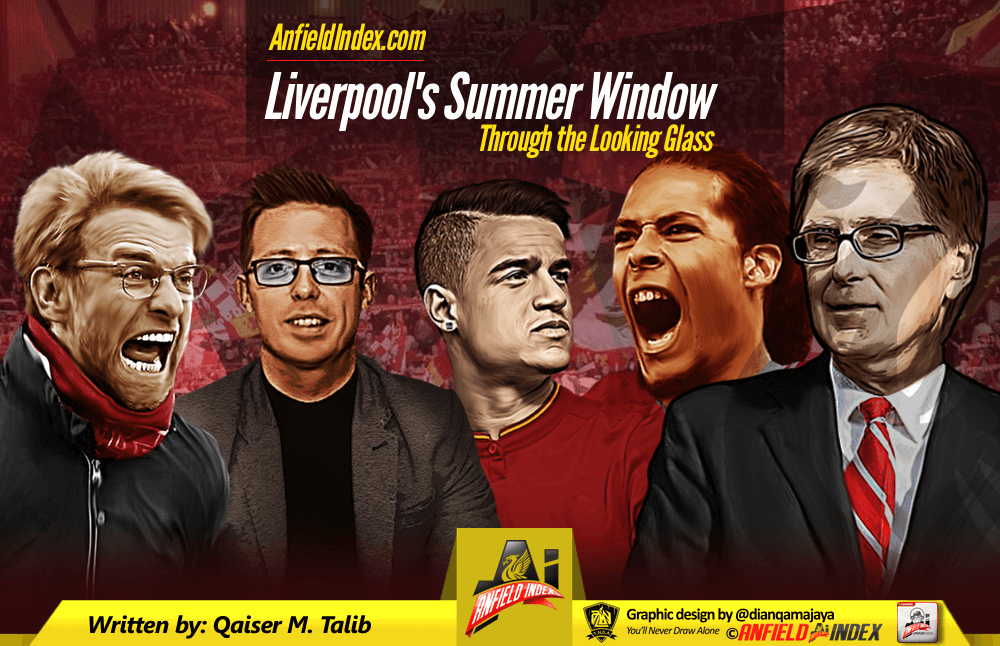 Liverpool's Summer Window: Through the Looking Glass
The transfer window is not like any other window. When you open most windows, you know what you will be getting. If it's a wet day, raindrops will slant their way into the room. If it's a breezy day, you know the curtains will rustle but the room will feel much fresher.
But given that Liverpool qualified for the Champions League last season for only the second time during the reign of current owners Fenway Sports Group, did the Americans, their Director of Football Michael Edwards or manager Jurgen Klopp make the most of this particular window? Now that the window has been slammed shut, how do we feel, sitting in this room as we are, knowing that the window will remain unopened for four full months?
Well, the three facets of any club are the owners, the management and the supporters. They may not all agree on how well the summer went.

Whilst every supporter is different, and will have their own way of looking at the window, there seems to be a general consensus amongst supporters that this window could have been so much more. Liverpool qualified for the Champions League last season and were expected to spend upwards of £150m on players. Several papers indicated this amount was available and that "Liverpool's transfer record will be broken several times in this window."
Many fans now believe that this figure, likely leaked by the club for PR purposes, was a completely fictitious figure, plucked out of thin air. Let's look at where Liverpool stood at the end of last season.
When all was said and done, Liverpool were the fourth highest scoring team in the Premier League but had two out standing problems last year: an inability to beat teams in the bottom half of the Premier League combined with the unwanted ability to concede from set pieces on an alarmingly regular basis. No other team has conceded more set piece goals in the Premier League since the arrival of Klopp in October 2015: a staggering total of 27 opposition goals have come from corners and free kicks. Given this, it seems obvious to most Kopites that Liverpool are in need some defensive nous, most obviously via the purchase of a commanding centre half and a holding midfielder.
Neither arrived this summer – and Liverpool fans are mostly not amused.
It is clear that Klopp wanted Virgil van Dijk, and it is clear that the feeling was mutual. The question then remains: why is it that the club turned the pursuit of the centre-back into a must-see production, the 'feel-good' movie of the year, wonderful entertainment for all our rivals? How exactly the initial meetings were leaked – we may never know. Who leaked the information? Why were Liverpool targeted for 'tapping up' when it is clear that most clubs must engage in some contact, whether directly or via third parties, with the players they wish to acquire? We may never know the answers to these pertinent questions but the cynical amongst Liverpool fans have wondered aloud how devastated FSG would be in not having to fork out upwards of £60m a centre back.
The story was even more bemusing given that FSG have sent so much money to the South Coast, one could be forgiven for thinking the Anfield board were actually investors in Southampton Football Club. Perhaps Liverpool were not subtle enough in making their desire for the player known. Perhaps Liverpool's owners did not want to commit such a large amount for a centre-back in his mid-20s given their well-known fixation with the Moneyball system which usually means 'buy low, sell high' and not vice versa. It is important to note that despite the entire saga, lasting a total of three months, not ONE SINGLE OFFICIAL BID was lodged with the board at St Marys.
Whatever the details, VVD is still at Southampton and FSG (or Klopp or both) decided not to bid for any other centre-back. On top of this, Mamadou Sakho – a better out and out defender than Dejan Lovren – has been allowed to leave Anfield at a time when no Liverpool defender is especially commanding in the air. This strikes some supporters as a bizarre decision given how Sakho barely lost an aerial battle at Crystal Palace in the nine games he played for them. As a Christian, some Liverpool supporters were hoping that Klopp might forgive Sakho given the defensive issues that his team have. After all, Roberto Firmino's drink-driving was overlooked easily and Coutinho's extraordinary conduct over the last month will no doubt be forgiven too. This does smack of double standards to some.
But Sakho has gone, and that is that.
The bottom line when it comes to the back-line is this: to win the title, it is usually the case that the champions concede 32 goals or less. This is the manager's main challenge. Attacking football comes to him easily. Iron Maiden and Megadeth would envy the heavy metal which Klopp's forward line inflicted upon Arsenal last week.
In light of this continue attacking brilliance, it would be interesting to know how our German manager may view the club's dealings over the last three months.
Klopp, known for his belief that all players can be improved over time regardless of age or ability, will argue that the current squad can reduce the goal intake from 42 to closer to 30 with better concentration and better decision-making. It will be a team effort, he will argue. He will be privately devastated by the failure to secure VVD's signature, but not hopeless.
Although most Liverpool fans would have preferred to see the Dutchman come in to partner the classy Joel Matip this season, we will have to hope that work on the training field will bring about a tougher defensive line, especially when Liverpool are facing corners and set pieces. The brilliant forward line which Klopp has created would indicate that Liverpool are more than capable of topping last season's goals scored tally: 78.
Not a bad figure – given that the club's best finisher, Daniel Sturridge, only played in 20 games for the club last season. If Liverpool were to score ten more goals, and concede ten less, the team will certainly be in the Champions League again.
Klopp would also argue that the purchase of Naby Keita, guaranteed to join Klopp next summer, is the defensive-minded midfielder which the team sorely needs. Henderson will play the role in the meantime – until Keita arrives next summer. All this is extremely revealing.
What we are beginning to learn about our manager is this: it's absolutely clear that when Klopp chooses his number one target for a position, he is not especially keen on back-up options and does not seem to have a second, third and fourth choice. He doesn't do lists.
He wants what he wants, or he will work with what he has.
After losing his best players to other European giants at his previous club, and after being bullied constantly by Bayern in particular – a financial monster with four times the turnover of Dortmund – it is clear that Klopp wishes to enjoy the spending power of a Premier League club by going for, and getting, his number one targets – even if it means he will have to wait for them to arrive beyond the current window.
Whilst some may not like this approach, there are times in the past when Liverpool have had a long list of players for a position, and have ended up with the player who is third or fourth on the list – and lived to regret it. FSG have some nasty experiences of such scenarios.
In January 2011, with Fernando Torres desperate to leave Anfield for Stamford Bridge, Liverpool made an enquiry about Mario Gomes, the then red-hot Bayern striker. After being rebuffed, Damien Comolli enquired after Fernando Llorente, then playing for Athletic Bilbao. Liverpool ended up with their third or fourth choice: £35m Andy Carroll, a man who according to those closest to him in the North East, was not keen on the move at all. When the fitness test made unimpressive reading, Liverpool still signed the player for fear of the backlash of not signing a replacement for Torres. FSG learned from the signings of Caroll and Stewart Downing that sometimes, big bucks doesn't always mean big success.
Although many Liverpool fans feel an alternative to VVD should have been sought, FSG and Klopp would both argue it is better to wait for the top target to arrive rather than panic buy and end up with some disaster on a five-year-contract on £100k a week. To a degree, this is understandable although it does kill transfer deadline day to some degree for those searching for the sacred yellow ribbon running across the bottom of the screen.
After all, If Klopp has the desire to stay at Anfield for a decade – and make it his last job in club management, which he has indicated it will be – it makes sense that he may wish to retire in ten years, three titles under his belt. If he tries to force the issue, he may end up imploding what he has already built and may be around for four years, like his Irish predecessor.
However, if Liverpool could not get Van Dijk, I personally don't understand why Liverpool did not sure up the midfield in front of him. William Carvalho, the Portuguese holding midfielder (available for £40m) was not targeted by Liverpool even when the midfield of the Reds is often wide open, with opposition runners appearing face to the face with the back four all too quickly at times last season. Whilst Ronaldo and Quarezma got the plaudits after Portugal's Euro 2016 victory in Paris last year, Carvalho's ability to sniff out danger was the main reason the team were so hard to score against. No doubt, FSG and/or Klopp will have their reasons for avoiding Carvalho – but on the face of it, no obvious defensive big-hitter has been signed: a little unusual when trying to find a defensive set up to protect a dodgy defence and two often unconvincing goalkeepers. If you wanted more reasons to sign Carvalho, he is 23 and would fit well into the Moneyball system of buying young players who will hold their value during the course of their contract. This decision not bring him to Anfield baffles me greatly – and I know I am not alone.
But on the bright side, looking at the other end of the pitch, Liverpool FC have managed to go the whole summer without a top attacking player leaving, an unusual phenomenon over the last decade or so. Plus, they have added the promising Dominic Solanke and the fleet-footed Egyptian, Mohamed Salah, a player who looks absolutely perfect for Liverpool under Jurgen Klopp. Whilst Alex Oxlade-Chamberlain has not been a world beater at Arsenal, the fact that he has chosen less money to come to Anfield indicates he's excited to work with Jurgen Klopp. Hopefully, he will improve in the way Emre Can has over recent months.
Further forward, Phillipe Coutinho has been kept at Anfield very much against his will. Whilst this leaves an uncomfortable feeling in the air for all concerned, there are few doubts that this is the correct decision for Liverpool FC. Barcelona and Coutinho had all summer to do this deal but decided to step it all up on the eve of the Premier League season. This timing seems to have been chosen deliberately to cause maximum disruption, with each bid for the Brazilian playmaker coming a day before a massive game. This kind of cynical behaviour, totally in contrast to the gentleman-club image which Barcelona seek to portray to the world, should not be rewarded. However low Coutinho might be, he may get his chance again next summer if he delivers for the supporters on the pitch and shows a little more decorum off it.
Klopp and FSG have sent a few messages to Europe this summer – all of them interesting.
One – we are not PSG or Manchester City and won't be paying hundreds of millions in a transfer window, but tens of millions.
Two – if we cannot get our top targets, we will wait. There will be no more Andy Carroll-where's-the-nearest-helicopter signings at 10.43pm on Deadline Day.
Three – if you want to buy our best players, you cannot do so anymore. If we allow this to happen, it will be done at our behest – and in a way and at a time that is good for Liverpool FC.
The FSG net spend in this window was around £40m only when figures closer to £200m were being banded around early in the summer compared to Mourinho's net outlay of £160m.
This is all fine – but ultimately, we don't know what it all means yet.
If Liverpool qualify for the Champions League again, this window will not look so bad. If Liverpool drop out, fans will look at back and say: why did we not do more to secure VVD or William Carvalho, or players of their ilk?
The addition of Salah and the stay of Coutinho would indicate Liverpool can score ten more goals in the season, getting closer to 90. The real question is: can they concede less, and get closer to 30? This is when title challenges become possible.
As we settle down to our cup of coffee, we gaze out of the window. Will Klopp still be Gegenpressing in January – or will the supporters be feeling Gegen-depressing?
Let's see where we are when the window opens in four months.
YNWA.