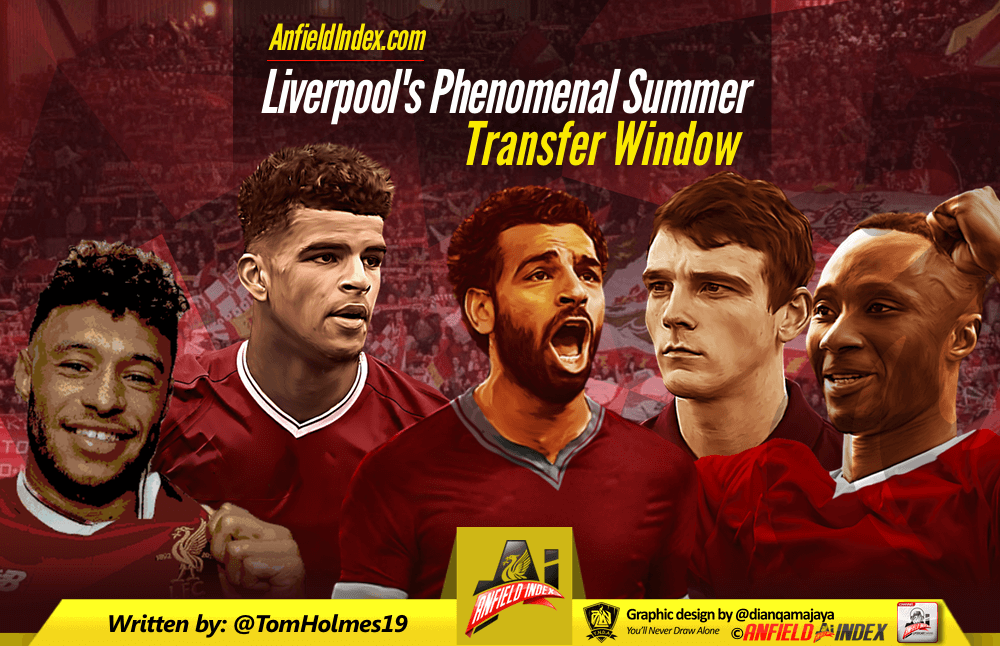 Liverpool's Phenomenal Summer Transfer Window

So the transfer window is finally over. After months of scrutiny, Liverpool have their squad for at least the front half of the season and plausibly the entire campaign, given Jurgen Klopp's January transfer record. So, with Mo Salah, Alex Oxlade-Chamberlain, Andy Robertson, Dominic Solanke all coming in, not to mention Naby Keita next summer, and despite a mad scramble, no Virgil Van Dijk and no Thomas Lemar, how do we as supporters feel about this?
Not overly happy seems to be the consensus. Personally, I don't get it. This has been Liverpool's best transfer window in years. We've brought in two genuinely world class players who seriously improve our first team, and we've also improved in every area of the pitch whilst adding some depth with Robertson, Solanke and Oxlade-Chamberlain. Yes, Naby Keita won't join the club until next summer but in my opinion that doesn't mean we can strike it off this window, given how impressive a player he is and how well Liverpool did to get his signing done.
When was the last time Liverpool bought two ready-made world class players in one transfer window? I've waxed lyrical about Salah before and frankly, Keita could be even better if he can replicate his Bundesliga form over the next twelve months (and there's plenty of evidence that he can and will). Comparatively, last summer we had two big money, big name targets and both of them came in with mixed reviews. There was tentative excitement about both but I don't think anyone expected Sadio Mane to become as dead good as he is now, with the jury still out on Gini Wijnaldum, although he remains a vital part of Klopp's team and a great squad addition. Getting Matip on a free last summer was an outstanding bit of business but he's not exactly a world class central defender himself and the other low key signings have been hit and miss.
And we haven't even got to the elephant in the room yet. Phil Coutinho. Now there are a lot of things to take into account with Phil. How is his relationship with Klopp, how good are we with or without him, is he the best player in our team or the most important one. For me, these questions have to take a back step to the most salient point, which is that he is one of the outstanding talents in this Liverpool team and whether or not we should have sold him, we're going to get to use those outstanding talents for another few months at least. And that cannot be a bad thing on the whole. A lot of people would argue that keeping Phil is the bare minimum but I think it's a massive positive. Resisting Barcelona's offers was a really strong stance from FSG as once again Liverpool proved that they're better with regards to selling (or not) their big names than they are buying them.
As for the big sources of frustration: the lack of deadline day deals. I think most Liverpool fans will accept that keeping Coutinho is probably better in the short term than selling him and replacing him with Lemar, who may well have taken a long time to integrate into the squad. There's no doubt that Lemar is a good player and I really wanted him to come in, but £92m is extortionate and he's not worth that. Hopefully, we can get a deal with Monaco on a later occasion, allowing him a full Jurgen Klopp pre-season like Salah this summer, Mane last summer, and Naby Keita next.
So, we move onto the big issue, Virgil Van Dijk. Not signing him is a blow, but I think there are several things to factor in which somewhat mitigate how big a blow that can be considered. The first thing to consider is that Van Dijk hasn't played competitive football since January. Anyone who thought he would waltz into our team in time for the Man City game was kidding themselves. Chances are that he wouldn't be fully up to speed or ready to play in a Jurgen Klopp team until somewhere close to January anyway, especially in such a pivotal position on the pitch.
That's not to say that Van Dijk will come in in January at all, and certainly, Liverpool know that signing him has to their number one priority in the next two transfer windows. But the other question is whether not bidding for him on 31st August will improve Liverpool's chances of signing him at all, and surely the answer is that it will – otherwise Liverpool probably would have bid for him. Maybe I'm assuming a level of competence in the club that isn't there, but I really don't think Liverpool are a badly run club.
The question of whether someone else should have been signed with VVD off the table is one that I don't find as easy as some. Obviously, there are other central defenders out there who are an improvement on Dejan Lovren. But are there as many as some seem to think? Not really. More importantly, there aren't any who Jurgen Klopp feels can improve his team as much as Virgil Van Dijk. I don't necessarily agree with Klopp's attitude that not buying anyone is better than buying someone marginally worse, but I definitely respect it. The club know who they want and they're prepared to wait to get it, rather than having to throw £50m at the window every summer to fix previous errors whilst flogging expensive flops – see Andy Carroll, Mario Balotelli, Christian Benteke etc.
So my thoughts on the window overall? Well not perfect obviously, but an absolutely phenomenal window in my opinion. Liverpool have brought in not one but two extremely exciting prospects. Salah is an instant hit, and I'm sure Keita will be next summer too. And none of the signings from this window look like bad ones. Robertson has the potential to be a solution to the left-back problem, Solanke offers something different up front and is a young prospect with a potentially massive ceiling. Oxlade-Chamberlain is a signing that I have spoken out against before, but he offers depth in midfield and on the wings and the consensus seems to be that he has raw attributes that Klopp can work with. With four key additions to bolster the squad this summer, admittedly offset with the departure of Divock Origi, the only area that I'm concerned about in terms of depth is centre-back.
We've all talked a lot about that. Time to stop talking, and for the Reds to pull things off. We're going places under Jurgen Klopp and that's reflected in what has been a brilliant summer of signings. The only shame is that we couldn't add one more. Patience is a virtue, and I strongly suspect Liverpool fans will be rewarded if they show some.