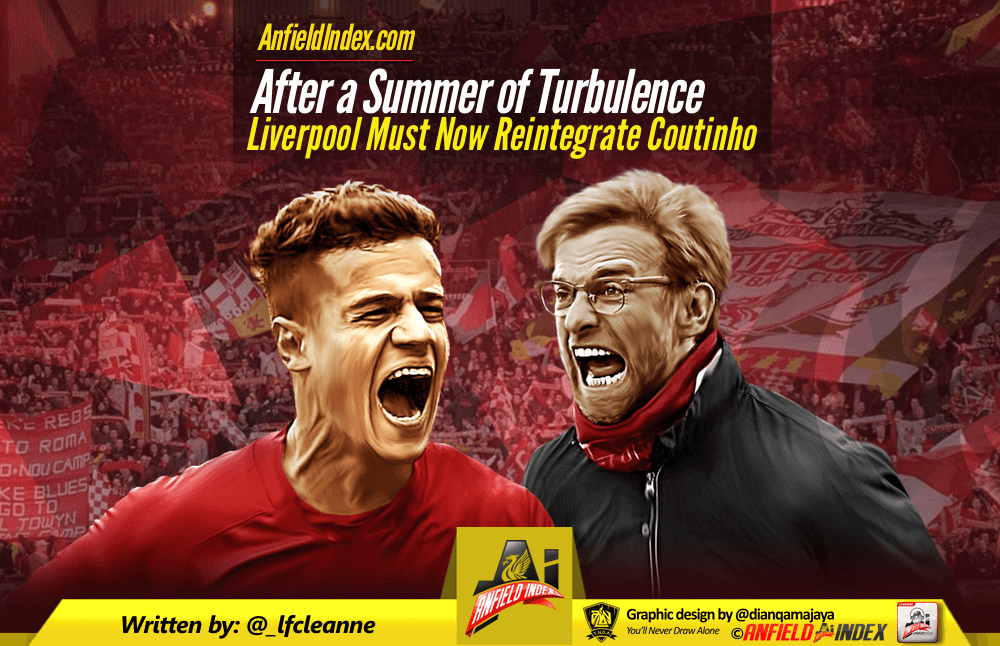 After a Summer of Turbulence, Liverpool Must Now Reintegrate Coutinho
It's been a torrid few weeks for Liverpool fans regarding Philippe Coutinho. We've had continuous rumours, a fake back injury and a transfer request as the Brazilian looked to force through a dream move to Barcelona this summer. The Spaniards were desperate to land the playmaker and believed they had every chance in doing so despite FSG's "definitive" statement that he was not for sale. Yet after all the toing and froing, Coutinho will remain on Merseyside for the 2017/18 campaign.
His actions have naturally bore a hole in fans' hearts. Here was a player who, not too long ago, spoke publically of his loyalty to the club and desire to bring trophies back to Anfield. Signing a five-year-deal with no release clause, Liverpool had tied down one of their most prized assets.
Now, on the back of a 4-0 demolition job over Arsenal, there is an increasing urge to let the Brazilian rot on the side-lines and learn his lesson after taking such disrespectful action towards the club. However, if Liverpool are to achieve their full potential this season, reintegrating Coutinho back into the squad must be a priority.

The Reds may have made a storming start to the campaign, claiming seven out of nine points from the opening three Premier League games, but talk of not needing Coutinho is wide of the mark. Yes, the system remains effective without him in it, with his teammates notching 14 goals in the first five games of the season, but having scored 14 goals last season and registering more assists than all of his teammates bar Georginio Wijnaldum, the Brazilian is simply too good to be left to rot in the reserves.
You just have to look at his goal against Ecuador to see what he can do. Dribbling through the midfield with ease, Coutinho delivered a sumptuous lobbed through ball to Gabriel Jesus before volleying in from close range. Take last season, too, when he pulled the strings against Arsenal on the opening day before contributing with three goals at the back end of the season to push The Reds over the line and into the top-four.
Liverpool want to challenge for trophies this season and players of Coutinho's calibre make it a much more likely. The way he can turn with the ball at his feet and roam past opposition defenders is unparalleled. He's a match-winner in his own right.
Occupying a deeper role, you can foresee him providing the supply lines for the front three of Sadio Mane, Roberto Firmino and Mohamed Salah. That makes for a thoroughly exciting prospect for Liverpool fans – and an equally worrying one for opposition defences.
Of course, all this isn't to say that Coutinho should be immediately forgiven for his actions – in fact, far from it. When he returns from international duty, he must be seen to apply himself in a thoroughly professional manner, giving everything he has to the cause. Only then should he be in contention for a return to the starting line-up, with those involved in the previous fixtures more than deserving of their place.
Given this is a World Cup year, Coutinho can ill-afford to rest on his laurels and sulk after failing to get his move this summer. He'll be fighting tooth and nail to get into the Brazilian squad which could see him deliver another scintillating season for the Reds before his move to Barca resurfaces – much like Suarez did a few years back before leaving on good terms.
Getting his head down and giving us one more year of his magic would certainly go a long way in helping fans forgive him for his misdemeanours. Its up to you, Phil.