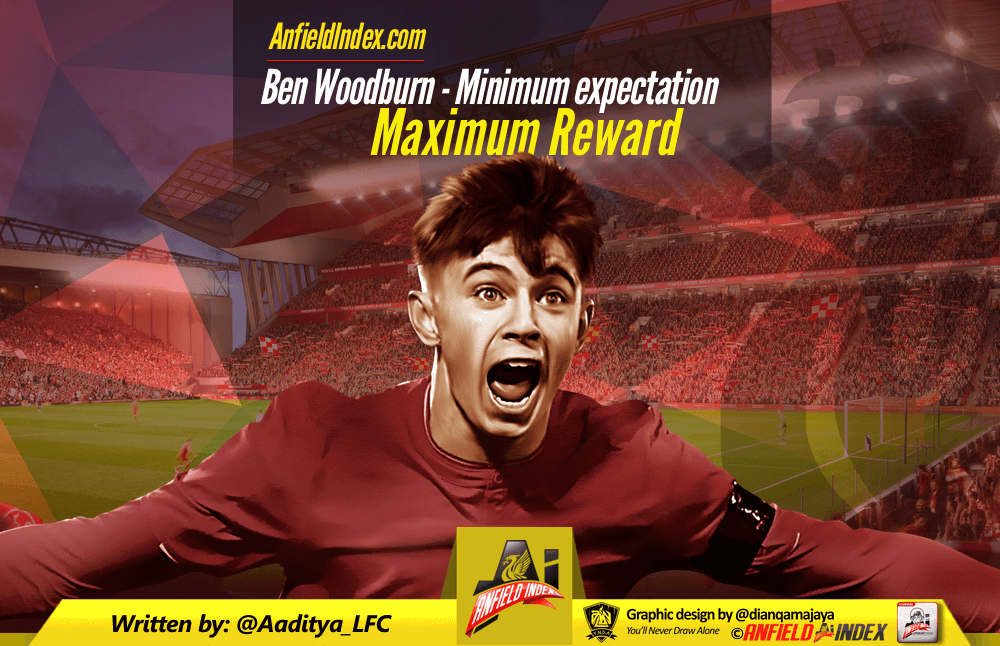 Ben Woodburn - Minimum expectation, maximum reward

Ben Woodburn was born 77 days prior to the turn of the millennium. Ben Woodburn is now a goalscorer on debut for both Liverpool and Wales. Will England regret losing him to their neighbour? Only time will tell, because as of now, Woodburn is just a special talent, nothing more than that, nothing less.
It important for fans, Chris Coleman and Jurgen Klopp to ensure that they manage Woodburn and his growth well. The management will be in terms of the kid's workload, his position on the pitch, and the way he trains.
It has been clear for almost a year now, that Klopp rates Woodburn massively. He has been on the fringes of the first-team ever since last summer's pre-season, when as 16-year-old, he scored a couple of goals and hugely impressed Klopp.
In November, he became Liverpool's youngest ever goalscorer in a competitive game, as he scored against Leeds in the League Cup quarterfinal. A first Premier League start was on the horizon, as Woodburn made the eleven that started against Stoke in April.
But to Klopp's credit, he has lived up to the word he gave after Woodburn scored against Leeds. He said it was important that there isn't too much pressure put on the young Welshman. "For now, he is just goalscorer Ben Woodburn", the German said.
It is important to note that Klopp still hasn't had Woodburn playing in a fixed position, whenever he has played, be it in competitive games, or in pre-season. Central midfield, no. 10, left wing, right wing, Woodburn has been played everywhere.
And common sense would dictate that the next step in Woodburn's development would be to find his best position. Anyone that young would be enthusiastic and desperate to get on the pitch for Liverpool, irrespective of the position he is playing in, so it would be important for Woodburn to now figure out what he can do best.
I saw a tweet a couple of days ago, which compared Woodburn and Marcus Rashford – how if Rashford had scored the goal that Woodburn did for Wales, there would be unending adulation. That, in a way, works in Woodburn's favour. Just let him be. He has done brilliantly for himself so far, but it is important that everyone remembers that the kid is just 17.
The biggest pressure he can face right now, would come from external sources. I say that because both Klopp and Coleman seem to know where they are headed, in terms of Woodburn's development. Coleman has had him around the Welsh first-team setup for a while now, but he only made his first appearance last weekend, which means that Wales are not expecting miracles from Woodburn.
With Liverpool, Woodburn could not be at a better place at the current moment in his career. In my view, Woodburn's long-term position would be as a no. 10, a la Philippe Coutinho. His close control is immaculate and he has shown that his passing range is very good. But he isn't the quickest around, which could deter him when he plays on the wings.
With the talent Liverpool possess in the attacking areas of the pitch, it is hard to imagine Woodburn getting too much game-time just yet. I see Woodburn being a regular feature in the cup games, ensuring that the senior players get rest after their exertions in the Premier League and the Champions League.
For now, Woodburn has Coutinho and Adam Lallana to learn from. They are definitely two of the best in that position in the Premier League, and it would do the youngster no harm to fall under one of their wings – just not the part of Coutinho that feels he wants to move away.
The fans also need to be responsible when it comes to Woodburn. Expecting anything major from him could just add to the pressure and make him fall by the wayside. No one wants that, because football would lose one of its most exciting talents.
For Ben Woodburn right now, the world is his oyster. For Liverpool right now, Ben Woodburn is that little adolescent kid who needs to be taken care of, taken care of so that Woodburn isn't just another talented youngster from a British academy but someone who the people at Kirkby can talk of with pride.