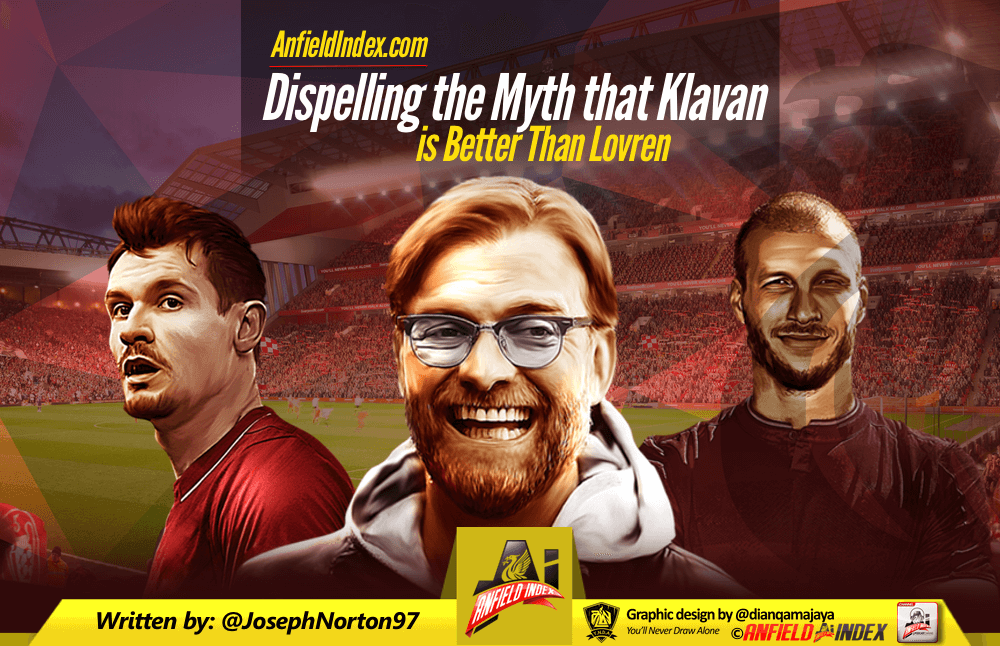 Dispelling the Myth that Klavan is Better Than Lovren
Mention the name Dejan Lovren to most Liverpool supporters and you'll be greeted with various responses many of which will be particularly negative. "He can't defend." "He's not good enough for Liverpool." "Klavan's better than him."
We all know that Joel Matip is our best centre-back by a considerable margin, the man just oozes class and is a very good footballer, however, there is only one man who should partner him for the majority of this season and that's Lovren. We'll all agree the Croatian shouldn't be in Liverpool's first choice centre-back partnership in an ideal world, he makes too many mistakes which over the course of a season and for a team who have ambitions of challenging for a Premier League title prove to be too destructive. But with the Reds not signing a CB in the summer transfer window, Lovren has to partner Matip. Ragnar Klavan is a calm and composed centre-back, which is one of the main reasons many fans like him as this is something Lovren is often criticised for and rightly so but when it comes to being able to defend properly and handle the physicality of the Premier League, Lovren wins hands down.
In Liverpool's system where the full-backs are asked to play high and wide, the two centre-backs are often left isolated and asked to cover a lot of the pitch as well as playing on the front foot to back up the Reds' high pressing game. As a result, the CB's have to be the best in the business as they are being asked to essentially be the perfect centre halves, making the failure of us to sign another centre-back in the window even more bemusing. Particularly under Brendan Rodgers, Lovren made countless errors as he over complicated his game, trying to do things he just simply isn't capable of. However, under the guidance of Jurgen Klopp the Croatian seems to have simplified his game allowing his real quality which lies in heading and tackling to shine through. Having said this Lovren still seems prone to a couple of errors a season which often prove to be extremely costly to the team. Because of these errors many fans have called for Ragnar Klavan to partner Matip on a regular basis both last season and this season but the fact is he just isn't as good of a defender as Lovren is.The Croatian is more dominant physically, better aerially and to put is simply a much better defender.

When we look at the statistics from last season it is unsurprising that Lovren tops the majority of the categories. The Croatian wins 64.43% of his aerial duels per 90 compared to the 53.85% Klavan averages, Lovren also wins 56.49% of his total duels compared to Klavan who wins just 49.24%. These statistics are unsurprising to me as the Croatian always seems a lot more dominant against his attackers when compared with Klavan, this is not to say Klavan is a bad defender, he really isn't, he's the perfect fourth or fifth choice centre-back but he should not be considered good enough to partner Matip on a regular basis. When we look at interceptions and clearances per 90, it is again Lovren who heads both of these statistics. The Croatian averages 1.52 and 6.17 respectively in comparison to Klavan who averages 0.82 and 5.67. Again another criticism of Lovern from many supporters has been his defensive positioning and decision making but topping both of these categories would suggest his positioning is much better than most people give him credit for. The biggest problem with Lovren is the mistakes he makes and no one can deny he makes too many of them but slowly he does seem to be cutting them out by simplifying his game. Klavan makes 0.06 errors per 90 whereas Lovren makes 0.11, this is considerably higher, and the reality is he has to cut these mistakes out of his game. The way the Reds are asked to defend means our defenders are always going to make slightly more mistakes than other teams, that's the risk you take by defending on the front foot but if we had two top class centre-backs then these errors would be minimised. For some context Joel Matip averaged no errors (on the ball) per 90 last season, empathising the gulf in class between these two and a top quality defender; of course Matip will have made a few mistakes last season whether it be his decision making or positioning but nothing massively destructive.
One final stat that needs to be looked at is successful passes, a Liverpool centre-back must be confident and progressive on the ball, having the capability of receiving the ball in tight areas, playing through the lines and stepping into midfield. There is no denying that Klavan is a lot more composed on the ball and more willing to step into midfield, however, Lovren has just as good of a passing range as the Estonian even if he keep things slightly more simple at times. The Croatian made 59.05 successful passes per 90 last season whereas Klavan only averaged 51.37, again some context must be added to this statistic, as Klavan is slightly more adventurous with his passing it is understandable that he made fewer successful passes but Lovren's passing range is just as good as the Estonian's. We saw this at the start of the season with Lovren's wonderfully lofted through ball to Firmino away at Watford which lead to Mo Salah scoring, therefore, this statistic should not be overlooked by any stretch of the imagination.
Some of the criticism Lovren has received over the last three years has been justified, there have been times when he has been simply dreadful but under the coaching of Jurgen Klopp he is definitely improving and if he can limit the number of mistakes he makes he could become a very good defender for Liverpool. Another concern with the Croatian is the number of injuries he suffers, he missed 9 games last season and partnered Joel Matip in under 20 matches, which again isn't good enough and disrupts any consistency that could be built. There will be times this season when Lovren or Matip will need resting because of the added demands of European football and Ragnar Klavan is more than good enough to fill in when required, however, there are certain games which are more suited to his attributes. Klavan struggles when he's up against a pacy forward who wants to run in behind him, therefore, Klopp must make sure he carefully selects which games he comes in for. The Reds' failure to sign a top class centre-back is almost unforgivable but it's up to the defenders we have got available to go out and deliver the kind of performances that ensure we can challenge on all fronts this season.