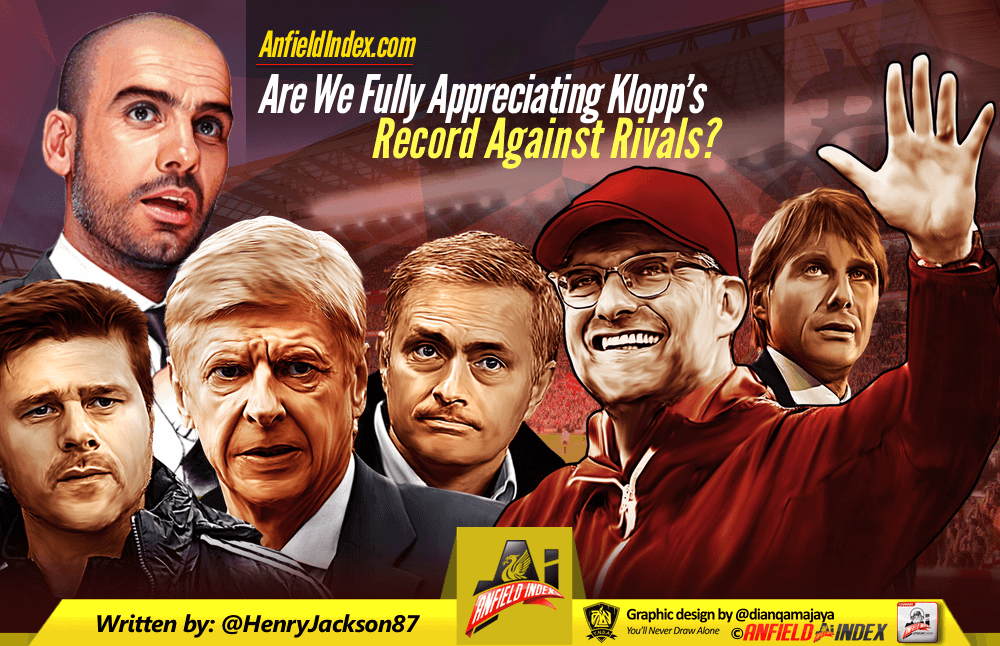 Are We Fully Appreciating Klopp's Record Against Rivals?
What has been the main narrative at Liverpool since Jurgen Klopp took charge back in October 2015? They can't beat the lesser sides.
This has undoubtedly been a major issue, and one of the main reasons why a title challenge evaporated in such alarming fashion last season.
In fact, it has been an achilles heel for the Reds for so many years, give or take the odd rogue campaign here and there when they sussed it, with both individuals and the team itself struggling to raise their game when weaker teams stand before them.

An inability to break down stubborn rearguards has been infuriating, and if the problem is not overcome, no success will come Liverpool's way in the near future. It is slowly starting to be eradicated under Klopp, though, with some ugly wins at the end of 2016/17 standing out, in particular.
The Reds fanbase has become a naturally negative one in recent times, such is the impatience within the modern game, and it explains why the team's shortcomings are highlighted more than their strengths.
Although it has obviously been mentioned plenty of times, and received a fair amount of praise, Klopp's fantastic run against Liverpool's rivals deserves far more acclaim. It is a record any manager would be proud of.
The Merseysiders may have been guilty of going into their shell against opponents they should beat, but when the tough matches come around, they prove to be the most fearsome side in the Premier League, blowing teams away with their attacking zest and defending far better than they do in less eye-catching fixtures.
In Klopp's first game in charge, away to Tottenham, it was clear almost immediately that he was making Liverpool a daunting side to come up against, should you be brave enough to attack them and allow space in behind.
It may have been a relatively forgettable 0-0 draw at White Hart Lane, but the signs were there for all to see. Liverpool haven't looked back since in heavyweight contests.
The 3-1 win at Chelsea soon followed, with the Reds recovering from an early setback to turn the game on its head, before an astounding display at Man City.
Liverpool romped to a 4-1 victory at the Etihad, and to this day, it remains arguably the most complete attacking performance during Klopp's tenure. The football played was so good that even Gary Neville had to be complimentary.
If you include Everton alongside City, Man United, Chelsea, Arsenal and Spurs, considering the magnitude of the Merseyside derby, Klopp has taken charge of 22 league matches against their main rivals.
He has lost just once in that whole time – a horribly undeserved 1-0 defeat to Louis van Gaal's dour United side back in January 2016. Wayne Rooney poached a late winner, on a day when Liverpool comprehensively outplayed their most bitter rivals.
That is a stunning record for Klopp to have, given just how competitive matches between the top sides are in the Premier League, and along the way, there have been so many breathtaking wins.
There has been nothing lucky or negative about it – just superb football against sides who haven't been able to handle Liverpool's fearless brilliance.
Chelsea and City have both been take to the sword on their own turf, as mentioned, Everton have been thrashed twice at Anfield and Arsenal have been seen off in a beginning-of-season thriller at the Emirates last year.
Liverpool's most recent high-profile game was against the Gunners a fortnight ago, and they romped to a 4-0 win. It could genuinely have been 7-0 or 8-0.
It has been a joy to watch the Reds almost every time a big match has arrived, and there is no reason why that shouldn't continue.
Klopp faces his 23rd clash with one of the big boys this weekend, with Pep Guardiola's ominous-looking City side awaiting Liverpool at the Etihad.
It promises to be a thrilling 90 minutes between the two most attack-minded teams in the top flight, and if Liverpool can avoid defeat once more, and preferably nick a win, it will be a major early statement of intent in the title race.
As someone who endlessly bangs on about our frustrating fanbase these days, I feel the need to stress something of the utmost importance, however. If Liverpool do lose, there must not be any kind of meltdown after the game. Be frustrated and upset, of course, but look at the bigger picture.
Eventually, Klopp's men will lose to a rival, given the quality they all possess, and there should be no shame in accepting that. It is a given.
That day may well come on Saturday lunchtime, with City the bookies' favourites to win the title this season, and it would be a mighty shame if this strong start to the season is forgotten about because of one loss to a very good side.
Who knows what will happen when Klopp and Guardiola face-off at the weekend – it could honestly be 12-12, when you consider the attacks and defences on show – but before Liverpool's superb run against their rivals potentially comes to an end, we should fully appreciate how great it has been.
Klopp's results vs. rivals (in order)
1. Tottenham 0-0 Liverpool
2. Chelsea 1-3 Liverpool
3. Man City 1-4 Liverpool
4. Liverpool 3-3 Arsenal
5. Liverpool 0-1 Man United
6. Liverpool 3-0 Man City
7. Liverpool 1-1 Tottenham
8. Liverpool 4-0 Everton
9. Liverpool 1-1 Chelsea
10. Arsenal 3-4 Liverpool
11. Tottenham 1-1 Liverpool
12. Chelsea 1-2 Liverpool
13. Liverpool 0-0 Man United
14. Everton 0-1 Liverpool
15. Liverpool 1-0 Man City
16. Man United 1-1 Liverpool
17. Liverpool 1-1 Chelsea
18. Liverpool 2-0 Tottenham
19. Liverpool 3-1 Arsenal
20. Man City 1-1 Liverpool
21. Liverpool 3-1 Everton
22. Liverpool 4-0 Arsenal