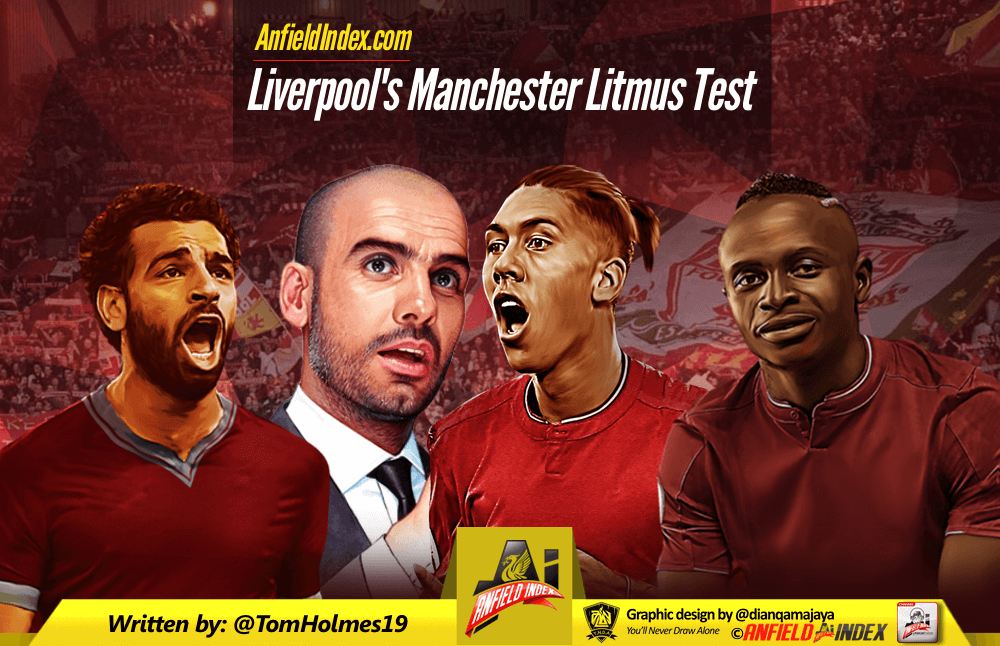 Liverpool's Manchester Litmus Test
Most of the question marks over Liverpool's ability to challenge for titles this season have been over their squad depth – and rightly so. But this implies that there is a general consensus amongst Liverpool fans that in general the starting team is good enough to compete with the very elite – at least at Premier League level. However this season, that hypothesis hasn't been put to the test. Until now.
That's not to say that Liverpool haven't been brilliant so far, because they have. But Arsenal are a shadow of their former selves and whilst Hoffenheim are a strong European outfit, they'd be highly unlikely to challenge for the Premier League title. That's also not to say that Liverpool under Jürgen Klopp don't have a history of performing well against the top six; there is ample evidence that this Liverpool side are good enough to beat any of the top teams.
But the fact remains that in its current iteration, Liverpool's first team remains largely unproven as a side good enough to win the Premier League – at least compared to the other main title contenders. And that brings us to this game against Manchester City.

Man City are the current title favourites and rightly so. They have bolstered an already strong squad with three genuinely excellent full-backs and a potentially brilliant goalkeeper – essentially shoring up the weakest areas of their team – and they've also brought in another brilliant attacking option in Bernardo Silva, whilst the extremely talented Gabriel Jesus will have his first full season in the Premier League.
So how does this Liverpool side, at its best, compare to Manchester City's best side? Well that's the tantalising question. Last season, the two sides met in two very different games. At Anfield, Liverpool scored early and successfully killed the game against a lacklustre City attack. Neither team were at their best, but the Reds took the honours. But at the Etihad, they produced arguably Liverpool's best game of the season from a neutral perspective, as both teams missed hat-loads of chances in an enthralling 1-1 draw.
So going into Liverpool's toughest game of the season so far, a trip to the Etihad, there are plenty of reasons to suspect that the teams will be reasonably evenly matched. City have improved their squad on paper markedly, but will take a bit of time to get their new signings properly integrated. Liverpool have made slightly less improvements to their starting line-up (especially if Phil Coutinho doesn't start), but are in better form and have more consistency in their current side.
But if both teams turn up, there's absolutely no telling what could happen. Both Liverpool and Man City play with a high tempo, they cover the most distance as a team and they press hard. The levels of pace, energy and talent on show could be astronomic, and both teams have game-changing in their ranks, but are capable of being highly suspect defensively.
So this game against Man City is a perfect early season litmus test for Liverpool's starting eleven. Whilst it's unlikely they will be at 100% strength without Clyne, Lallana and possibly Coutinho, the Reds will likely be fielding somewhere very close to their best side, with Man City doing similarly. So this will be an interesting, and hopefully informative early season litmus test for exactly how good this Liverpool side has the potential to be.
If they Liverpool comfortably or indeed lose comfortably, then it will be harder to gauge exactly where they are at without analysis, but there will at the least be reasons behind the key failings of either side. If the game is as tense and evenly matched as the last two games between these sides, be that an open and entertaining one or a tight, congested one, then we will be able to learn more from the eventual outcome, and if nothing else get a gauge on how Liverpool shape up compared to the team many are touting to romp the title this year.
Personally, I suspect that if both teams play near their best then this will be a fascinating and brilliant game of football, but ultimately if I'm honest one I don't expect Liverpool to win. I would happily take a draw at this stage, but equally I think that there's every chance that it's a game the Reds can win, and they have a fantastic recent record against City.
Whilst there are undoubtedly a large number of factors in which teams are well set up to win tournaments, and whilst it's impossible to extrapolate a whole season from one game, the fact nevertheless remains that this game has the potential to be the first big test of the season for Jürgen Klopp's side. Let's hope that they pass it with flying colours.