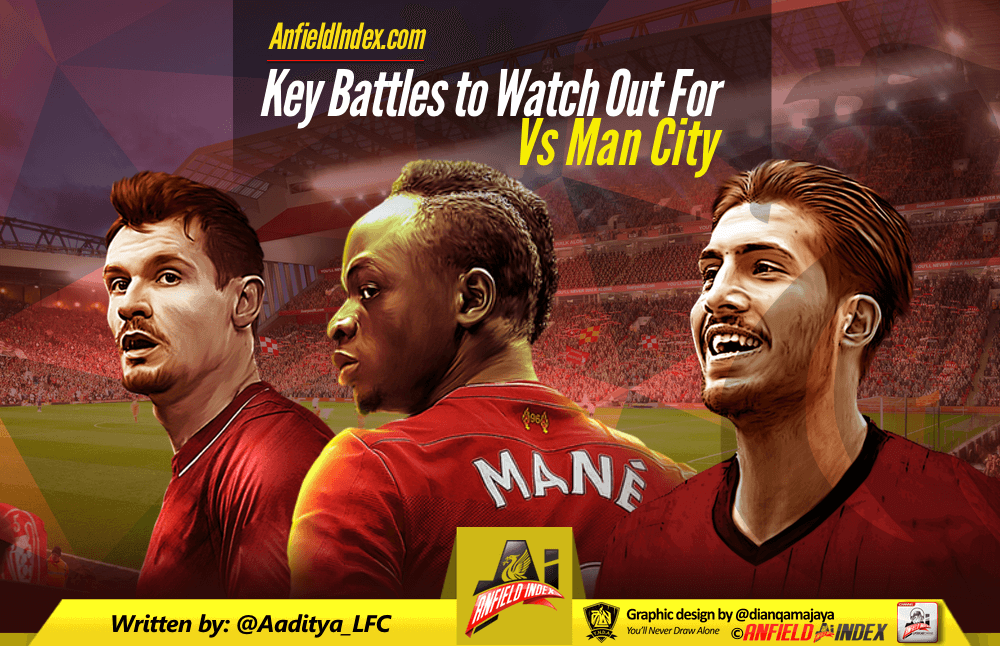 Manchester City v Liverpool Preview - Key Battles

The transfer window is over, the international break is over. It is now time for some real football. And what a way to kick the Premier League back off, as Liverpool travel to the Etihad Stadium to face Manchester City. Pep Guardiola and Jurgen Klopp will face off for the third time in English football, with Liverpool winning 1-0 at Anfield last season before a 1-1 draw at the Etihad.
For Liverpool, the team news will be interesting. It is expected that new signing Alex Oxlade-Chamberlain will be on the bench, but definitely of more importance is a little Brazilian who wears no. 10 on his back. Klopp needs to assess very quickly and come up with an answer to the Coutinho conundrum.
For City, Raheem Sterling is suspended after the ridiculous red card he received after scoring an injury time winner in their last game at Bournemouth. Kyle Walker is back though, having served a one-game ban for his red card against Everton.
Here are key individual battles that will decide the outcome of the game.
Kevin De Bruyne v Emre Can
Can has slowly but surely begun to leave his mark on games from the midfield. It is clear that he will not be the no. 6 in Klopp's system as long as Jordan Henderson is fit, but given that he has been playing so well in this box-to-box role, why would anyone want to shift him out of his current position?
In the last two games before the international break, there was enough glimpse of what Can is capable of. His driving runs from midfield were the catalyst to barnstorming attacking performances. There was pace, there was power, there was brilliant ball-carrying ability and most importantly, there was purpose. Far too often, Can has been guilty of holding the ball for far too long and letting go of promising situations but there does not seem to be too much of that happening anymore.
He will be faced on Saturday by a different kind of challenge to what he has faced so far in the season. Even though the common perception is that De Bruyne is an attacking midfielder, Guardiola has used him in a slightly withdrawn role in all three of their Premier League games so far this season. With Fernandinho the only recognized defensive midfielder in the City XI that has taken to the field in the first three games, there is a potential weakness that Can and Gini Wijnaldum can exploit.
City have terrific technicians in the middle of the park, but can they do their defensive duties as well as an Ilkay Gundogan would, if he was fit? That is why, for Can, he has to push De Bruyne deep with whatever opportunity he gets. This is two targets hit with one arrow.
Can bombing forward would mean that Liverpool would be on the front foot, and De Bruyne in a deeper position would mean that he is in a less likely space to dictate the flow of the game from.
Kyle Walker v Sadio Mane
Walker's home debut for the Citizens didn't go as planned, as he got sent off for picking up two yellow cards in quick succession. What faces him on Saturday is the toughest examination for a right-back in the Premier League. In the form that Sadio Mane is in, one can be assured that a moment's indecision from the defender will be punished with unerring disdain.
One massive advantage for Walker would be that he is mighty quick as well, meaning he is capable of matching Mane stride for stride. That is where Alberto Moreno will come into play. If Moreno can play in the City half of the pitch and keep Walker penned in, it would mean that Mane would get more happiness.
If Walker is kept penned in his own half, it would mean that he would have to defend resolutely. Whether he can do that without losing concentration for a whole game remains to be seen. Walker's biggest strength in defensive areas has been his ability to use his pace and get back to recover situations. Not so much, defend what is in front of him.
Liverpool's Senegalese star has been a man possessed from the start of this season. He is becoming ruthless as well, as 3 goals in as many Premier League games show. Mane is enjoying playing his football alongside Mo Salah and Roberto Firmino in Liverpool's attacking trident and the three just seem to always be getting the best out of each other. May that continue on Saturday, please, gentlemen?
Sergio Aguero v Dejan Lovren
Sergio Aguero loves playing against Liverpool. Sergio Aguero loves playing against Liverpool at the Etihad Stadium. He always seem to score against us. So as usual, our centre-backs will have their hands full with the little Argentine.
Aguero, lately, has been a little wasteful. But he has still scored a fair few goals. That is what he will do. He gets into so many good positions with his movement that he will always have multiple chances to score in a game. For a striker of his calibre, it is only natural that he gets a goal or two in every game.
So what do you do when you defend against Aguero? Ensure that you concentrate for the entire 90 minutes and don't give him a sniff. What has Dejan Lovren tended to do in most games so far this season? Switch off for a moment or two of madness per game. If that happens on Saturday, one can be assured that there will be no mercy from Aguero. Or Gabriel Jesus. Or Leroy Sane. Or any of the two Silvas. City's forward line is so full-to-the-brim with quality that they could play any combination and still destroy any team on their day.
For Lovren, it will be important that he communicates. Any manager who has seen the Reds recently will know the left-sided area is where we're at our weakest. So Lovren and Moreno need to ensure that there are no holes left, there is no gaping space in between them, just because they don't communicate with each other.
All in all, we're set for a fantastic game of football. There is really no other way that either manager knows. A repeat of last year's game from the Etihad with a slightly happier set of away fans this time would be nice.