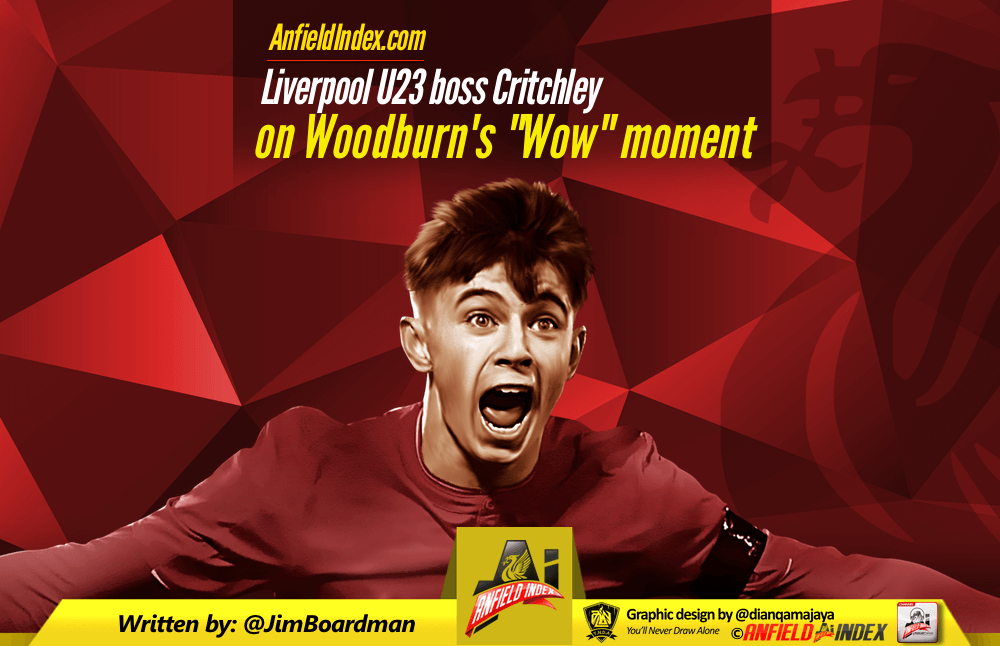 Liverpool U23 boss Critchley on Woodburn's "Wow" moment
To describe teenage Liverpool forward Ben Woodburn as a promising youngster with a great deal more to learn might seem an understatement following his exploits for Wales – but that is exactly how he will see it himself, according to one of his first and most recent coaches.
Liverpool Under 23s manager Neil Critchley, who gave Woodburn his debut for the Reds U18s and also worked with him as a seven-year-old at Crewe, says the forward will know he's only just getting started.
"He's only 17," Critchley says, "he's got so much to do.

"He's potential, a prospect – an exciting prospect. He'll know when he comes back to Melwood and he'll look around and think: 'I've got some work to do here as well'.
"He's like that. He comes from a good background, a good family. He's a level-headed boy and he will keep his head down and keep working because that's the way he is."
Not that Critchley and his Academy colleagues are able to contain their delight at Woodburn's explosive start to his international career. Woodburn scored on his debut, an impressive goal against Austria that was also the winner, then helped break the deadlock against Moldova with an assist for Hal Robson-Kanu.
"He's had a great week, hasn't he? It was a fantastic moment the other night. All the staff were texting each other. It made the hair on the back of your neck stand up. It was like: 'Wow'.
"He scores and you just think that's an unbelievable moment for him.
"Then last night he had another good cameo off the bench and he did extremely well again."
Critchley, former academy director at Crewe Alexandra, saw potential in Woodburn at an early age but also saw him pick Liverpool as the place to continue his development. Critchley made the switch to Liverpool himself in 2013 to become manager of the Under 18s – Steven Gerrard's current role – where he was soon reunited with Woodburn.
Asked about his pride at seeing Woodburn take so well to another big stage, Critchley is reluctant to take any personal credit for what he sees as the result of the efforts of many different people – including the player himself.
"Honestly, it doesn't give me any more pride, he says.
"He came to the club when he was seven or eight. It was ironic because I knew Ben when he was seven and eight because I was at Crewe and he was coming to Crewe's pre-academy.
"We were trying to sign him and he chose to come to Liverpool. Obviously, when I joined the club and knew he was here, it was great to get that opportunity to work with him again.
"I take some pride but no more different than the U8 or U9 coach, I'm just part of the process. Giving him his debut at U18, it wasn't an Einstein decision.
"We all make the decisions together and we're part of it. He's doing it himself. We just guide him and help him along the way. That's what you tend to do with the best players."
Although Critchley's Liverpool U23s take on their Manchester City counterparts on Sunday afternoon at Prenton Park, chances are Ben will be in the squad the day before when the two clubs' first teams do battle at the Etihad.
Woodburn is well equipped to face Liverpool's top four rivals. Critchley reels off the praise for the teenager – but then checks himself and gets back to protecting the youngster, managing expectations, something the club will be doing at all levels now, as they also have to with players like Trent Alexander-Arnold.
"He shows great maturity for a 17-year-old, doesn't he? I heard Dean Saunders talking about him, saying in some way he played like a 12-year-old and in some ways he played like a 30-year-old.
"I knew exactly what he meant. He was exciting to watch and he had that youthful exuberance of 'give me the ball, I'll do something' – but he actually played like a 30-year-old. His decision-making, his intelligence and use of the ball in pressurised situations was brilliant. That shows the mark of the player he could become."
Then it's back to managing expectations: "Doing that for half an hour is just small stepping stones and it's not a career. He's got a long way to go.
"You can see that in his body. He's only 17, he's not a man yet. He's got a few years of physical development and growth still to come."
Critchley sees less of him now as the player spends the vast majority of his time training with the first team. "Obviously he's been at Melwood for the whole of last season. When you get the odd chance to see him come down for some of the training sessions… before we played Sunderland, it's like seeing your own son or grandson after you've not seen them for a few months.
"You think: 'Wow, he's grown!'
"You see Ben and you go: 'Look at him. He's filled out, looks bigger!'.
"Ben looked like that when I saw him recently. Added to that, he's got game intelligence."
That intelligence might just be the quality that helps the teenager force his way into the first team reckoning on a regular basis: "Yes, he might not have lightning pace of Mane – not many people have," Critchley says, "but he has different attributes and because of his intelligence, he'll find a way to always have an impact on the game."
Perhaps it's not going to be as easy as Neil Critchley thought to keep those expectations about Ben Woodburn in check
Liverpool U23s face Manchester City U23s at Prenton Park, Tranmere, on Sunday, kick-off 1pm. Entry is free for Liverpool Season Ticket Holders, Liverpool Members and Tranmere Season Ticket Holders. For everyone else pay at the gate is available with prices starting at £1.