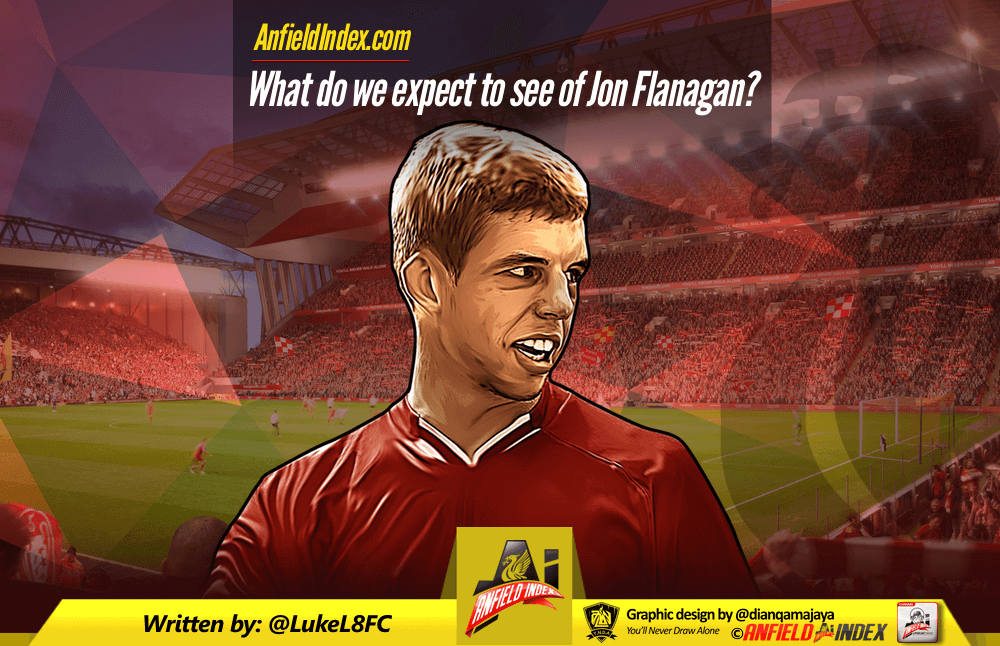 What do we expect to see of Jon Flanagan?

Once hailed the 'Scouse Cafu' for his solid season in 2013/14, in which he played Left Back for the majority of the season, Jon Flanagan now finds himself Liverpool's fourth choice Right Back.  He earned himself a call-up to England's World Cup team for his terrific campaign, albeit he only made an appearance coming off the bench in a warm-up friendly against Ecuador.
Just how has he found himself become so low in the pecking order?
Through no fault of his own, Flanno gathered two successive injuries which put him out for the 2014/15 season and the first half of the 2015/16 season. It was quite the misfortune giving his performances throughout the memorable season of 2013/14.
When he returned, Flanagan reminded the fans exactly why he had taken to their hearts. Raheem Sterling's first return to Anfield wearing a sky blue shirt was welcomed with a crunching tackle from Flanno in the first minute that left Sterling in a heap on the floor, to Anfield's pleasure. This is what every single fan in the stands and sat at home wanted and Flanagan, the boyhood Red on the pitch, carried out his duties as a player and as a fan. Winning the ball back and pummelling through a former ally and now a foe.
Despite being a crowd favourite, he was sent on-loan last season to newly promoted Burnley to regain his fitness and seek regular playing time to do this. Flanagan dwelled on whether this was the right choice and ultimately, he left for a year. Flanagan couldn't capture his form there and only made 6 league appearances (half of them coming on as a substitute) and 3 appearances in the FA Cup.
Jon Flanagan played in every single pre-season match during the summer, although he never stood out as a star performer. Therefore, going into the season he found himself fourth choice Right Back. With Nathaniel Clyne injured for the foreseeable future, Trent Alexander-Arnold and the newly appointed England U21s captain, Joe Gomez, have been the favoured two choices in the Right Back position, with Flanagan nowhere to be seen near the starting 11.
With his injury problem seemingly not an issue for this moment in time, Flanagan knows now is his chance to make an impression in training. He will know more than anyone else if he is to save his Liverpool career then he needs to make a name for himself once again like he did four years ago.
The depth we have in this position will help especially with our Champions League campaign this year. Flanagan has not found himself surplus to requirements as such, hence there has not been any particular interest reported around the 24-year-old during the recent transfer window.
However, Joe Gomez could be used as a centre half this season too, meaning Flanagan would move up the ranks.
Also, Trent Alexander-Arnold could be utilised as more of an attacking option later on in the season giving his displays so far this season have illustrated how he is attacking minded and his defensive game needs work on. That being said, for an 18-year-old he has plenty of time to improve and it is expected that no player this young is the finished product. TAA has found himself playing central midfield in his days at the academy which shows his versatility. If there was an injury or suspension crisis in the midfield, Klopp would be foolish to rule him out. If this was to occur, cue Jon Flanagan to slot into the first 11.
At this moment in time, Flanno will presumably be used in the league cup and FA cup games. Nothing is to say that he won't be used in the league if there is a big Champions league game coming up in the next few days or vice-versa.
On the other side of the defence, new signing Andy Robertson looks set to be the main man for the job. Alberto Moreno offers cover but it is without a doubt his defensive game is lacklustre as he finds himself out of position far too often. Flanagan has proved he can play on each flank of the defensive line. This makes him a good tool in the box, and it could possibly be an explanation as to why Klopp hasn't moved him on this season.
That being said, this could be Flanno's last throw of the dice before his ship sails out of the River Mersey.