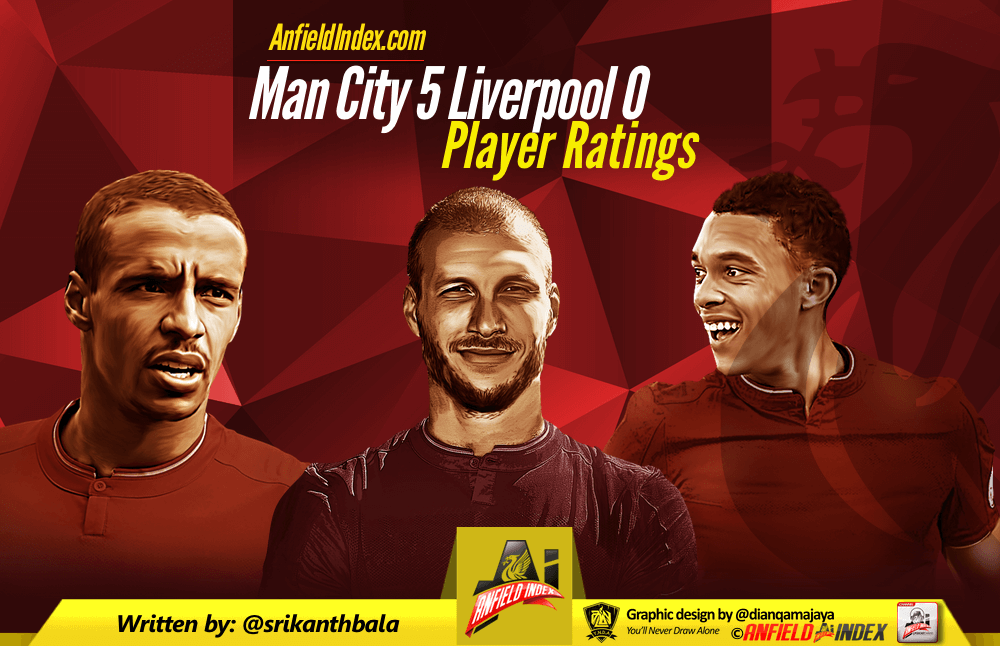 Manchester City 5 - 0 Liverpool: Player Ratings
A game whose result was decided by one reckless challenge and the Reds' heads just dropped. The Reds were royally whipped by an all star City team, leading to Klopp's heaviest defeat in his reign as Liverpool manager.
(Considering how Liverpool and Klopp had given up on the game in the second half, we need to take these ratings with a pinch of salt)
Simon Mignolet (6): Restored to the lineup, the keeper had a very busy first half, pulling off a couple of excellent saves to keep Liverpool in the game. Mignolet was though saved by the linesman's call late in the first half when his flat-footedness allowed Jesus to nod the ball in, only to be ruled offside. Mignolet had no answers for their second goal though. He could have done better for City's 4th goal but redeemed himself with a good save on the goal line from Aguero. Man of Match?

Trent Alexander-Arnold (3): Worst game of his fledgeling career.It was baptism by fire for the youngster as he had a troublesome first half dealing with the guile of De Bruyne. Was warned early on for time-wasting, and easily allowed the cross to be delivered for their second goal. He completely switched off in the second half, both physically and mentally as City repeatedly attacked Liverpool's left flank. He would want to forget this game in a hurry.
Joel Matip (4.5): When the opponent scores 5 past you, quite clearly you have had a poor game. Apart from few interceptions, Matip had a game to forget. City got past the defence far too easily. A performance to be written off.
Ragnar Klavan (3): Unnecessary dilly-dallying on the ball on his recall led to one of the many heart-stopping moments in the first half. Aguero exposed the flat high line far too easily throughout the game, especially with Klavan's lack of pace. That, coupled with poor decision making meant that Liverpool fans' worst nightmares came to fruition today.
Alberto Moreno (5): One of the very few players who had a decent game overall. Had no influence in the second half as Liverpool posed zero threat.
Jordan Henderson (4): An abysmal game for the captain. There should be legitimate questions on his positioning through-out the game, especially for City's first goal. His sloppy passing was one of the contributors to City's 3rd goal.
Emre Can (5): A quiet first half in midfield, but looked all at sea initially once he moved into the defence. Got a grip of it in the latter part of the second half , but the lasting memory of the game must be him blaming his team mates for failing to make a run on his shoddy pass.
Gini Wijnaldum (4): He was easily shrugged off by Fernandinho allowing them to take control for the first goal, and generally went missing, as expected in an away game. Was replaced in the second half.
Sadio Mane (4): Part of the game-changing moment. There is going to be a huge debate on whether it was a red card or not, but there is no debate it was dangerous play and the referee stuck to the rule book.His sending off killed any momentum Liverpool had.
Mohammed Salah (5): How many chances does he need every game to score a goal ?  Easily outclassed Otamendi through the first half till the point Mane was sent off. Was surprisingly hooked off at half time.
Roberto Firmino (6): Worked very hard, with little end results. Ploughing a lone furrow after Mane's dismissal was always going to be tough, and it wasn't surprising that he was taken off in the second half with Klopp looking ahead to the Sevilla game.
Substitutes
Alex Oxlade-Chamberlain (5): Not the game Oxlade-Chamberlain would have hoped for as a Liverpool debut. Liverpool were on the ropes already, things only got worse. There were a couple of positive sparks, but pretty much a quiet performance.
James Milner (N/A): Was brought into the game in the second half to a loud chorus of boos. That was the lasting memory of him from this game. Not his fault though.
Dominic Solanke (5): Brought in to replace Firmino, he showed glimpses once again that he could do the lone attacker job competently. A couple of excellent turns, but ran out of gas before he could cause threat to the City defence.