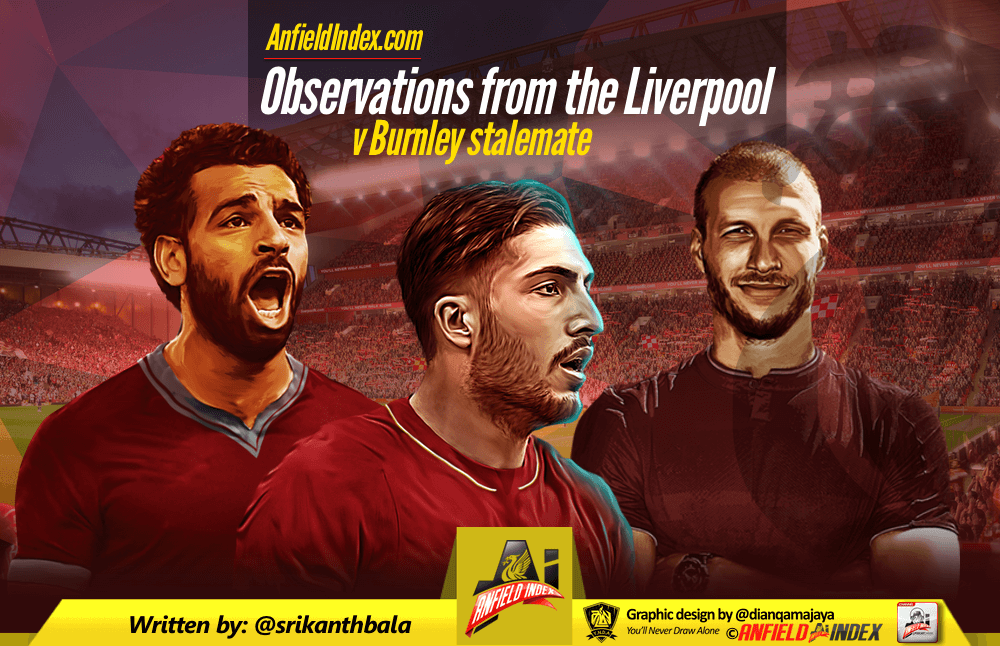 Observations from the Liverpool v Burnley Stalemate
This was always going to be a difficult game, especially considering Burnley's solid away form this season. It ended up as a stalemate, with Liverpool dropping two points.
The key takeaways –
Team News
Klopp was expected to ring in the changes for the game vs Burnley, and he confirmed the same during his pre-match press conference. So it was not surprising to see the number of changes, but the intriguing aspects were the return of Coutinho and a start for Sturridge. With Burnley showing the template of playing Liverpool last season, it was interesting to note the Coutinho and Sturridge combination as Liverpool needed to maximise whatever chances they would get. The other interesting aspect was the recall of Robertson with the re-emergence of Moreno.

Abject Defending as usual
Another simple clearance missed by a centre-back, this time from Klavan which led to the opening goal. More worrying was the ease with which Ben Mee got his head onto two successive corners only to be denied by Matip and Mignolet in quick succession. The defence continues to be the biggest weakness and the constant rotation in the backline does not look to be helping matters.
Liverpool and the Long Ball
The game was always going to be about how Liverpool would break down the organized Burnley defence. Resorting to long balls deep from defence or midfield would not have been the top-most option, but that is what Liverpool resorted to. The move looks to have been well researched/trained as the team got into great positions more than once, and it was ultimately a punt from Can that Salah expertly controlled and put it at the back of the net.
Can as #6
Emre Can was deployed as the deepest midfielder as Henderson was given the day off. Fair to say he did have a mixed day as he had spells of solid play coupled with sloppy passing and positioning. More than once, he gave the ball away in dangerous areas and absolutely failed to track Arfield for Burnley's goal.
Mo can't stop scoring
Incredulous as it may sound, there was actually a discussion on social media about Mo Salah and whether he should be dropped. That finish answered it loud and clear. Yet again, Salah was a constant menace throughout the game and ended up as Liverpool's best player yet again.
Liverpool not having the luck
Liverpool did not have the rub of the green this afternoon with a clear shout of penalty on Salah late on the second half and Solanke turning his shot off the bar. It was yet again one of those days where the last bit of execution coupled with fortune was missing.