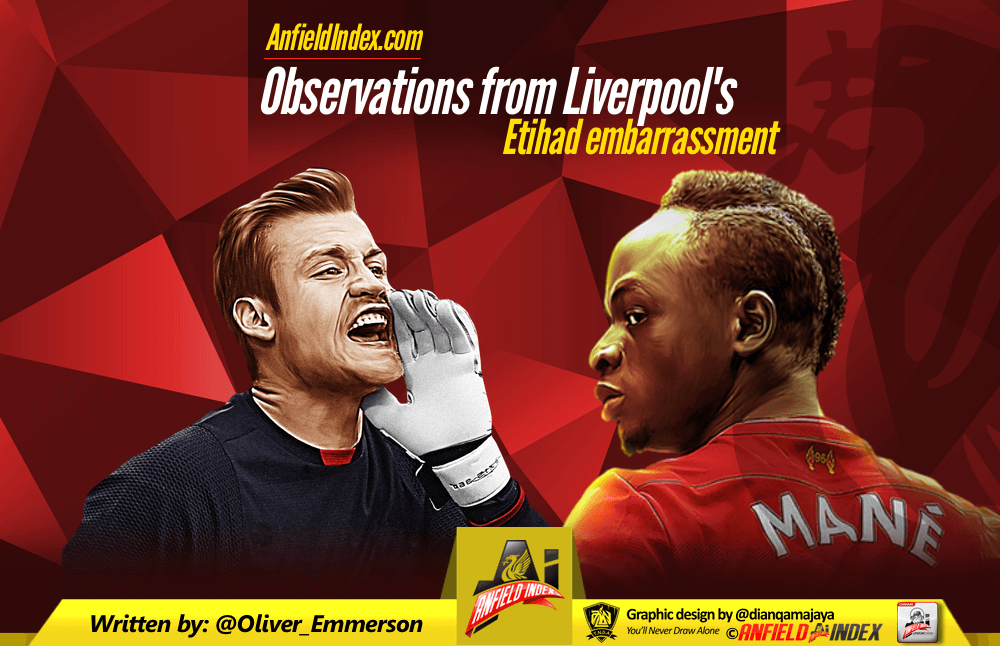 Observations from Liverpool's Etihad embarrassment
Liverpool were torn from pillar to post for around an hour after Sadio Mane's red card, losing 5-0 to Manchester City at the Etihad Stadium.
A goal from Sergio Aguero had broken the deadlock in a game that looked as if it could swing either way until Mane's right boot swung into the jaw of Manchester City goalkeeper Ederson.
From then on, it was one-way traffic. Say what you want about how Klopp set his tactics up, whether Liverpool worked hard enough, but City were majestic. Cutting Liverpool apart, mainly through the talents of Kevin de Bruyne, braces for Jesus and Sane completed the rout.

Other than tears, tears and more tears, what was there for Liverpool fans to observe?
A controversial red card
By the letter of the law, Jon Moss was probably right to dismiss Sadio Mane in the first-half. Stretching to get on the end of a lofted ball from Matip, a goalscoring chance for Liverpool turned into a game-changer for City. It is dangerous, evidenced by Ederson being stretchered off, but Mane only has his eyes on the ball.
For many red tinted glasses, it's a wrong decision, but Moss will sip a glass of red tonight safely in the knowledge that those above him will approve of his decision. Mane will feel aggrieved, wondering whether Ederson would have been sent off had he clattered into the Senegalese international, had Liverpool tapped the ball in the meanwhile.
Why things may need to be taken with a pinch of salt
Liverpool were due a loss against a top six side. Despite such a stellar record against our rivals under Klopp, sometimes you lose football matches to good teams. The goal difference takes a hit, but it's better to lose one game 5-0 than five games 1-0, the saying goes. Manchester City away is a difficult fixture. The fashion of the defeat makes is sickly but many teams will walk away from the Etihad without a point.
Mane's suspension will also be annoying, but after getting four reds for Southampton, it would have been surprising if he'd gone his whole Liverpool career without getting his marching orders. He could be missing worse games too, only two league games – Burnley and Leicester.
It's bad, it feels bad, but it won't define Liverpool's season.
Praise for Liverpool's 'keeper
There were lots of awful performances out there after the red card. Some players weren't terrible though. Firmino did his best alone up top, Moreno was alright at left-back. Simon Mignolet was Liverpool's best.
A string of fine saves coming virtually in tandem with goals that he could do nothing about, the Belgian conceded five for the second time in his Liverpool career but can leave Manchester with his head held a little higher than the rest. One particularly impressive stop came from a shot off his own player, Mignolet diving quickly to his right to keep Joel Matip out.
Where does this leave the Reds?
Battered and bruised perhaps isn't the word, more strangled to exhaustion by a boa-constrictor of a football team. However, Liverpool are back in the Champions League on Wednesday, Anfield under the lights. They'll have Mane too, and a chance to put things right against Burnley in a week's time.