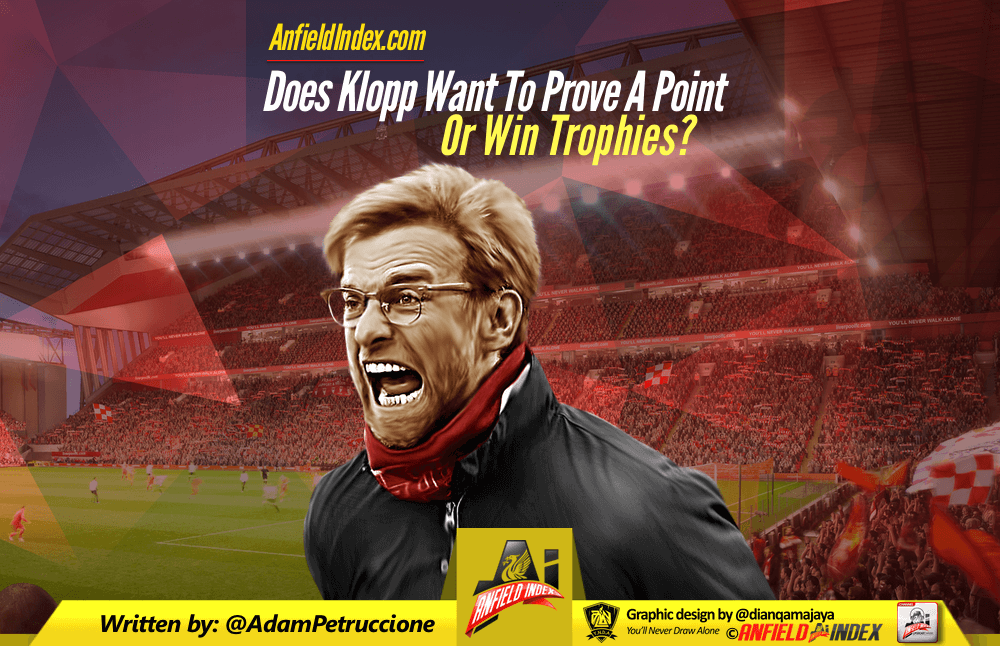 Does Klopp Want To Prove A Point Or Win Trophies?
Heavy Metal. Sometimes it gives you an adrenaline rush. Sometimes it blows your ear-drums out.
Heavy Metal Football. Most of the time it has been great. Certainly entertaining. Competitive enough to get very close to silverware and has returned us to the Champions League.
Against Manchester City the Reds came out with a formation made up of two centre-backs, one notoriously attack-minded full-back, another who is seen as a future attacking midfielder, and six other outfield players who were either bought as, or have said they prefer to be attacking midfielders.

If Klopp is correct in winning this way it will prove everyone else wrong. But, is that really necessary? He has, to his credit, built a team that is in a position to have a major say in who takes home major silverware in England and in Europe this year. So now that we've made the long climb to this level, do we need to be part of some football experiment?
Manchester City came out at home with a back-three of Otamendi, Stones and Danilo with Fernandinho shielding and Mendy as left-back. Would Jurgen Klopp consider Pep's set-up 'weak-sauce' for having five naturally defensive outfield players at home? (Notice I didn't include Walker in that count)
Plenty of supporters argued coming into the City match that Liverpool's front-three were the top attacking group in the league. What is the point of having such a strong group at the top of the formation if you feel the need to supplement them with six other attacking players?
Maybe Klopp thought we only had a chance if Liverpool turned this into a back and forth, chaotic, coin-flip game. If that's the case and we're that mismatched against City, why is the squad that short in the first match back after the close of the transfer window? At the end we were beaten so badly that it might have long term effects, especially on young Trent Alexander-Arnold, who was jogging behind City wingers as they put in ball after ball as the minutes mercifully wound down at the Etihad.
So what were Klopp's choices? He mentioned in his pre-game press conference that Joe Gomez was unavailable because he was worn out from his service for the U21's. That's that then, right? Our 20 year old CB/FB needs rest, so we're left with no option to tighten up the defense in a critical game.
That has to be absolutely unacceptable for the supporters, the ownership, the front-office and for Klopp. This isn't the year when Klopp should be challenging himself to see what he can do with the deck stacked against him. In theory we have Flanagan as a defensively inclined full-back, but in practice we know that he's not physically able to compete at Liverpool's level anymore.
On Wednesday night against Sevilla, if we're up 1-0 late and trying to escape Anfield without giving away critical points towards our group who does Klopp bring off the bench? Sturridge? He has no options to dial his heavy metal down a bit from 11. One has to ask why Lucas and Stewart were sold without defensive midfield replacement. Surely all hopes for our defensive improvement weren't wrapped into the effort to sign Virgil Van Dijk, were they? Even if that deal were wrapped up we'd be dealing with many of the same problems in this set-up. Clubs that win things are rolling out double the defensive-minded players than Liverpool. The Reds line-up with real live human beings in defensive positions, however that isn't what they were bought for or brought up training as and there's probably a reason that approach hasn't worked or even been tried in other successful clubs.
Klopp has changed doubters into believers again and again and at the end of the season that might be the case. I'd personally be a very happy Red if that happens. At this point in time however it looks like he's rolling the dice when he has enough behind him in terms of squad depth and transfer funds to not have to gamble. If Klopp needs to prove some point beyond that he can win trophies with Liverpool, and instead that he can reinvent the wheel it will likely be a bumpy ride the rest of the way.