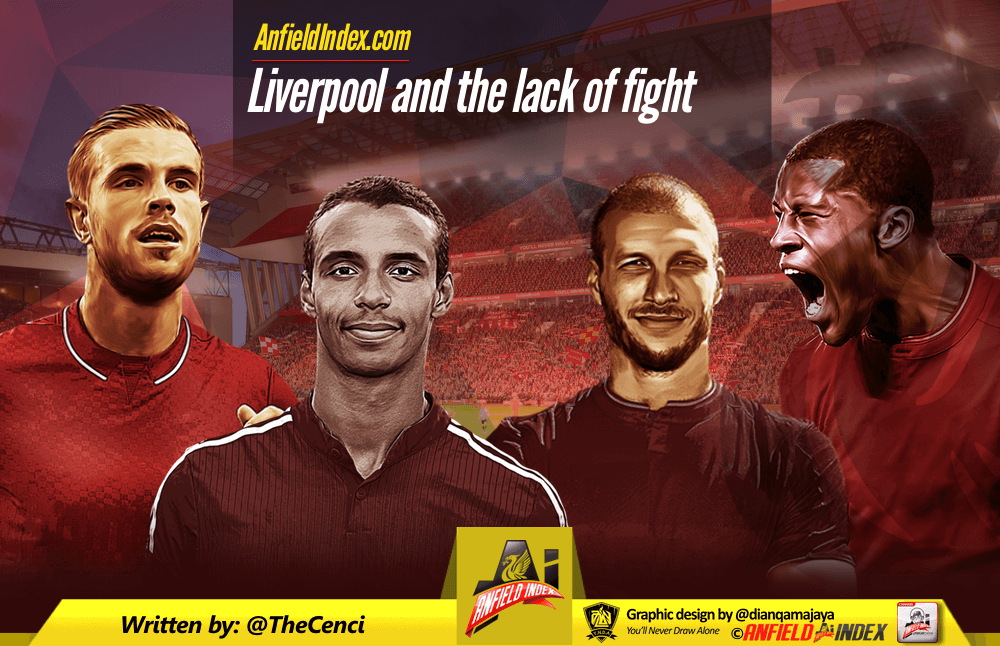 Liverpool and the Lack of Fight
There are two ways to handle a defeat. One is to shrug the shoulders, assess the next few games and get on with things. After all, we play again soon and you're going to lose from time to time. The other is to be so angry that it takes hours for the mind to calm down and you find yourself airing expletives for no reason to silent rooms.
'Never write when angry,' a mate once told me.
Sorry.

As usual in these situations I'm not entirely sure with whom I'm angriest. The referee who books Can, but let's Sane go through Moreno for a worse challenge, the manager for whatever those subs were about or the ever-optimistic fan who tells me to write it off and settle in for the Sevilla game. I'm not ready for that nauseating 'we go again' crap just yet. I've still got some shouting to do.
Sometimes you're beaten by better sides. City are a good side and knew what they were about and some of our lads struggled with their movement. Poor Trent was all over the place when De Bruyne and Mendy were doubling up on him and I could watch Fernandinho all day – a wonderful footballer. I can even take a 1-0 defeat, albeit begrudgingly, but heavy defeats fall into a different and more frightening category.
It's the rarity of the rout makes them harder to handle. I can remember Chelsea fans bragging that, when they battered us 4-1 at Anfield in 2005, it was our biggest defeat in 20 years. I took that stoically. I thought 'One hammering every couple of decades? I can live with that.' The 6-1 at Stoke was embarrassing too and the first shellacking for a whole new generation of Red. Other than that it's rare to see as much as a 3-0 reverse. Arsenal and West Brom leap to mind. Now we have City.
Of course the game turned on the red card. I've changed my mind on this three times already, but I think the first reaction tends to be the correct one. Mine was 'he could go here' and, knowing who the ref was, it was no surprise when the card came out. Had it been the other way I would still have been surprised, but if Sadio's boot connects with Ederson's face then they've every right to ask for it. Let's be honest, we would.
The manager called it right. We were unlucky. There was no intent, but that's now an irrelevant factor in these things. A player can have his eye on the ball and still be sent off in those situations. The law is an ass and you can't really expect Jon Moss to exercise free will or common sense. It's not what he's about. On the commentary, Martin Tyler delighted in telling the world that Ederson was on his way to hospital should we ever question the decision. That too has no bearing on the card, but, y'know, controversy and that.
If that happens and we lose, say, 2-0 and you show a bit of battle and pride, then you have to hold your hands up. The lad went for a ball and was too late. Unlucky all round.
It's what followed that's had me incandescent with rage ever since.
Sadio went off in the 37th minute and his team mates joined in. We caved in. Simply fell apart. That's what's getting my goat – or, at least, a large percentage of it.
Had it been a centre-back or central midfield that had gone then I could understand a lack of organisation, but Sadio Mane is a forward. His job is not to marshal the defence. The ball for the next goal came into the box and was still witnessed by an entire back four and midfield unit and yet we watched it go. 2-0. Game over.
Except it wasn't game over and I was shocked by people on social media who said they wouldn't bother with the second half. I'll never understand that. You never give up. Ever. Maybe I'm too optimistic about such things but when you're in that situation you wonder how great it would be if we could turn it round.
At 2-0 you concentrate on making it 2-1 and then scare the shit out of them for the rest of the game. You stay and fight. You fight and fight and fight. I was surprised that many fans didn't want to do that, but I was astonished when I saw the manager do the same thing.
Look, you can talk about the game being over and resting players for the Sevilla game all you want, but Liverpool never throw in the towel. Ever. Taking off our fastest player when it was obvious we were going to be hemmed in and needed a pacey lad upfront to hold the ball up was ludicrous. I'll never understand that. What did we hope to achieve?
Then putting Emre in the middle of a new three. Well ….
There'll be a day in a few years' time when I'll walk down the street and suddenly stop dead. Passers-by may think I've gone catatonic or something, but it won't be that. It'll be the sudden memory that we once put Emre in the middle of a back three when we had Lovren and Gomez on the bench. Yes, those lads may have been tired after the internationals, but why take the risk when it's obvious that we're going to be overrun? Emre just isn't a centre-back and it told.
5-0 didn't flatter City. We just couldn't get out because, strangely, Roberto Firmino can't take a ball down from seventy yards and beat three centre backs on his own. What's more he had no support. The midfield neither protected the back four nor offered an option to the front lad. I'm not a statistics fan, but the three midfielders attempted just one tackle in a game where we lost 5-0. The kindest thing I can say about them is that they just kept the other lads company.
If you're a man down you have to cover everything, tackling as you go. Liverpool didn't do that. Liverpool gave up and Liverpool should never give up regardless of what colour card comes out, but we did.
Never write angry. Let reason find its seat. You can sleep on it and look at it with a more reasoned mind in the morning. Maybe that's true, but it won't change what Liverpool did from 38 minutes today and that was a disgrace to the shirt. The players and manager should be reminded of that rather than pitied. Liverpool don't lose 5-0 no matter who we're playing. The last time we lost 5-0 away from home was against Huddersfield in 1958. Their manager at the time was Bill Shankly.
There's been a spate of tweets lately saying 'Support and believe.' I'd like to think I do both – certainly the former. People can say that till their blue in the face, but Liverpool didn't believe in the second half. They looked embarrassed to be there.
But we get another chance midweek. I want to see that Liverpool ashamed of what happened today and I want them to put that right. It's not a night for licking our wounds and allowing that fuck up to bleed into another game. You work harder, you become more clinical and you prove to the world that that really was a one off.
Then I want Burnley destroyed.
Up the Reds. I still love them – how can you not? – but sometimes they drive you mad. Absolutely mad.