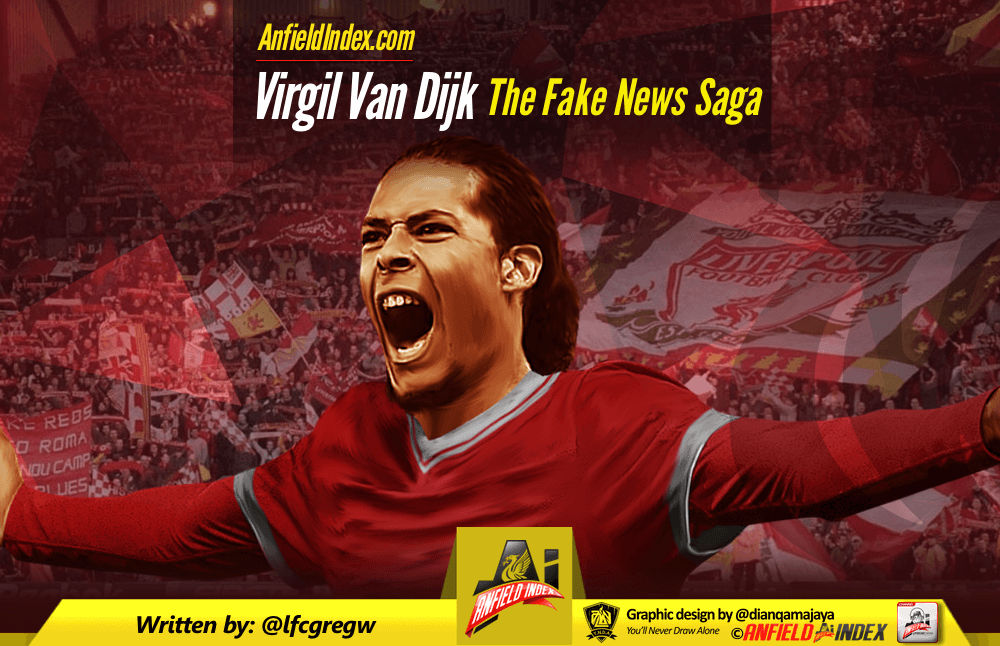 Virgil Van Dijk - The Fake News Saga
Ok Reds, I can't take it any more. Three months of shallow and brainless analysis of the Virgil Van Dijk transfer saga and I've had enough.
The information in the public domain simply doesn't make sense. There is no way Klopp chooses to enter this season with the present choice of centre-backs, does he?
At least that is something we can all agree on.

So what's up? What is the truth behind the headlines?
Well the time has come for me to enlighten you, to let you all know what is actually going. Or at least to give you my version of events. After all it's just speculation.
And it might all turn out to be rubbish, but at least it's creative rubbish and at least this tale of mine might string the known facts together a little better than the present garbage.
So let's start way back in February, when Liverpool first contacted Southampton to tell them of their strong desire to sign Van Dijk.
Southampton were open to the idea in principle, they are a selling club after all, and Liverpool is their best customer.
Problem was they felt they would be unable to sell the player for at least a year without unleashing a very corrosive wave of fan bile. He had recently signed a big new contract and letting him leave now could be a PR disaster for the owners, old and new, who simply could not afford to be seen to be bending over every time Liverpool come shopping.
However a sale in summer next year, 2018, possibly a few months earlier in January, was considered feasible and desirable by both parties.
A fee was agreed and a pre-contract was readied.
The complicated part of the deal was how to handle the PR side and prepare the ground for the transfer?
A "transfer storyboard" was needed.
I should explain …
Of course all club owners are acutely aware of the power wielded by fans and the media these days. A manager's job can hinge on popular support, even owners can come under great pressure from fan power.
The importance of wrapping up such a transfer in a carefully choreographed storyboard is considered essential. It is a standard component of this kind of transaction these days.
However as the years go by these storyboards need to become increasingly innovative if they are to remain fresh, differentiated and credible. More complex and convoluted.
The main challenge with this particular Van Dijk storyboard was how to make the transfer happen soon whilst allowing Soton to sell it to their fans.
Liverpool were very keen to get the business done as early as possible, so were prepared to agree to a storyboard which was unusually negative for the club. Getting the player in was such a high priority it was decided that Klopp's good standing with the fans could be utilised to deflect the enormous criticism of FSG that would inevitably arise.
The plan that was finally agreed between the clubs you are now familiar with … that Liverpool would "get caught" tapping the player up and Soton would threaten to "take action" with the FA, causing Liverpool to back off for the rest of the window. Meanwhile, Van Dijk would make his commitment to Liverpool public in order to deflect interest from other predatory clubs.
In other words, all of this was carefully pre-planned.
Stick with me here.
The intention was that this storyboard would get the clubs through the summer in such a way that a transfer in one of the next two windows would be palatable to the Southampton fans.
As predicted, the plan went down a treat, with miles of text and hours of analysis in the press and in social media simply taking the storyboard at face value.
As planned, Southampton gained a huge amount of kudos for standing up to the Scousers' advances.
In the meantime, not a single commentator realised that the whole saga was, and still is, an ongoing premeditated PR exercise.
The main shortcoming of the storyboard was that the only explanation it provided of why Liverpool did not buy a centre-back this last window was that Soton let them down last minute, which was flimsy. Klopp volunteered to bat that one away in a press conference, but in reality this ended up being the weak link that shed light on the whole saga.
Nevertheless the show rolls on and this storyboard will continue through the autumn until the transfer eventually takes place in a few months time, all as agreed back in early 2017.
And no one will be any the wiser. It will all seem like that just happened to be the way it fell out.
But we know better.
So there you go, that's my tale, my version of events.
Take it or leave it.
All I hope is that by spreading this little conspiracy theory, we might all become a little more skeptical of the PR produced by the clubs and try to read between the lines before reaching conclusions.
We need to wake up to the reality that the clubs know how easy we and the media are to play, that we will lap up these transfer storyboards so blindly that they have become such a commonly used and essential tool, as further exemplified by the Coutinho saga, which is presently running a similar script.
It's all premeditated fake news.
Surely there's too much money involved for any other reality to be true?