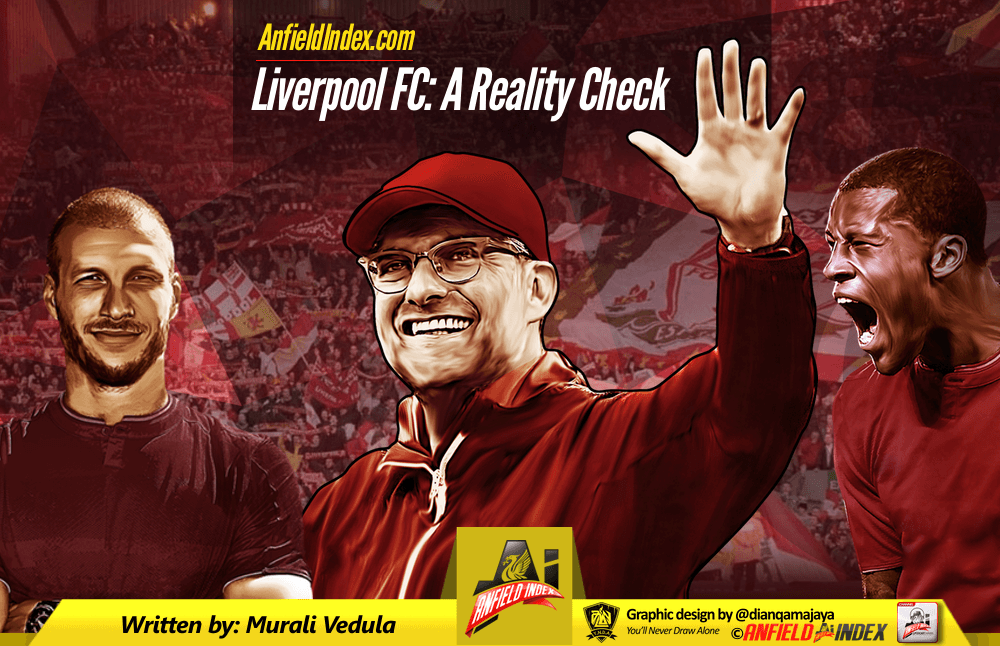 Liverpool FC: A Reality Check

Just 24 hrs ago, many of us were relishing the prospect of  Mane, Salah and Firmino tearing apart the likes of Otamendi and Stones. 4 wins in 5 matches in August had all but made us title contenders. We had the "best" attack in the league. We had a midfield trio that out"pressed" anything and everything in its path. We didn't need Coutinho because there was no place for him in the starting XI at this rate.
Exactly 24 hours later, in the aftermath of the utterly disappointing 5–0 defeat at the Etihad, we suddenly have the worst defence in the league. Jurgen Klopp was a fool not to have brought in Virgil van Dijk for 70 million pounds. We cant even make the top four now. Who plays Gini Wijnaldum in an away game when u know he won't turn up anyway.
I think its times like these when the character of not just the team but the fans is put to test. It's very easy to let rip at the team and the manager when its a major humbling like this one, but this is what Liverpool FC is all about. It's about the fans and the incredible support the team enjoys. There is a reason, why there are way more Liverpool fans and supporters globally than teams like City,Spurs or Chelsea up to an extent, despite not winning a single PL title for more than 20 years now. Its situations like these we have to make it count.
I do agree Klopp didn't get everything right. He made mistakes. Playing Klavan in a match as important as one against City was baffling , while the tactics after Mane's sending off was just not working.However, we as fans need to see the bigger picture here. Playing Klavan in a match as important as this one speaks volumes about Klopp's confidence in his squad, in his fringe players. While it may not be the most pragmatic thing to do, this is what Klopp is all about. He shares an intimate bond with his players. The confidence that Klavan would have got knowing he was starting at the Etihad would be a big boost to him as well, and if Liverpool had indeed put up a clean sheet, there would have been calls from all sides asking him to start against Sevilla in the midweek.
Supporters and fans have the right to dream. When your team plays mesmerizing football swatting away fellow top 4 hopefuls, you have the license to think, to dream, to believe. But its important to know your roots and not just get swayed by the wind. After the transfer window ended, as a Liverpool fan my targets were securing a top 4 finish, reaching the quarterfinals of the UCL(because we had a good draw) and hopefully a cup win. People may call me a pessimist but I think it was time we fans needed a reality check.
This season is just a month old. We have 33 more games to go before we can make a verdict. So, let's be patient and wait till the season draws to a close. Once the season is done, we as fans have every duty to assess Klopp and every player who pulled on a red shirt. But we don't have the right to start criticizing right now. Our duty now is to get behind the team. We have a UCL match against Sevilla this week. Lets think about the magical European nights this club has been associated with in the past. Lets look forward to Klopp & co. reliving these moments for us.