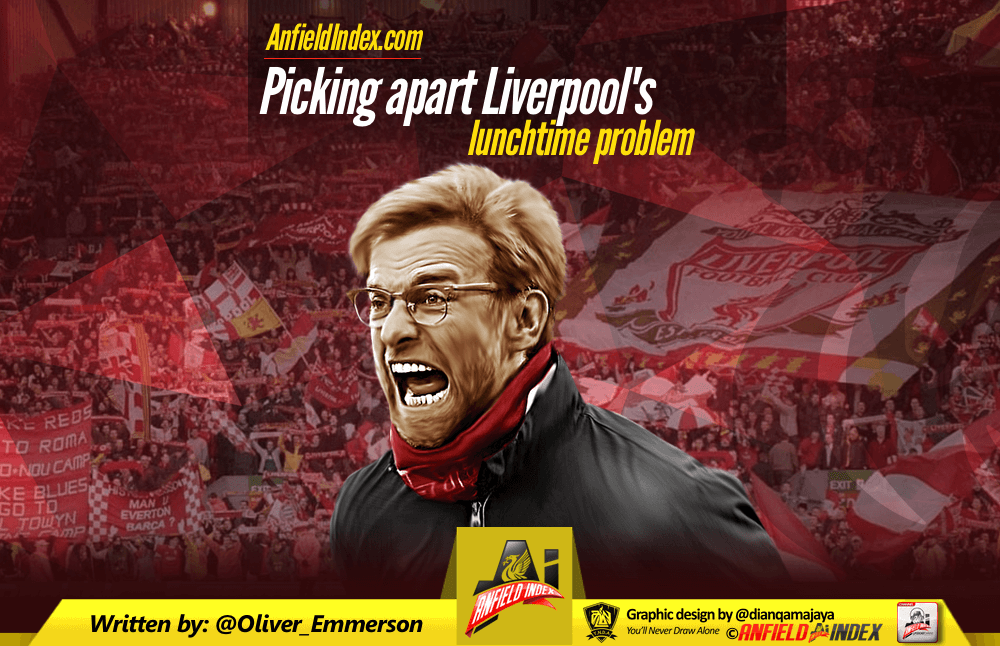 Picking apart Liverpool's lunchtime problem
Liverpool's thrashing at the hands of Manchester City on Saturday left the Red side of Merseyside feeling sick to their stomachs.
One, two, three four and five, City brought the rain – not the scattered showers – after Sadio Mane was sent for an early bath.
For many, it ruined their weekend. Losing at Saturday lunch often see's Match of the Day cancelled, and the Saturday night pints are a drowning of sorrows rather than a celebration.

And then you've got Sunday, often seeing Liverpool's rivals pick up points, moving above us in the table.
Despite the bizarre circumstances of this defeat in question, Liverpool ruining a weekend seems to be of occurrence more often than one would assume.
Do Liverpool have a lunchtime problem?
After throwing away points to draw 3-3 against Watford on the opening day, in a lunchtime kick-off, and then being left to feel blue on Saturday, it got me thinking about whether Liverpool do struggle with earlier kick-off times.
Liverpool have played 20 games since Klopp took the helm that kicked off at a time earlier than 2PM. That takes into account your Saturday 12:30's and 12:45's, plus the 1:30pm kick-off on a Sunday.
In those 20 games, they've won just seven times. Five games have been drawn and there have been eight defeats – more losses than wins before 2PM. 7W, 5D, 8L.
Some of those games have of course been cup clashes, but if you translate the record into points, it works out at 1.3 points per game, a 49 point season over the course of 38 games.
Frankly, it's pathetic. It's not even like Liverpool are constantly playing top teams at these times either, either losing or drawing to the likes of Watford, Wolves, West Ham, Plymouth, Bournemouth and Swansea (twice) during Klopp's tenure.
The wins haven't always been that impressive either. Whilst the 3-1 away win at Chelsea and 3-1 home defeat of Everton during the last two years came in an early kick-off, so did the awful performance away at Swansea last season – Liverpool somehow coming away with a 2-1 win. The crazy 5-4 at Norwich was another lunchtime game, Liverpool's defence shipping four to a side that would go on to be relegated.
Liverpool's defence is bad at the best of times, but shipping 4 to Bournemouth, 3 to Swansea, 4 to Norwich and 5 to Man City in games before 2PM suggests that the lunchtime issue definitely stretches to the defence.
Conversely, Liverpool are much better under the lights in evening games.
41 Liverpool games under Klopp have kicked off later than 7:30PM, a mix of league, domestic cup and European games. 22 wins, 11 draws and just eight losses. That's a 1.8PPG, extrapolating to 71 points over a league season, much better.
There's definitely something going wrong for the Reds early on.
But why? Liverpool often train the day before a game at the same time they're expected to kick-off, so would have a lunchtime training session ahead on a Friday ahead of a Saturday game.
Klopp and many others have anecdotally praised such methods, saying it can help players adapt to the weather, sun position or just how awake they'll be for a game. However, there is little statistical evidence to back up the theory that mirroring training time with game times can work.
It's hard to figure out, in all honesty. Professional athletes may have a better insight into things than mere mortals such as myself, but at the same time – the conditions and timing are the same for all 22 players on the pitch.
Does training earlier on a Friday, for example, tire a player out more? Maybe they nap during the Friday afternoon and are therefore a little restless on Friday night? A lack of sleep perhaps. Players aren't robots that can simply be turned off and on to rest, it's not that easy.
Adding to that, earlier games often dictate travelling to the location of the game the evening before, rather than on the day. Less known stimuli unsettling certain players perhaps?
Some may even suggest that, given Liverpool play more lunchtime fixtures than most other teams in the league due to TV demand, the squad should be more used to it.
It's a headache alright, but one Jürgen Klopp and co must sort out if the Reds are to mount a serious title challenge.
The stats are there in black and white. 1.3 points per game in lunchtime KO's, 1.8 in evening fixtures.
Liverpool's next lunchtime game? Manchester United at home.
Something must be done.