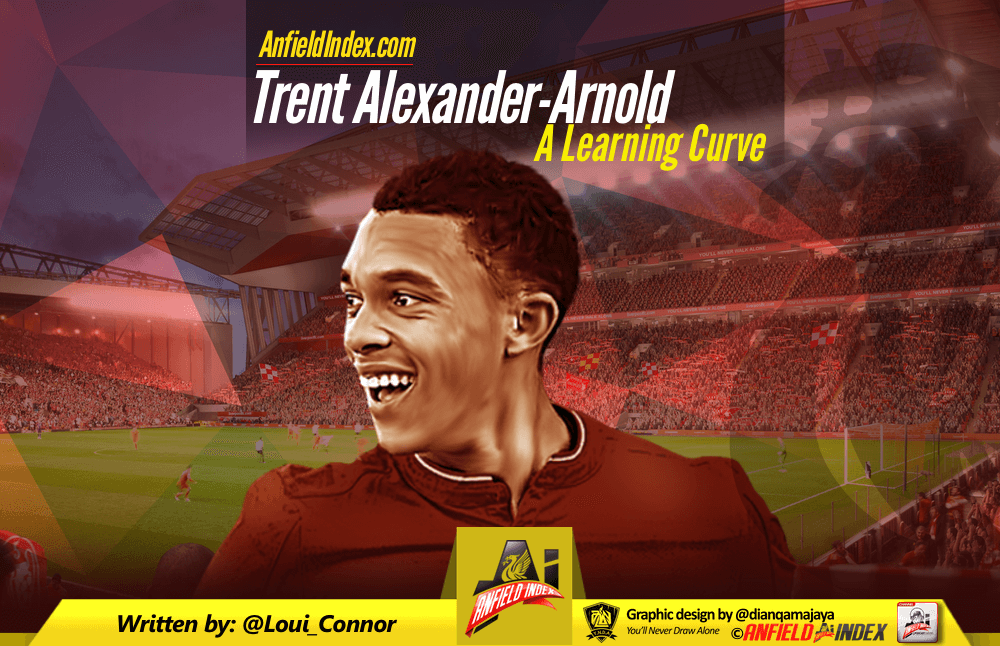 Trent Alexander-Arnold: A learning curve

One of the feel good stories surrounding Liverpool FC recently has been the rise of young scouser Trent Alexander-Arnold. For years there was a constant stream of local lads making it into the first team and going on to become cult heroes or world class players, the academy down the years has produced the likes of Michael Owen, Jamie Carragher, Robbie Fowler, Steve McManaman and most notably Liverpool legend Steven Gerrard. Since the debut of our former captain; the well had dried up, some players – like Adam Morgan and Jay Spearing – made appearances for the first team but the lack of talent was there to see from the beginning. Whilst it's early to say, the academy is bringing through a crop of players who really look the business and the jewel in the crown is first team regular and scouser Trent Alexander-Arnold.
At 18 years old, he has shown an incredible amount of maturity in his performances. However, that doesn't mean he is perfect; for every positive about our number 66 there is something negative you could point to. His performance against Manchester City last weekend was bitterly disappointing; going up against one of the best attacks in the league is always going to be a tough ask but he has previously put in a very good showing at Old Trafford for his Premier League debut. His free kick against Hoffenheim in the Champions League will no doubt be the highlight of his career till date but there was the moment of naivety that led to hosts' goal in the same game.
What is needed for Alexander-Arnold to succeed is patience, he isn't the finished article (but who is at 18?) and every mistake is a lesson learnt. The difference between the first team and development leagues is that when you're in the first team, your mistakes get punished. You look at the away tie against Hoffenheim for example, a momentary lapse in concentration was very swiftly capitalised on and Hoffenheim had their way back into the game. In an U23's game maybe that moment goes unpunished, if that's the case then it makes the player more susceptible to repeat the error. Every player is going to have an off game and unfortunately for TAA that game was against Man City – he wasn't the only one by the way – but again it is an experience for him to learn from and the fact that he is having these experiences at such a young age is only going to help him in the future.
I don't see Alexander-Arnold as the teams right back in the future, he is too good on the ball to be put in at right back but for now it's perfect for both parties. TAA is probably our best wing back going forward and that's a big part of what Klopp wants from his wide defenders, and his defending is pretty solid too. It's not as good as Clyne's or Gomez' but what do you expect from a player who has played so much of his youth football in midfield? Eventually he will be integrated into Liverpools midfield which might even happen in some EFL Cup games this season, but for now he is getting a really good amount of first team minutes considering his age. His flexibility is a great help for both him and the club, the fact that he can cover so many different positions is why he gets so much first team action. Ben Woodburn is another great talent coming through but he won't get near the amount of minutes Alexander-Arnold is getting because we have such an array of attacking talent.
Alexander-Arnold's attitude and drive is so refreshing to see, in a time where there is so little loyalty in football it's refreshing to see a young player talking about his ambitions to captain the club to glory. Henderson is a great captain for us but he can't play forever, so to have the possibility of a scouser leading out Liverpool once again can't help but get you excited.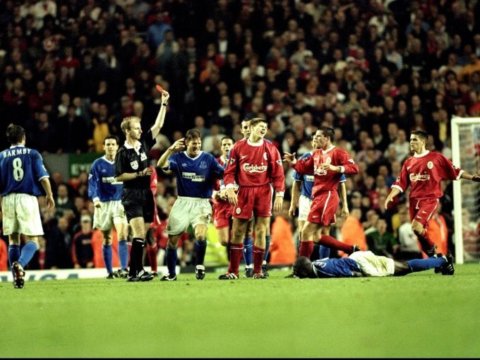 Injuries aside, TAA will be looking at another 15/16 years in football. Not every moment is going to be perfect, Gerrard had his learning curve after that horror tackle on Kevin Campbell at 19. What makes a great player is how you use those moments as a lesson and let them shape your future, and Trent Alexander-Arnold has all the building blocks to make a great career at LFC.